5 Best Barefoot Hiking Shoes in 2023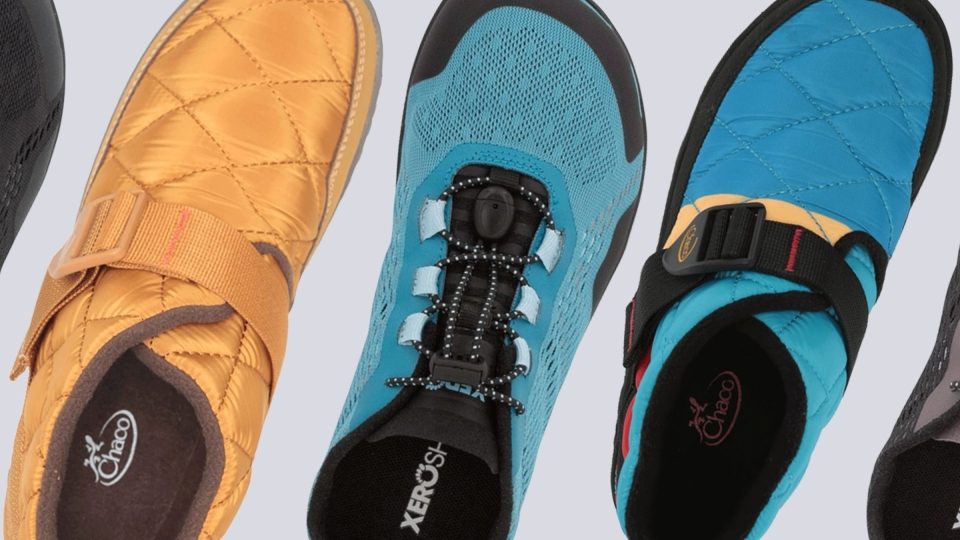 We earn affiliate commissions at no extra cost to you when you buy through us. Why trust us
Any time spent in the great outdoors has an awesome way of soothing the mind, body, and soul. If you want to go to the next level, wearing a pair of barefoot hiking shoes will definitely do it. Get that awesome feeling of being as close to Mother Nature as possible, with you and the trail ground under your feet.
From the best-rated brands like the Chaco Ramble Puff, Xero, and the Vibram Fivefingers, you've great options to select from. Whether you're into light hiking or some H2O adventures, we prepared the perfect pair of minimalist kicks that provided us with superb comfort and freedom of movement during our personal moments with the shoes.
To streamline your search, we've rounded up and tested the best sought-after barefoot hiking shoes for both men and women. HEAD to the article to see our top highlights with their in-depth reviews.
Comparison of the 5 best barefoot hiking shoes
| | | | | | | |
| --- | --- | --- | --- | --- | --- | --- |
| Best | | | | | | |
| CoreScore | | | | | | |
| Users rating | | | | | | |
| Experts | | | | | | |
| Best price | | | | | | |
| Ranking | | | | | | |
| Popularity | | | | | | |
| # of colorways | | | | | | |
One of our favorite parts about the hiking shoe industry is that it's constantly changing and evolving. We can look forward to new styles, colorways, features, and footwear technologies each year. Lately, we've been enjoying learning about "barefoot" hiking shoes.
Barefoot hiking shoes are not necessarily a new idea. However, as of recently, barefoot hiking shoes have been getting a lot of attention. And for a good reason. Keep reading to learn about barefoot hiking shoes and why you should buy a pair (or not).
Zero-drop or "barefoot" shoes
Zero-drop shoes are a type of shoe that has zero heel-to-toe elevation. In other words, the heel is positioned at the same height as the toes. Zero-drop shoes are commonly called "barefoot shoes" because they hold your foot in a more natural position, similar to barefoot.
Barefoot shoes require 0 millimeters of drop. This translates to zero heel elevation. Minimalist shoes range from 0 to 6 millimeters of drop. Some minimalist designs will even go up to 8 millimeters of drop. Therefore, all zero-drop shoes fit within the minimalist shoe category. However, not all minimalist shoe designs can be categorized as zero-drop.
On the other hand, traditional hiking shoe designs include a heel-to-toe drop ranging from 8 to 14 millimeters. Other differences between barefoot and traditional hiking shoes include:
Traditional hiking shoes also tend to be less flexible and less sensitive.
Due to the lack of a cushioned midsole or thick outsole, barefoot hiking shoes typically weigh much less than traditional hiking shoes.
The toe box in barefoot hiking shoes is wider than in traditional hiking shoes. This allows your feet and toes to spread out beneath your body fully.
Heel Drop

Pros

Cons

High Drop: 9-12mm

Thick padding for cushioning
More support

May inhibit natural stride
Heavier
Less ground feel

Mid Drop: 5-8mm

Ideal for neutral runners
Good place to start transition

Low Drop: 1-4mm

Lightweight
Flexible and sensitive

Zero Drop: 0mm
Advantages of barefoot hiking shoes
The main advantage of wearing zero-drop shoes is that they can keep your foot in a more natural, "barefoot" position. In doing so, you can become less dependent on shoe technology to perform and instead rely solely on your legs and feet in their most natural state.
Enthusiasts of zero-drop shoes herald the design for many other benefits as well.
The design builds natural strength in the muscles, ligaments, tendons, and joints in the legs, ankles, and feet.
Zero-drop shoes can improve posture and bring your body into a more natural alignment.
It can help reduce injuries and pain in commonly affected areas like the knees, hips, and back.
Drawbacks of barefoot hiking shoes
Ironically, many drawbacks of barefoot hiking shoes come from their advantages. In other words, all the revolutionary differences that make barefoot hiking enthusiasts crazy about them are precisely what other people dislike. That's why people tend to either love or hate barefoot hiking shoes.
Therefore, it's hard to say barefoot hiking shoes are better or worse than conventional hiking shoes. Nonetheless, depending on what side of the fence you belong to, you may focus more on the drawbacks of barefoot hiking shoes.
Zero-drop shoes lack cushioning in the midsole. The outsoles also tend to be very thin. This increases sensitivity and ground feel, which leaves your foot exposed to hard or sharp surfaces like rocks and roots.
Zero heel-to-toe elevation is a problem for heel strikers– those who make contact with the ground using their heel first instead of their midfoot.
The lightweight materials used in the minimalist construction of barefoot hiking shoes can have issues with durability. They also typically don't have protective toe caps.
Many barefoot hiking shoes are not waterproof. Although many can be water resistant depending on the materials used.
Transitioning to barefoot hiking shoes
Zero-drop or barefoot hiking shoes are relatively new to the scene despite being thought of as a more natural shoe selection. Most of us have been wearing conventional hiking shoes with some elevation change between the heel and toes without thinking twice about it.
That means our feet have become accustomed to the shape and feel of conventional hiking shoes over the years. That's why switching to zero-drop shoes can feel like a drastic and uncomfortable change.
Therefore it's critical to transition slowly to barefoot shoes instead of diving right into the deep end. If zero-drop shoes pique your interest and you want to try them, here are some tips to help you transition.
If you are nervous about the transition, try out a pair of minimalist hiking shoes with 2 to 6 millimeters of drop. If you enjoy how they feel, then go for a complete zero-drop.
To start, wear your barefoot shoes for short periods. You can switch back and forth between your new zero-drop shoes and what you wore in the past.
Begin with short hikes on the easy trails. Maybe even consider wearing your barefoot hiking shoes to run errands around town or walk the dog.
Gradually increase the intensity of your hiking and the duration you wear your barefoot hiking shoes. Do so by no more than 10% each week.
Overall, commit to a four to six-week transition to give your body ample time to adjust to the new style. Some experts and podiatrists recommend transitioning for even longer.
It will be normal to feel soreness in your calves, ankles, feet, and elsewhere. Remember to perform self-care like stretching and massaging to help your body recover.
If you experience pain throughout the process, pull back and reconsider the intensity of your transition process.
The potential risks of wearing zero-drop shoes
Like with most things in life, moderation is essential. Especially when transitioning to barefoot hiking shoes. If you skip taking the time to let your feet adjust to the footwear style, you could be putting yourself at risk.
Walking or running with no support on hard surfaces allows your foot to collapse. This can lead to intense stress on the foot and other parts of your body. The collapsing of the arches in your feet is called pronation.
Most of us naturally pronate when we walk or run. Pronating is when the foot rolls inward upon landing. The prime reason for pronating is shock distribution.
When we walk or run in barefoot shoes without support, our feet end up pronating for longer. Over time, this can alter the distribution of pressure and weight across the foot and lead to risks such as bunions and hammer toes, pain in the Achilles, heels, and arches, plantar fasciitis, tendinitis, stress fractures, and shin splints.
Frequently asked questions
Are barefoot hiking shoes better than conventional hiking shoes?
It's not up to us to decide whether or not barefoot hiking shoes are better than conventional hiking shoes. It comes down to the person, their preferences, how their body performs with barefoot shoes equipped, and how they feel after the experience.
Are barefoot hiking shoes waterproof?
Typically, barefoot shoes are not waterproof. For example, none of the barefoot hiking shoes included in this article are considered waterproof.
However, due to the materials utilized in their construction, barefoot hiking shoes tend to be water-resistant. They also are well known for breathability and drying out very quickly after getting wet. This is especially true for the Xero Shoes Aqua X Sport.
Can I wear barefoot hiking shoes without transitioning slowly?
Yes, technically, you can. However, we do not recommend wearing barefoot hiking shoes for extended periods of exercise without transitioning slowly.
Diving into the deep end of barefoot hiking shoes without first transitioning can lead to injuries such as plantar fasciitis, metatarsal inflammation, stress fractures, and Achilles tendonitis.
How we test hiking shoes
To pick our recommendations for this guide, we hiked 30+ miles for each pair of barefoot hiking shoes across different terrains. We also check and analyze the materials used in all the models inside our RunRepeat shoe lab. Here's how we approach our selection process:
We purchase barefoot hiking shoes from a variety of brands. This guarantees that our comprehensive reviews are 100% honest and unbiased.
We use all these kicks in real-life urban hiking, water hiking, and other outdoor adventures. We check the shoes' fit, traction, comfort, durability, and performance. Our goal is to get our best personal valuation of the model's overall worth.
After putting in the miles and lab analysis, we give our final assessments based on our experience using the shoes in the field.
We collect some more useful data by chopping up the shoes and looking over their interior.