3 Best Adidas Weightlifting Shoes in 2023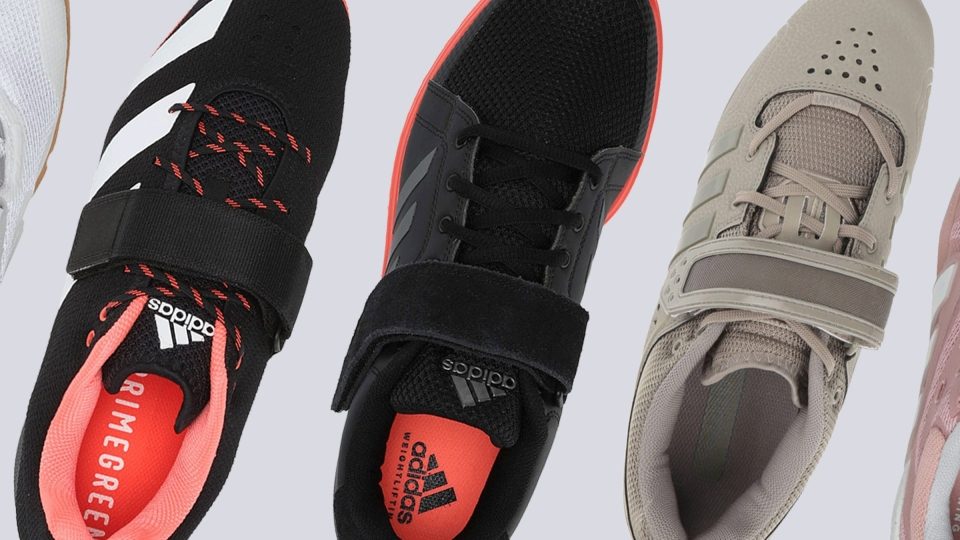 We earn affiliate commissions at no extra cost to you when you buy through us. Why trust us
If you're serious about your weightlifting journey, then you need serious lifting shoes that even the pros would love to have. Let's start with the top-rated Adidas weightlifting shoes (or simply lifters) which are highly recommended for both amateur and professional weightlifters.
First and foremost, you need a good lifter that helps maintain your correct form when lifting heavier weights. The Three Stripes' best offering is the Adidas Power Perfect shoe line, which integrates all the latest technologies for weightlifting. Other solid options include the PowerLift and Adipower series.
Since each model comes with different specs such as heel height, base, and other custom designs, picking the right pair can be confusing. To help you with that, we've not only tested the best Adidas weightlifting shoes but we provided you with vital info to help you make an informed decision. We also determined the pairs that are noteworthy based on the intensive investigation we executed.
Best Adidas weightlifting shoes overall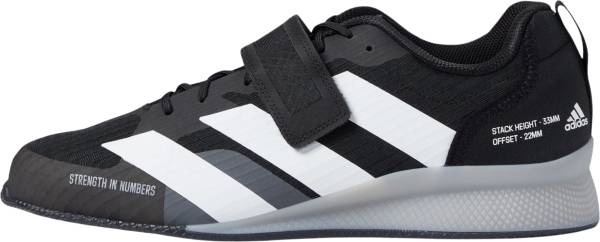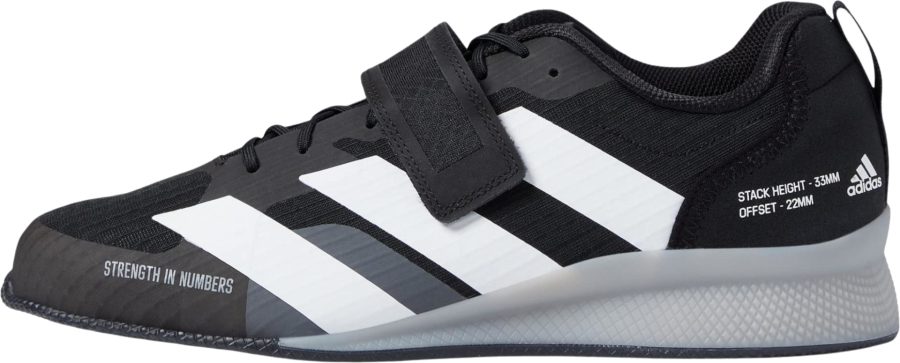 What makes it the best?
With all the right boxes ticked, the Adidas Adipower 3 is a dependable partner for casual to heavy weightlifting. It brings back fond memories of the
original Adipower
, which was a very well-received shoe, and still offers some more. Beginners and more experienced lifters alike love training in this model.
Pros
A good overall performer
Accommodating toe box
Feels durable
Fairly breathable upper
Nice stability
Nice heel height
Dependable grip
Attractively streamlined look
Cons
Too expensive
Not for wide-footers
Full review of Adidas Adipower 3
Today's best price







Amazon
Prime & free shipping
Zappos
Free shipping & returns
Best Adidas weightlifting shoes for beginners









































What makes it the best?
Fitness enthusiasts who are just starting to venture into the world of lifting should go for the Adidas Powerlift 5. Not only does it have a beginner-friendly drop, it also has a pretty supportive build and an outsole that's actually among the thickest that we've seen.
In our lab, we measured the heel drop of this shoe using a caliper. We found that the drop is 15.2 mm, which based on our data, is just around the minimum for lifting shoes, making it perfectly suitable for entry-level lifters who are just getting used to shoes with high elevations.
We did not have problems with support when we wore this shoe because both its heel counter and base felt quite firm. True enough, when we assessed these features manually in the lab, both got perfect 5s for stiffness and resistance.
The thickness of the outsole is worth mentioning here. The caliper measured it to be 5.0 mm thick when the average was only 3.9 mm. Beginners are prone to mistakes that might take a toll on the outsole, such as slips, so having a thick sole helps with longevity.
The tongue is non-gusseted, and we have to admit that it has the tendency to move around unnecessarily. Having a gusseted tongue would have made this shoe a notch better.
Pros
Stable base for moderate lifting
Good for accessory exercises
Solid bite on gym floors
Secure foothold
Supportive Velcro strap
Reasonably priced
Contains sustainable materials
Cons
Lacks breathability
Upper is not very durable
Tongue shifts
Full review of Adidas Powerlift 5
Today's best price







Amazon
Prime & free shipping
Zappos
Free shipping & returns
Adidas
Free shipping and returns
Best zero-drop Adidas weightlifting shoes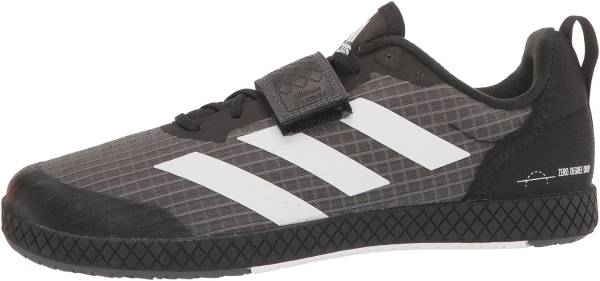 What makes it the best?
Hands down, the Adidas The Total is a well-built shoe that does what it's intended to do: make lifting safer and more efficient. Reviewers can't find any serious flaws in it, so it's safe to say that you will get your money's worth, and perhaps even more, when you buy this.
Pros
Great for strength training
Good traction
Quite stable ride
A lot of ground feel
Lightweight and comfortable
Functionally spacious toebox
Accommodates wide feet
Fairly priced
Streamlined look
Cons
Has to be broken in
Not versatile enough for non-strength exercises
Full review of Adidas The Total
Today's best price






Amazon
Prime & free shipping
Zappos
Free shipping & returns
Comparison of the 3 best Adidas weightlifting shoes
| | | | | |
| --- | --- | --- | --- | --- |
| Best | | | | |
| CoreScore | | | | |
| Users rating | | | | |
| Experts | | | | |
| Best price | | | | |
| Ranking | | | | |
| Popularity | | | | |
| # of colorways | | | | |
Adidas is one of the leading brands in the weightlifting shoe market. They offer a range of weightlifting shoes that are specifically designed to provide stability, support, and comfort to weightlifters. Now that you know which is the best overall Adidas weightlifting shoe, let's zoom out to talk about how to choose the best Adidas weightlifting shoe for your unique situation.
How to select the right Adidas weightlifting shoe for you
Heel height is the distinguishing feature of a weightlifting shoe. The industry average is 0.75 inches or 19.5 mm. Adidas weightlifting shoes tend to run a little higher or quite a bit lower than the average.
The most important thing to consider when choosing the right weightlifting shoe for you is the heel height. Adidas weightlifting shoes are available in a range of heel elevations, from 15 mm (0.6 inches) to 24.8 mm (1 inch).
Low heel height
An example of a 0.6 inch (15 mm) heel height shoe is the Adidas Powerlift.

A low heel height is best for beginner lifters and people who are doing plenty of powerlifting-style workouts.
Medium heel height
Examples of a medium heel height are the Adidas Power Perfect, at 7 inches (19 mm), and the Adidas Adipower, at 0.8 inches (20 mm).

A medium-heel height weightlifting shoe is ideal for intermediate-level lifters, who combine Olympic and powerlifting moves in their workout.
High heel height
The highest weightlifting shoe height can be found on the Adidas Leistung 16 II, at 1 inch (25 mm).*

This heel height is best for experienced weightlifters and Olympic lifters.
*The Adidas Leistung, released in 2016, received quite a lot of negative feedback due to its heel height.
The extra height is beneficial for people with limited ankle mobility but it also means that your knees are going to be more forward than your toes. If you're lifting heavy weight repeatedly that extra bit of knee tracking may contribute to patellar or quadriceps tendonitis. This is something to keep in mind with Adidas shoes, as they are a little more elevated than most.
A high heel elevation is also best suited for the following types of lifters:
Tall people with long upper leg bones (femurs)
People who prefer the bar high on the trapezius and shoulders
People with a medium (hip width) or narrow squat stance
Those with poor ankle mobility
Folks who are unable to squat deeply
TIP: At the end of the day, heel height is a matter of personal choice. Use an adjustable slant board or small weight plates under your heels as you experiment to discover which height allows you for the deepest squat, the best knee tracking, and the most upright torso. [3]
Finding the right fit in Adidas lifting shoes
Adidas weightlifting shoes are known to have a narrow fit. If you've got a narrow foot, a pair of Adidas Adipowers or Power Perfect 3s will give you a good fit. But if you have a wider-than-normal foot, Adidas may not be the right weightlifting shoe brand for you. These shoes are likely to feel too restrictive through the midfoot. The constant pressing of your foot against the midsole material could result in premature wear and tear.
If you have wide feet, consider the Reebok Legacy Lifter instead.
People with normal-width feet should find the Adidas range to provide a tight but not uncomfortable fit through the midsole area. The entire Adidas range does a good job of delivering a wide enough toe box for the toes to spread out when lifting. You also won't have any problems with forward foot sliding in a pair of Adidas weightlifting shoes.
Adidas shoes fit true to size. Shoe sizing charts for all of their footwear can be found on the official Adidas website.
The Adipower: Adidas' most popular premium lifter
The Adipower lifting shoe was introduced to the market in 2012, just before the 2012 Olympics. The shoe was worn by quite a few Olympic athletes and it quickly became a top seller.
What made the original Adipower so popular?
The Adipower is one of the most popular lines of weightlifting shoes put out by Adidas. The first version was an industry innovator, introducing the full TPU heel. Before long, most other manufacturers were putting out their own versions of a full TPU heel shoe.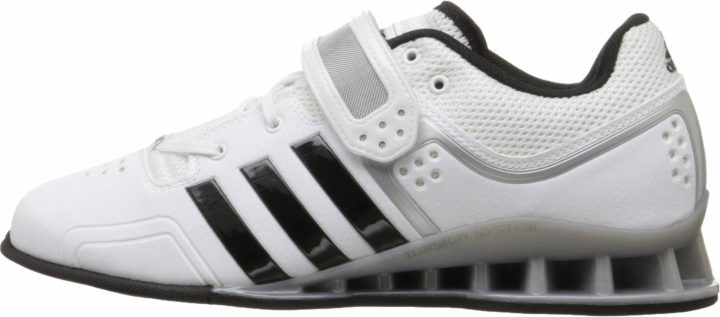 The original Adipower made use of several other unique technologies that set them apart from the competition:
PU Coated rubber to enhance durability, flexibility, and ventilation.
A weightlifting-engineered chassis in combination with the full TPU heel for greater stability.
A strap reduction from the three featured in the Adidas Adistar running shoe to just one.
A midfoot torsion system that separates the toe from the heel in terms of maneuverability and functionality.
What happened to the Adipower 2?
But Adidas received quite a lot of backlash when they brought out version 2 of the Adipower in 2019. They had tried to find that sweet spot between comfort and rigidity that would allow for a more general-purpose shoe but, inevitably, failed to meet the expectations of the hardcore lifting crowd.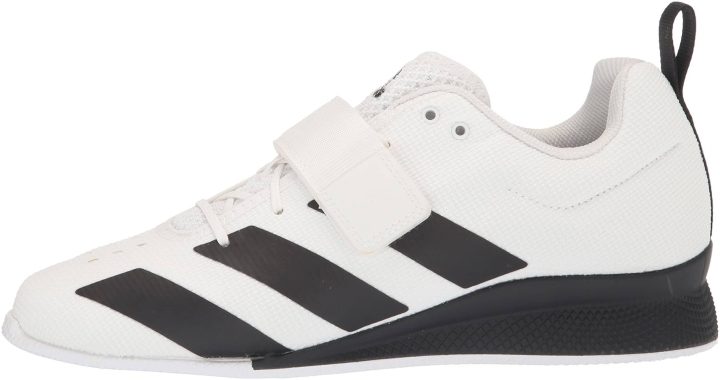 The Adipower 2 saw some wholesale changes over the original design. Here are the key differences with version one:
Woven textile upper: stretches a little to accommodate toe splay.
More flexible upper: this makes it a more comfortable shoe to wear around the gym and allows you to wear the shoe for more auxiliary exercises. But those benefits come at the cost of weightlifting rigidity.
If you are pushing maximum poundages overhead, you need every bit of forefoot rigidity possible. You just don't get that with the Adipower 2.
Removal of Midfoot Torsion System: better for people with wide feet but does not provide the same level of midfoot and arch support.
Restructured outsole: a flatter midfoot and a diamond-shaped grippy rubber pattern does a better job of gripping the floor.
The heel height on the Adipower is the same as the original (0.8 inches / 20 mm).
Version 3: Back to basics
For version 3, Adidas reverted back to the more rigid construction of the first version. It features a more stable high-density TPU midsole heel than the previous version, as well as a new canvas and ripstop upper with synthetic overlays. By going back to their weightlifting shoe roots, Adidas was able to win back the fans of the Adipower I.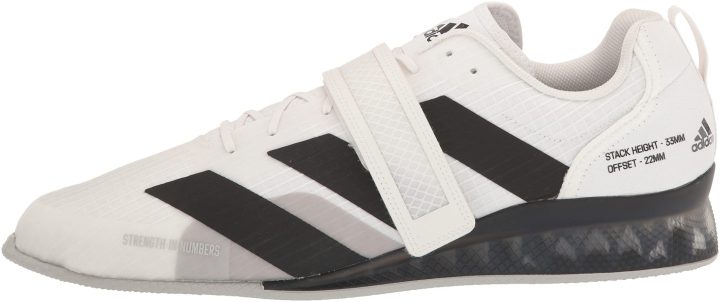 Most owners of both the Adipower 1 and 3 will tell you that the latest version has a wider toe box to allow for natural toe splay when lifting. The ankle collar of the Adipower 3 is also not as padded as the original shoe, making for a slightly more rigid fit. The overall consensus seems to be that the Adipower 3 is more comfortable and provides a better fit.
The heel height in the v3 went up to 0.9 inches (22 mm).
Adidas Weightlifting shoe breakdown
Adidas weightlifting shoes are designed for functionality over comfort. It is important to understand from the outset that a weightlifting shoe will not be as comfortable as a cross trainer or running shoe. That's because the padding and flexibility that enhances the comfort of those other types of shoes are purposefully lacking in a weightlifting shoe.
Here are four things to focus on, over and above heel elevation, to get the best Adidas weightlifting shoe for you:
Toe Box
The wider your footprint on the floor is while lifting, the more secure your grip will be. That's why your toes naturally spread out when you're lifting. The last thing you want is a tight toe box that is going to interfere with that toe splay.
Determine Your Foot Width
It's good to know how wide the shoe needs to be from the outer edge of the big toe across to the outer edge of the little toe. You can do this by tracing the outline of your foot with your toes spread out and measuring that distance. Then, if you're shopping in a bricks and mortar store check the toe box width with a tape measure. If shopping online, dig into the stats on the company's website for the toe box width.
Toebox Construction
In terms of toe box construction material, you want the top material to be strong and breathable. The most popular material is a synthetic knit blend. Look for a shoe that has a rigid toe guard to prevent the foot from sliding forward.
In Adidas weightlifting shoes, the toebox construction is usually made of a combination of materials, such as a stiff plastic or composite material, and durable synthetic leather. This combination of materials helps to provide the necessary rigidity and stability while also ensuring that the shoes are comfortable to wear.
Some Adidas weightlifting shoes also have a reinforced toebox for added durability, which is especially important for heavy lifters and frequent users.
Outsole
The outsole construction in weightlifting shoes, including those from Adidas, is significant because it plays an important role in the stability and grip of the lifter during weightlifting exercises.
A solid and flat outsole helps to keep the lifter's feet firmly planted on the ground, which is especially important during exercises such as squats and deadlifts where the feet are subjected to significant forces.

Additionally, a non-slip outsole helps to prevent slipping on the platform or floor, allowing the lifter to perform exercises with confidence and without worrying about losing their footing.
In Adidas weightlifting shoes, the outsole construction is usually made of a durable and non-slip rubber material, which provides the necessary traction and stability.
Some Adidas weightlifting shoes also have a multi-directional outsole pattern, which helps to provide traction in all directions, allowing the lifter to make quick movements and changes of direction without slipping.
Midsole
A weightlifting shoe midsole is far more rigid than that of a cross trainer. It is made that way to stop the shoe from compressing and, therefore, absorbing the power and force that should be directed against the weight that you are lifting.
Lack of compressibility also makes your weightlifting shoe more sturdy to provide much-needed stability during your big lifts. To provide the needed stability, midsoles are often constructed from thermoplastic polyurethane (TPU), wood, or stacked leather. My preferred material is TPU as it looks better and molds more readily to the rest of the shoe.
In Adidas weightlifting shoes, the midsole construction is usually made of a combination of materials, such as a flexible foam material and a supportive plate. This combination of materials helps to provide the necessary cushioning and support while also allowing for flexibility and natural movement of the feet.
Some Adidas weightlifting shoes also have a reinforced midsole for added support and durability, which is especially important for heavy lifters and frequent users.
Another aspect of the midsole construction in Adidas weightlifting shoes is the shape and design of the midsole. In weightlifting shoes, the midsole is often designed to be flat and wide, providing a stable platform for the feet. This design helps to prevent the feet from rolling or twisting during exercises, which can cause injury.
Locking system
The more secure and locked in your foot is, the more optimal your lift will be.
Rather than relying on laces, most weightlifting shoes will provide a velcro strapping system to keep your feet more securely locked in. This is yet another aspect of the overall rigidity of your foot while lifting.
You will find weightlifting shoes with both a single and a double velcro strapping system. I recommend going for a double velcro strap. In my experience, a single strap will limit most of the support to the area directly under it. A double strap will spread out the support across a much wider area of the upper and midsole.
The BOA Locking System
Another locking system that is used on some weightlifting shoes is the BOA system. BOA is a patented lacing system from Adidas that allows you to get a tight fit with a simple turn of a dial. It features wire laces that are connected to a central dial. To tighten the shoes, you simply turn the dial to the right. To adjust, turn to the left. To disengage the laces, simply lift the dial-up and pull out the tongue.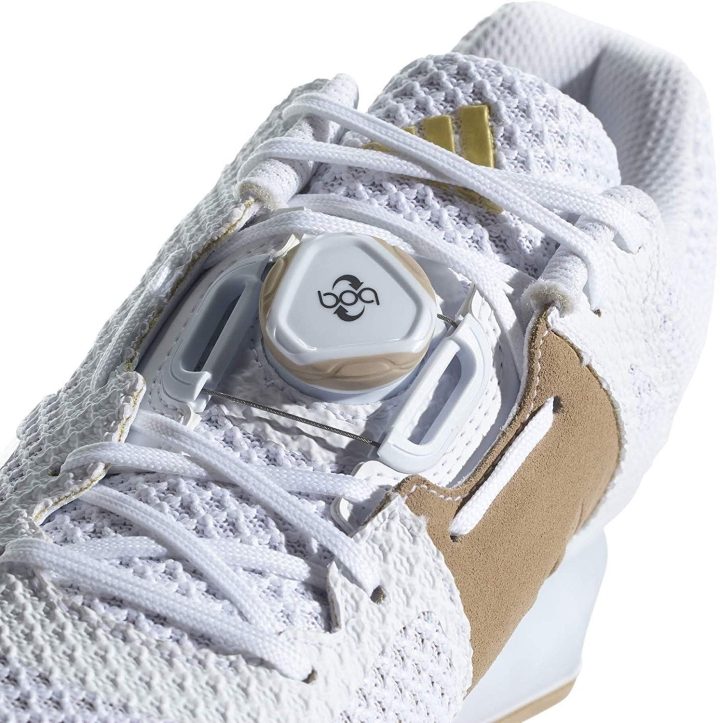 I've tried a few shoes that have included the BOA system. What I really like about them is that you can make micro-adjustments instantly between sets - and there is no hassle about laces coming undone!
How we test weightlifting shoes
Ranking all the shoes in the database requires due diligence. We make sure that all models are properly tested in the gym, and to see how each one performs in actual weightlifting sessions. We also bring the shoes to our testing lab for more analysis of the quality of the materials used.
This is exactly our process:
Buying the weightlifting shoes from Adidas for our wear tests. We spend our own money on this to ensure our objectivity and transparency.
Putting in 10+ hours of weightlifting usage for each model to determine its real-world value and performance. We take notes of our impressions about the shoes' fit, stability, support, traction, and many others.
Enriching our data collection by quantifying the aspects of the shoes. We cut the shoes into pieces and test all the possible parameters to tell us more about how a shoe bears against abrasion, how well it breathes, how accommodating its fit is, and many more.