3 Best Adidas Powerlifting Shoes in 2023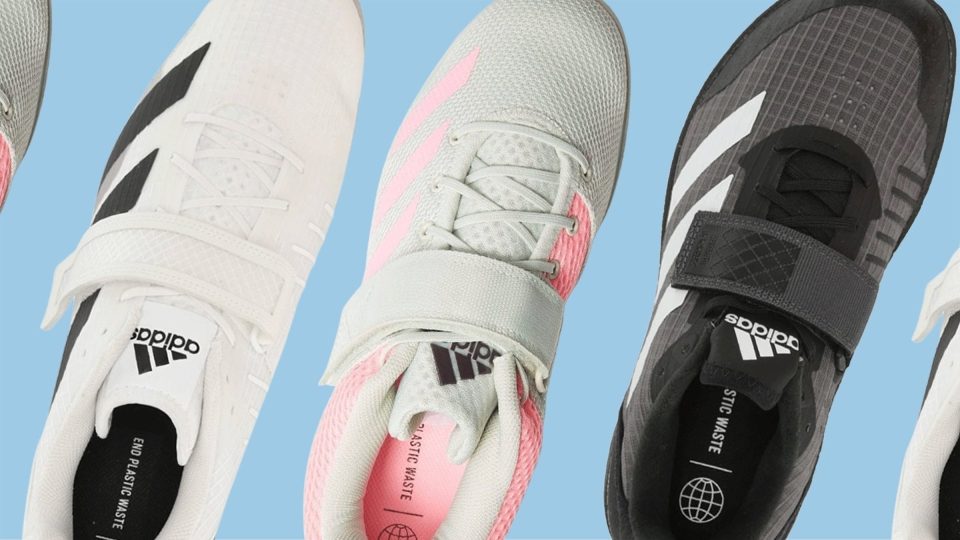 We earn affiliate commissions at no extra cost to you when you buy through us. Why trust us
Adidas gets multiple spots in our list of highly-rated powerlifting shoes. This should not be a surprise to anyone. After all, the Three Stripes brand has helped create the weightlifting shoe movement that started as early as the 1970s.
One of the iconic shoes in the history of powerlifting is the Adistar. Over the years, the Adidas brand has continued to improve and innovate its powerlifting shoe lines, which include the Adipower, Power Perfect, and the Powerlift series. We recommended them all for both amateurs and pros.
Although Adidas currently offers a limited selection of powerlifting models, it's still crucial to be more precise about which model is best suitable for you. So we helped you by testing the shoes on our own. We used our expertise in pinpointing the advantages and disadvantages of the shoes and we organized all our impressions in a comprehensive review. We designated the best shoes in different categories. Check them out!
Best Adidas powerlifting shoes overall









































What makes it the best?
After working out in it for a number of sessions, we could really say that powerlifters should pick the Adidas Powerlift 5 if they want to excel in the sport. Aside from delivering tremendous twist protection, this shoe was also able to grip different types of gym floors well. We were confident that we wouldn't slip or fall, no matter how heavy we attempted to lift. We also appreciated the fact the outsole is among the thickest that we've encountered, contributing to this shoe's longevity.
In order to lift well, our feet just had to stay flat on the footbed. The shoe's twist resistance helped us achieve this. When we assessed this part of the shoe in the lab, it was indeed so firm. It deserved a perfect 5 for torsional resistance.
When it comes to traction, we couldn't ask for more. We were satisfied with not only how consistent it was on different types of surfaces but also with its multidirectional coverage.
Our caliper showed that the outsole of the Powerlift 5 is indeed thicker than average. The device measured it to be 5.0 mm thick when the average is only 3.9 mm. In terms of durability, this shoe's sole is not any better or worse than the typical. Its thickness, therefore, is a good indicator of how long it's going to last.
We would have loved this shoe more if it were just a tiny bit more breathable. During our smoke test in the lab, we saw that the smoke had a hard time passing through the upper material. This shoe only got a 2 out of 5 for ventilation.
Pros
Stable base for moderate lifting
Good for accessory exercises
Solid bite on gym floors
Secure foothold
Supportive Velcro strap
Reasonably priced
Contains sustainable materials
Cons
Lacks breathability
Upper is not very durable
Tongue shifts
Full review of Adidas Powerlift 5
Today's best price







Amazon
Prime & free shipping
Zappos
Free shipping & returns
Adidas
Free shipping and returns
Best Adidas powerlifting shoes for advanced athletes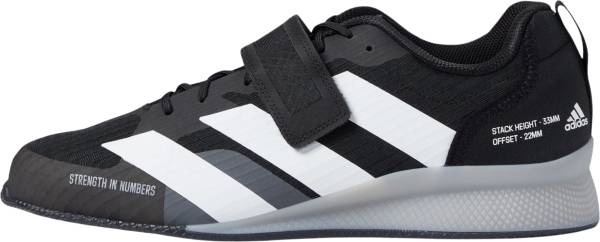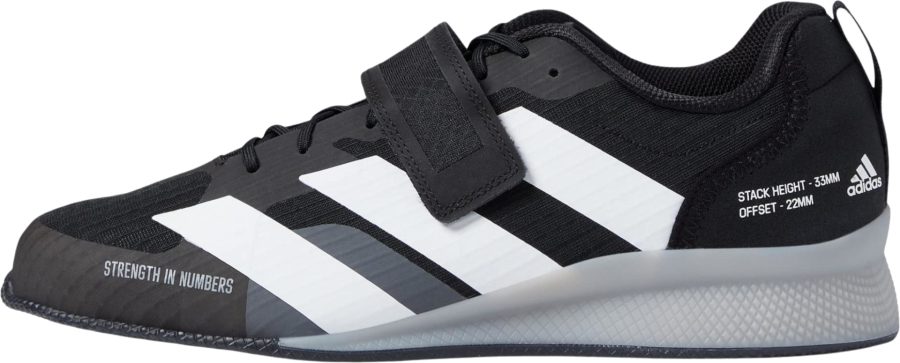 What makes it the best?
With all the right boxes ticked, the Adidas Adipower 3 is a dependable partner for casual to heavy weightlifting. It brings back fond memories of the
original Adipower
, which was a very well-received shoe, and still offers some more. Beginners and more experienced lifters alike love training in this model.
Pros
A good overall performer
Accommodating toe box
Feels durable
Fairly breathable upper
Nice stability
Nice heel height
Dependable grip
Attractively streamlined look
Cons
Too expensive
Not for wide-footers
Full review of Adidas Adipower 3
Today's best price







Amazon
Prime & free shipping
Zappos
Free shipping & returns
Best zero-drop Adidas powerlifting shoes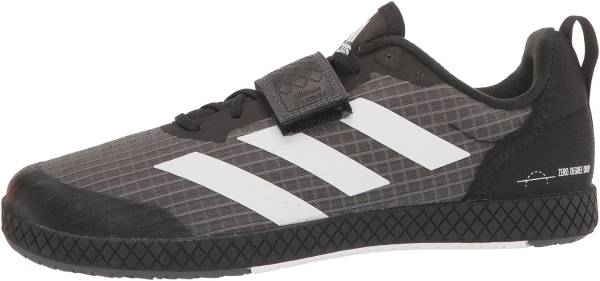 What makes it the best?
Hands down, the Adidas The Total is a well-built shoe that does what it's intended to do: make lifting safer and more efficient. Reviewers can't find any serious flaws in it, so it's safe to say that you will get your money's worth, and perhaps even more, when you buy this.
Pros
Great for strength training
Good traction
Quite stable ride
A lot of ground feel
Lightweight and comfortable
Functionally spacious toebox
Accommodates wide feet
Fairly priced
Streamlined look
Cons
Has to be broken in
Not versatile enough for non-strength exercises
Full review of Adidas The Total
Today's best price






Amazon
Prime & free shipping
Zappos
Free shipping & returns
Comparison of the 3 best Adidas powerlifting shoes
| | | | | |
| --- | --- | --- | --- | --- |
| Best | | | | |
| CoreScore | | | | |
| Users rating | | | | |
| Experts | | | | |
| Best price | | | | |
| Ranking | | | | |
| Popularity | | | | |
| # of colorways | | | | |
How we test powerlifting shoes
Each pair of shoes on this list goes through our comprehensive testing process. That means using them in actual powerlifting workouts in the gym. This allows us to have a first-hand experience of their performance, comfort, and durability, among others. We also check the technologies that are integrated into the shoes.
Our process specifically includes:
Purchasing the Adidas powerlifting shoes for our tests. We use our own money for this to keep our reviews bias-free.
Putting in 10 to 20 hours of training using a particular model, and subjecting it to the rigors and wear and tear of weightlifting training sessions. We keep a record of our impressions and final assessments about the shoes' fit, stability, arch support, and many more.
Enriching our data with more info from our lab. We conduct multiple tests that measure the parameters of the shoes for us to comprehend better how they perform in different aspects. We also segment the shoes into parts to give us a better view of everything that builds the shoes.