The overall style of the Flashtrek from Gucci speaks volumes about what it's for: FUN. It features a flashy throwback design, creating a standout sport-chic piece. Also, this big, bright, and beautiful sneaker brags about its overall comfort and durability, making it an appropriate stylish all-day sneaker.
Pros
Comfortable platform
Eyecatching design
Versatile style
Interchangeable look
Durable
Fairly light

Quick-to-tighten laces
Cons
Excessively pricey

White colorway stains fast
Who should buy the
Gucci Flashtrek
The Gucci Flashtrek is a solid choice if:
You love to include shiny ornaments and precious stones into your OOTDs.
A sneaker that offers a pleasant underfoot experience is what you need.
You are looking for a shoe tough enough to last for extended periods.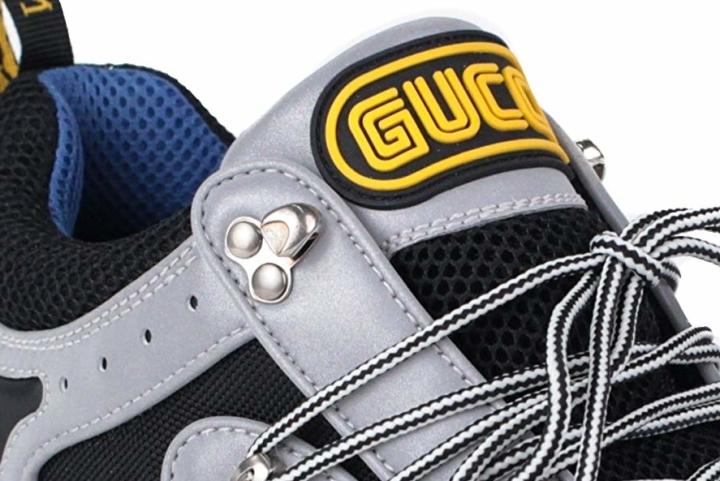 Who should not buy the Gucci Flashtrek
Wearers on a tight budget might have to take this Gucci pair off their shopping list. The Adidas EQT Gazelle which is retailed at $130 is far more affordable than the Flashtrek ($1,590). Check the colorway called Multi of that Adidas pair and see if it satisfies your taste. You may also choose a chunky shoe that has a dark colorway if a shoe that requires extra care when it comes to keeping it clean is not your cup of tea. The black version of the Adidas FYW S-97 is a good candidate.
Cozy overall
A larger percentage of reviewers mention that the Gucci Flashtrek is extremely comfortable. The shoe is accentuated with a gum rubber sole and quick lacing system, for a cozy and casual look.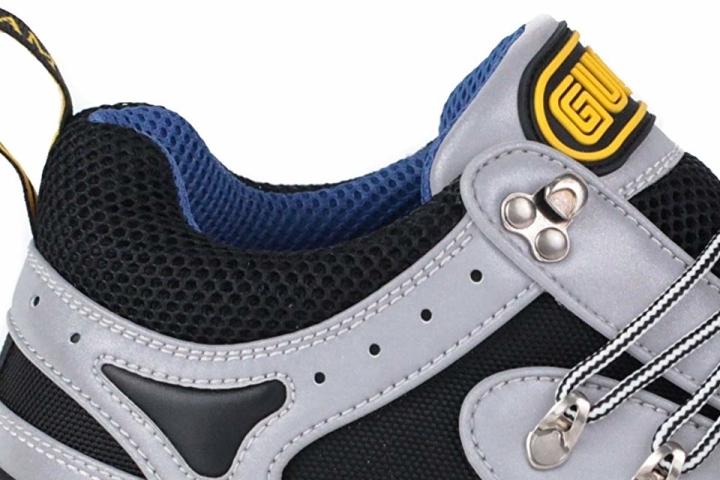 Chunky yet moderately light
A vlogger mentioned that while Gucci Flashtrek has a chunky silhouette, it doesn't feel too heavy when you get them on.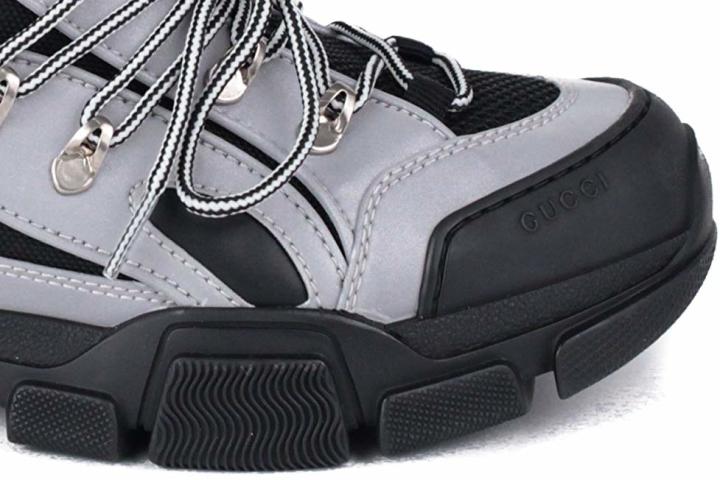 Gucci Flashtrek: Glammed up ugly trainers
When Gucci Flashtrek debuted in the market, Gucci made it to the headlines. Critics noted the lavish makeover to the rugged footwear with this pair's flashy jewels and bold silhouette. This sneaker harnesses visual cues from classic hiking boots with details borrowed from Sega, a Japanese video game maker. That said, this model is a real statement piece, according to numerous buyers. Moreover, owners love that this sneaker is easy to pair with any casual wardrobe.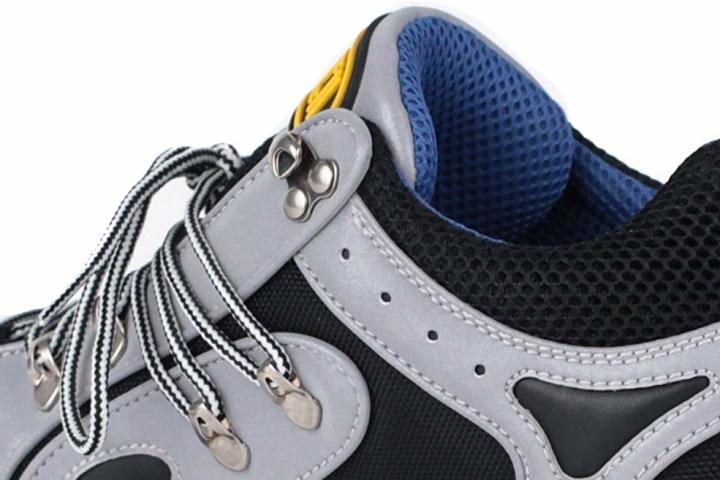 Priced like a diamond
The Gucci Flashtrek is offered at an exceedingly expensive price range. Retailed at $1590, it is almost 15x more expensive than the average sneaker in our database ($110).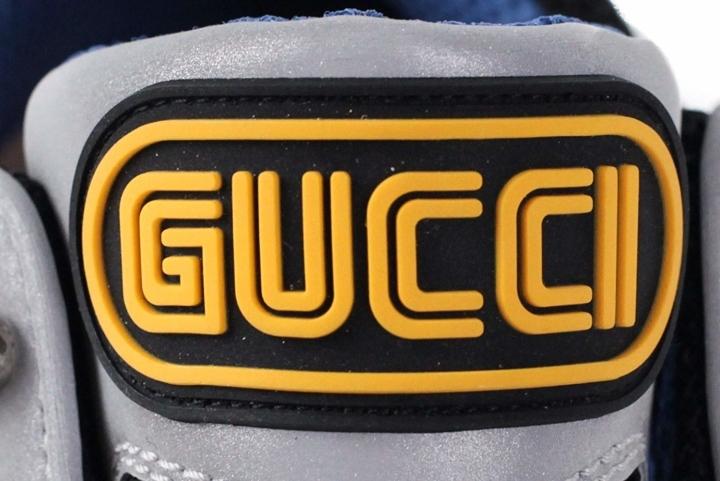 Interchangeable look
Crafted in Italy to maintain the premium quality, this kick is made with dynamic mixed materials on its upper with detachable flashy bejeweled straps which allow wearers to enjoy a shoe that has a simpler style.
Sturdy and recommendable
Sneaker enthusiasts mention that they find the Gucci Flashtrek sturdy. In fact, many users strongly vouched that this low-top sneaker can endure the harshness of daily use.
Stain magnet
The Gucci Flashtrek in white colorway stains easily, especially the soles of the shoe, says one reviewer.
Can we hike in these sneakers?
While this sneaker is molded from hiking footwear, it is not an actual outdoor hiking shoe. The thick sole of these kicks is similar to another skyscraping luxurious model - the Balenciaga Triple S. The sturdy, rugged sole keeps its wearers ready for the city streets, dance floors, and casual events in eye-catching style.
The History of Gucci
Founded by Guccio Gucci, the Gucci was established in 1921 as a brand that produces leather products and luxury bags that were mostly inspired by equestrian sports. But like many startup companies, it took Gucci a while to gain traction in the market. The company spent three decades before gaining prominence in the fashion world.
Two years after the Second World War, Gucci introduced the Bamboo bag as the company's answer to the short supply of leather materials. They thought of using Japanese bamboo to create one-of-a-kind bag handles. Also, that same year, Gucci launched its first tagline, "Quality is remembered long after price is forgotten."
In 1952, the Gucci loafer was presented before the fashion community. Guccio Gucci passed away in January of '53, and in the same year, the company opened its first store in the United States, while a shop in London was launched in '61.
In 1970, Gucci ventured into another product line and introduced clothing and fragrances. But during the '80s, the founding family suffered from feuds and disagreement. It led to their ouster from the company in 1993.
The brand was relaunched after the crisis with 'Porno Chic' props. Gucci was purchased by the French company Pinault Printemps Redoute, afterward known as Kering, in 1999. Gucci became an iconic 'geek-chic' brand in the 2010s.
For 60 years, Gucci slowly evolved as an authority in the world of fashion. In fact, Gucci's footwear has been worn by notable people such as celebrities, millionaires, and fashion stars. Hailey Baldwin was seen wearing a pair of Gucci loafers and a vintage-inspired Gucci bag. Vanessa Hudgens was also seen strolling the streets on her black Gucci mules, while Sienna Miller paired her black and white stripe shirt and jeans with red Gucci loafers. As a fan of shoes with a chunky silhouette, it is no secret that the bejeweled Gucci Flashtrek is part of Billie Eilish's footwear rotation.