Who should buy the Footjoy Traditions Shield Tip
The Traditions Shield Tip is the perfect marriage of high-quality golf shoes and dressy leather brogues. Buy it if:
You prefer kicks that allow you to jump into action on day one, minus the blisters.
Spiked golf shoes that can delay underfoot fatigue are what you're after.
You collect barely-there footwear—a pair that won't weigh you down on long rounds.
Who should not buy it
With its adaptive fit and issue-free laces, the Adidas ZG21 is a fine alternative to the Traditions Shield Tip. Also, you're better off getting the Footjoy Hyperflex if you need an extra breathable pair.
Joyful comfort from the box
Recreational golfers, highly experienced players, and professional bloggers are enamored by the comfiness of the FJ Traditions Shield Tip. Their remarks are as follows:
They "instantly feel like slippers."
"Super, super comfy."
"Comfy, comfy, comfy."
Now the third comment came from someone who added: had these shoes had any more comfort, "they'd come with pajamas." Also, its heel padding is just so soft, according to a tester.
The ultra-light Footjoy Traditions Shield Tip
This spiked golfer's shoe is celebrated by many for its barely-there weight. "It's crazy light," says a vlogger among them.
Cranked-up tenacity on the course
Gear mavens and regular golf players agree that the Footjoy Traditions Shield Tip has extraordinary surface adhesion. Compared with others, these kicks "absolutely have way more grip," says one of them. "On wet days, the grip is the best you can get," says another.
The Traditions Shield Tip's buzz-worthy support
There are those who are very impressed with the supportiveness of the Traditions Shield Tip, particularly underfoot. "It really delivers a lot of support on your foot," says a professional footwear vlogger.
Not for the stout-footed golfer
Among the things that lightly smear the Traditions Shield Tip's resumé is its restrictive interior. It's "definitely too narrow," says someone who never had to order wide golf shoes before.
Wanted: Clingier shoestrings
There's a chance that you'd need to redo the tightness of your laces in this FJ kick a few times. An experienced golf player had to retie them more than twice in one of his rounds. He said that the shoe should have had heavier waxed laces instead of slick ones.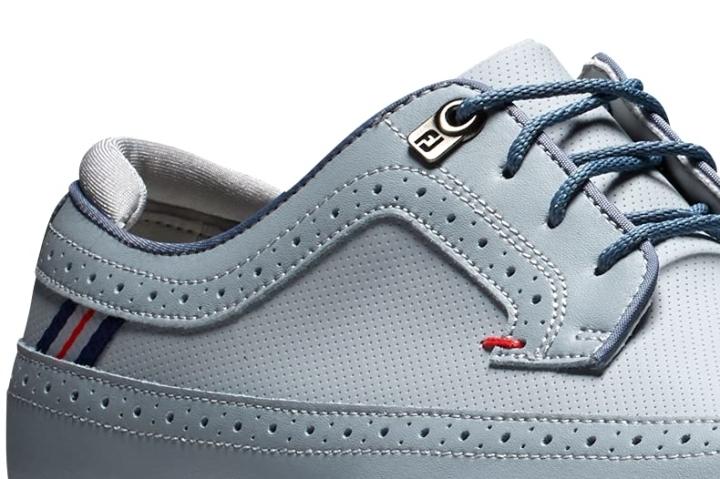 Traditions Shield Tip: The embodiment of dapperness
With comments such as "a real eye-catcher," "sharp looks," and "best-looking golf shoes ever," it's quite apparent that this affordable FJ kick ($140) is the real deal in the design department.
Not the most ventilated
It has been reported that the Footjoy Traditions Shield Tip has below-average breathability. Wear thinner socks if you're planning to wear this shoe in warmer conditions.
Compare popularity
Interactive
Compare the popularity of another shoe to Footjoy Traditions Shield Tip: