The Footjoy Traditions unexpectedly fuses the classic style of a saddle shoe and the comfort of a sneaker. Tried and tested in various conditions, it lives up to a high standard for waterproofing and traction. To every tester's surprise, all of that is offered under the average price tag of golf shoes.
Pros
Attractive traditional look
Comfortable for walking 18 holes
Well-fitting from the start
Waterproofing warranty
Great traction
Replaceable spikes
Feels light on the foot
Great deal
Easy to clean
Cons
Leather tends to crack
Spikes need to be tightened
Who should buy the Footjoy Traditions
The Traditions is a perfect option for those who want a classic golf look from Footjoy but hope to stay on the budget. According to the reviewers, the shoe is reasonably priced and is "bang on the money." They note that a similar-looking shoe typically costs more ($153 is the average for Footjoy).
It is also quite rare that a traditionally-styled golf shoe should have a soft and responsive midsole. Some golfers have compared its comfort to that of a tennis shoe or a lifestyle sneaker.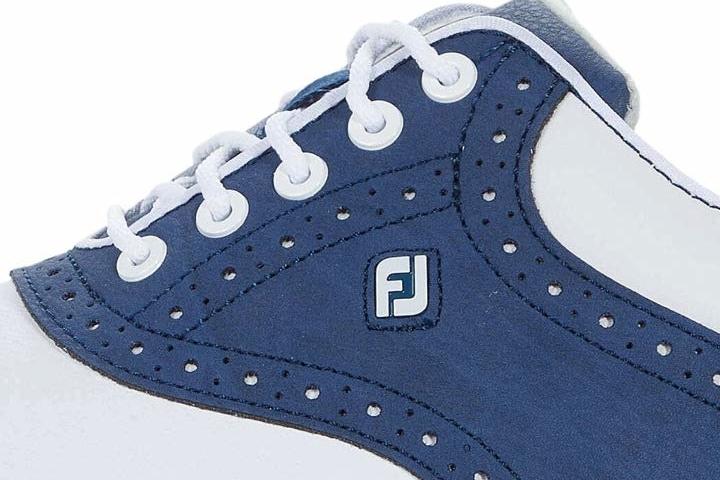 Who should not buy this golf shoe
If you don't mind paying an extra $60 to get a leather saddle shoe with top-notch durability and craftsmanship, consider the FJ Premiere Series Tarlow or Premiere Series Packard.
From the box to the course with no problem
While some might worry about the shoe's leather upper, it actually feels nice and broken in straight from the box, according to many reviewers. A golfer says that he walked 18 holes from the start with no blisters or discomfort. Another one describes that it "felt like [he] had worn them for a year" on his first round.
Those who have worn many FJs over the years (40 years for some!) say that the Traditions fits "perfect as usual."
More than a few people also enjoyed the Achilles pad at the back which prevents blisters and heel slippage. Some especially like how it makes the shoe go on and come off with ease.
Impressive comfort of the Footjoy Traditions
"My feet scream JOY," says one of the hundreds of happy wearers. Another claims he "would buy again in a heartbeat." Even a PGA Professional guarantees "when you pop these on your feet, you'll be extremely happy."
Golfers note that the shoe's comfort indeed matches its high-class look. Having walked a good number of holes in the shoe, the wearers reported no issues with soreness or fatigue. That includes bigger guys too. One of the golfers who weighs 300 lbs says that his feel "never hurt once…after playing 36 holes."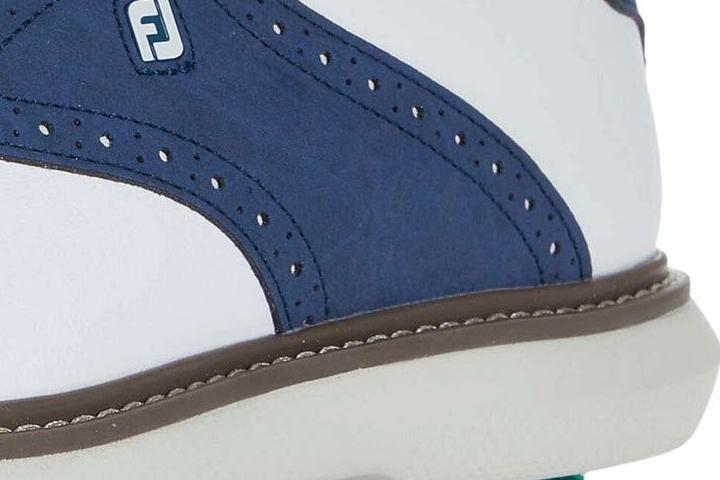 What's surprising about this traditional spike is how well-cushioned it is. It is made of a rather soft foam which doesn't impact stability. One golfer goes as far as saying that it feels like it was made from a new type of super-cushioned foam, comparing it to Adidas Boost on the 360 XT Tour. Another athlete loves that it "gives great bounce" which you would expect from a more athletic golf shoe.
Feel surefooted during the swing
A vast majority of reviewers are highly satisfied with the solid stability and traction of the Traditions. Its steady platform helps the wearers feel very stable throughout the swing. As one golfer says, his feet feel as if they are "glued to the ground."
Playing on dewy, soggy, or freshly rained surface will not be a problem with the shoe's grippy Softspikes. There is no slipping around.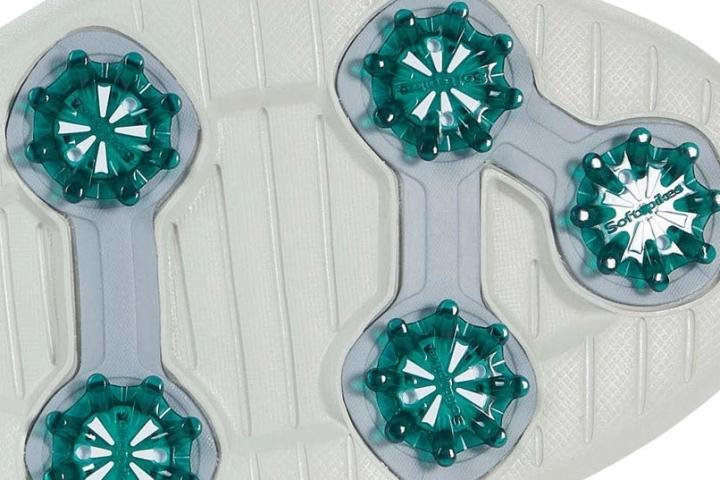 Another highlight of the spikes is that they don't get claggy, keeping the grip consistent. Golfers say that mud and grass don't stick to soles and the shoe remains "fairly free of debris."
On top of it all, the Softspikes used on the shoe are renewable, meaning that you can replace them with any other cleats that have the PNS system. The downside of this design is that you have to make sure to tighten the spikes up so that they don't pop out.
Waterproofing is top-notch
The Footjoy Traditions is not afraid of boggy courses or rainy days. A lot of golfers agree that the shoe is indeed fully waterproof and keeps your feet nice and dry. So that there is no excess moisture soaking your feet. Some even use the Traditions as their winter golf shoe.
A few athletes are quite happy that for a leather shoe, the upper still breathes well enough.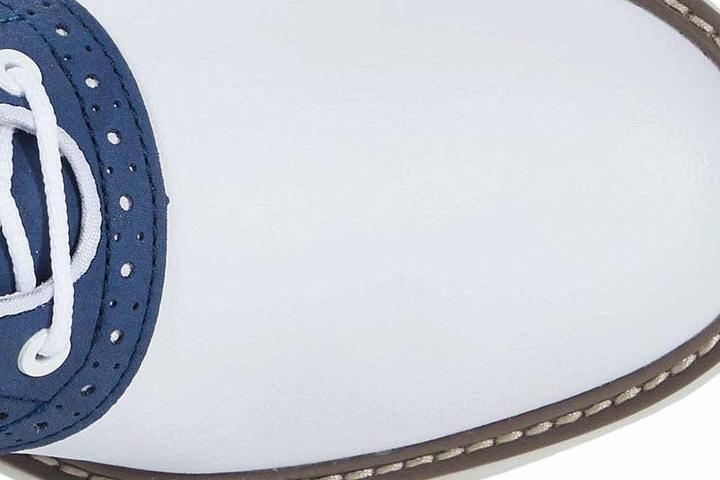 Crack warning: leather is not the highest quality
The brand claims to use full-grain leather for the upper of this Footjoy shoe. Unfortunately, more than a few golfers faced the issue of leather wrinkling and cracking within 1-2 months of use. "I'm kind of shocked," says a person who always took care of the shoe and wiped it regularly. Some who haven't even used the shoe frequently say that "these aren't built to last." "Shoddy quality," says another one.
This shortcoming also affects the shoe's waterproofing capacity. But given its 1-year warranty, the wearers were able to exchange their pair for a new one.
Footjoy Traditions feels lighter than it looks
Quite a few golfers took note of the shoe's lightness, which is unusual for a traditionally-styled golf shoe. They also say that it walks a fine line between being light and sturdy and supportive all at once.
Classic saddle shoe vibe is what it's all
about
"Golf is a classy upscale sport. Players should be dressed as such," says an avid golf player. Nearly every buyer chose the Traditions for its timeless, old-fashioned look which hasn't been around in recent years. Its clean genuine leather upper made some people feel nostalgic, carrying them back to the early golf days. It is in a way a more affordable version of the FJ DryJoys Tour ($290).
"Fabulous" and "sexy," it impresses the bypassers and draws lots of attention. Be prepared to receive admiring comments even from your usually cheeky fellow golfers.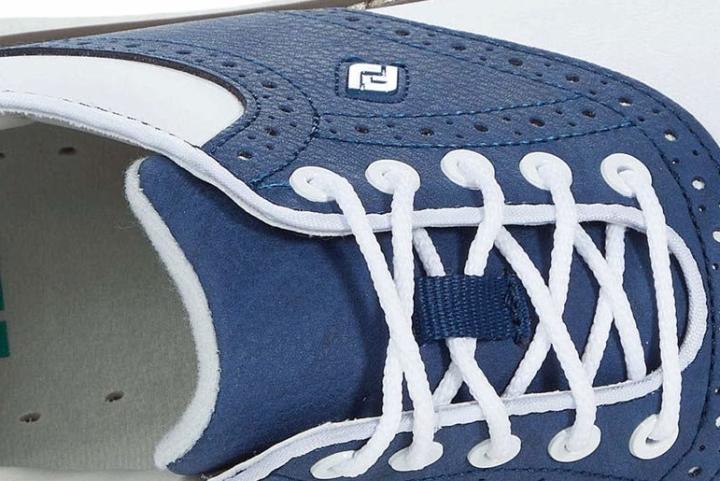 And most impressively, the shoe cleans up easily. A quick wipe is enough to make it look like new.
To expand your options, be sure to check out the Traditions Shield Tip too. It is the same shoe but is a slightly different variation of the upper.