The Footjoy Tour Alpha really stands out from the crowd as a high-class golf shoe with impressive stability. This is the shoe to rely on when you need to be extra surefooted playing in tough conditions. It is more than just another FJ shoe, it is a premium option that deserves its place in an avid golfer's rotation.
Pros
Elite-level quality
Outstanding stability
Excellent waterproofing
Great grip even on wet
Secure, locked-down fit
Cozy underfoot padding
Clean and classic look
Cons
May cause heel blisters
Not a cheap

shoe
Who should buy the Footjoy Tour
Alpha
This Footjoy offering will best benefit advanced golfers who are after the following characteristics:
Premium quality. Testers of the Tour Alpha claim that the shoe truly delivers for its above-average price.
All-conditions golf shoe. With its 100% waterproof upper, best-in-class stability, and superb grip of a spiked shoe, it is perfect for hilly courses, wet ground, and rainy days.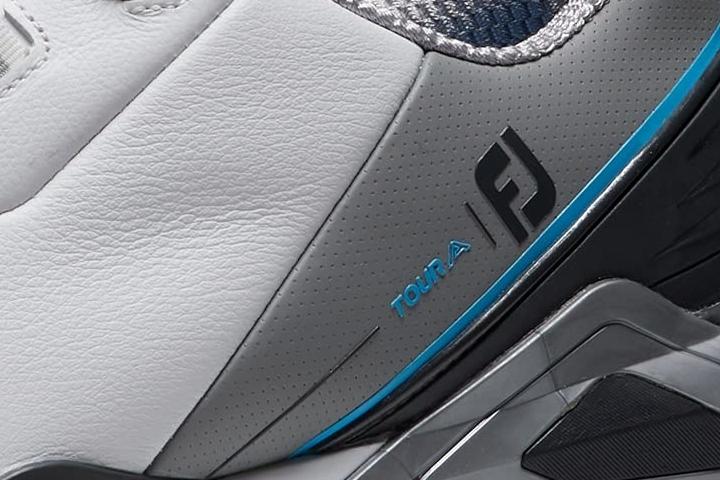 Who should NOT buy this golf shoe
This may not be the right shoe if you are more of a casual golfer and don't really need an elite-level golf shoe at such a high price point. But if you just need a functional spiked waterproof pair, consider the Nike Roshe G Tour.
And if you have concerns over the potential heel rubbing from the leather upper of the Tour Alpha, try the Footjoy Hyperflex. Its soft sock-like upper is also more accommodating for wider feet.
Advanced stability of the Tour Alpha
"Most stable golf shoes I've ever worn," says an experienced golfer. Another one echoes this by saying that he never felt like he was "moving excessively through the swing." Many other wearers mentioned stability among the primary advantages of the shoe.
According to the brand, the Optimized Performance Stabilizer system (OPS) is the most advanced stability system they've ever used in their footwear. Golfers find this design to be "clever", with nine wide cleats located around the edges and many small sharp nubs scattered in between.
Its broad cleat positioning is similar to the preceding FJ Tour X. Testers take note of the tangible extra stability that it gives for swinging full tilt: "the connection with the ground is so obviously strong."
Fits snug to keep you locked-in
The shoe uses a proprietary ChromoSkin leather which is light and supple, offering a glove-like fit. A reviewer says that it feels "like an extension of your foot" which also contributes to powerful and controlled swings. Others added that:
it "hugged the top of the foot without ever being an issue"
the heel "especially feels very well cupped"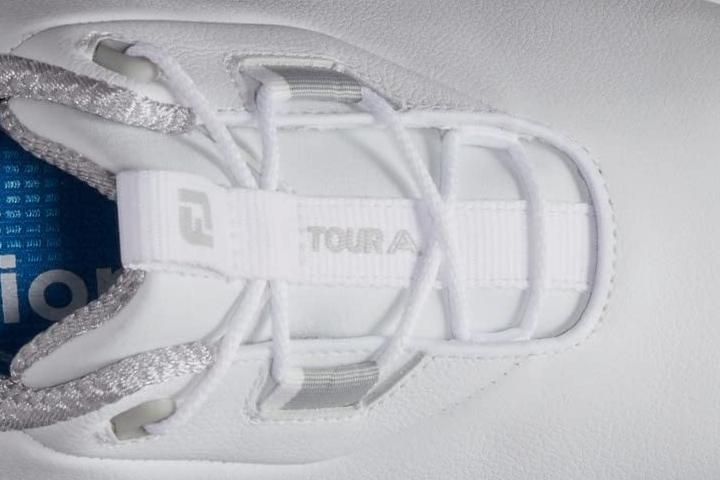 On the downside, some found this Footjoy shoe too narrow for their feet. "I felt like I had long pointy wedding shoes," says one of them.
The original version of the Tour Alpha uses traditional lacing which, according to the feedback, laces up easily and doesn't come untied. But if you are a fan of the next-generation closure systems, the shoe also comes in a BOA version and even in a Dual BOA.
Footjoy Tour Alpha offers comfort from the first step
First of all, this Footjoy needs no break-in period with its out-of-the-box comfort. "The first time I wore them I forgot they were new shoes," says a golfer who took a fresh pair of Tour Alphas straight into 18 holes.
A good part of the comfort is attributed to the shoe's OrthoLite FitBed. It is compared to Boost foam in the Adidas Tour 360 22.
The shoe also flexes well when walking despite all the amount of technology packed into it.
Blister alert!
There is a number of buyers who are disappointed in the shoe because of the chafing issues at the heel, specifically where the loop attaches to the collar:
"ended up with two huge dime-size blisters"

"one round and the back of my feet are cut wide open"

"my feet felt like they had been shredded."
This is unfortunate given that this never happened to them with the other FJ shoes.
A potential remedy suggested by one of the reviewers is to get a pair of moisture management socks. And bring along some band-aids for the first few games for sure.
Waterproofing is top-notch
The ChromoSkin leather lives up to its 100% waterproof claim. None of the golfers had issues with their feet getting wet. As one of them sums up: "Walked first 18 in the wet and cold. No blisters, dry feet." In addition, there is a waterproofing warranty for 2 years for the Tour Alpha.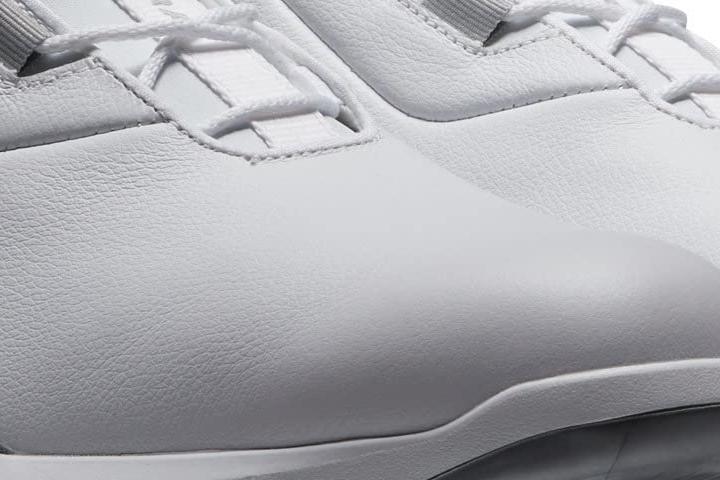 Quality is on a par with the price point
"They feel solid and trustworthy," many wearers commented on the excellent build quality of the Footjoy Tour Alpha. "You can see that when first pulling the shoes out of the box."
They agree that the above-average pricing of this FJ shoe is justified given the level of materials, technologies used, and overall craftsmanship. For reference, the Tour Alpha is $37 more expensive than Footjoy golf shoes on average and is $47 pricier than golf shoes across all brands.
Elegance and athleticism mixed in the FJ Tour Alpha
"It's very Footjoy," says one of the buyers in reference to the Tou Alpha's style. "To me, it just screams Kevin Kisner, Rafa Cabrera Bello, and Webb Simpson, that type of golfer."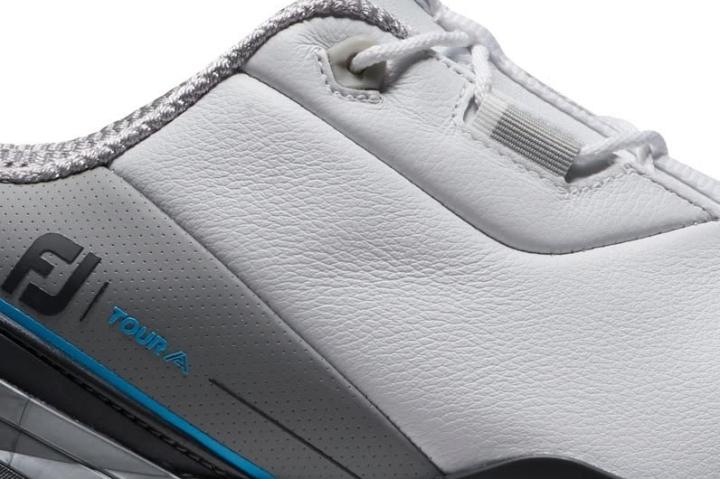 The shoe fuses traditional and contemporary with a touch of techy.