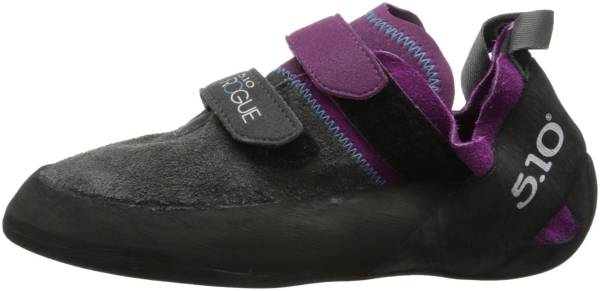 Satisfyingly comfy on day one—this is what climbers will likely say the moment they slip into the Rogue VCS. That said, the shoe has more to give beyond comfort. Yes, it is a gear that has a lot to offer when it comes to grip and crack climbing performance. This beginner-friendly 5.10 piece, however, comes with a few flaws, the most unflattering of which has to be its bleeding upper. Nonetheless, the Five Ten Rogue VCS has enough positives to be considered a worthwhile investment
---
Verdict from 7 experts and 100+ user reviews
6 reasons to buy
The Five Ten Rogue VCS climbing shoe is incredibly comfortable, according to quite a number of reviewers.
Many of those who have climbed in this Five Ten rock shoe say that it sticks like a champ on a variety of surfaces.
Based on several reports, the Rogue VCS is a highly recommendable climbing shoe for beginners.
It deals with cracks remarkably well, some of those who have purchased it say.
A few users are impressed with the Rogue VCS' quick break-in period.
This is a super-sensitive piece of footwear, says a tester who has sent projects in it multiple times.
3 reasons not to buy
According to numerous sources, the upper of this rock climbing shoe bleeds.
Its heel-hooking ability is not very convincing, a couple of customers claim.
An expert is not happy with the tongue of the Five Ten Rogue VCS (men's and women's). He said it has a habit of sliding around and bunching.
Bottom line
Satisfyingly comfy on day one—this is what climbers will likely say the moment they slip into the Rogue VCS. That said, the shoe has more to give beyond comfort. Yes, it is a gear that has a lot to offer when it comes to grip and crack climbing performance. This beginner-friendly 5.10 piece, however, comes with a few flaws, the most unflattering of which has to be its bleeding upper. Nonetheless, the Five Ten Rogue VCS has enough positives to be considered a worthwhile investment
Best price from 50 shops
We earn affiliate commissions at no extra cost to you when you buy through us.
42% say it's too small, 47% say it's true to size.
Overview of this review
Five Ten Rogue VCS notable features
-The Five Ten Rogue VCS is a simplistic rock shoe built with the beginner climber in mind. Its engineering and design philosophy revolve around improving the user's foot strength in long gym sessions.
-A proprietary outsole is what promises surefootedness in the Rogue VCS. The way it almost seamlessly transitions to the shoe's rand gives the Rogue VCS a somewhat slim profile.
Profile
Downturn. The Rogue VCS from 5.10 is a neutral rock shoe. The absence of any meaningful camber in this gear translates to comfortable multi-pitch ascents. Kicks of this type are ideal for smearing on slabs and like surfaces.
Applications. This camber-less rock shoe is engineered for sport-type ascents, bouldering, and trad climbing. It may be used both on rock (outdoors) and in the gym (indoors).
Fit
A low-cut Five Ten climbing shoe for men and women is the Rogue VCS. The foot can lie flat in it (without forcing the forefoot to bend inward) as it is built on a straight last. Its partially lined upper is expected to stretch up to half a size with regular use. Wearers can achieve a secure lockdown in it using the shoe's Velcro strapping system
Performance
Midsole. This climb-oriented piece comes with a medium-stiff midsole for sufficient underfoot support. Its makers designed it with extra sensitivity in mind.
Outsole. The Rogue VCS' supply of sticking power comes from its Stealth C4 outsole. It is made entirely of rubber with a thickness of 4.2 mm.
Upper
The Five Ten Rogue VCS envelops the foot in its low-top upper made of split-grain leather. It comes with a partial liner. Virtually every inch of its bottom section is randed, giving the shoe ample protection against scratches and the wearer extra climbing security. The rand around its forefoot has a toe box extension, which provides additional surface traction during toe-hooking maneuvers. At the opposite end of the shoe—its heel—is a pull loop for easier on and off.
Rounding out all things upper in the Rogue VCS is the climbing shoe's Velcro closure. It consists of a pair of straps, both of which are engineered with hook-and-loop fasteners for adjustability.
Rankings
How Five Ten Rogue VCS ranks compared to all other shoes
Popularity
The current trend of Five Ten Rogue VCS.