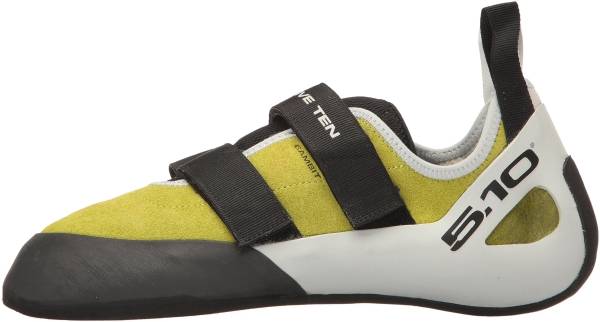 When it comes to adhesive prowess, the Five Ten Gambit VCS may be considered exemplary. This gym- and beginner-friendly Five Ten piece may also be regarded as something superbly comfortable. The shoe, however, might discourage potential buyers with its alleged problem on the durability front. Overall, the Gambit VCS is a "gambit" of sorts in that consumers would need to take a chance on it before they could get a hold of every good thing it has on offe
---
Verdict from 1 expert and 100+ user reviews
6 reasons to buy
Almost everyone who has made a Five Ten Gambit VCS review loves the shoe's superior surface traction.
This incredible rock climbing shoe is a great gym companion, say some of those who have bought it.
The Gambit VCS' level of comfort is astonishing, according to several of those who have tried it.
About a handful of users who have climbed in this outstanding Five Ten rock shoe consider it a highly recommendable shoe for beginners.
A couple of patrons who have purchased it adore its cool aesthetics.
Its edging performance is remarkable, says an owner who has tested it multiple times.
2 reasons not to buy
A few of those who have bought the 5.10 Gambit VCS (men's and women's) say that the shoe has quality and durability issues.
One user particularly dislikes its inner tongue. While it looks aesthetically pleasing, it made putting on and taking the shoes off difficult.
Bottom line
When it comes to adhesive prowess, the Five Ten Gambit VCS may be considered exemplary. This gym- and beginner-friendly Five Ten piece may also be regarded as something superbly comfortable. The shoe, however, might discourage potential buyers with its alleged problem on the durability front. Overall, the Gambit VCS is a "gambit" of sorts in that consumers would need to take a chance on it before they could get a hold of every good thing it has on offe
Best price from 50 shops
We earn affiliate commissions at no extra cost to you when you buy through us.
67% say it's too small, 27% say it's true to size.

Five Ten Gambit VCS notable features
-The Five Ten Gambit VCS combines the climbing precision of the Anasazi line and the Rogue's level of comfort. It is a beginner-to-intermediate shoe built with extended comfort in mind.
-This piece promises underfoot security with its proprietary outsole. Its provision of in-shoe airiness, on the other hand, is courtesy of the shoe's breathable tongue.
Profile of the Five Ten Gambit VCS
Downturn. The Gambit VCS is among Five Ten's selection of neutral climbing shoes. Its technically flat construction offers extended comfort, ideal for multi-pitch climbs.
Applications. This offering from 5.10 is a shoe built specifically for trad climbing. It can be used for bouldering and sport climbing as well. It is up to the task, whether the climb is done indoors or outdoors.
Fit
The Five Ten Gambit VCS is a round-toed, low-top rock climbing shoe for men and women. Its fit is intended for climbers with regular-width feet. The brand claims that it has minimal stretch—something that must be taken into account when buying a pair. Its Velcro closure provides a customized and secure lockdown. Thanks to its straight shape, this shoe is expected to offer extended comfort.
Performance
Midsole. The Gambit VCS grants sufficient support on edges and like surfaces with its heavy-duty midsole. Its stiffness promises comfort on longer climbing sessions.
Outsole. Wearers have the Gambit VCS' Stealth C4 outsole to thank when it comes to surface traction. It is made using a kind of rubber that supplies adequate stickiness on different kinds of terrain and features. 4 mm is its overall thickness.
Upper
The lined upper of the Five Ten Gambit VCS is made mainly of leather. It comes reinforced with a hard-wearing rand, giving climbers improved support and protection at the same time. Its mesh tongue courtesy of Ariaprene is adequately perforated for enhanced breathability. Two pull loops are placed at its heel to help with on and off.
A pair of straps make up the shoe's closure system. These straps are engineered with hook-and-loop fasteners, making them highly adjustable.
Five Ten Gambit VCS vs. Gambit Lace
The Gambit VCS is one of 5.10's quality climbing kicks. The brand also takes pride in another shoe—the Gambit Lace. A couple of their differences are as follows:
Closure type. As its name suggests, the rival shoe provides fit customization with its lacing system. The Gambit VCS, on the other hand, gives lockdown security with its Velcro closure.
Weight. The Gambit Lace is lighter than the featured shoe by about 10 grams
Popularity
The current trend of Five Ten Gambit VCS.