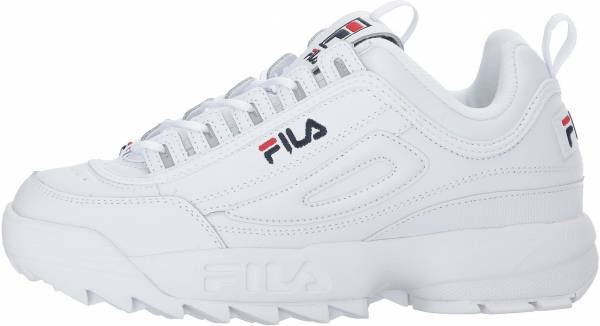 A retro-inspired, chunky sneaker with a comfortable fit and lightweight feel comes in the form of the Fila Disruptor 2 Premium. One of Fila's popular kicks in the market, the minimal details on the upper create the perfect balance against the shoe's bulky silhouette. It is undeniable that the Fila Disruptor 2 Premium has a huge following both from the young ones and the "young once."
---
Verdict from 100+ user reviews
10 reasons to buy
The majority of purchasers decided to buy the Fila Disruptor 2 Premium because of its style.
A good number of wearers find this sneaker to be insanely comfortable.
Some mention that walking with this kick feels like walking on the clouds.
Several users appreciate the extra boost in height with this chunky sneaker.
This shoe looks great with casual outfits, according to many.
Plenty of consumers love getting compliments with the Fila Disruptor 2 Premium sneaker.
Many reviewers notice that this shoe looks like a Balenciaga.
Numerous users with foot problems do not find any issues with this sneaker.
A few agree that this shoe has good quality.
This shoe is easy to clean, according to some sneakerheads.
2 reasons not to buy
According to a lot of commenters, the premium version of the Disruptor 2 feels snug, especially in the toe box area.
A few notice that the laces do not help in tightening the shoe.
Bottom line
A retro-inspired, chunky sneaker with a comfortable fit and lightweight feel comes in the form of the Fila Disruptor 2 Premium. One of
Fila's popular kicks
in the market, the minimal details on the upper create the perfect balance against the shoe's bulky silhouette. It is undeniable that the Fila Disruptor 2 Premium has a huge following both from the young ones and the "young once."
Best price from 50 shops
We earn affiliate commissions at no extra cost to you when you buy through us.
73% say it's true to size.




Size and fit
The Fila Disruptor 2 Premium is offered in unisex sizing. The leather upper may also provide a bit of stretch after the break-in period. Also, it has a reliable lacing system for a customizable fit.
Fila Disruptor 2 Premium Style
Wearing sneakers from the Fila Disruptor collection gives a more edgy look out of a simple, everyday outfit. The premium version of the Disruptor 2, like other Disruptor sneakers, can be worn with a wide variety of traditional streetwear as well as feminine dresses.
Men can pair this sporty kick with jogger pants or washed-out denim jeans. Women can also create a fashionable look by wearing this shoe with boyfriend jeans, cargo shorts, culottes, or even the trusty little black dress.
Notable Features
The most striking feature of the Fila Disruptor 2 Premium is its super thick rubber outsole that comes with unique flex grooves. Its midsole is made of durable yet lightweight EVA material for excellent cushioning.
This dad shoe is crafted with a leather upper with branded details on the sides. The navy/red/white Fila logo is seen on the OG model, while a triple-white version is also available for those who prefer an all-white kick.
A unique, 3D eyebrow detailing is found on the lateral side of this shoe. Thanks to the stitched outline on the medial side, the Fila Disruptor 2 Premium provides a considerable amount of breathability despite its bulky appearance.
Fila Disruptor 2 Premium History
Unknown to many, the Fila Disruptor was born in 1996 as a lifestyle sneaker. But it was not until 2 decades later that the shoe reached its peak popularity, thanks to the current dad shoe trend. Fashionistas and sneaker enthusiasts have caught up with the craze, and the Fila Disruptor 2 Premium was one of the sneakers that got their attention.
The authenticity of the Fila Disruptor 2 Premium is responsible for its successful comeback. The silhouette remains similar to the original release but comes with a modern twist. Compared to other dad shoes in the market, this sneaker is relatively considered a minimalist.
This sneaker has been seen on the feet of several celebrities, including Dakota Fanning, and Ne-Yo. It comes in a number of attractive colorways to cater to a wide range of dad shoe enthusiasts.
Additional Info
The Fila Disruptor 2 Premium insole is both removable and washable.
Other colorways include pink, yellow, and red.
Rankings
How Fila Disruptor 2 Premium ranks compared to all other shoes
Popularity
The current trend of Fila Disruptor 2 Premium.