Who should buy the ECCO Exostrike Hydromax
The ECCO Exostrike Hydromax is a great bootie overall, considering its hefty features and functionality. It is a solid option if you:
Prefer a hiking boot that has the robust construction necessary for hiking at the speed of a running shoe.
Prefer a hiking boot that provides protection from wear and tear caused by external moisture.
Prefer a hiking boot that provides a high-energy rebound.
Superior grip and durability for all weather conditions
Designed for rugged terrain, the Exostrike Hydromax boot comes with a high-quality rubber outsole that offers superior grip and durability for all weather conditions. The lugs are semi-aggressive. They are deep enough to create good traction when traversing wet or slippery surfaces. There is also enough space to shed mud and debris easily.
Provides support and protection
Even more interesting than the ECCO propriety outsole is the T.PU heel piece. It's strange-looking but it has a very important purpose. And that is to provide support and protection. While the rest of the shoe is pliant and soft, the heel cup is totally rigid.
Comfortable and shock-absorbing cushioning
This boot features ECCO's proprietary midsole which is made of P.U. Phorene. According to the company, it's an ultra-light material that offers unparalleled softness along with improved shock absorption qualities.
Soft cushioning
The midsole is produced through the direct injection process, which they call "Fluidform". Direct injection isn't a new process, but ECCO's approach to it is different and much more revolutionary. Through the Fluidform, lightweight fluid materials are transformed into soft and durable solid soles. They use a 3D anatomical last to ensure that the midsole and the upper greatly conform to the shape of the foot.
Durable
The Exostrike Hydromax features a durable upper made of yak leather. The yak is a long-haired domesticated bovid that lives in the alpine rangeland of the Tibetan Plateau, where few other animals survive. Yak creates an extremely durable leather due to its thin, compact woven collagen fiber and fine grain.
Waterproof
Furthermore, the yak leather upper is treated with Hydromax - another propriety technology from ECCO meant to enhance its water resistance, longevity, and softness.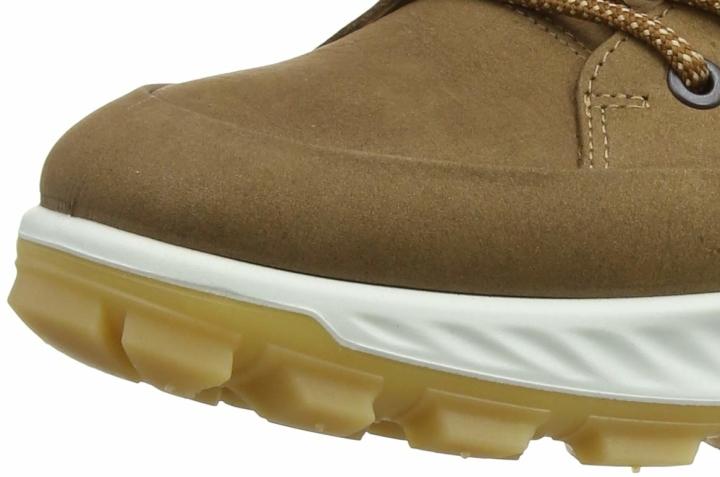 Compare popularity
Interactive
Compare the popularity of another shoe to ECCO Exostrike Hydromax: