Verdict from 9.3 hours of research from the internet
7 reasons to buy
Overall comfort is an asset that has impressed more than a few runners.
Most of the runners raved about how the shoe delivers some great service while doing some off-road running.
The responsive mid-sole unit has the flexibility and springiness that's quite appreciable.
Many of the testers were amazed by the PureGrit 4's durability.
It is comparably lighter than some trail shoes that have more than sufficient cushioning.
The underfoot cushioning in this model is plush without being too soft or unwieldy.
The outsole unit has high quality components, which offer protection from debris, abrasion and wear.
3 reasons not to buy
A good portion of the reviews remarked how the shoe runs narrower than the standard fit.
A few runners also noted that the PureGrit 4 was a bit stiff.
Several trail enthusiasts wished for a few more anti-debris features in the upper unit.
Bottom line
The PureGrit 4 does its best to accommodate many types of runners for a more universal trail running shoe experience. While it has a fairly high-profile feature, the shoe compensates for it by utilizing a near-flat offset. It creates a cushioned run with just enough stability on uneven surfaces. Running in marathons or ultra-long races are some of the best activities for this shoe.
Tip: see the best running shoes.
Our reviews
Having used these for my trail races over winter, I feel now is the time to write a review. I have worn these shoes for various distances, and I particularly enjoy using them for my long runs.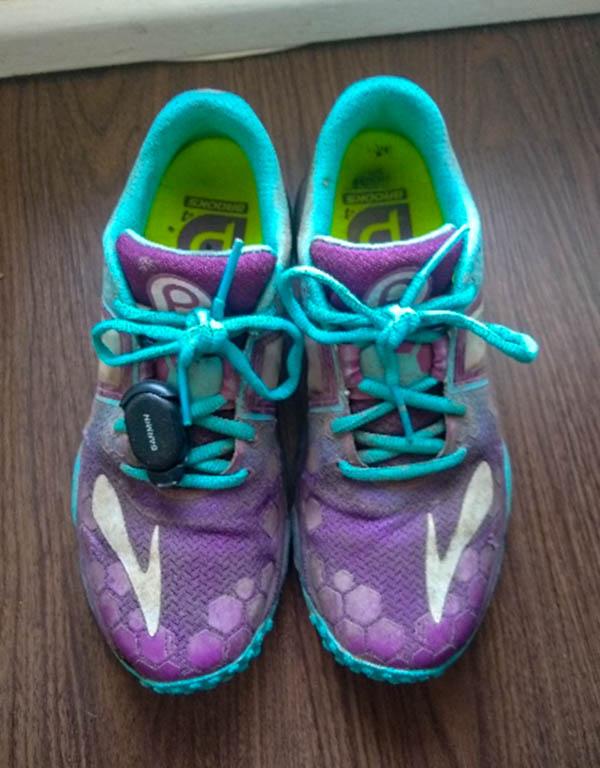 Introduction
Although these shoes run quite narrow, I chose them as I thought, even with flipper feet, I might want a tighter fitting shoe for my first attempts at trail running.
They have a variety of color options and I really like the purple and turquoise. They are pretty without being too girly. They are also bright enough that I can still see my feet through the layers of mud at the end of a run.
I think that there are a couple of things that make a good shoe. Comfort and durability are my main criteria with the price also being an important factor.
Positive column
Comfort
Over various distances from 8km to 35km, these are really very comfy. They keep my ankles nice and secure right to the end, this is very important to me as I often get a bit clumsy and roll my ankles when my muscles are a little fatigued.
The tread of the shoe seems to avoid picking up stones which are great. Several of my other pairs of running shoes have a habit of doing this and it is very annoying.
The tighter fit of the shoes means that trail bits (stones, little bits of tree) stay out of the shoe.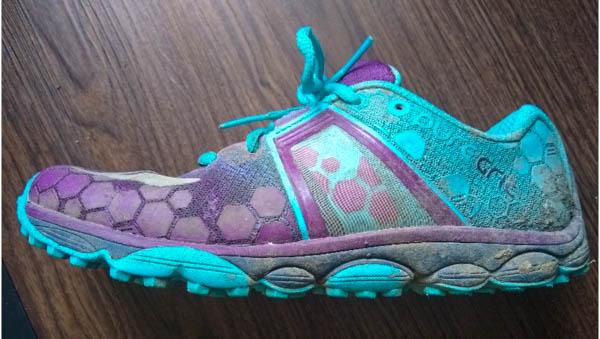 This is brilliant for longer runs as I don't have to keep stopping to shake them out. The cushioning on these shoes is sufficient for a softer ground without getting in the way of the feel of the trail.
I have tried these shoes on the road too and they remain comfortable even on hard surfaces. This gives me confidence that the shoes will allow me to run on the trails over summer when the ground is harder without becoming painful on the knees.
They are slightly less flexible than the shoes I normally wear but this seems to work in their favor over a rough trail as the midsole has enough bend to allow for brilliant grip on tougher sections of fast downhill.
Durability
The shoe is very durable. There is a little wear on the outer sole after a few hundred kilometers, but the shoe seems to be sturdy and has survived the muddy trails, well.
I have had absolutely no problems with them despite the rough treatment they've had over a winter season.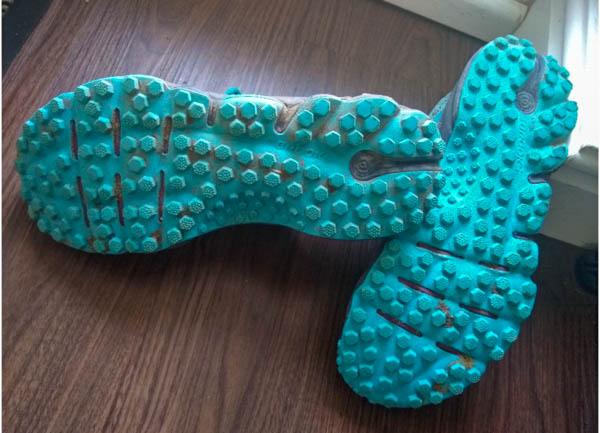 Price
They are a very well-priced shoe.
Grip
I am extremely clumsy and this shoe is very grippy which makes running in the cold, wet mud a much more pleasant experience as I'm less likely to fall over!
Negative column
Comfort
Being nit-picky, they do run slightly narrow and seem to pick up quite a lot of mud which can make them a bit heavy towards the end of a rough run.
Durability
I am very impressed by their ability to keep bouncing back after each run. The upper seems to let in quite a lot of water and mud.
My feet and socks were in a bit of a state after using them for their first trail race. That said, they dried out pretty quickly.
Conclusion
Considering how much I paid for them, I was very pleasantly surprised. They are very comfortable and supportive shoes for trail running. They are a good price and have managed to survive even the worst of my trail attempts so far.
The upper was totally updated in the Brooks PureGrit 4 to address several issues from its predecessor. One of the update is the wider tongue that is also padded, giving additional comfort and keeps the tongue in place.
The 4th version of the PureGrit features a narrow forefoot that comfortably hugs the foot well while the heel area is slightly wider.
The Brooks PureGrit 4 is a unisex running shoe but comes in men's sizes. You can purchase it in a regular running shoe size. For women, they can purchase 1.5 size smaller from the available sizes. The forefoot is a bit narrow and the heel area is wider than its predecessor. The shoe gives great fit to those with narrow and regular foot shape.
The PureGrit 4 features the 3D Lug Pattern in its outsole that delivers impressive traction on different surfaces. This works well with the blown rubber that delivers added traction, durability and flexibility. Lastly, the outsole unit utilizes the ballistic rock shield that keeps foot well-protected from stone-bruising.
The midsole unit of the PureGrit 4 same as with its latest version the PureGrit 7 and the popular Cascadia 13, the shoe uses the brand's BioMoGo DNA, an environmental-friendly soft cushioning that delivers high energy rebound for a more responsive ride. It also has Tuned Density Midsole element that offers a custom ride, depending on the runner's weight and running movement.
The upper construction of the shoe uses an air mesh material for breathability and comfortable running experience. It also has the flexible Nav Band that wraps the midfoot for a more secure fit. The anatomical last follows the foot's natural shape for a glove-like feel and comfort.
Size and fit
True to size
based on 237 user votes
How PureGrit 4 compares
Corescore: 58-61
1 shoes (0.26% of shoes)
Corescore: 62-65
1 shoes (0.26% of shoes)
Corescore: 66-69
5 shoes (1% of shoes)
Corescore: 70-73
13 shoes (3% of shoes)
Corescore: 74-78
38 shoes (10% of shoes)
Corescore: 79-82
52 shoes (14% of shoes)
Corescore: 83-86
67 shoes (17% of shoes)
Corescore: 87-90
123 shoes (32% of shoes)
Corescore: 91-94
76 shoes (20% of shoes)
Corescore: 95-98
7 shoes (2% of shoes)
Corescore: 99-99
1 shoes (0.26% of shoes)
Price: $60 - $78
23 shoes (6% of shoes)
Price: $79 - $97
29 shoes (8% of shoes)
Price: $98 - $116
64 shoes (17% of shoes)
Price: $117 - $135
113 shoes (29% of shoes)
Price: $136 - $154
76 shoes (20% of shoes)
Price: $155 - $173
48 shoes (13% of shoes)
Price: $174 - $192
21 shoes (5% of shoes)
Price: $193 - $211
5 shoes (1% of shoes)
Price: $212 - $230
3 shoes (0.78% of shoes)
Price: $231 - $250
2 shoes (0.52% of shoes)
All shoes average:
10.4oz
Weight: 5oz - 6.8oz
7 shoes (2% of shoes)
Weight: 6.9oz - 8.7oz
56 shoes (15% of shoes)
Weight: 8.8oz - 10.6oz
152 shoes (42% of shoes)
Weight: 10.7oz - 12.5oz
116 shoes (32% of shoes)
Weight: 12.6oz - 14.4oz
25 shoes (7% of shoes)
Weight: 14.5oz - 16.3oz
4 shoes (1% of shoes)
Weight: 16.4oz - 18.2oz
2 shoes (0.55% of shoes)
Weight: 18.3oz - 20.1oz
0 shoes (0% of shoes)
Weight: 20.2oz - 22oz
0 shoes (0% of shoes)
Weight: 22.1oz - 24oz
2 shoes (0.55% of shoes)