It's expensive but it sure did pace us! The Brooks Hyperion Elite 2 is a road racing shoe that's everything fast. It's rockered, light, and has a great blend of bounce and rigidity for that pop! And it's not exclusively for racing - if you want to do some tempo training in it, you can! If there was anything lackluster about this shoe, it's the durability.
Pros
Fast
Stable
Good breathability
Balance of bounce and stiffness
Roomy toe box
Excellent midfoot fit
Cons
Loose-fitting heel
Heel padding might rub the Achilles
A lot of work for heel strikes
The verdict from 11 expert reviews
The majority of the experts find this shoe "a great racing flat" and a "brilliant road racing option." Generally, many of them find this runner "light," "fast," with the "right mix of stiffness and bounce" for long runs and tempo workouts.
Many of the experts agree that the race shoe is "very expensive" with "durability in question." And, when compared to other super shoes, it's simply "not mind-blowing" because it "doesn't have the bounciest, most energetic ride" in its category.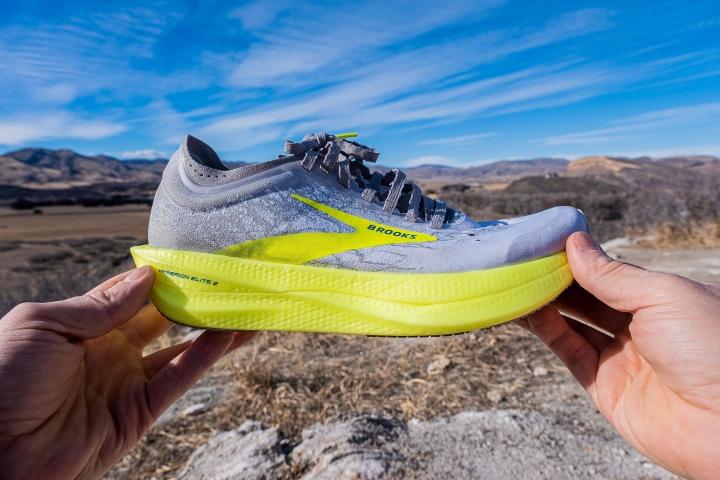 Who should buy Brooks Hyperion Elite 2
This is a race day shoe that's great for marathons and other long-distance runs. If you want to go fast, take this shoe. Be warned, it is a carbon-plated shoe so it's stiff.
Who should NOT buy Brooks Hyperion Elite 2
Don't buy it if:
you don't want to pay an expensive price for a heavy and frail shoe. Brooks Hyperion Tempo is better for your budget.
you don't want a stiff shoe. Fortunately, Hyperion Tempo is also softer.
you're looking for stability due to overpronation (flat feet). Ravena 11 is a stability shoe made for speed.
Hyperion Elite 2 vs. 1: Buy the Hyperion Elite 2
The main change that was implemented in the Brooks Hyperion Elite 2 has been on the midsole (made softer) and it also now features a wider base plus a higher stack height (+2 mm). Such reconstruction indicates the following:
Hyperion Elite 2 vs. Elite 1
What got better
Fast ride
Cushier foam than the first
Better stability
Good blend of rigidity and smoothness
What got worse
Heavier
Wide base hinders snappy toe/roll-off
Heel abrasion
An average midsole
The majority of experts find the shoe "bouncy and responsive," and half of them laud the shoe's rocker shape saying, "it creates effortless forward motion." BUT this is only when it's compared to its precursor.
Contrary to other carbon-plated models, experts state that "it doesn't have the fastest toe/roll-off" and it's not "distinctly springy." These give the notion that it's still inferior to other maximalist racers.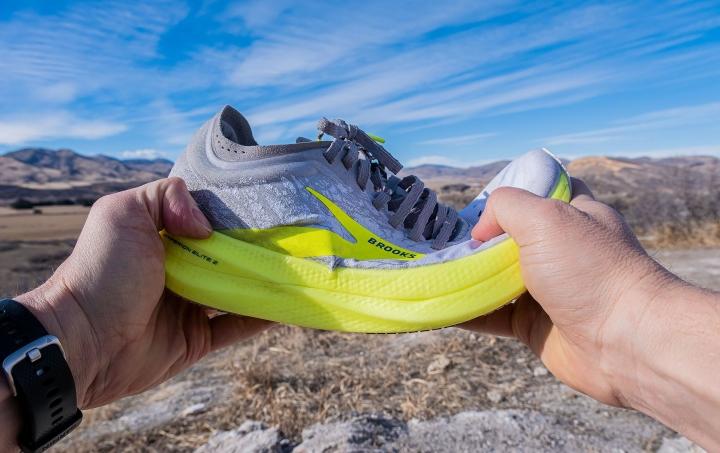 A heavy racing shoe
It is an ounce heavier than the original, weighing 216 grams. Not only is it heavier than the original but it is also heavier than other carbon-plated super shoes like the GOrun Speed Elite Hyper (162 grams), Vaporfly Next% (187 grams), FuelCell RC Elite (207 grams).
Durability sucks!
2 out of the 5 experts who reviewed the model's durability have already seen wear on the outsole after 40 miles and the other after 80 miles. Brooks may have overestimated the shoe's shelf life.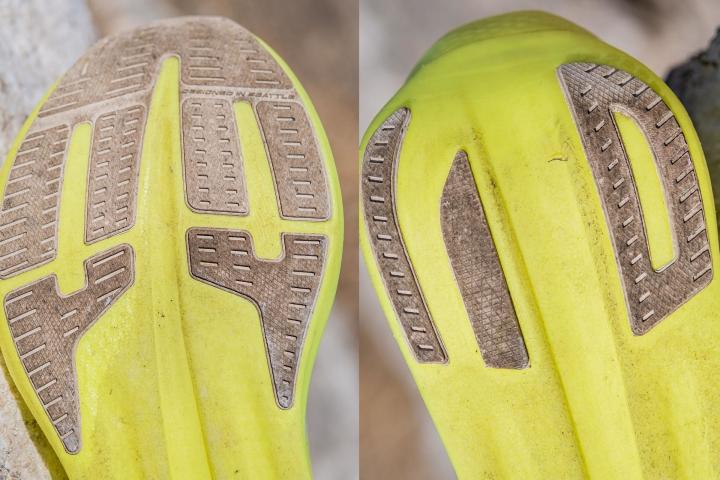 Hyperion Elite 2 is fast and stable
A vast majority of reviewers highlighted the stable and swift ride of this running shoe. Many of them attribute this to its wide platform and its carbon-plated midsole.
A no-no for wet conditions
Most of those who have tested the Elite 2 on wet conditions came back with the conclusion that it's slick.
Meanwhile, all those who commented on its traction on dry surfaces admit that it has "good grip."
A lot of work for heel strikers
Because the rocker form of the shoe keeps the runner up on the toes, it's not the best shoe for heel strikers. All experts who shared that they were heel strikers have experienced calf soreness after running in the Brooks Hyperion Elite 2.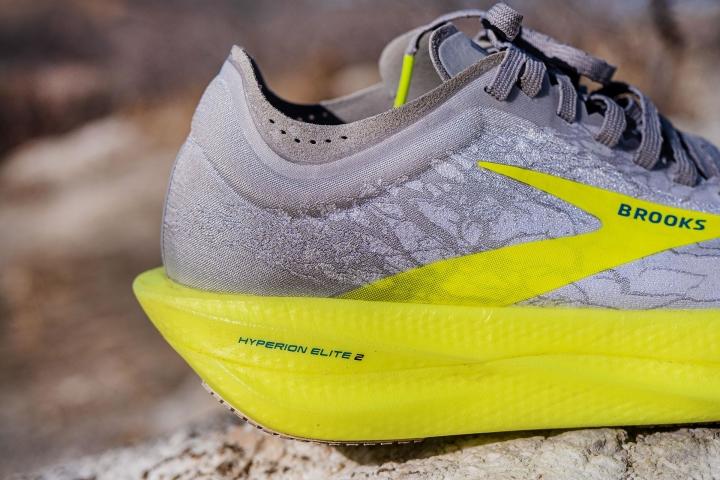 Heel slippage warning
The majority of the female experts who reviewed the shoe's fit have shared their gripe. They have experienced heel slippage.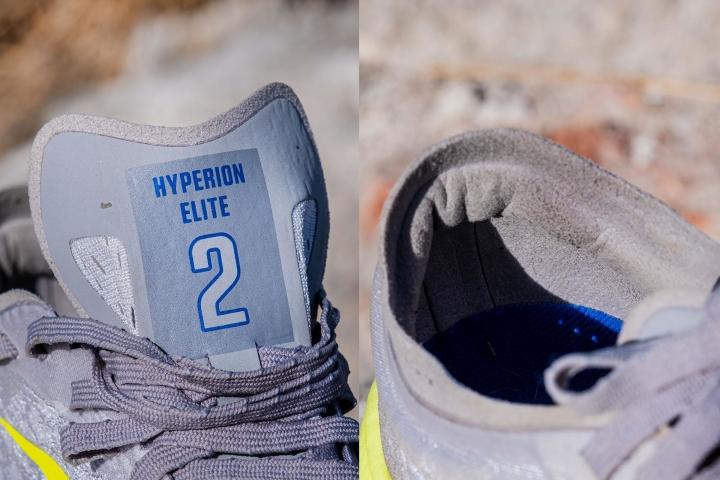 Excellent midfoot lockdown
Almost all are in sync when it comes to the shoe's excellent midfoot fit. There were some, however, who have concerns about the toe box being too wide, particularly 5 out of 11 experts. They say that "it's not typical for a race shoe category."
A so-so lacing system
A lot find the lacing of the shoe neither excellent nor bad. Some have shared that the eyelets were too closely spaced, while others state that the laces are too short.
There were also a couple of experts who claim that they had to readjust their laces during their runs to achieve a precise fit. Meanwhile, others are fairly happy with the lockdown provided by the closure system, claiming that it kept the foot securely in place.
Hyperion Elite 2 vs. other racing shoes
Hyperion Elite 2 vs. Alphafly Next%. Experts reported that the Hyperion Elite 2 is a much less comfy and bouncy version of the Alphafly Next% with more stability.
Hyperion Elite 2 vs. ASICS Metaracer. This model has a better grip on wet surfaces than the Hyperion Elite 2.
Hyperion Elite 2 vs. Saucony Endorphin Pro. The latter has more bounce but the Hyperion is much more comfortable and has a more supportive fit.