This is my third pair of the Brooks Ghost in the last 6 years and as I start to put on the added springtime miles I am beginning to wonder why!
The Ghost is made by Brooks Sports, Inc. a manufacturer of running shoes and apparel, based in the city of Seattle, the State of Washington, U.S.A.
The Brooks Ghost is a neutral road shoe with a very high level of cushioning, suited to a wide variety of runners for any distance. Most runners however, would consider this to be a half or full marathon shoe where cushioning is more important than speed.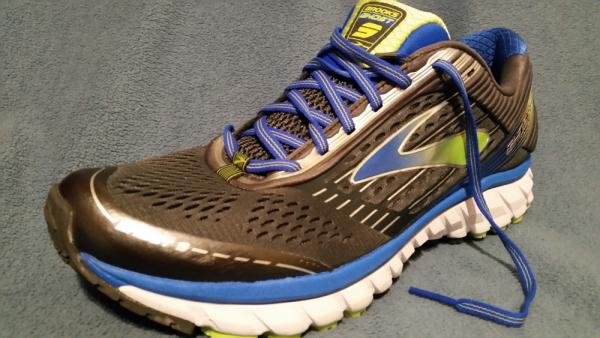 Upper
A well designed upper without overlays or stitching over the forefoot is made of engineered mesh.
Engineered mesh is simply mesh material that has its thickness, composition, hole patterns & other properties arranged to provide shape, flexibility and ventilation.
This model is well ventilated. There is also a GTX version of the Ghost, available for the winter or wet weather.
The toebox is generous, tall and wide.
Midsole
A dual density variation of EVA foam called BioMoGo is used, and is friendlier to the environment than regular EVA. It does not hang around in a landfill for hundreds of years after being retired, which is good.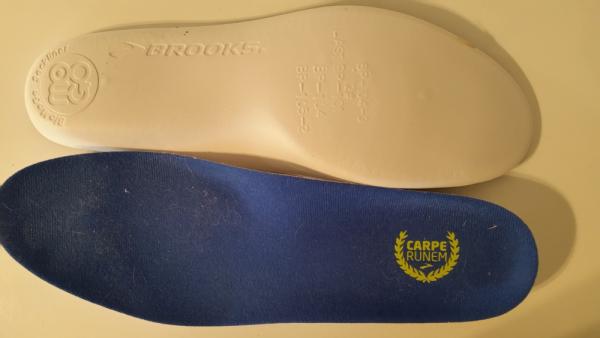 There is also DNA which adds another dimension to the Ghost, best described as Adaptive Cushioning that changes its properties depending on the runner's gait, pace and weight.
I am not totally convinced that DNA works well for me as it was more fun to experience it in the Brooks Launch 4. Perhaps it would work better for a heavier runner, I am 146 lbs. 66kg.
I wonder if DNA is more of a marketing response to the many new foams from other running shoe brands.
Here are the links to help explain the concept of Brooks DNA and BioMoGo.
Outer Sole
The rubber material that meets the road appears to be durable, wearing slightly better than the some other brands I have used. There is almost no evidence of wear on this Ghost after 60 miles.
The deep flex grooves help with flexibility while the full-length crashpad allows for a smooth landing & transition to toe-off, while providing excellent grip.
The crashpad is simply the shoe bottom. The Ghost has nearly full ground contact from heel to toe.
Lacing
Flat laces ease pressure on the top of the foot and they seem to remain tied.
They are a little too long so I often shorten my laces by taking out a 2 or 3 inch section from the center of each lace, and sewing back the 2 shorter pieces.
Safety
Rear reflectors are excellent, however there are no other reflectors.
You may consider adding reflective material or reflective laces and carrying a light after dark, while being ready to jump out of the way of "busy" drivers.
Performance
These shoes are what is needed for most of us to finish the long race or training run, and still standing and able to go to work or the Cafe that night or the next day, without people asking " what happened to you?"
Quality
Its made of the highest quality materials and is mostly of good workmanship. The stitching under the sockliner is poorly done but should be functional.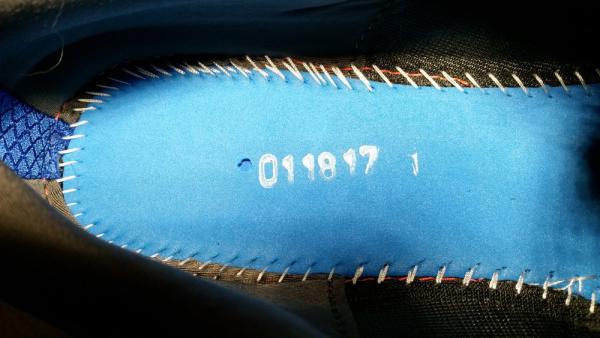 Specifications
12.3 oz
348 gr
Sizes US 12, EU 46, UK 11
heel height 30mm
forefoot height 18mm
heel to toe drop 12mm
Available in D medium, narrow and wide
I contacted Brooks and found that there are no gender-specific considerations other than colors and sizes.
My faulty goal
I am always looking for the perfect shoe. I have found the perfect shoe several times.
They had names like Kayano, Nimbus and Pegasus but they were changed with the introduction of "seamless this" and "engineered that" with much too narrow and shallow toeboxes!
Wonderful models gone forever, my search continues.
Things To Check When Shopping
1. Ankle clearance - Do your ankles rub the collar? They will be worse on uneven road!
2. Toebox height - Check with your winter socks on, black toenails are bad.
3. Bunion clearance - Think about a supplier that allows you to run for a few days or more to check, as this is a very important feature.
Pros
Plush all over
Tongue never slides
Ride is smooth and very quiet
Feels lighter than scale reads
Sockliner is also BioMoGo
Cons
Interesting & Sad Fact
In 2007 an employee of the Brooks company was struck by a car while out running, she later died of her injuries. To this day Brooks has her initials LD on the Defyance model.
Conclusion
I am increasing my mileage in preparation for a local Half Marathon and alternating between the Brooks Ghost 9, the Asics GT-2000-5 and the Brooks Adrenaline GTS 17. I am not certain yet as to which shoe I will be at the starting line on race day.
On one very early morning of my last Half Marathon, I looked at my Ghost 8 shoes and then looked at the Asics GT 2000-4 again. At the last minute, I decided to run with the Asics.
It was a good choice, I felt more confident with the Asics, but either shoe would have worked.
All of these shoes are equal to the Ghost 9 in almost every way, except noise.
Nothing is as quiet as a Ghost!