Our reviews
One of the first shoes that comes to mind when we think of trail running is the Brooks Cascadia. In its fifteenth iteration, and now with an added Gore-Tex treatment, the Brooks Cascadia 15 GTX remains as a standard-bearer for the trail running shoe community.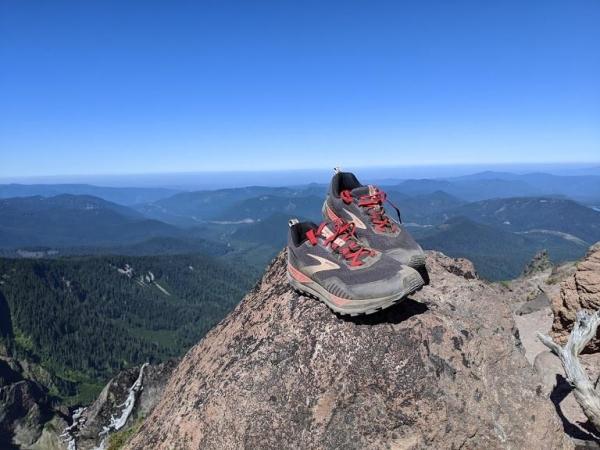 Brooks has a history and reputation of making well-built, high-end, reliable running footwear, and this is no exception.
Out of the box, we find a shoe with the qualities of a great all-around neutral trail runner. The shoe itself is pretty middle of the road in its specifics, weighing in around 11oz, a moderate stack height, and an 8mm heel to toe drop.
I'm generally impressed with the looks, profile, and design of the Cascadia 15s, although it doesn't necessarily grab one's attention with its outward design. The color scheme pictured here is Ebony/Red, with a gold accent for the logo and some of the trim.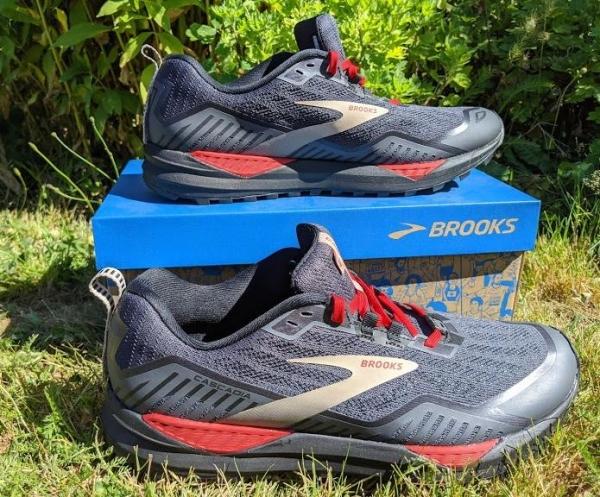 I'll get into the details of the shoe in the proceeding sections, but as stated previously, this is a well-constructed shoe that looks like it is ready for just about anything one can throw at it!
So here are a few questions I'm looking to answer:
How does this shoe do as an everyday trail running shoe?
Realizing that more and more backpackers are turning to trail running shoes, how does this shoe do with hiking?
And given the extra protective element of Gore-Tex, how does this shoe do in some sloppy and wet conditions?
Let's put it to the test!
First 50 miles performance
I've been excited to try these shoes out ever since first learning about famed ultrarunner, Scott Jurek, over a decade ago; however, I have not had the opportunity until now.
It's the dry season in the Pacific Northwest, and so I didn't get all of the opportunities to test these shoes in the nasty winter conditions I was hoping for.
However, I did find a great variety of surfaces and environments to get a perfect sense of what to expect, with plenty of dirt trail running, crossing plenty of water and even some high altitude hiking.
Overall, the Cascadia 15 GTX impressed me with just how durable these shoes can be. I really pounded out the initial mileage with rocks, gravel, water, dirt, mud, even snow, and anything else I could find, and they still look rather undaunted.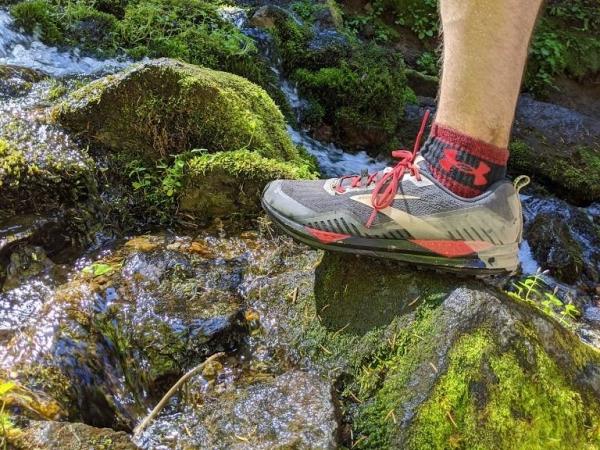 The word that kept on coming into my head during my runs and hikes was WORKHORSE!
My one complaint is that my feet kept on sliding forward in the shoe, cramming my toes in the toe box (especially my big toe), which eventually caused some blisters.
I tried to remedy this by using a "heel lock" lace tying technique which helped a little, but I still feel pretty restricted in my toe movement with these shoes. I also definitely experienced discomfort with steep downhill running.
After about 50 miles or so, it's fair to say that the Brooks Cascadia 15 GTX is a great daily trail running shoe that is plenty durable. Most runners will not be blown away by its agility or response, but overall I experienced a very cushy run, even on rocks, scree, and other hard trail surfaces.
Upper
Brooks describes the upper as a "New engineered monoloop mesh, and 3D Fit Print upper [to] increase breathability and speed up dry time," which is one of the few changes from the previous Cascadia 14 model.
The upper is really well constructed, and for the GTX model, the Gore-Tex held up really well in creeks, streams, and in snow. Now, keep in mind that this does not mean that these shoes are waterproof, but the Gore-Tex will keep you moderately dry with a water repellent quality when intermittently encountering Mother Nature.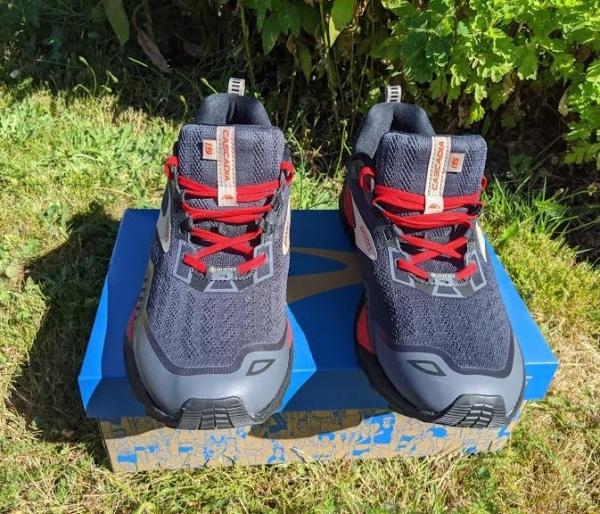 One should also note the universal gaiter loops and durable lacing. Again, besides the restrictive feeling in the toes, this shoe is well constructed.
Midsole
Additionally, Brooks touts "A built-in rock plate protects your foot from rocks and roots while BioMoGo DNA cushions every stride." I was super impressed with how cushioned this shoe felt when dealing with roots, rocks, and rough edges of the trail.
Brooks also states, "Our unique Pivot Post System provides a stable platform that allows your foot to adapt to any terrain." While the midsole is not super responsive or agile, the durability is what will cause a runner to keep on lacing these bad boys up for one trail after another.
Outsole
"TrailTack sticky outsole provides added grip" according to Brooks, which I can attest to, as I had the opportunity to fall on my face plenty of times, and each time I was happily surprised to remain upright.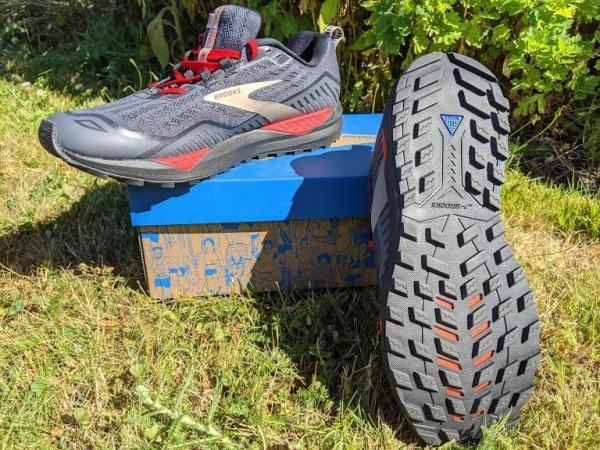 The 3mm lugs allow for running on a variety of surfaces, including a pretty comfortable pavement experience when needed.
Conclusion
Overall, one can expect a really reliable trail shoe that keeps on working along with your own physical efforts. The Cascadia 15 GTX is suited for just about every surface one can think of, whether the user is running or hiking.
These shoes are not eye-candy by any stretch of the imagination, but I was impressed by the construction, the cushion, and the durability.
Are these shoes waterproof with the Gore-Tex treatment? Again, the answer is no; however, they certainly will repel most of what one may be stepping into along life's ways, and that may affect a trail experience during a wet and sloppy day of running.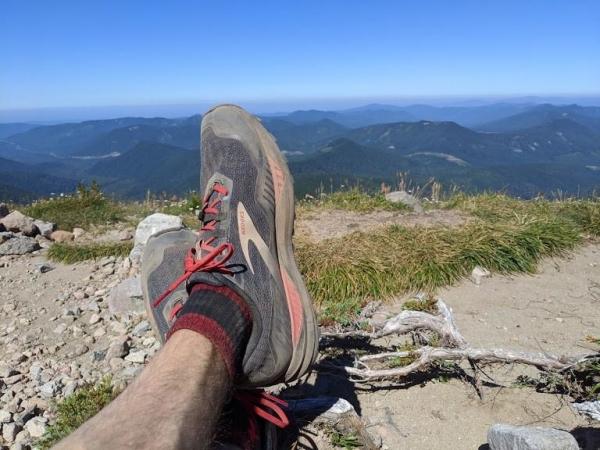 Again, my only concern, I wish my toes didn't get squished as much as they do by sliding forward, but perhaps one can buy something slightly larger or wider if this is a concern.
At the end of the day, this workhorse can get just about anywhere with plenty of durability and cushion. For that, I can recommend the Brooks Cascadia 15 GTX for the trail runner or hiker that appreciates such an experience.
The newest entry to the Brooks trail running line is the Cascadia 15 GTX. It weighs a fairly light 11.8 ounces in my men's 9.5 (true to size), with a heel-to-toe drop of 8mm.
Brooks is clearly trying to get as close as possible to a 'regular' running shoe while maintaining all of the elements necessary for a solid training shoe, and I applaud them for that.
The GTX here indicates that this version of the Cascadia is certified to be waterproof; there is a non-waterproof version, the Cascadia 15, that is slightly lighter. The retail price of the GTX is $160.
Performance in all weather conditions
Having taken this shoe on several long trail runs in various conditions, I can attest to this shoe's performance. On sunny days, it is a delight, blissfully handling dirt, mud, gravel, rocks, and twigs.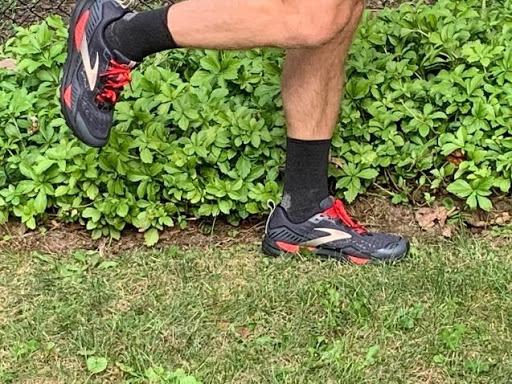 But where this running shoe really shines is when it gets downright nasty! Slippery conditions are no match for the GTX and it took over an hour of running in a TORRENTIAL downpour for my socks to begin feeling even the slightest bit moist.
That is attributable primarily to the GORE-TEX upper, which is incredibly light and breathable for a trail running shoe, while also keeping your foot dry and safe from the elements.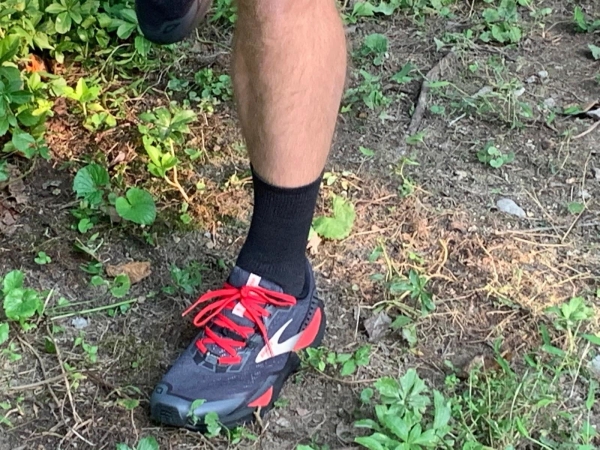 Let's be honest, we runners expect a lot from a trail running shoe—the whole point of running on rugged trails as opposed to flat road surfaces is the challenge—and the Cascadia 15 GTX delivers.
The best compliment I can give the shoe is that I never once thought about the fact that I was wearing trail shoes as opposed to a 'regular' running shoes. They felt that 'normal' on foot.
Durability
After 65+ miles, the waterproof shoes show absolutely no sign of wear, which is to be expected from a high-end performance trail shoe. I expect to get at least 350 miles in these and do not expect the outsole to suffer in the slightest. At $160, I would expect nothing less.
Ankle support
My biggest concern with trail running is always twisting an ankle. That was not an issue for me in these shoes.
Upon further review, I noticed a small piece of plastic below the heel cup (Brooks calls it's the "Pivot Post System") which is there to give you a more stable platform and prevent ankle twisting. There is also a plate that protects the bottom of your foot from feeling the rocks as you land.
Lastly, Brooks has added extra traction to the outsole which helps with mud and dirt and also serves to give you the feel of a more stable landing, even when the ground beneath you is far from it.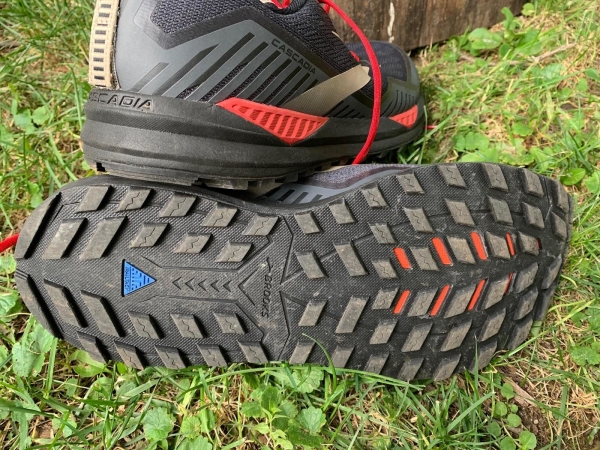 Extra features
Brooks really thought of everything. Besides the rugged outsole which is built for traction, they have added a few extra touches to the Cascadia 15 GTX. Above the toe box is a band that keeps your laces from flopping around.
In addition, Brooks has included attachments at the front and back for easy gaiter access.
Conclusion
There are lighter trail running shoes out there. I'm suspecting that Brooks is hard at work trying to figure out how to get the weight of these under 10 ounces for 2021.
But truthfully, when running on trails, it's comfort and safety that matter most to me. I would not want Brooks to sacrifice either of them solely to make slightly lighter shoes. I may like to go fast, but when hitting the trails, speed is not the chief objective.
These shoes are just about as perfect as you can get, and at the $160 price point, are a great value for those of us who love changing our workouts every so often and hitting the trails.
Brooks Cascadia 15 GTX vs 14 GTX: The difference
Better comfort. Employing a new Gore-Tex Invisible Fit membrane, not only is the Cascadia 15 GTX made a waterproof running shoe but it is also equipped to provide an irritation-free ride.
Enhanced breathability. Thanks to the revamped engineered mesh upper of the trail shoe, users can expect better ventilation than its predecessor.
Roomier toe box. This essentially means that your toes have more freedom to move and not feel compressed.
What's it for?
The Cascadia 15 GTX from Brooks is ideal if you:
Take on rugged, muddy, and puddle-filled terrains
Want a platform that is still airy even during warm days
Train off-road even with a slight drizzle
Cascadia 15 GTX: Its counterparts
Hoka One One Speedgoat 4 GTX. The Speedgoat 4 GTX is lighter and more responsive than the Cascadia 15 GTX.
Salomon Speedcross 5 GTX. When it comes to tackling harsh trails, the Cascadia has better protection and grip than the Speedcross 5 GTX.
Compare popularity
Interactive
Compare the popularity of another shoe to Brooks Cascadia 15 GTX:
Brooks Cascadia 15 GTX video reviews