The ASICS Versablast is a lightweight running shoe that is more desirable for short runs. It feels flat and does not offer any bounce but offers decent performance, especially for beginners. With its design and sock-like fit, the Versablast is also a good option for casual runs in the city or walks in the park
Pros
Lightweight
True to size
Sock-like feel
Good breathability
Durable
Affordable
Close-to-ground contact
Cons
For short runs only
Not much cushion
Feels flat
ASICS Versablast review
The ASICS Versablast is a lightweight running shoe that can be used for short-distance runs. It does not provide you with a bounce in your step. So, if you are looking for a shoe that can give you an extra push in your step, these are not it.
Who should buy the ASICS Versablast
The Versablast is a good option for you if you are looking for a running shoe that is affordable, lightweight, and good enough for casual, short-distance runs.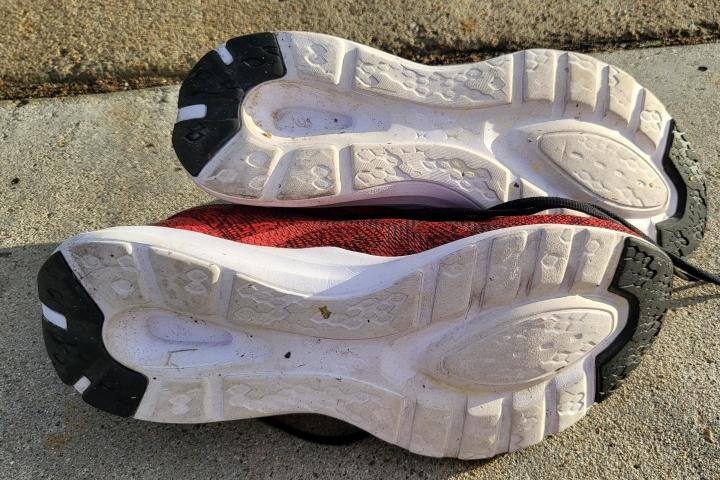 Who should NOT buy the Versablast
Look away if you:
are looking for a cushioned shoe (the Novablast 2 is heavily cushioned and very comfortable)
want a shoe for long distance runs (in this case, try the premium Nimbus series, or the much more affordable Cumulus line)
need a stability shoe (pick the Kayano 28 or any model from the Kayano series)
It is pretty light
The Versablast is pretty lightweight, weighing 7.3oz/207g (on average, road shoes weigh 9.6oz/273g). I feel they are light enough to use for short running races, like 1 mile to about 10 kilometers.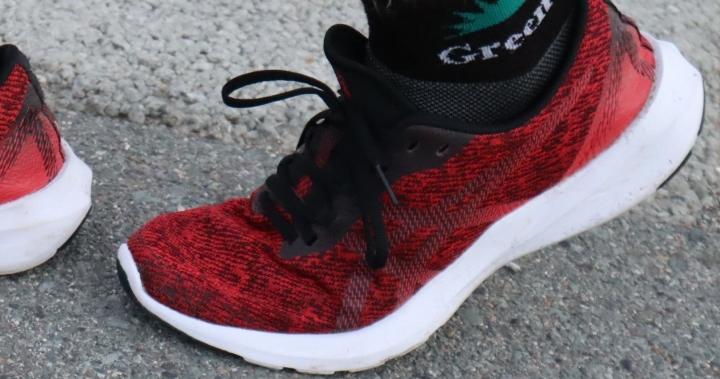 The Versablast is very cheap
Compared to other running shoes that also are light enough for race competition, the Versablast is much more affordable at $70 (road shoes have an average price of $122).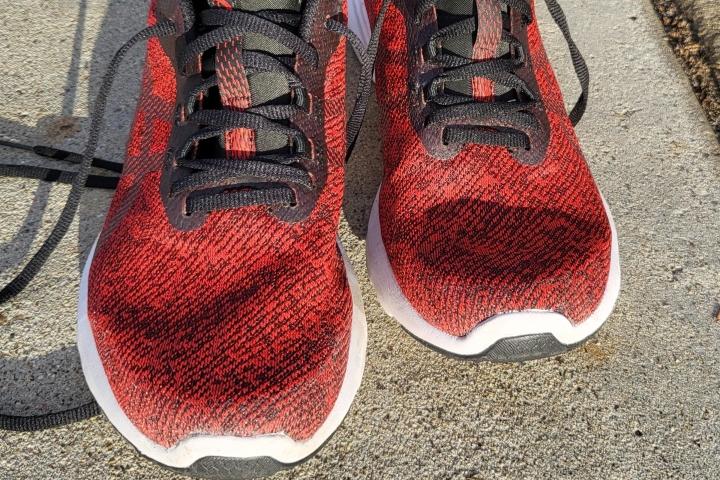 Feels like a sock
When you first put on the shoes it can feel like a sock. It is similar to having the upper part be one piece. The sides of the tongue are sewed into the shoe. The tongue is also very soft and it is not any thicker than the other parts of the top of the shoe.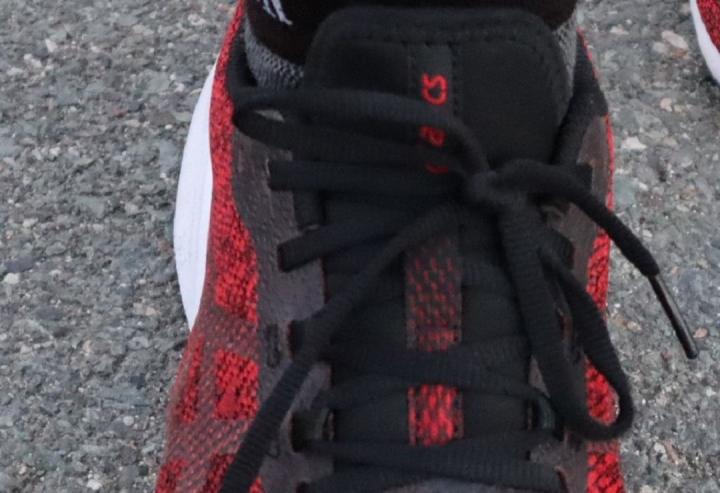 Good breathability
The upper part of the shoe provides you with good breathability. It could be great on a hot day. In fact, I did run with these in Hawaii under the hot sun, and my feet never got too hot. However, this could also mean that your feet could get cold on a cold day. Your feet do warm up during a run, so it may not be horrible on a cold day if you do not mind your feet starting cold.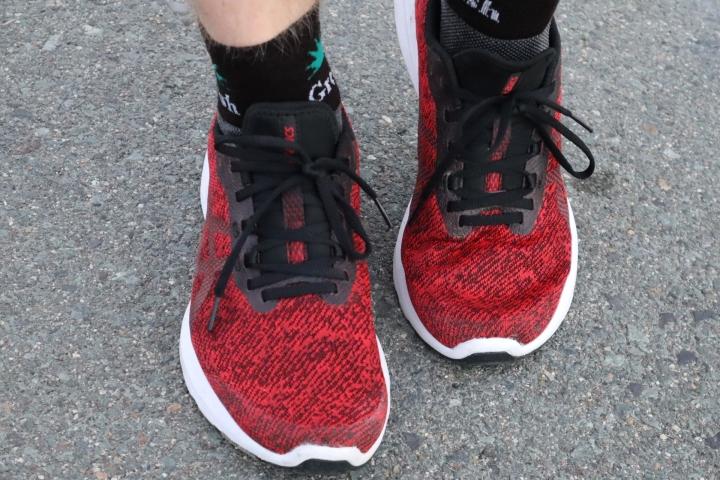 Not for you if you need arch support
Below your feet inside the shoes, it is pretty flat. There is no real arch support, so this shoe is not recommended for someone that requires that in their running shoe.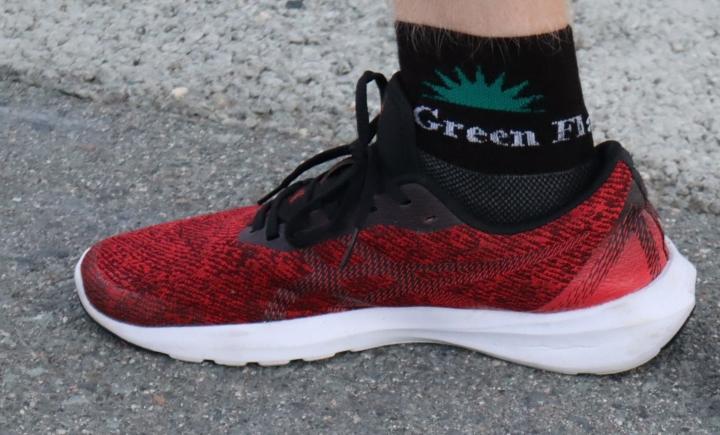 Cushion for up to 10 miles
The cushion seems decent when you first put on the shoe. However, I have noticed that it does not provide enough cushion for long runs. You should be fine running up to 10 miles in this shoe, but you may want something with more cushion for a half marathon or longer.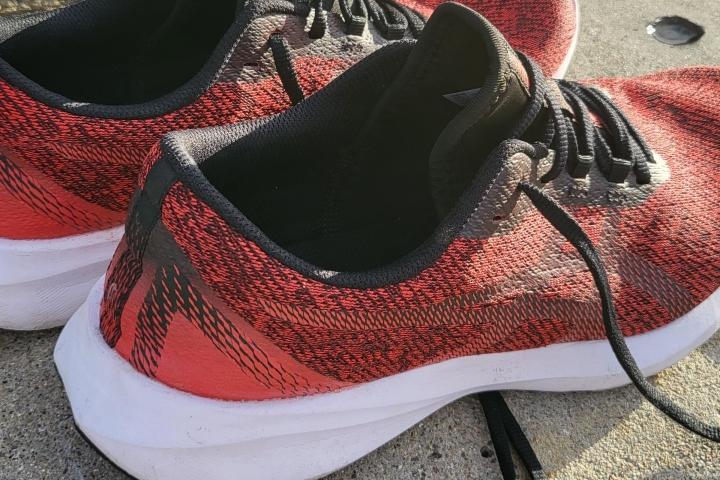 Extra protection for durability
The bottom is mostly a soft white rubber that does not look built to last through many miles, but running more miles in the shoe is the way to find out. After about 50 miles, it still looks like there is a lot more life in the shoes.
The front and back of the bottom of the shoes have a tougher rubber like most running shoes. I looked at other running shoes of mine to see where most of the bottom is worn out. For me, the toes, especially the big toe, where I push off from seem to wear first. The Versablast does have extra protection there.