Our reviews
Roadhawk FF2 is an improved version of the previous model; it feels just a tad more formed and also wider.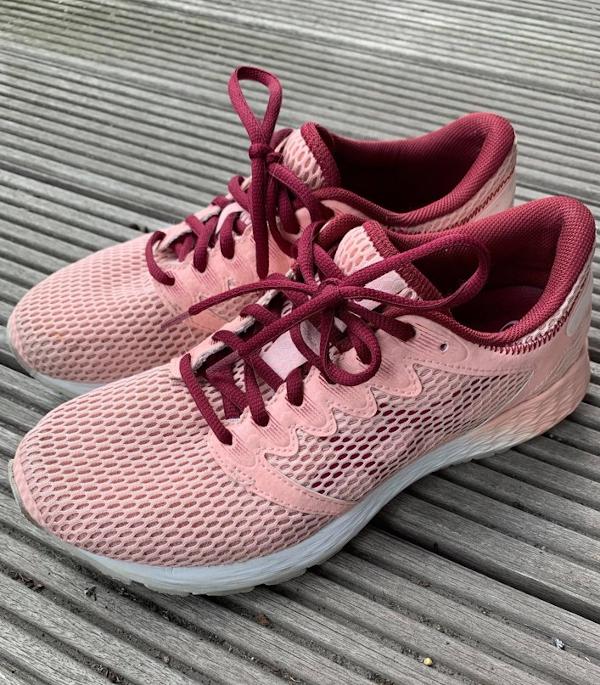 My background to this shoe
I have had both Asics Roadhawk the first version and the Roakhawk FF 2. I first started using them only occasionally on short distances.
However, soon I found myself using them more and more, and not only on short and medium-long runs but also as streetwear—that is how comfortable they became after I got used to them.
I am a neutral runner and historically have primarily worn really cushioned shoes with a high drop. However, in recent years I have tried to get my feet used to less cushioned and less sturdy shoes at least for shorter runs—this to get more muscles in my feet and calves work harder, which I think they are there for.
My initial few runs in the first Roadhawk were just strange. It felt like my feet had to work much harder than normal. Nothing really hurts, but my feet got tired even after a short run.
This, I believe, was only because I was not used to such a "formless" and less cushioned shoe.
In my opinion, the Roadhawk FF 2 is a very simple shoe and only consists of two parts: A vaguely formed sole and a simple one-layer of soft knitted top.
Initially, I felt like my foot would slide sideways over the side of the sole when running a flat curve, which of course didn't happen, but that is how it felt. About a dozen 5 to 10k runs got me used to them.
Like said, FF 2 is slightly more formed than the previous model, and I occasionally do up to 20k runs in them but mainly wear them for flat 5-10k road runs on tarmac. Once, I ran a half marathon partially on a dirt road in them.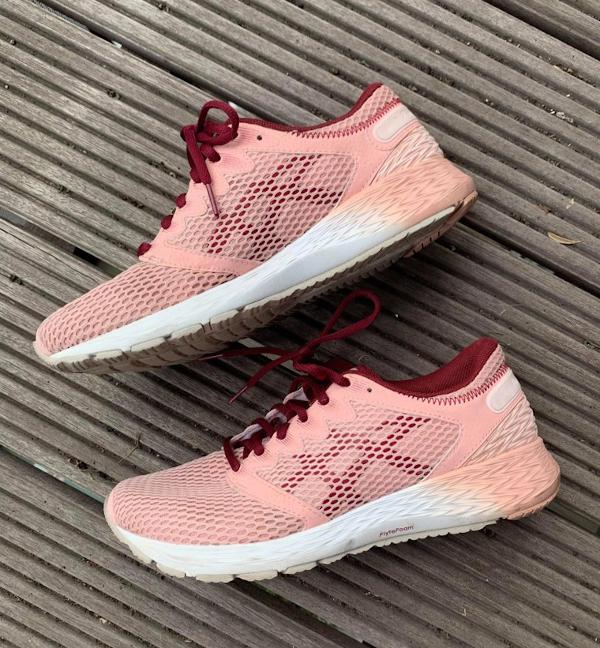 Look
I really like the look of Roadhawk FF 2, especially in this pink colour (I normally don't like pink), and I get loads of compliments when wearing them.
The mesh that covers the top part down to the sole in the front makes it look like a regular casual summer sneaker rather than a running shoe. The zigzag stitching around the ankle collar in the back is a bit retro.
I especially like the fact that the heel is pretty much the same width down in the back.
Upper
The top of the shoe is mesh, which makes it very breathable and light. There is a supportive fabric panel that covers the area from the midsole to the holes for the laces. It gives Roadhawk FF 2 slightly supportive feeling when tightening the laces.
It hugs the foot just a bit more than the previous version. The tongue is one of my favourite parts in this shoe. It is just very soft and super flexible/bendable.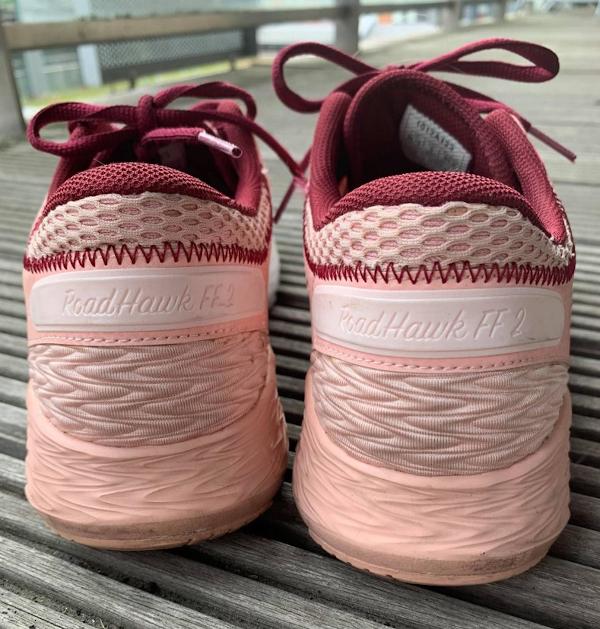 Sole & cushioning
The sole of the shoe bends easily as there is not much support being a shoe for neutral runners. The profile of the outer sole is relatively flat, which is enough for road running, and the grip is fine also when raining.
There is medium cushioning under the entire foot. Compared to a couple of other shoes I can say there is much less cushioning in this than in Asics Gel Kayano or Gel Nimbus, or even Nike Pegasus, but certainly much more than in Asics Tartherzeal.
The drop of this shoe for women is 10 mm, which means your heel is 10 mm higher than your toes. This drop is perfect for me. I like high drops and am used to 10-13 mm, but my aim is to try to use shoes of varied drops.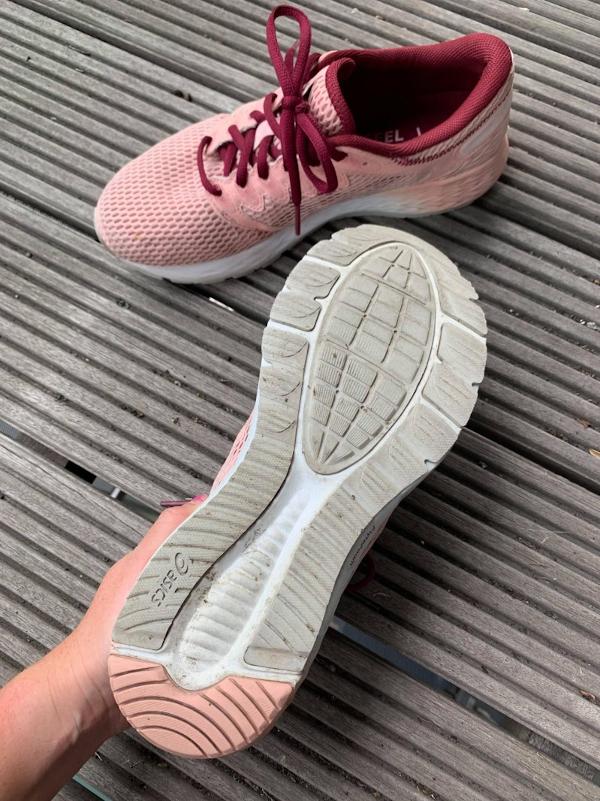 According to Asics, they have used different technologies to different parts of the cushioning and the sole. But to me, it feels like it is all just one "sole piece" made of one piece of "foamy" material. It is just mediocre, soft, but I don't feel it remarkably bouncy or extremely responsive.
Weight & fit
This really does feel like a lighter shoe. Compared with, for example, my long-distance shoes, Asics Gel Kayano that weighs 265g, the Roadhawk FF2 really is lighter with its 212g. Although, it is still not as light as racers with minimal cushioning.
The toe box feels slightly wider and also a tad more formed and sturdier than the first version. It is probably a comfortable "standard" width, just a tad too wide for me as my feet are rather narrow than wide.
The heel cup is soft and wraps nicely around your heel. This shoe feels soft all around on the inside. I wear my normal size of this shoe.
Pros and Cons next. Please remember this is about how I feel about the shoe and how it fits me.
Pros
Very breathable for hot summers
High heel drop (if you like it)
Can be seen and used as streetwear too
Cons
Rather wide than narrow
Slightly formless
Too cold/breathable for cold winters
Final proof: Richmond Half Marathon done in Asics Roadhawk FF 2s.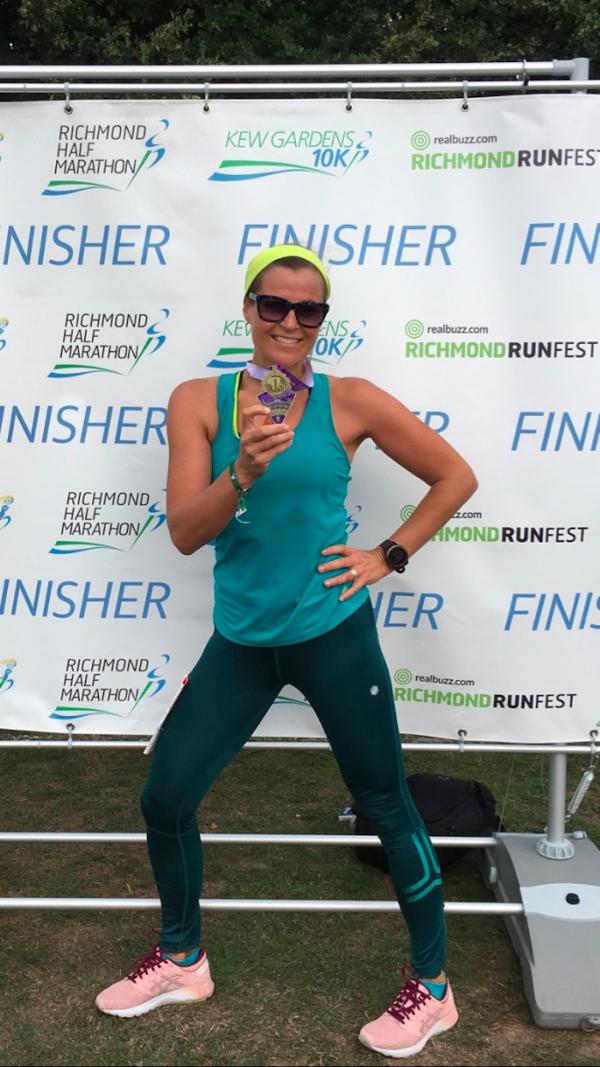 Having progressed my distance well over time, there was one thing now lacking: Speed.
With my Gel-Cumulus 19s having logged over 450km, I decided that it was time to get a new pair of shoes with more of a focus on speed than robustness and endurance.
The first impression
Straight out the box, the Asics Roadhawk FF 2 have a striking design. When picked up, the lighter weight of the shoe is easily noticeable compared to many of the stability shoes I've used before.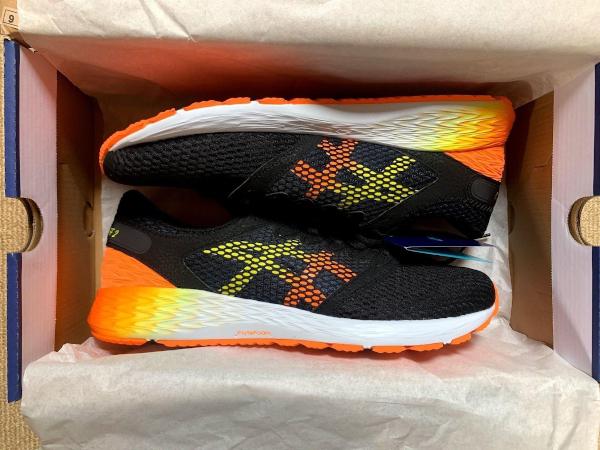 The prominence of the Flyte Foam throughout all of the sole is clear with the drop from the heel to toe noticeable to the eye.
Overall, they look quick, feel quick and are definitely a great addition if aesthetics are key to you.
Stability
The upper
The use of the lightweight mesh for the upper provides great breathability and weight. What you lose, however, is support for the foot as a whole.
While intelligent stitching can make up for this, the weight element has notably been focused on more here than providing a robust upper.

All in all, performance is the purpose of this shoe, so the slight lack of structure in the upper isn't a massive flaw.
Overall stability
Neutral pronation is important for this shoe. About 90% of the time, my technique falls into this category, but if I get lazy, I can sometimes move away from it.
Previously, I didn't notice this a lot (at all). With these shoes, you need to have neutral pronation to allow for a positive effect. Otherwise, you will risk injury over a long time.
The stability is surprisingly pleasing, however, if you can maintain a good technique throughout your run. With good support from what seemed to be a more lightweight upper, I was really pleased with this.
Comfort
It is noticeably good for what you get. These clearly aren't designed for your first-time runner to feel like they're running on clouds.
The comfort, however, if you're used to shoes which are focused on speed is really good. Even on the longer runs, you won't be looking at your feet thinking I just want this to be over.
The fit
As with many Asics I've had before these were the perfect fit. I got a UK 9.5, and it fit exactly like all my other running shoes have before.
The only slight qualm would be a minimal tightness around the bottom of the laces despite loosening them quite a lot. I do have wide feet though, so I think for the standard foot these are an ideal fit.
Durability
The outsole
Sole of the shoes straight out of the box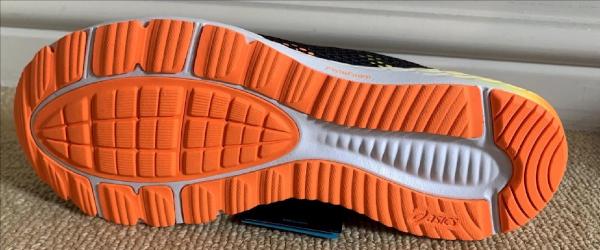 The outsole on these shoes is designed for road running in mind. Using Asics High Abrasion Rubber (AHAR) combined with a low profile grip, these shoes are designed to bring a combination of weight and grip on tarmac and paved surfaces.
I took these off the road for a quick bit on some gravel tracks. And, while still being brilliant, they were definitely out of their comfort zone compared to a lot of the other shoes that I've used before.
Nonetheless, the grip and response of them on the road is outstanding. Kind of in the name isn't it?
Degradation
The AHAR really makes a difference here for me. On initial inspection, it does feel harder than other outsoles that I've used before and feels like it won't wear away as quickly.
Only one way to find out though…
Shoes after 80K of 90% road and 10% gravel track running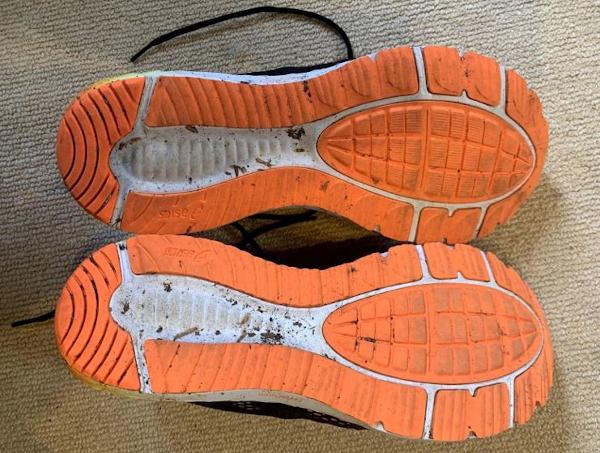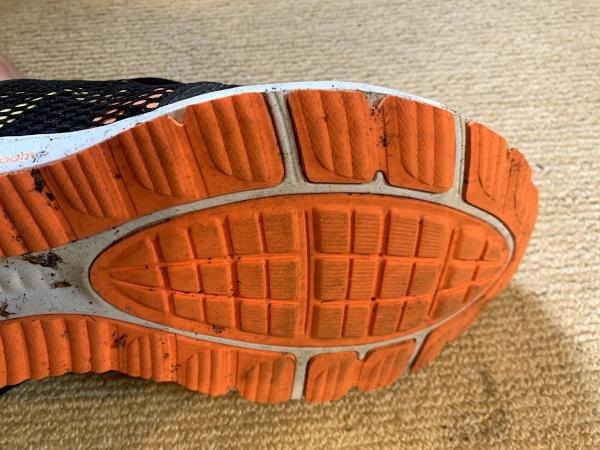 So, after 80K, they've held up pretty well. I run on fairly harsh surfaces, but that doesn't seem to have affected the grip or robustness of the outsole at all.
I think these will easily have the 450-500K of running in them that I'm looking for.
Pace
This is what these shoes have been made for. When taking these out on my first run, my time got slashed almost immediately.
Their weight is a massive bonus here and while not as light as some other shoes, you don't notice them at all when going through your stride.
In terms of responsiveness, they excel with this as well. The traction of the midfoot is brilliant, and the FlyteFoam as I'll mention allows for great efficiency.
These shoes deliver in the pace department, so as a key metric for me, I couldn't ask for much more from them.
Endurance
With good pace often comes poor endurance. While you won't be signing up to take part in an ultra in these, they do offer more than you would expect.
As mentioned earlier, the upper isn't designed to provide support, especially for non-neutral pronators. This being said, however, I haven't had any problems so far with them over the longer runs I've used them on.
I feel that the lighter weight can help take some of the strain off even.
I wouldn't recommend them if you're clocking up 100K+ a week as you'll notice the cushioning won't protect your legs as well. If you want to use them on a long run, however, they aren't going to let you down.
The midsole
Flytefoam is brilliant. Having gone through a variety of shoes where I've been let down by the midsole early on, these shoes don't disappoint.
The weight to performance ratio of it is brilliant, and you feel this is the gem within these shoes. The responsiveness of it as you move through the stride is top quality, and the use of it throughout the shoe is something that I think benefits it.
Having used some of Asics previous versions of midsoles, this one definitely ticks all the boxes when it comes to providing performance.
Fitting the purpose
Overall, it is key to keep in mind that these shoes are aimed at one segment of the market: the pace improvers. If you're looking to have a nice stable shoe that you can just clock up miles with, I would look elsewhere in the range or to another brand.
What this offers is the pace with only a small reduction in the endurance qualities of the shoes. The upper is lightweight and breathable, the outsole gives you the grip you're looking for, and the durability of it all looks good after the first 80K.
The takeaway: These shoes will up your speed while not giving up too much in the endurance department. You won't be winning professional competitions with them. But, for a keen runner, they will give you the improvements you are looking for.
Updates to Asics Roadhawk FF 2
The Asics Roadhawk FF 2 is a running shoe that's designed for speed training and racing. It features an updated design that involves a new mesh construction, a reinforced overlay system, and a new midsole compound.
Flytefoam® Propel is a full-length cushioning unit that's made from an elastomer. Its job is to provide a sturdy underfoot experience that's also springy. Protecting this compound is the brand's proprietary technology, AHAR® (Asics High Abrasion Rubber).
Size and fit
The Asics Roadhawk FF 2 follows the standard measurements, so when it comes to choosing the right size, it is recommended to go with the usual preference. The available widths are D – Medium for men and B – Medium for women. The foot-shaped last and platform design of this running shoe adheres to the natural curvature of the human foot.
Outsole
AHAR® (Asics High Abrasion Rubber) is a compound that's designed to protect the rest of the sole unit from wear-and-tear. It is a popular outsole material used in several Asics running shoes like the Kayano 25 and Nimbus 21. It also provides traction for the runner to use when taking control of the movements over the surfaces.
Flex grooves allow the platform to bend in conjunction with the joints of the toes as the heel-to-toe transition of the step is taking place.
Midsole
Underfoot cushioning is the responsibility of the Flytefoam® Propel. This full-length elastomer compound is meant to provide a soft platform on which the foot can rest while also ensuring a bouncy liftoff.
A sock liner is placed right above the main midsole material. This add-on puts some more cushioning for the underfoot, but it doesn't impede flexibility. It has an anti-microbial capacity to prevent odor and sweat-retention. Moreover, it can be removed or replaced with a new one.
Upper
The upper unit of the Asics Roadhawk FF 2 makes use of Open Mesh, which is comprised of an open-weave material that holds and supports the dimensions of the foot. It has visible breathing pores to accommodate the flow of air in and through the foot-chamber.
A set of supportive overlays provides support to the foot. These extra layers are stitched onto the sides and back of the façade, ensuring lateral and heel steadiness.
A traditional lacing system helps in keeping the foot in place and adjusting the fit. A fabric tongue-anchor prevents tongue deviation, an occurrence that may prove annoying.
Compare popularity
Interactive
Compare the popularity of another shoe to Asics Roadhawk FF 2:
Asics Roadhawk FF 2 video reviews