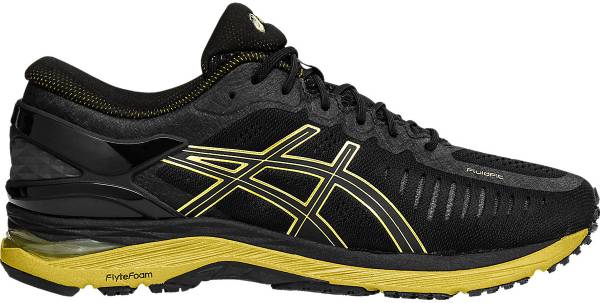 Asics introduces a "concept shoe" that will feature for the first time several never-before -released technologies in its arsenal. Without sparing the cost, the Metarun has ultra-superior quality, comfort, support, and stability that is not jarring. The sky-high cost is matched only by the performance as it is substantially better than any of Asics' most expensive and popular shoes.
---
Verdict from 29 experts and 100+ user reviews
6 reasons to buy
Comfort ranks as one of the best assets of the Asics Metarun due to the plush fabric of the interior and the well-padded midsole.
Breathability is guaranteed by the new jacquard mesh.
Asics introduces a new stability system that gives it a much stable run than their flagship stability shoe.
The new midsole is amazingly 55% lighter than standard EVA for lightweight and responsive cushioning.
Delivering great heel support is an external heel counter that does not feel too stiff, according to numerous comments.
A huge majority of runners are enamored by the cool and ultra-sophisticated design.
2 reasons not to buy
The Metarun is an ultra-expensive shoe.
It comes in very limited edition.
Bottom line
Asics introduces a "concept shoe" that will feature for the first time several never-before -released technologies in its arsenal. Without sparing the cost, the Metarun has ultra-superior quality, comfort, support, and stability that is not jarring. The sky-high cost is matched only by the performance as it is substantially better than any of Asics' most expensive and popular shoes.
Best price from 50 shops
We earn affiliate commissions at no extra cost to you when you buy through us.
93% say it's true to size.
Our reviews
These are one of the finest, possibly the best model in my opinion, made by Asics for road running.
I came across this shoe when I was having problems with my sesamoids (pain under the ball of the foot), and I was looking for the best in the market trainer for road running that offered some degree of comfort and stability.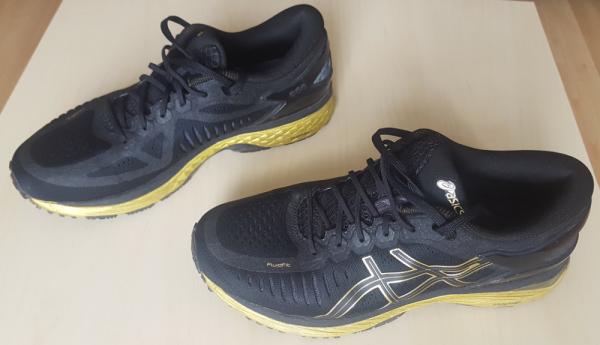 Usually, when you look for a comfortable shoe for long-distance running, you have to give a bit in terms of weight, and you often end up wearing shoes that have massive tall stacks.
This is not the case with MetaRun.
MetaRun, as the package says, are made from the best material that Asics uses for their shoes and have been developed following extensive research. The package also contains the batch number of your shoes.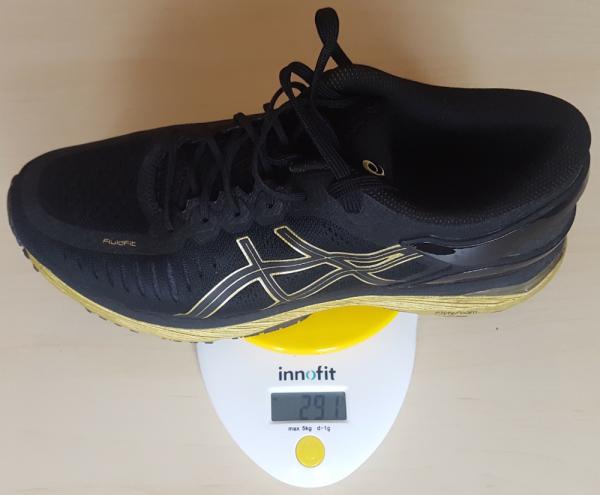 As soon as you put this shoe on, you will feel a pleasant sense of comfort that does not come at the expense of weight, UK 7 is 291 grams.
Another thing that is worth noting is the effort that Asics has gone to in terms of keeping them as light as possible. This brand is not known for producing the most lightweight running shoes in the market.
However, with MetaRun, I think they have done well. These shoes are reasonably light for the comfort and cushioning you get.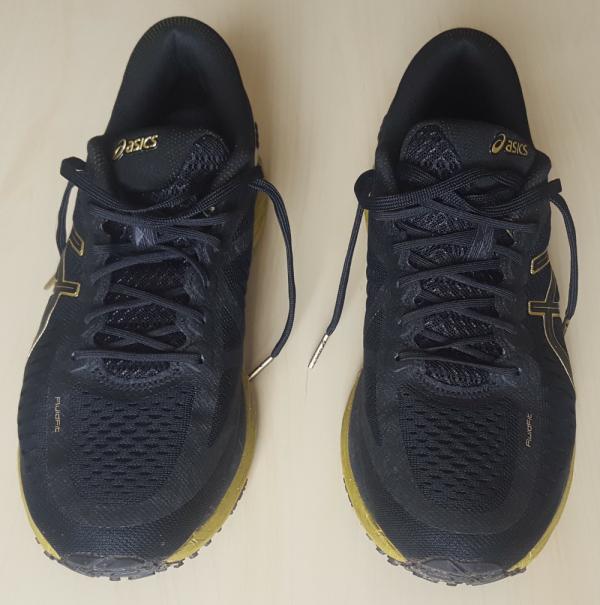 The Metarun come in two versions: one black with some stability and a white for neutral runners. Unfortunately, I did not see any other color or combination.
I am not a big fan of black shoes in general; however, the gold details on these shoes show that the producers paid some attention to the design.
Best For
I think they can be used for a variety of purposes, from everyday running to road racing. I find them suitable for any kind of road running, from speed workouts to long runs.
In terms of races, they may not be ideal for a 5 km if you are a light runner. You may want to opt for something lighter. However, for 10 km to marathon distances, I think these are some of the best options on the market.
Durability
You can see that they are very good quality shoes, and I expect them to last longer than average because of the quality of the material and the outer sole, which also offers a very good grip.
This can make them ideal when the surface is slightly slippery; for example, when you are running in winter and may encounter some ice patches early in the morning or in the evening.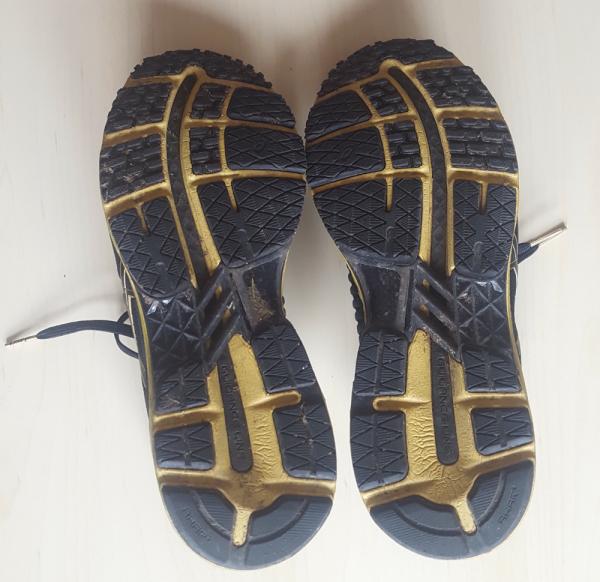 At the time of writing this review, I have only run about 100 km on them. However, I am confident that they will be one of the most durable pairs of running shoes I have ever owned.
What I like
It's a complete shoe without any weakness.
What I do not like
Metaruns come at a price. At the moment, they are the most expensive shoes Asics produce. However, the price is largely justified by the high quality.
Conclusion
If you are looking for comfort, stability and cushioning for long-distance running but do not want to end up in a heavy shoe, go for these.
They are a very valid option for heavy runners who need some stability. I also think they are suitable for any kind of workout and distance running on the road.
It would be well-expected that the review would start with the price tag. Asics MetaRun is the highest priced shoe produced by Asics with 250 USD price tag. Well, this is not a bargain, especially for a shoe that has a useful life.
There is a saying that I use very often: "Everything is well perceived only with its price." Therefore, in my perspective, discussions should not be around its price tag. Instead, it should be on whether the shoe delivers what a customer expects after paying such a price or not.
I hope that I would be helping you out to provide an answer.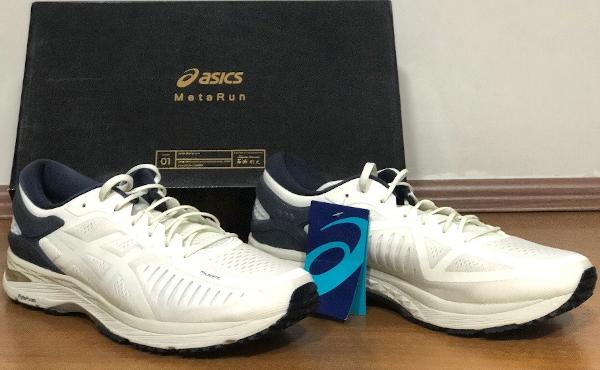 When you first have the box, you understand that it is a premium, limited shoe. With its black colored box with gold-colored writings, nothing is left for guesswork.
After careful unboxing, when you first have the shoe at your hands, you see higher finishing in every detail that you ever see in other Asics models. I had Kayano previously, and it has good quality of detail.
However, the finishing in Metarun is at another level. Beyond what you can see with your eyes, there are many new technologies applied in this shoe. These are partially generalized in other models later on.
It took approximately two years for Asics to develop Metarun.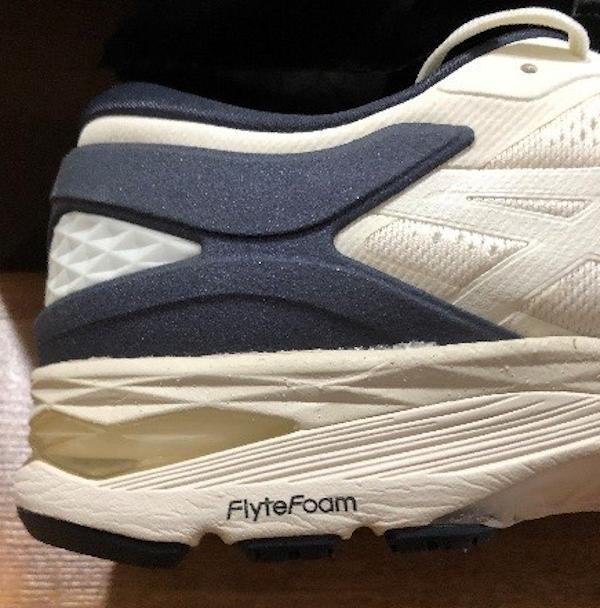 Asics introduced Flytefoam with this model, and recently, we can see it also used in others. It is a special material developed in Asics Institute of Sports Science in Japan. This is also indicated on the top of the box.
Flytefoam is 55% lighter than EVA sole and is performing much better to keep its original shape, which means provides more spring backs.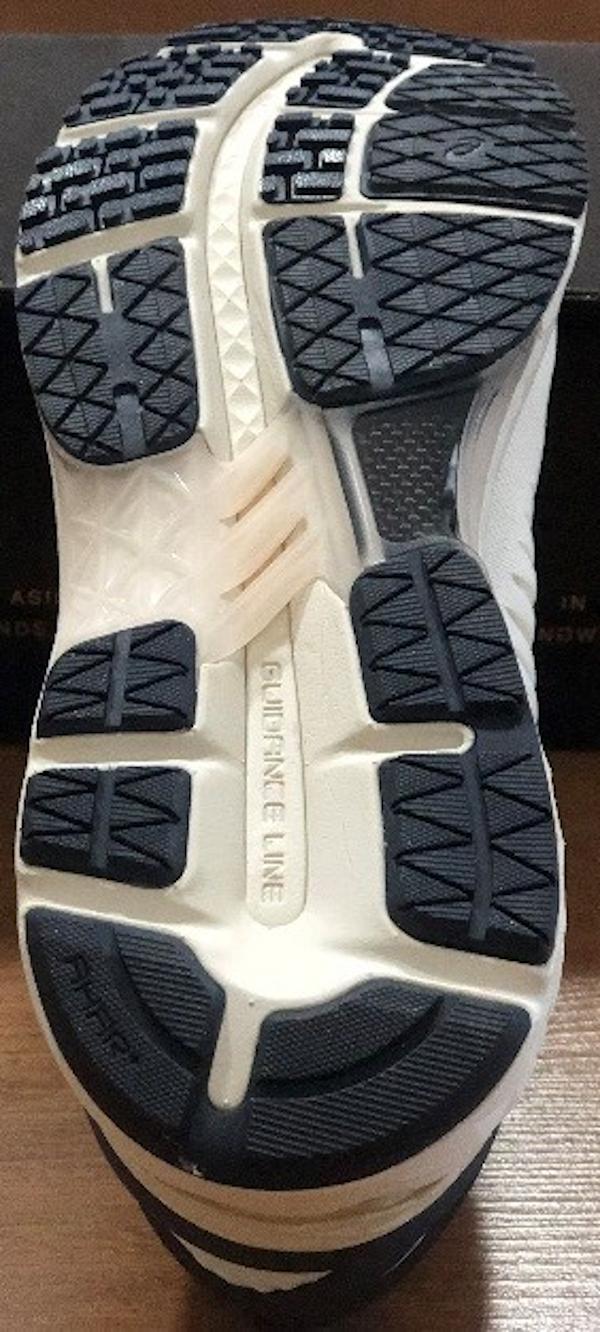 The second innovation Asics introduced is called AdaptTruss. This innovation is a two-part element made up of carbon fiber that provides stability.
The shoe is targeting neutral to medium overpronators. Therefore, stability is a core element, but it comes with stiffness.
AdaptTruss is a mobile piece of the shoe that distributes the impact of grounding, and the way it works also provides flexibility.
People who do weightlifting is familiar with heel counter. It is a part of the shoe as expected on the heel part that locks in the heel to prevent slipping.
Asics used the same methodology on Metarun, with an outer part shaped like X. It helps to stabilize your heel, and it is beneficial, especially for overpronators.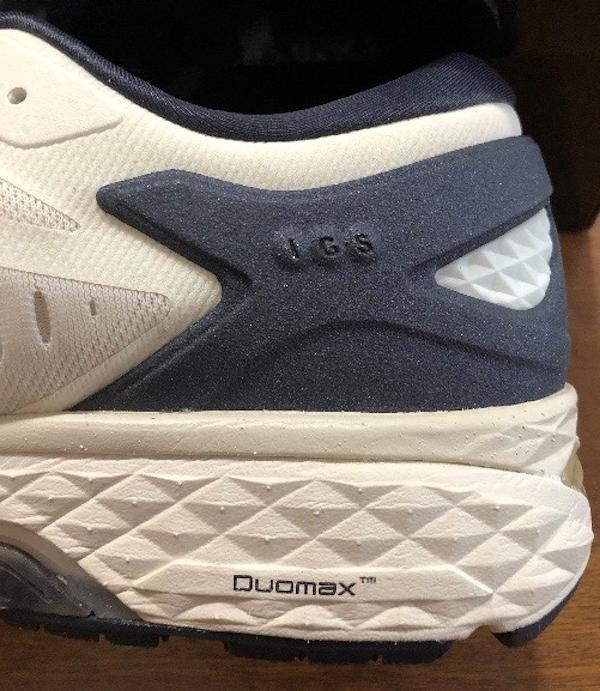 Finally, we are all familiar with the gel technology Asics is using. In Metarun, they applied an improved hybrid gel called X-Gel.
Outsole
The outsole looks familiar with that of Kayano with the guidance line that Asics apply in its high milage shoes. There is a more durable rubber on the lateral side of the shoe that creates protection for the midsole.
The main difference between outsole of Kayano and that of Metarun is AdaptTruss made of carbon fiber as I have mentioned above.
Midsole
The main innovation Asics implemented with Metarun is Flytefoam. This is lighter than EVA foam used in different models.
Asics collected positive feedbacks with this technology over time. Thus, we can now see more models using Flytefoam in their midsole part.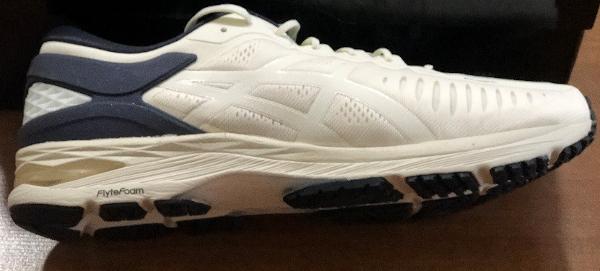 When we look at the heel part of the midsole, we can see the gel cushioning, which is another innovation point on Metarun. It is a hybrid X-Gel.
Upper
The final main innovation on Metarun is its heel counter called MetaClutch, as seen on the pictures. This heel counter improves its already supportive upper system of the shoe by keeping your ankle stable.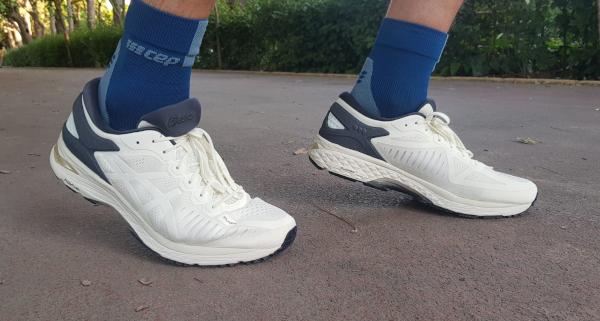 The forefoot area of the upper part is pretty sturdy, which holds your feet firmly. This feature is essential, especially when you want to change your pace during your run. You do not want to give away firmness and control of your shoes to the expense of comfort.
User Experience
I have been running with Metarun for over 50 miles. So far, I have excellent experience with it.
I should admit that I haven't had the chance to do a real long run of over 10-15km. However, for all my runs, Metarun was very responsive to my pace increases while providing support for my overpronation.
I could have commented more on cushioning and X-Gel technology if I had a chance to have a real long run. Nevertheless, I did runs on asphalt roads where there were some imbalanced sections with small stones, but I barely felt these disturbances.
Especially for my long runs, I prefer heavy shoes that provide a good amount of stability feature. As compared to Gel Kayano, MetaRun does not feel like a stability shoe but still provides all the goods associated with one.
Overall, I can accept its price tag. In my opinion, the innovations applied in Metarun and it being an exclusive model make it deserve its price tag.
Of course, you can find many other alternatives with similar features. However, Metarun is not just a simple running shoe. It is a well-engineered, well-designed, and very good-looking one.
The Asics Metarun is truly an impressive offering from Asics, they've used a huge amount of technology to deliver a lightweight (compared with other long distance shoes) supportive running trainer that can go the distance whilst still creating a stylish look.
These high end running shoes are perfect to cover long distances or if you're racking up the miles but all this technology does come at a price and you can feel that from the moment you open the box - they have a luxury feel.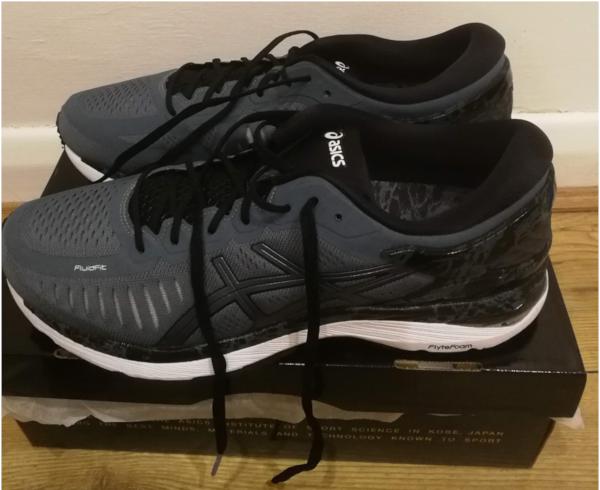 Upper
The Asics Metarun is extremely breathable, the lightweight upper keeps your feet cool even on a long hot run with the padded tongue and heel system keeping your foot secure, providing a feeling of comfort.
They are attractive, something you'd never expect to say for a long distance shoe, but these truly are a good looking shoe with a reflective section that ensures you're seen even on the darkest of roads.
Midsole
The high heel in the Metarun can result in some strain on knee and calf so make sure to take time getting used to these, I started off walking then adding them into my training bit by bit, and even then, it was a big change from my usual running trainers given the overall height along with the guidance system.
The arch support is perfect for someone who overpronates, giving just enough support and holding the heel in place as you run and doesn't cause any discomfort. Underfoot, these shoes feel amazing, they're cushioned giving just enough bounce without taking away from the responsiveness.
Outsole
For a shoe with this level of support and cushioning, I didn't think you'd feel so connected to the road. It's worth noting here that Asics have thrown every piece of technology at this shoe and you can really feel that.
Whether it be the responsive yet supportive feel or the fact they've managed to keep the weight well below the standard for a long distance support shoe.
Traction wise, these shoes are next to none. Whether you're running in dry conditions on the road, trail and even on wet pavement, these shoes hold up extremely well as shown below on a wet "summers" day.
Price
I don't even want to mention this - they are expensive. But if you're looking for a premium support shoe that's still lightweight and gives a superior feel underfoot, these are the shoes for you.
If however, you're on more of a budget, then I'd suggest looking elsewhere as Asics do offer a similar feel at a better price with less technology.
Pros
Great looking
Lightweight for long distance shoes
Impressive traction in different weather conditions
Good level of support for overpronators
Cons
Price point, these are at the higher end for running shoes and the only downside
Come up slightly big compared with other Asics shoes
Conclusion
If money is no object and you want a luxury pair of long-distance running shoes that somehow manage to give great comfort over long distance whilst still giving responsiveness, traction in various different conditions and drive to feel connected to whatever surface you're running on, these are for you.
They don't just look great, but also feel great, delivering mile after mile with a lightweight upper that keeps your feet cool on those long summer runs. These are the best long distance shoes I've worn so far, and I'd be happy to take on any longer distance race with these on my feet.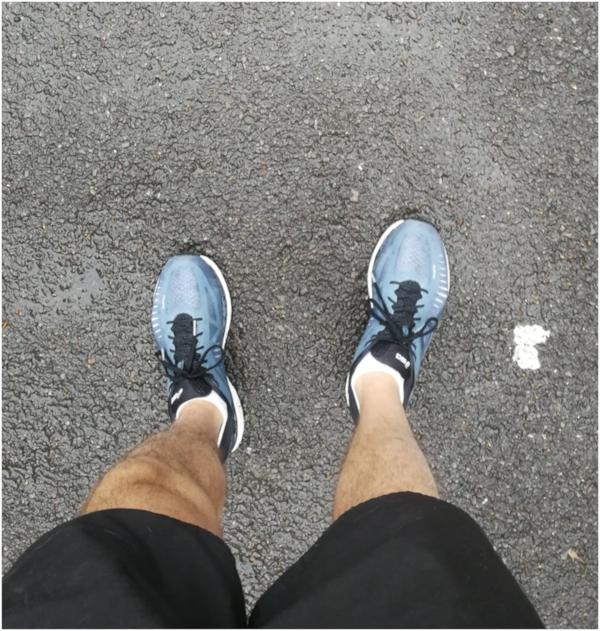 Updates to Asics Metarun
From top to bottom, the Metarun is ultra-new. This is basically a prototype of what Asics shoes will use as technologies in their future releases. With no budgetary constraints in mind and with three years of painstaking work in the background, the new technologies will certainly excite runners, especially the hordes of Asics fans.
The upper of the Metarun is made of newly-engineered jacquard mesh that combines flexibility and breathability. It is extremely light and durable. It will clearly make runs more ventilated than ever with excellent support in all the right areas.
A newly patented midsole called the FlyteFoam is incredibly 55% than regular EVA and is more resilient, responsive, and durable. The idea is to give the best kind of plush and responsive cushioning in a feather-light material.
Another new feature in the upper is an external counter that locks both ankles in comfort and support. Together with the memory foam, the support is plush and feels very natural.
Asics utilizes a new carbon fiber in the midfoot for exceptional stability. It allows neutral runners to perform their natural strides and helps overpronators as it curbs the excessive inward rolling of the foot.
The popular DUOMAX foam is also re-engineered in the Asics Metarun. It is designed to work the new stability feature called the AdaptTruss to secure the foot on both sides and makes transitions quicker and more effective.
Even the iconic Gel cushioning system is modified in this new shoe. Called the X-Gel, this silicon based-material comes in a new shape and density to maximize the gel's shock-absorbing features at a lesser weight.
Size and fit
The fit of the Metarun is very standard, which means ample room in the heel, midfoot, and forefoot. While the shoe has a generous fit, the adaptive upper and the security of the overlays and external counter securely wraps the foot in comfort and support. Asics will be releasing medium width for this limited edition. Sizes are regular as well with the options being 7 to 19 for the men's and 4 to 12 for the women's.
Outsole
The outsole is covered with prominent treads that allow runners to take this very comfortable ride to the outdoors. Covering the outsole is the AHAR+ rubber for enhanced durability, particularly in high-impact areas. The AHAR technology is also utilized in the Gel Kayano 25, which is Asics' top-ranking stability shoe currently in the market.
The Guidance Line or the vertical cut from the heel to the forefoot helps with the flexibility of the shoe.
Midsole
A new midsole foam in the FlyteFoam opens the door for runners to enjoy incredible responsiveness with the feel of much softer foam. This is 55% lighter than the industry-grade EVA with improved durability and resiliency. Organic fibers are the main material in this foam, which immediately reverts back to its original shape after absorbing every impact. It gives the shoe great responsiveness. Located in the midsole, just beneath the arch, is a carbon fiber called the AdaptTruss. The technology keeps every run neutral as it is not overly stiff and is only experienced once the runner rolls inward after some serious mileage or when the runner is an overpronator.
On top of the AdaptTruss is the improved DUOMAX foam. It runs from the medial to the lateral side to really enhance the stability of the shoe. Finally, the X-Gel or new gel construction has a new shape and placement to give the ultimate shock-absorbing benefits at a greatly reduced weight.
Upper
The synthetic jacquard mesh has the perfect blend of flexibility and structure. It means that runners have natural flex in the upper and stiffness in the right areas. The result is an upper that hugs the foot in comfort and security. Asics uses part of its logo to act as an overlay that functions as a midfoot hold. Going over to both sides of the ankle is an external heel counter that keeps the heel in place. This secure hold is enhanced by the memory foam.
Rankings
How Asics Metarun ranks compared to all other shoes
Popularity
The current trend of Asics Metarun.