Verdict from 1 expert and 100+ user reviews
5 reasons to buy
The Asics Gel FujiTrabuco 8 offers a firm grip, according to many users.
A lot of runners commented that this shoe is comfortable.
This running partner is supportive, said some buyers.
Several reviewers mentioned that the shoe is responsive.
A few purchasers admired the outsole's durability.
2 reasons not to buy
A wearer reported that the Asics Gel FujiTrabuco 8 has a tendency to hold moisture.
The upper material has fallen apart after only a few uses, some testers reported.
Bottom line
The Asics Gel FujiTrabuco 8 is designed to provide comfort and protection to the runners even in the most technical terrains. It works best for users with neutral gaits or those who do not overpronate. This shoe incorporates durable materials and advanced technologies, making the platform suitable for long-distance and off-road running.
Tip: see the best trail running shoes.
Our reviews
The previous version, ASICS FujiTrabuco 7, was my first choice for races during 2019 – and the few races I could do in 2020 – but when it came the time to update my old pair I liked them so much I went for this option again. But, how good are they, and is it really worth it for the new updates?
All brands make new updates every year, sometimes this involves major changes, and other times it's just readjustments and new design options. This time ASICS just made small changes, mainly in the upper, and added some new colour options.
Their best quality is how versatile they are when it comes to different terrains, distances, and types of runners. It's also a very protected option if you are about to start in Trail Running and want to be extra safe on uneven terrain.
Upper
The upper is made with durable overlays making it very resistant to abrasions but also making them not so breathable and a bit stiff when in motion.
The sides are covered with a plastic piece to help to support and secure the feet. It works, but it increases the temperature in the shoe and adds a bit of extra weight. This has been updated from version 7 trying to make it lighter and more breathable and is a bit of improvement but for me… but it is almost imperceptible.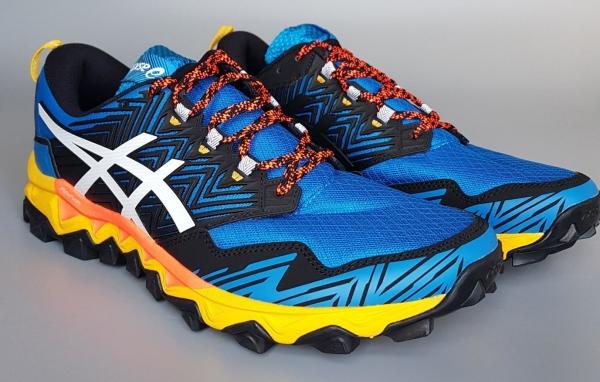 Another improvement was made in the tongue, where they previously added a tongue gait, some fabric between the laces and the tongue to prevent debris into the shoe. This has now been removed and instead, they have constructed a sock-like fit tongue.
This is a nice touch, and I prefer it, but the only downside is when you use them in the mud dirt will get stuck between the upper and the tongue on the sides. This is quite difficult to remove when cleaning them.
The laces are now a bit thinner, and I prefer that as in the past it was a bit difficult to deal with them when they became wet. While they are thinner, it doesn't mean that they're not strong enough. They're also flat and easy to tie.
The tongue comes with a pocket to hide them once laced. This pocket is a bit bigger now and easier to use. In version 7, I ended up not using it because it was a bit over-complicated to put the laces in, especially if you use the last eyelet.
But with the new version, I use it all of the time, and it keeps your laces concealed. Still, I would prefer a quick lace option, similar to the ASICS FujiTrabuco Pro.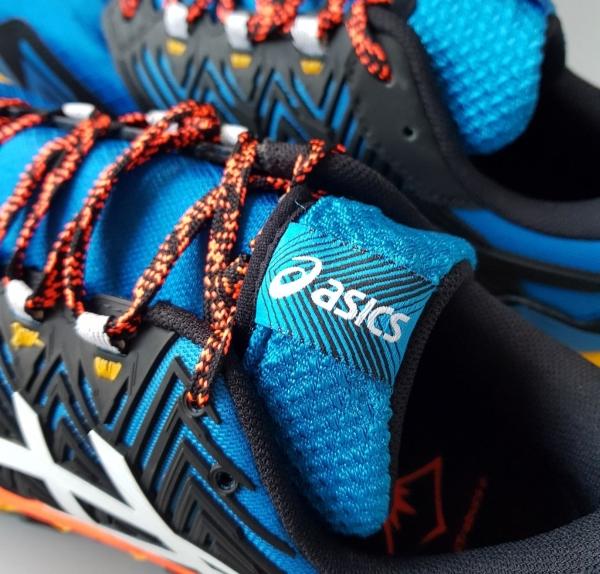 They come with a shy toe protector which isn't very rigid/hard, but good enough in case you hit a rock or some roots.
Overall, the upper is designed to give structure and protection, and it does. But in doing this it sacrifices breathability and flexibility. It also makes them quite difficult to dry if you step in puddles or rivers.
Outsole
The outsole from version 7 and 8 are the same. I guess they are so good they didn't need it to change it!
When I first saw them, I was excited to try them on tough down hills to test them. And they didn't disappoint me. They have an aggressive multidirectional lug pattern made of the premium material from the Japanese brand, the ASICSGRIP.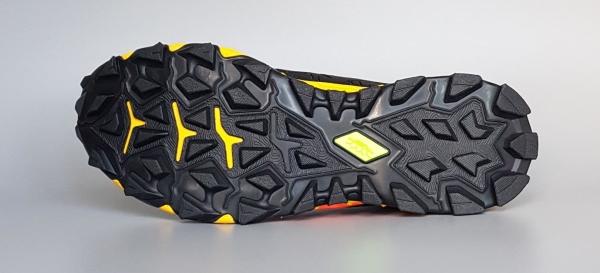 They are deep enough to give you a very good grip under uneven and loose terrain but also give you good durability if you need to run some segments on road.
It can get by on mud, but let's face it, they are not designed for extreme mud conditions. I used them in a very muddy race, and they were OK, but I would go for a shoe that specifically caters to this type of terrain (Salomon WildCross, SpeedCross, Inov8 Mudclaw, etc).
It's also worth noting that these types usually don't have much cushion, so unless you are planning on running only on mud, once you hit something harder like the road on stone, you will suffer. And that is why love the balance the FujiTrabuco can offer.
Durability is good on the outsole. I ran around 450 km on the FujiTrabuco 7 and 150 on the 8. Some of the lugs show signs of wear as expected, but nothing significant, and they're still good to go.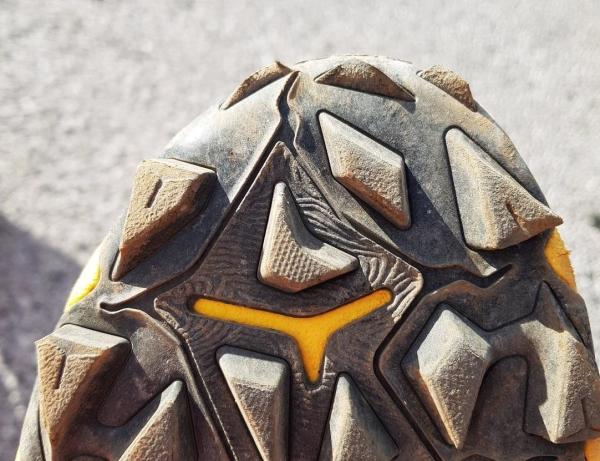 Midsole
Do you prefer to feel the stones on your way or do you want a massive shoe to absorb the shock from every single rock?
Well, the Fujitrabuco won't do either of these, but strikes a good balance in the middle (OK, maybe a bit more on the cushioned side, but compared with the maximalist soles of other brands…it's not that). To help protect you from sharp rocks, they've added a rock protection plate.
These shoes are around 332g/11.7 oz, which is not the lightest on the market, but it's very light when you think about how much cushioning and protection they offer.
They're made with FlyteFoam to provide an energy boost, and with some GEL in the heel which is perfect for long runs when you start using a heel strike more often. They also feature the DYNAMIC DUOMAX to increase stability. I do pronate a bit so I found it very helpful in my runs.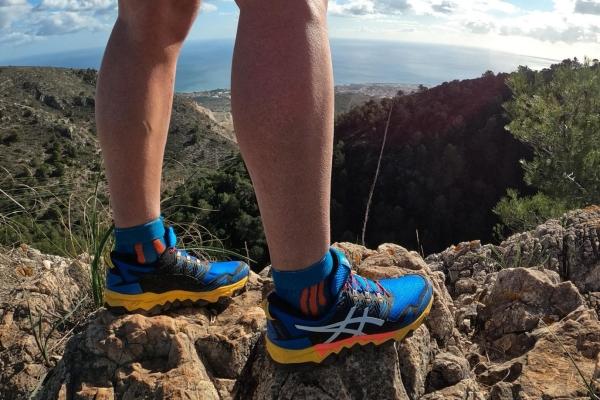 Performance
I keep telling people they are my first choice for races, especially when I don't know the course, or how technical the terrain will be.
This is because of their great versatility on different terrains, especially on tough ones. Going downhill with them, I felt confident enough to know they would respond well.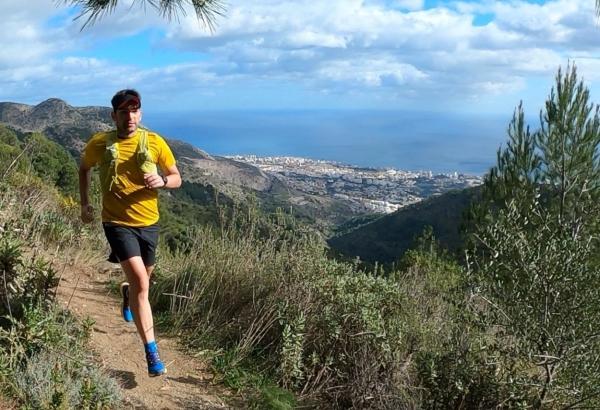 I have been using them for 35/45 km runs, and most of the time I forget about what I'm wearing. They have a generous wide fit, and the toe box is perfect for me. Not too narrow, and not too big.
The heel tab is well protected and cushioned, making them very comfortable after long runs. If you are planning to go fast, or doing a middle foot strike all the way, it might feel a bit heavy.
Pros
Great versatility to almost any situation
Superior grip
Protection and structure
Cons
Upper not very breathable and rigid
Slow to get dry
Conclusion
I define them as 4x4 shoes, the best balance between grip, cushion, and protection. I use them for longer runs when I don't know what terrain I will encounter. The outsole offers a very good grip with aggressive lugs and the ASICSGRIP Material, perfect for technical and non-technical terrain, and can take some mud (but not the best ones for muddy runs).
The question is, do you really need a 4x4? Well, sometimes you will, but sometimes, if you know it's going to be easy terrain, you won't. So you could choose something more specific for that. But this also makes them a good choice for people who want to start running trails and want to feel secure when going off-road.
The middle sole gives enough cushion and stability for long distances, but they are reactive enough if you want to go faster. The upper is made to provide good protection around your feet, but it's quite rigid making the shoe a bit heavy and not really breathable.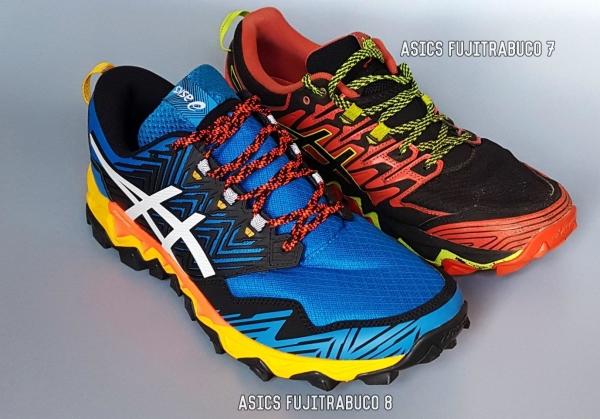 When it comes to comparing the version 7 and 8, I would say no major changes have been made. If you can get a good deal on the previous model, it might be worth going for it instead of spending extra money just to get the latest model…unless you prefer the new colours!
Another new model has been launched called the ASICS GEL-Trabuco 9. It's been reshaped from top to bottom, so I can't wait to try them on the trails!
Good to know
The Asics Gel FujiTrabuco 8 is an everyday trail running shoe designed to keep the foot comfortable and protected as the user takes on rough terrain. This shoe was improved to provide a more breathable and secure ride.
This neutral running shoe features an updated upper with vented midfoot overlays for added security. The overlays limit the side-to-side movement while walking or running.
The 8th edition of the Asics Gel FujiTrabuco uses the same midsole and outsole technologies that are utilized in its predecessor.

The Asics Gel FujiTrabuco 8 is manufactured with a standard shoe length. Consumers are welcome to get a pair in their usual sizing expectations. However, it is recommended to fit the shoe first or utilize the users' feedback about sizing before proceeding to purchase to ensure a comfortable fit.
This running shoe features the lacing system to provide a customized and secure fit every time. Other elements that affect the shoe's fit include the flexible mesh upper and Ortholite sockliner, which aim to provide a comfortable in-shoe feel.
The Asics Gel FujiTrabuco 8 features the Asicsgrip™ technology. This rubber outsole offers great traction on various terrain. This highly durable material protects the foot and the rest of the platform from abrasive elements.
Enhancing the outsole's grip is its aggressive lug pattern, which provides excellent traction on loose and slippery terrain.
Delivering smooth transitions is the Rearfoot Gel® technology incorporated into the shoe. This cushioning system uses a silicone-based gel that attenuates shock during the impact phase. Other Asics running shoes that feature the Rearfoot Gel® technology are the Asics Gel Venture 7 and Asics Gel Cumulus 21.
Providing responsiveness is the Flytefoam Lyte technology, which is a lightweight and durable midsole material that utilizes organic super fibers.
The Dynamic DuoMax support system is also included in the shoe to enhance support and help reduce overpronation. This technology works by controlling the movement of the foot to deliver a smoother heel-to-toe transition.
To provide added comfort, the Ortholite sockliner is incorporated into the shoe. It also delivers additional underfoot protection and manages moisture to prevent unwanted odor.
A rock protection plate is also integrated into the shoe to provide protection against stone bruises.
The Asics Gel FujiTrabuco 8 features a mesh upper to provide breathable coverage. It keeps the foot dry and cool for an extended period. The mesh fabric is also flexible enough to stretch precisely where it is needed.
Durable overlays are infused in the upper to provide midfoot support and durability. The overlays also provide protection against rocks, roots, and other abrasive elements.
This Asics trail running shoe features the lacing system to provide a secure and customized fit. A lace garage is also included, so the shoelaces don't become caught on bushes and other objects.
Rankings
How Asics Gel FujiTrabuco 8 ranks compared to all other shoes
Popularity
The current trend of Asics Gel FujiTrabuco 8.