The Gel Dedicate 7 is a budget-friendly model from ASICS which is perfect for beginner and recreational players. The shoe takes on the hard courts with stability as its major strength. Surefooted shifting side-to-side is definite in this shoe. In addition, it is also super grippy.
Pros
Excellent stability
Amazing grip
Affordably priced
Lightweight
Well-fitting
Supportive upper
Roomy toebox
Good court feel
Cons
Short laces
Lacks durability
Firm cushioning
Not so breathable
Who should buy the ASICS Gel Dedicate 7
ASICS came up with the Gel Dedicate series to meet the needs of the following players:
beginner or recreational players who are not so hard on their tennis shoes
those looking for a more affordable shoe for tennis
baseline players who need a stable shoe for side-to-side moves
athletes who need one shoe for various racquet sports, including pickleball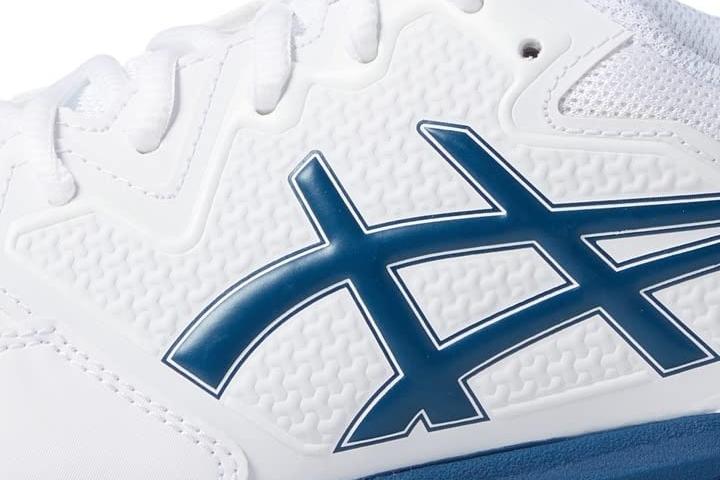 Who should not buy this tennis shoe
If you are ready to go for a more expensive shoe to get next-level cushioning and durability, consider the following ASICS tennis shoes:
Impressive stability for an affordable model
The Gel Dedicate 7 was built with a heavy focus on the stability aspect. A great majority of shoe testers immediately noticed this:
"gives me the stability that I was lacking"
"Solid support"
"hold the feet in quick side-to-side movements"
An expert tennis shoe reviewer even mentioned that the Dedicate 7 even provides "a little more stability than the more expensive models," especially when planting and getting down low for balls.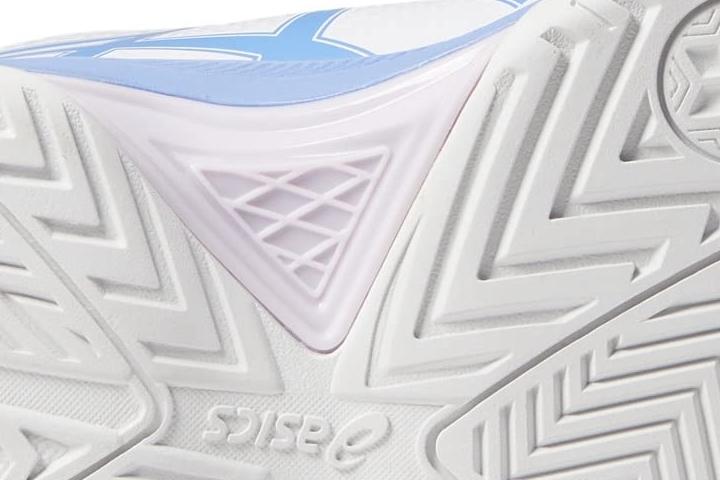 Little-to-no break-in and roomy toebox
Even though a small number of reviewers experienced initial stiffness in the ASICS Gel Dedicate 7, the majority is more than happy with the overall fit. An expert referred to the upper as "malleable" as it can be tied securely around the foot, eliminating heel slippage.
Most tennis players also found the toebox roomy enough for their feet. "Ample toebox to avoid toe pain during prolonged play," says one of them. Also, a tall guy with wide feet who got a size 13 shares: "the width and toe area couldn't be better for MY feet."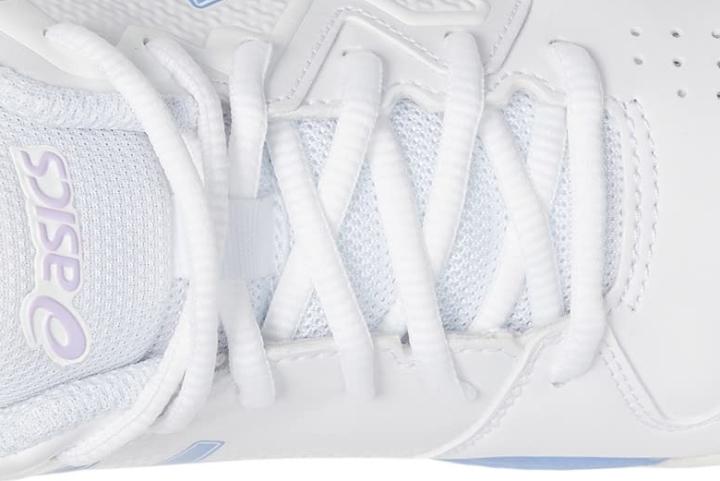 The laces are too short
One of the first-hand issues that people had with the upper is the too short laces (about 6-10 inches too short). They complain about having a hard time and spending too much time getting them tied, even when pulling the sides as tight as possible. And once tied, the players were still worried about them coming undone during court time.
ASICS Gel Dedicate 7 is not so well-cushioned
Opinions split regarding the level of comfort and cushioning of the Gel Dedicate 7. While some people felt immediately comfortable in the shoe and thought that it had enough cushioning for the hard court, most players had issues.
There are multiple complaints about the feet getting sore after playing in the shoe for a while. For some, it took 2 hours of play and for others, only 20 minutes was enough to want to take the shoe off. Here are some of their comments:
"the shoe does not deserve the Gel moniker"
"uncomfortable even with thicker sole inserts"
"thought my feet were going to fall off"
An expert tennis player thinks that the shoe would only work in two scenarios: (1) you are a lighter player who doesn't need lots of cushioning and support, (2) if you invest in some silicone heel cups and pads.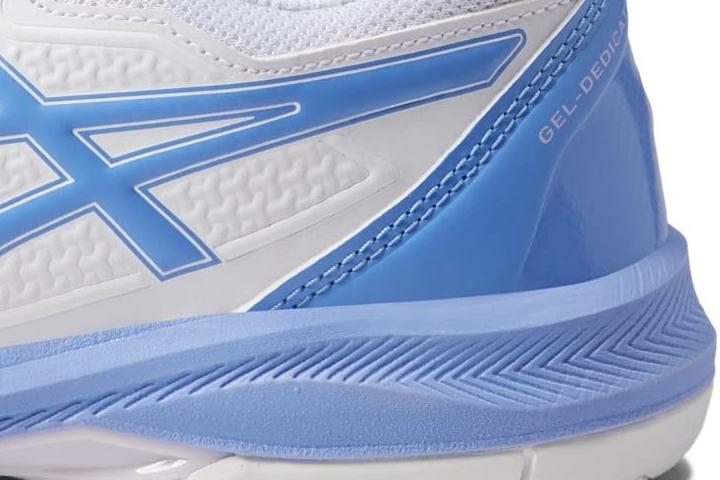 The grip is unbeatable
Not a single complaint was mentioned about the shoe's outsole traction. This part received the largest amount of positive feedback. The players find it perfect for making quick moves and turns.
Even an expert reviewer claims that the shoe offers the highest level of grip possible on the hard court. He describes it as "a very tacky type of shoe" and that he had "more confidence moving in this shoe than some shoes double the price." That includes a wet court.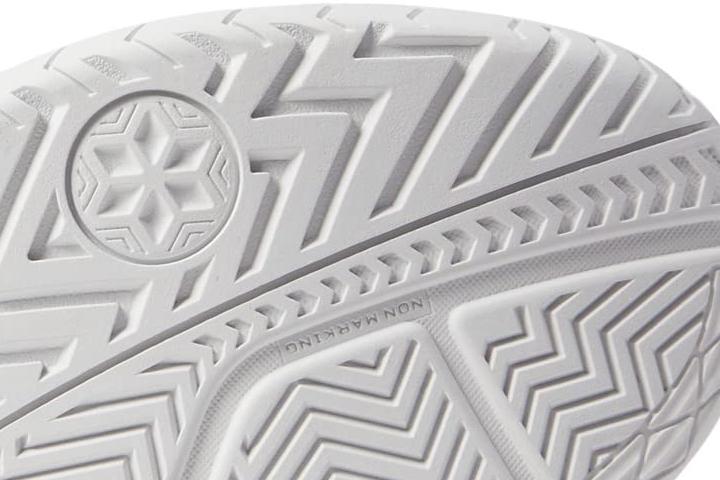 So affordable!
In the expensive market of tennis shoes where the average price is $119, the Gel Dedicate easily catches the eye with a $70 price tag. Many buyers were ready to disregard some of the shoe's drawbacks going for this bargain.
They all agree that it is not a high-end shoe and doesn't give as much support as the top-tier ASICS tennis shoes, but the price is just so "unbeatable."
Not the most durable tennis shoe
According to the players who have used these ASICS shoes for at least a few weeks, both the upper and the outsole don't perform their best in terms of durability. Someone who bought the shoe in March says that the sole is already gone by July even though he didn't wear it that often. Others seem to agree:
"ripped so easily"
"wear out a lot quicker than the Challenger 13"
"sole wore down to skids in about a month"
An expert also performed a sandpaper test on both the upper and the outsole and claims that the Gel Dediace 7 is indeed less durable than the brand's more expensive options. He also doesn't recommend the shoe to sliders, draggers, or those who play on a gritty hard court.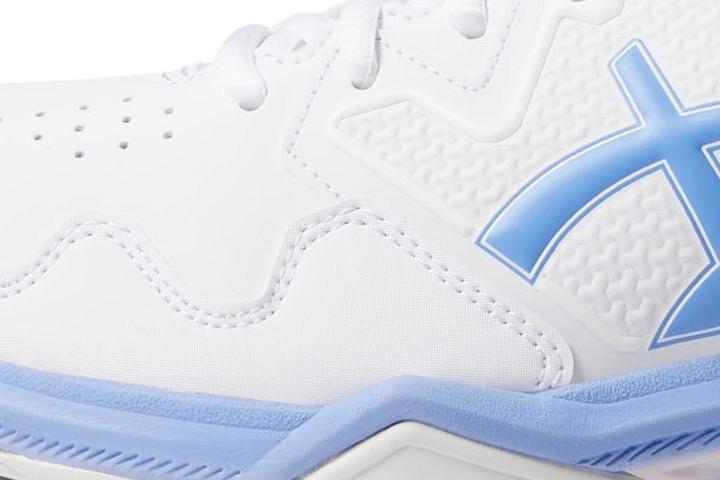 If durability is a must for you, it might be a better idea to check out tennis shoes that come with a warranty.
Gel Dedicate 7 is one of the lightest
Based on the weight of a men's shoe (338 g), the Dedicate 7 is noticeably lighter than the average across tennis shoes (382 g). Weighing 44 g less, it definitely belongs to the lightweight range of tennis shoes.
Synthetic upper doesn't breathe well
This tennis shoe is not the best choice for playing on hot summer days as the synthetic leather doesn't pass the air through that well. As one tester puts it, "kinda plastic."
Have a look at the well-ventilated tennis shoes instead.