Asic's Gel shoes are reputed for their cushioning system and Asics seem to have hit a homerun with their Gel Cumulus 18.
As someone with high arches, I used to run on my New Balance 890 V2s for almost 4 years. I was looking for a pair of shoes that provided additional cushioning on the lateral side of my feet.
After a lot of research, I went for the Cumulus 18 and it was a big switch for me to move to Asics.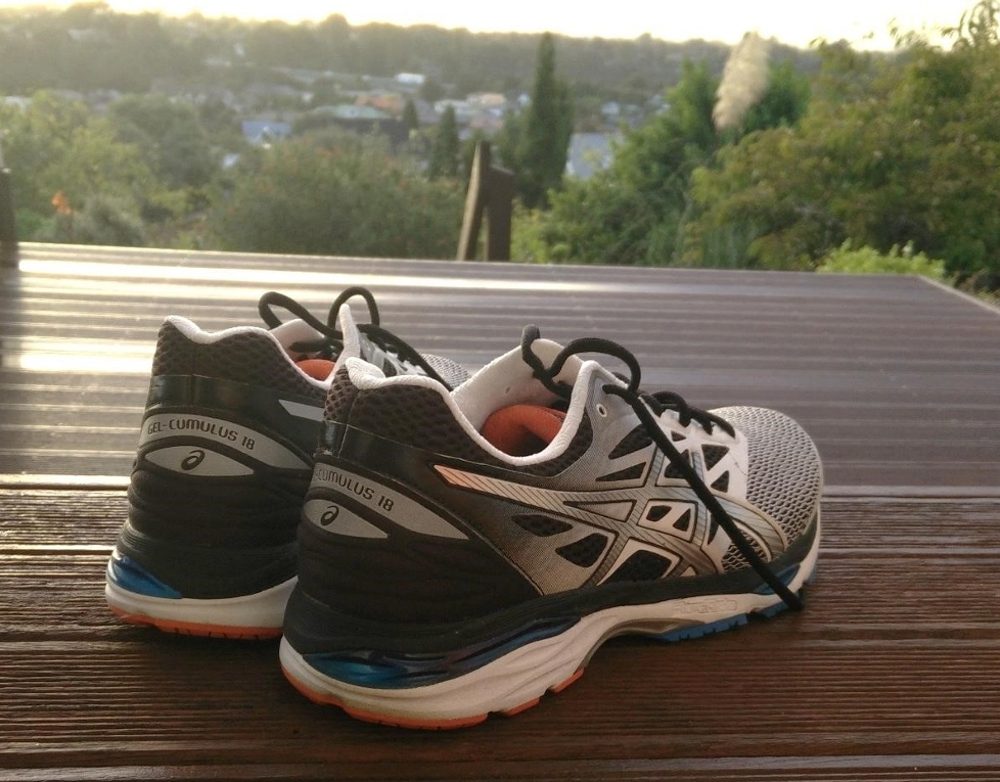 Looks
Asics are known to come up with some of the visually appealing shoes on the market and this was no exception. The blue and orange tones look so cool and will surely catch the eyes of those passing by (in a nice way, of course).
The mesh upper adds to the looks and the grey white tones nicely complements to the contrasting blue and orange. The heel counter has the model and the Asics branding. There are no seam overlays and the upper is molded for a solid fit overall.
Design & Comfort
In a line, this shoe is super comfortable from the moment you slip your feet into it. The toe box is very comfortable and roomy as mine is size 4E. This is particularly important for someone like me with high arches. The heel counter is sturdy and there's ample cushioning there.
The gel pads on the lateral side of the shoe give a very comfortable run around tight bends. The forefoot cushioning provided by FluidRide midsole is great. It makes those long runs a breeze. I was able to comfortably run for an hour and a half in these.
It wasn't as responsive as my old New Balance 890 V2s but that's always a trade off when you prefer cushioning over responsiveness. The lacing is great and they stay tight once you've laced them up. The tongue is also well cushioned and sits snug on your feet.
Sole & Durability
Most Asics shoes come with their proprietary AHAR+ abrasion resistance rubber on the heel. They're known to last and these are no exceptions. After putting about 100kms in my Cumulus 18 on mostly asphalt and concrete, they still look the way they were out of the box.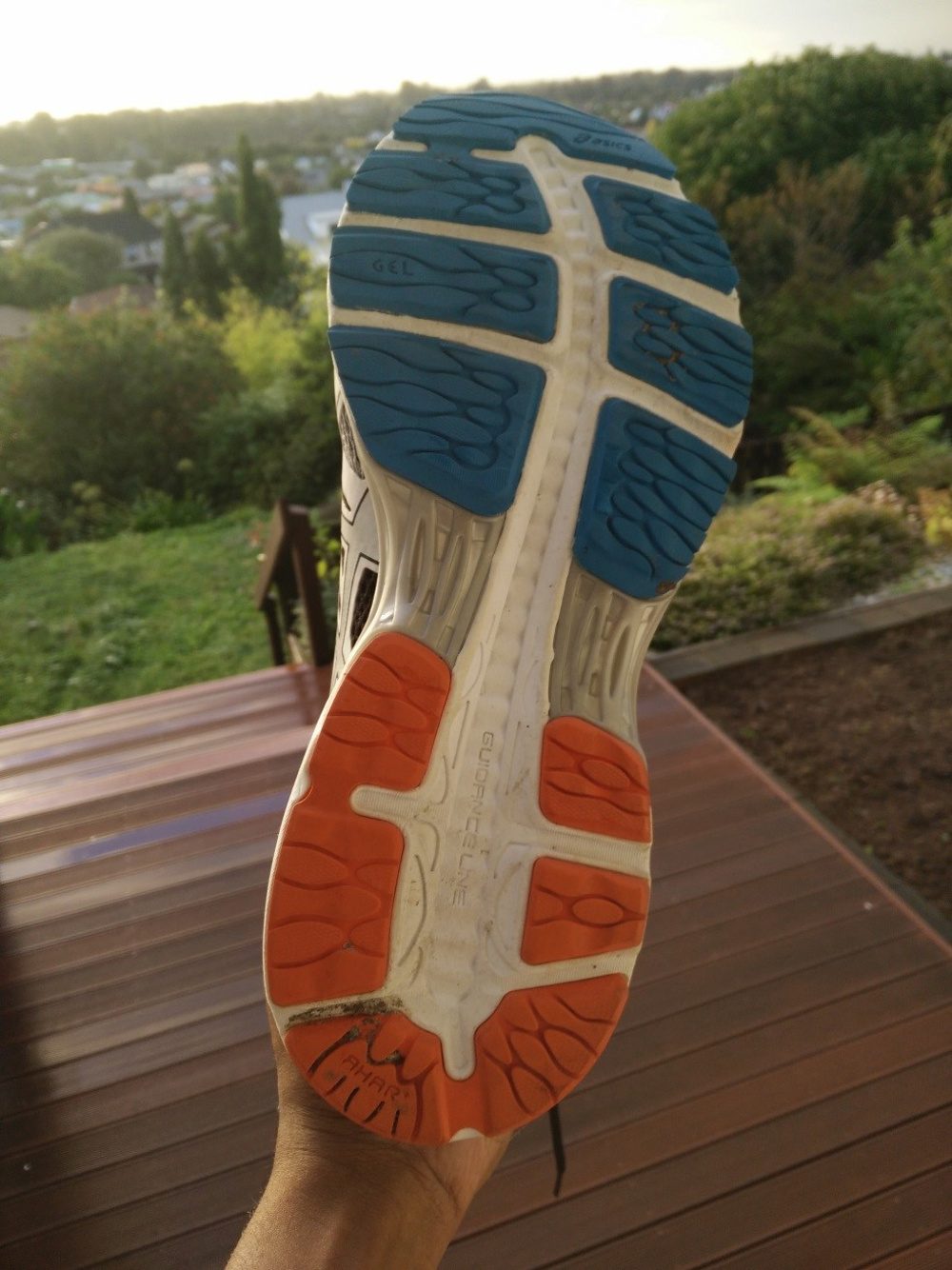 A lot of the users complained about the upper wearing out near the toebox while running. This was due to their toes rubbing against the upper.
I personally did not experience any wear and the shoe still looks in great nick. I also wash my shoes every month and let them dry. So some maintenance gets your shoe looking new for a long time.
Performance
The Cumulus 18 has the younger brother, Nimbus 18. Nimbus shoes are known for their aggressive cushioning. For someone like me who also likes a little responsiveness, the cumulus 18 was a great choice. Also these are cheaper than the Nimbus 18s while providing a great cushioned ride.
The upper is nice and breathable and ventilates your feet well. It doesn't have a large heel to toe drop like my old 890 V2s and I had to get used to it initially. But it was great once you get used to the small heel to toe drop.
The system between the heel and midfoot provides great stability around those bends and corners making your runs a joy. The shock absorption of the foam and gel pads was exceptional to say the least.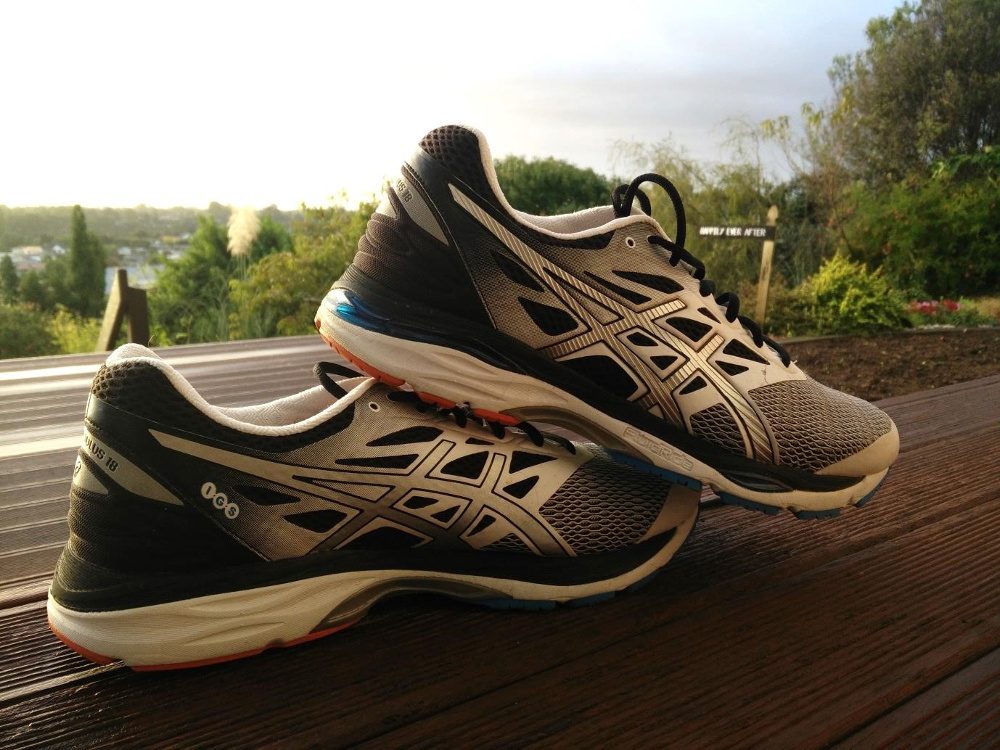 Conclusion
After being skeptical to jump from a shoe like NB 890 v2 to the cumulus, which are worlds apart I can say comfortably that I can't be any happier. These are great shoes for someone with high arches like me who don't need any medial side support, but plenty of support on the lateral side.
The midfoot-forefoot cushioning is exceptional while not compromising heavily on responsiveness. There's a good reason Asics names these shoes after clouds.
You could run for hours together in these and you'd still be ready to push for some extra kilometers.