I am a guy with a heavier built weighing 80 kgs and with a stature of 1.82m with very wide feet. I always have had troubles finding the right pair of running shoes in terms of cushioning, durability, cushioning and the shoes being light at the same time.
I'm writing this review after running more than 70km on Asics Dynaflyte. Being a guy of a heavy set and having had serious spinal problems, I always run on shoes with a very high heel-toe drop.
Durability
I thought the Dynaflyte with a lower drop (8mm) isn't going to provide a cushiony ride and I was totally wrong. They are so cushiony and very springy. It is easier to land on midfoot to toe with the 8mm drop.
After more than 70km of high tempo runs on asphalt, I don't see wears and tears of any sort. The outsole still looks pretty much the same.
Figure 1. No sorts of wear and tear yet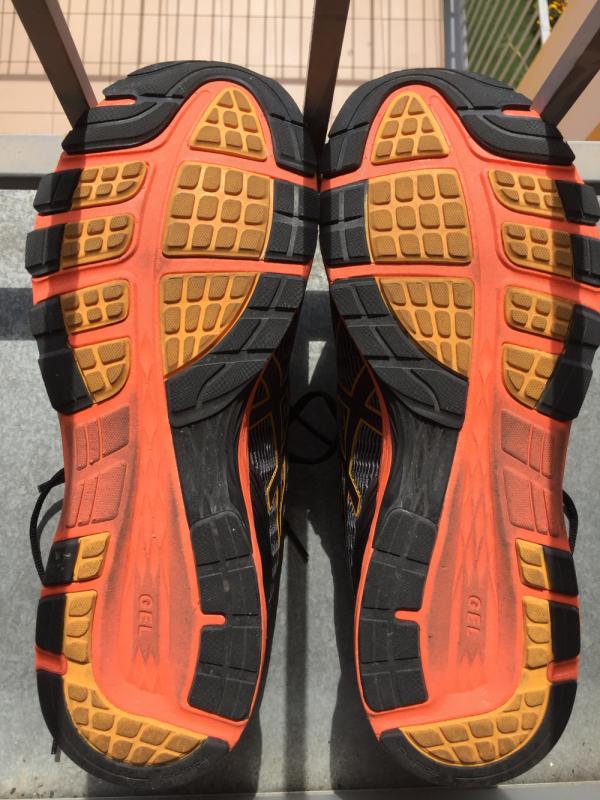 Top layer material looks very durable as well. The build quality is very high. I believe that they are going to last somewhere between 700km - 800km very easily.
Figure 2. No uneven wear spotted after 70km of high tempo runs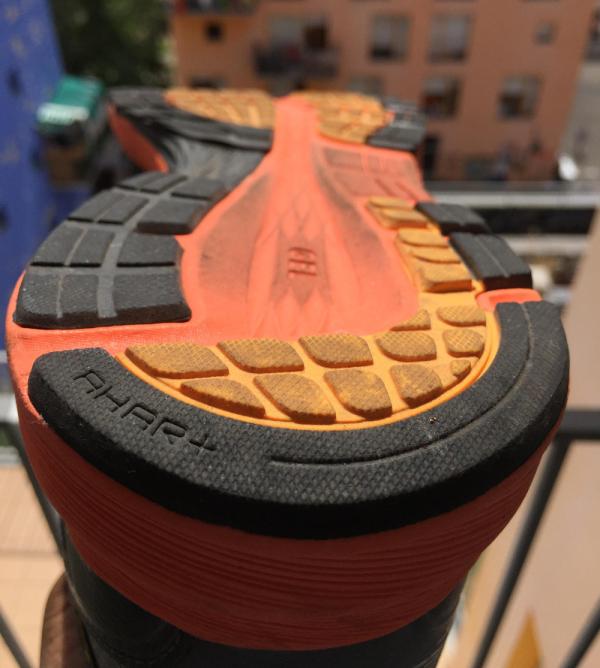 Arch Support
I am a mild supinator with high heel arches. Dynaflyte has small arch supports (bumps), which let my heels rest on them. So I feel more secure and comfortable as my arches are very well placed on the soles which are not possible in shoes without arch supports.
I am so confident that I am never going to supinate while running on them. I would highly recommend dynaflyte for people with normal to high arches.
Figure 3. Precisely designed arch supports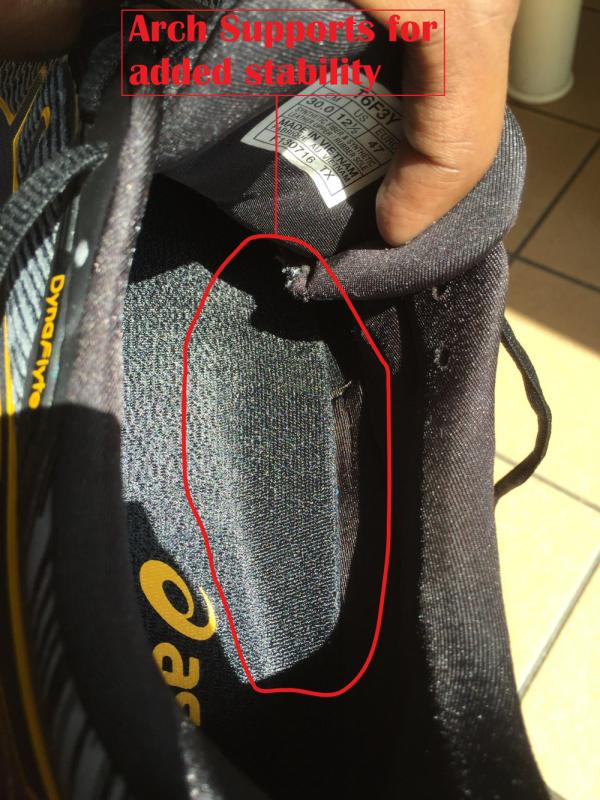 Fit
I wear EU size 47 (US 12) and I find it difficult to wear many regular width shoes from many reputed brands. Dynaflyte runs so true to the size.
Even though Asics don't provide extra wide options, they still feel comfortable at the widest point of my feet. Whereas many of my old running shoes from different brands run very narrow for my feet at the widest point (Ex: Speedcross 4, Ignite V2).
I would recommend people with wide feet to give Dynaflyte a try.
Figure 4. My wide foot and the wide enough shoe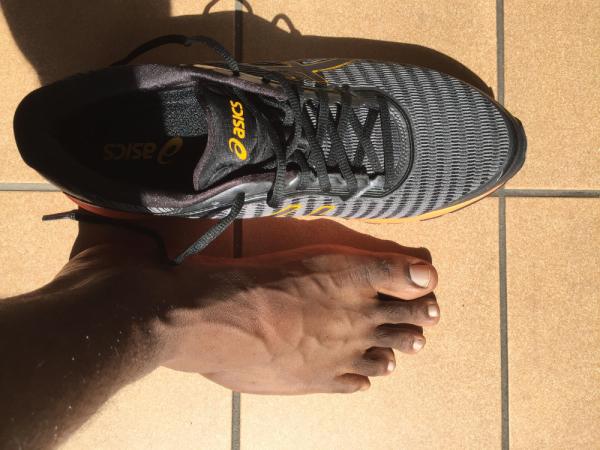 Looks
The appearance of the Dynaflyte is a huge add on. They have got some cool color combinations which make them look so trendy.
I also have tried them for few casual outings and they looked very nice with my casual outfits. I am so happy with the design and the looks of these shoes.
Cushioning
Dynaflyte with EU size 47 weighs almost 300gms. I think it's a huge step forward in the whole running shoe industry.
The best part is the cushioning and the amount of comfort with such light weight. They are a pair of MAXIMALIST SHOES with a MINIMALIST WEIGHT.
I've run my fastest 5k till date on them. They help me spring back so high on each stride with a cushioned thud back again on the ground.
Figure 5. The very light weight running shoes with great color combination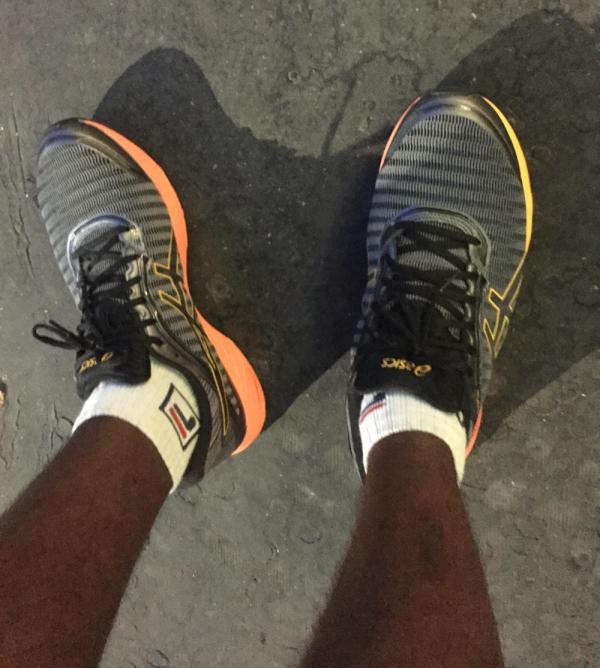 Breathability
I generally run early morning or late evening. Once I did run 10k during a hot afternoon and had slight burning sensation between mid feet to heel zone. I literally felt the heat building up each km.
Dynaflyte's upper material probably isn't very breathable. So I don't recommend these shoes for mid day and very hot weather running.
Looking at all the strong positive points, this one drawback isn't going to stop me from using the Dynaflyte. It is such a small compromise for getting these many huge benefits.
Finally, I would strongly recommend Dynaflyte for runners who fit under the following categories
Runners new to running
Heavier runners
Runners looking for comfort
Runners looking towards improving the pace
Runners with wider feet than usual
Runners with high arches
Runners looking to change the way they strike from heel strike to midfoot/toe strike
Runners just looking for a pair of cool looking running shoes
See video here