This shoe is perfect for mid-distance length training as it is light and sturdy with a stable ride. I've managed to do 10km comfortably, even managing a half marathon in them. Because they are light, they have given me the confidence to run a mixture of long-distance and short distances at varying tempos.
Pros
Spacious toebox
Light and fast
Smooth ride
Reflective strips
Modern design
Secure fit
Comfy heel cushioning
Cons
Runs large
Short laces
A bit expensive
ASICS DynaFlyte review
I have previously run many miles in my Nike Freeruns but have found the step up to a more stable running shoe. The ASICS Dynaflyte has helped my running style improve.
It also gave me more confidence to run harder for longer periods. I had previously had severe injuries on both ankles and lost confidence in my running ability and took a while to slowly get back into.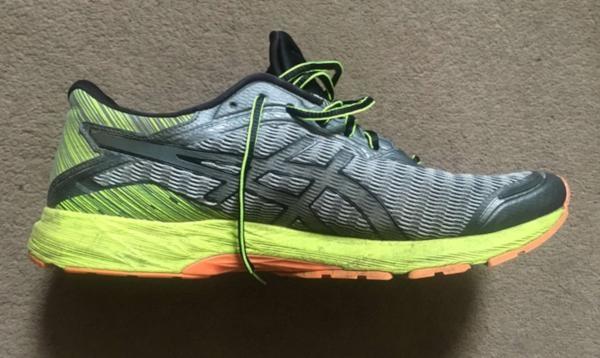 Despite being a hobbyist runner, I was willing to invest in a pair of running shoes that would be solid but not clunky. This became my highest upgrade of running shoes in terms of price and model, and it has definitely been worth it.
I find the ride smooth with its lightweight sole giving me the feeling of being to run faster when needed.
It definitely gave me more peace of mind post ankle injuries to rediscover my running style. That has fluctuated over the years, but with the ASICS Dynaflyte, I found my running style fall back into a natural way.
Nice contemporary feel
The Dynaflyte 1 has a nice contemporary feel about it utilizing a unique mesh upper was complementing heel unit features. It features an ASICS Flytefoam sole, which is exceptionally soft and durable.
The sneaker features subtle reflective strips on the player and for having a fluorescence-colored sole that stands out. It can actually be paired with any number of outfits.
Nice fit in the
ASICS DynaFlyte
It has a good shape to fit the van and wider part of the foot tapering nicely at the heel offering a natural grip. I found I had ample space in my toe area, which was good when they would spread upon impact while running.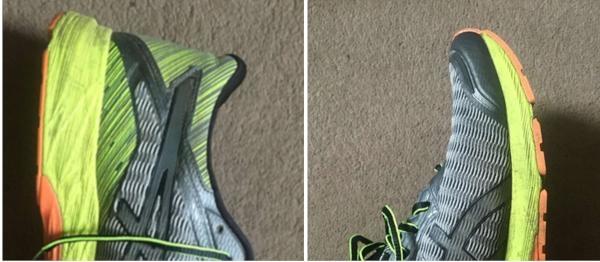 It has a light ride despite being averagely shaped in terms of build. It gave me confidence while running with recovered injured ankles that I had stability throughout running and hold on the ankle.
The tongue has a nice curve to fit against the base of your shin. This worked out well - might depend definitely on other people's body shape and size.
Short laces
The only constant noticeable downside is that the laces are fairly short - meaning that when trying to lace securely on the second to last hole, the bow is rather short.
However, to give them credit, laces do grip well when tied and don't undo compare to other models which I have experienced.