Verdict from 7 experts and 100+ user reviews
6 reasons to buy
Weight: Runners say that the Altra Vanish XC is very light, they barely noticed it on foot.
Ventilation: A lot of buyers find the cross-country shoe very breathable and claim that it wicks moisture easily.
Flexibility: Many testers are in awe with the shoe's pliable outsole, permitting unrestrained foot motions.
Comfort: Despite the track shoe's minimal padding, it still offers a cushioned ride, shared several reviewers.
Ground feel: The running shoe's low-to-the-ground design encourages better response, observed a few experts.
Grip: Various athletes state that the shoe allows for stable, surefooted performance.
2 reasons not to buy
Tightness: Some users have noticed that the running shoe is too snug, it's hard for them to squeeze their feet in.
Protection: One of the critics' gripes is the shoe's lack of toe cap.
Bottom line
The Vanish XC is Altra's pride when it comes to comfort, lightness, and speed. Designed as a cross-country shoe, it offers unrivaled traction and superb cushioning for enduring and top-notch performance. Keeping the Altra trademark, it maintains the brand's signature roomy toe box, while offering a more natural feel with its zero-drop platform.
Tip: see the best tracking shoes.
Our reviews
For the minimalist crowd, the Altra Vanish XC makes fast, short runs on the trails better than ever, if only for about 50 miles of use before they're spent.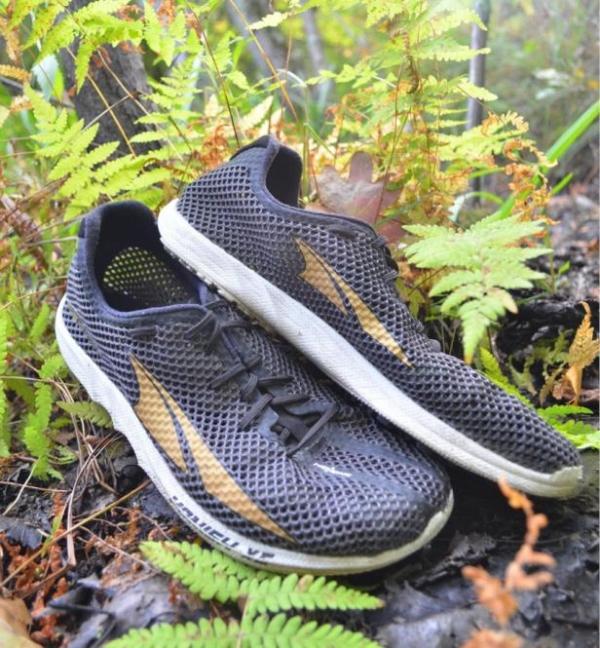 Who the Altra Vanish XC is perfect for
Any Altra shoe review needs to begin with a caveat: these shoes are not for everyone. All Altra shoes have a set of adaptations that set them apart from traditional running shoes, making them perfect for some runners, but injury hazards for others.
If you know about Altra already, skip ahead for the rest of the review. If you've not heard of Altra, these details are important to manage expectations and avoid injuries.
First, Altra shoes have a zero-mm heel-toe drop, i.e. your forefoot will be positioned at the same height above the ground as your heel. This is opposed to most running shoes where the heel is elevated, usually around 8-12mm above the forefoot.
This means that if you have any lower leg mobility issues or are a heel striker, then Altra shoes are probably going to be uncomfortable at best, and a launchpad toward injuries at worst.
Second, Altra shoes have no stability features like medial posts or heel counters to help stabilize your feet (except for the Provision). If you have any issues with foot pronation or wear corrective insoles, these aren't the shoes for you.
Third, Altra shoes have a wide, "foot-shaped" toe box that outlines the shape of a real human foot, rather than the pointy, triangular-shaped toe box found in most running shoes that weirdly seems to be modeled more after a horse's hoof than a human being.
The wide toe box of Altra shoes is great, in my personal experience, in letting the metatarsals splay and the toes extend and fully activate.
However, some runners (especially those with narrow feet) find Altra shoes feel loose and sloppy, especially on trails where you need precision foot placement and don't want any movement inside the upper. If you have narrower feet or like a real snug fit, keep looking elsewhere.
However, if none of these caveats raise any red flags, then the Altra Vanish XC may be a perfect pair of shoes for fast, short runs on the trails. I say fast and short for two reasons.
First, because the shoe is extremely light and minimalist with a firm, race-tuned midsole foam and only a very slight 15 mm stack height. That's not enough cushioning to run comfortably for more than about a 10K at most.
But for short races or speed work on the trails —as the shoe was intended— it feels super light, zippy, and fantastic.
The Vanish XC is so lightweight (5.5 ounces for a size 9) that it really does "vanish," from your perception while running. The Vanish XC provides just enough cushioning that you don't have to worry about sharp rocks or other obstructions on the trail, but that's about it.
I also say "short runs" because of the very limited durability of the Vanish XC. With such a minimalist, lightweight construction, the shoe does not have a long lifespan.
It really is meant for its advertised purpose as a cross-country racing shoe, and that's it. It is not a daily trainer.
I've found after only 50 miles of wear the upper and the midsole is totally spent, at which point I had to relegate them to doing yard work. It's a shame, like putting a prize-winning racehorse put out to pasture after just a couple of Kentucky Derbies.
50 miles is really not a lot of use since you will get 300-500 in most running shoes, but if you're wearing the Vanish XC exclusively for its intended use of short, speedy runs, then in my opinion the lightweight comfort is worth it.
For a more in-depth review of the upper, midsole, and outsole, continue reading each section below. For a comparison of how the Altra Vanish XC stacks up against competing shoes, including traditional cross-country spikes and speed-oriented trail shoes, continue to "The Competition" section at the bottom.
In-depth review, from top to bottom
Upper
I love the upper on the Vanish XC. It is phenomenal!
I kind of wish all my casual walkaround shoes had the same design: a single piece of mesh, no real overlays, and only a soft collar around the ankle and the back of the heel to add a hint of structure to the hindfoot.
The setup works great. The shoe wraps the foot perfectly, is unbelievably lightweight, and is highly breathable.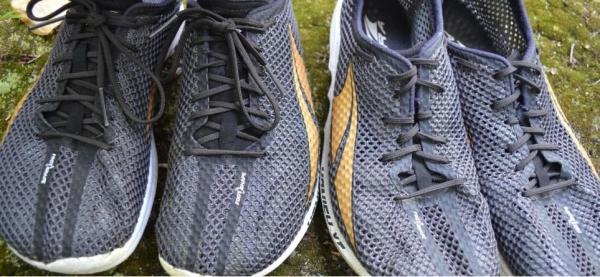 The best part about the Vanish XC's upper is the lace design. There are no eyelets—or rather, the entire upper is eyelets.
Each of the mesh holes is just wide enough for the laces, giving you unlimited customization for fit. I put the laces through a few mesh holes further back on the ankle and loop-laced them, allowing me to really lock down my heel.
I got a better fit with this customization than just about any other pair of shoes I've ever worn. It's a cool innovation that makes a big difference in improving fit and feel. It's so comfortable, I hope to see this innovation pop up in other Altra shoes in future updates.
The one issue on the Vanish XC's upper is its durability. The lack of overlays and use of lightweight mesh means the upper stretches out pretty quickly.
I found after just around 35 miles of wear, I was having to pull the two halves of the upper together so they touched over the tongue. Although tightened as far as possible, they still started to feel a little sloppy.
It was a shame, since the shoes fit so perfectly for the first 35-ish miles, only to stretch out so they started to feel like an old sock. However, the Vanish XC is clearly marketed as a cross-country racing shoe, not a daily trainer, so I don't think it's fair to criticize Altra for these durability limitations.
I'd say that compared to other cross-country racing spikes, the Vanish XC's upper has comparable longevity. And for those 35 miles, it really is one of the most comfortable and lightest uppers I've ever come across.
Midsole
There's not a lot to the Vanish XC's midsole: no dual-density materials, no fancy use of gels, no super-advanced TPU foams. But for a minimalist, go-fast shoe like the Vanish XC, this no-frills design is perfect.
It has just a little bit of cushioning to keep sharp rocks and other obstructions on the trails from ruining your runs, and that's it. There's nothing to get between you and a PR, nothing holding you back.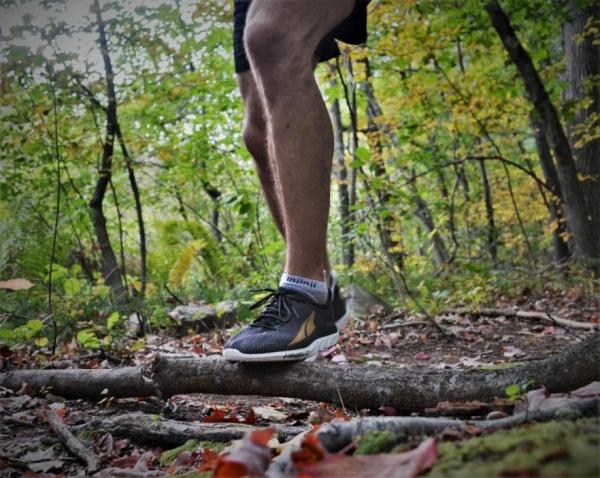 The relatively firm foam was a good choice for a racing shoe: you'll have no energy wasted squishing into a super soft plush foam. The Vanish XC's midsole is responsive, giving pop to every stride, encouraging a rapid turnover.
The shoe's slight 15 mm stack height allows for the foot to flex naturally. It's also low enough that you have plenty of ground feel, giving confidence when running over uneven terrain.
The midsole is certainly not for long distance runs or daily training. It's just way too firm and way too minimalist.
After more than about 10K of running, the ride is a little jarring and feels like trying to take a road trip in a go-cart. Like the rest of the shoe, the minimalism of the midsole also means it has a very limited lifespan.
After about 50 miles of wear, the responsiveness of the midsole was completely gone, and it started to feel a bit like a wooden board underfoot. However, within its short lifespan, the midsole is perfectly dialed in.
Outsole
Unlike most cross-country racing shoes, the Vanish XC has no threads for attaching metal spikes.
Altra says the Vanish XC's outsole has "rubber spikes," and I guess there are kind of little rubber nubs that come out of the forefoot, but I would hardly call these little protrusions "spikes."
They're nowhere near as aggressive as the metal medieval-torture-device-looking spikes of traditional cross-country racing shoes. Even other non-spiked trail shoes like the Salomon Speedcross or the Inov-8 Mudclaw have way more aggressive rubber outsoles than the Vanish XC.
However, that's not an insult to the shoe. It's just a point of clarification for managing your expectations. The Vanish XC outsole is excellent and really sticky on a wide range of road and trail surfaces, I just wouldn't have chosen to market it as having "rubber spikes."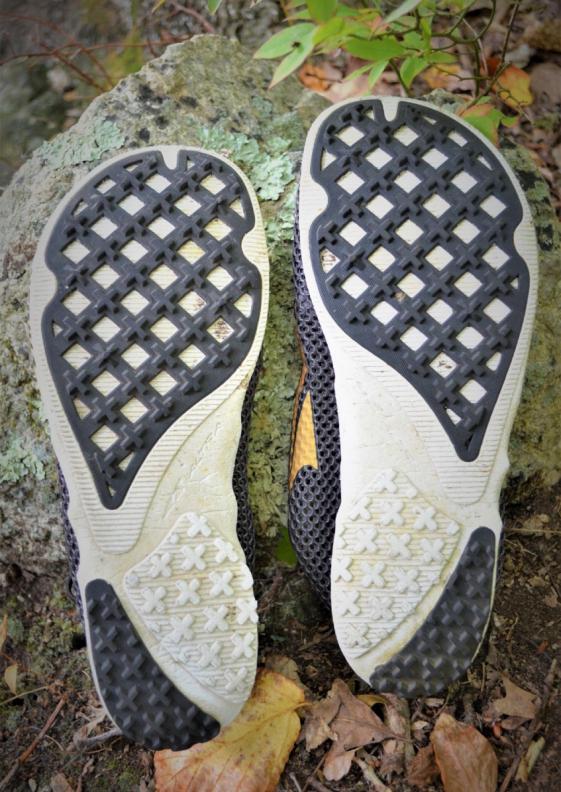 Instead, the outsole's hatched pattern reminds me more of the old school Nike waffle cross-country spikes that were manufactured literally by putting liquid rubber in a waffle maker.
On the Vanish XC, the design works well. It has just enough rubber to give it a dependable grip over a range of surfaces—from dirt to rock to grass to shallow mud to concrete—but not too much that it weighs down the shoe.
I think the only environment where I would really prefer traditional metal cross-country spikes would be a super wet, muddy course where there are no lengthy stretches of hard ground like crushed gravel.
Considering I'm rarely in those conditions, for me personally, I prefer the Altra's outsole to the more traditional metal spikes.
Final point: the outsole is the most durable part of the Vanish XC. Expect the rubber to hold up and to outlive the midsole and the upper.
The competition
The biggest competition for the Vanish XC are traditional cross-country spikes. There's a very clear trade-off between the two.
With traditional spikes, you get better grip on really wet, muddy, off-road courses. However, with the Vanish XC, you get a foot-shaped toe box and a natural zero-drop heel-toe angle that feels completely liberating next to the crammed fit of traditional racing spikes.
And let's face it, how often do you really come across a cross-country course that doesn't have a significant length of pavement, crushed gravel, or other dry surface that grinds against metal spikes, making them more of an irritant than an advantage?
I personally find traditional cross-country spikes are way too narrow, and rarely—if ever—find the metal spikes value added. I much prefer the fit of the Vanish XC where my foot can splay, and my toes are free to fully engage.
The outsole is far more versatile. If Zach Bitter could set a world-record running 100 continuous miles at a 6:48 mile pace in a pair of Altras that were very similar to the Vanish XC, then there must be something to racing in them.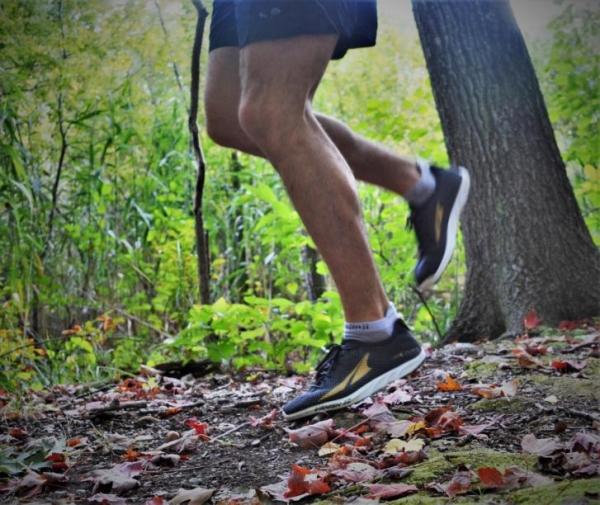 The rest of the competition for the Vanish XC comes from other minimalist trail shoes, including the Merrell Trail Glove and the Inov-8 X-Talon G 210. The trade-off here is the weight for durability.
The Merrell Trail Glove 5 has a similar fit and feel to the Vanish XC but is noticeably heavier at 7 oz (versus the Vanish XC's 5.5 oz).
The X-Talon 210 is noticeably tighter than the Vanish XC and is heavier at 7.4 oz. However, the Trail Glove and the X-Talon have significantly longer lifespans from their use of overlays on their uppers.
I got about 200 miles out of each before their midsoles and uppers gave out. That's four times the lifespan of the Vanish XC.
So, if you intend to use your shoe as a go-fast trainer, then the added lifespan of the X-Talon or the Trail Glove will make them a better choice. But if you're deadest on a PR and don't mind your shoes being burned out quick, then the lightweight zippiness of the Vanish XC will be a better option.
Conclusion
The Altra Vanish XC is an odd shoe. It has a zero-mm heel-toe drop. It has a wide, duck-like toe box. It has a firm, responsive, minimalist midsole and an old school Nike-waffle-esque rubber outsole.
It doesn't last much more than about 50 miles. But if you're looking for absolute freedom for running fast on the trails, then it really is a dream. Just don't expect the dream to last long.
After a few races, the outsole will start to feel like a stiff wooden board and the upper will start to feel like an old sock. So, is the $80 price tag worth it at $1.60 per mile of use?
That would be up to you to decide. But in my opinion, if you're looking for exceptional comfort while going fast on the trail, my answer would be absolutely yes.
In mid 2019, Altra released a racing flat for trail runners called Vanish XC. According to the specifications, Altra have done a remarkable job in providing off-road grip and at the same time reducing weight. They claim to have done this with respect for the classical Altra virtues: comfort, zero drop and a foot-shaped toe box.
This review relays my personal experiences with the Altra Vanish XC after running some 50+ miles. Please note that I'm an independent recreational trail runner, and not affiliated with nor paid by Altra for this review.
Fit
When it comes to fit, the Altra Vanish XC is very much a signature Altra shoe. Extremely comfortable right out of the box. A classical soft fit and a nice wide toe box. That said, the Vanish XC is also unique in many ways.
The seamless upper consists of a meshed fabric with huge holes. You can see straight through the material, and as such it provides unique ventilation and drainage. The mesh holes even double as lace holes.
The upper consists of a very light see-thru mesh, which doubles as lace-holes.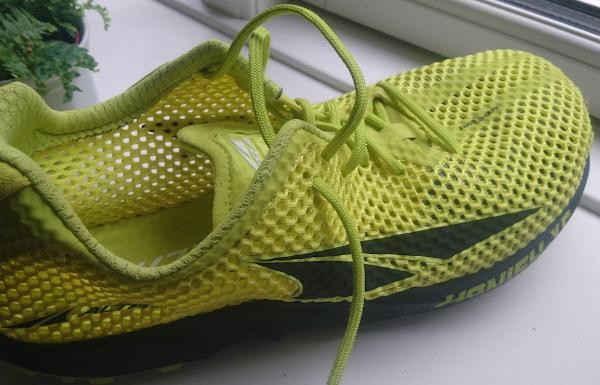 The upper around the toe box is reinforced on the inside with a soft synthetic fabric, which provides a bit of structure and cushion. The tongue feels pretty much like on any other Altra shoe - nice and soft. It is attached at the bottom end only, i.e. not gusseted.
With a soft tongue, a very simple and pliable upper, and an unusually configurable lacing system; it is very easy to find a comfortable fit. If the default lace configuration does not suit your needs, simply shift the laces around using some other mesh holes.
In my case the Vanish XC was pretty much ready to go right out of the box. I did a bit more than 12 km on the first run with no indication I was running in new shoes, i.e. no pain, no niggles, no hot-spots.
The second and third runs were both 20+ km. One on difficult, muddy, rocky, forested single-track; the other on reasonably flat, packed, mixed trail and beaches. There were no new-shoe niggles whatsoever.
The only issue I have had with the fit of the Vanish XC is a classical Altra issue: A sloppy fit around the back. In my other Altra shoes (Escalante, Superior, Lone Peak) I don't mind too much, because amply cushioned ankle collars mask the sloppiness. A sidenote: I prefer long slow runs, hence value comfort over control so have never been a huge fan of very tight heel cups.
In the case of the Vanish XC, however, the sloppiness cannot hide behind thickly padded ankle collars because there is hardly any padding. I tried to remedy the loose fit by shifting the laces around (further back), and this worked well for me.
A loose/sloppy fit around the back was in my case remedied using a customised asymmetrical lace configuration!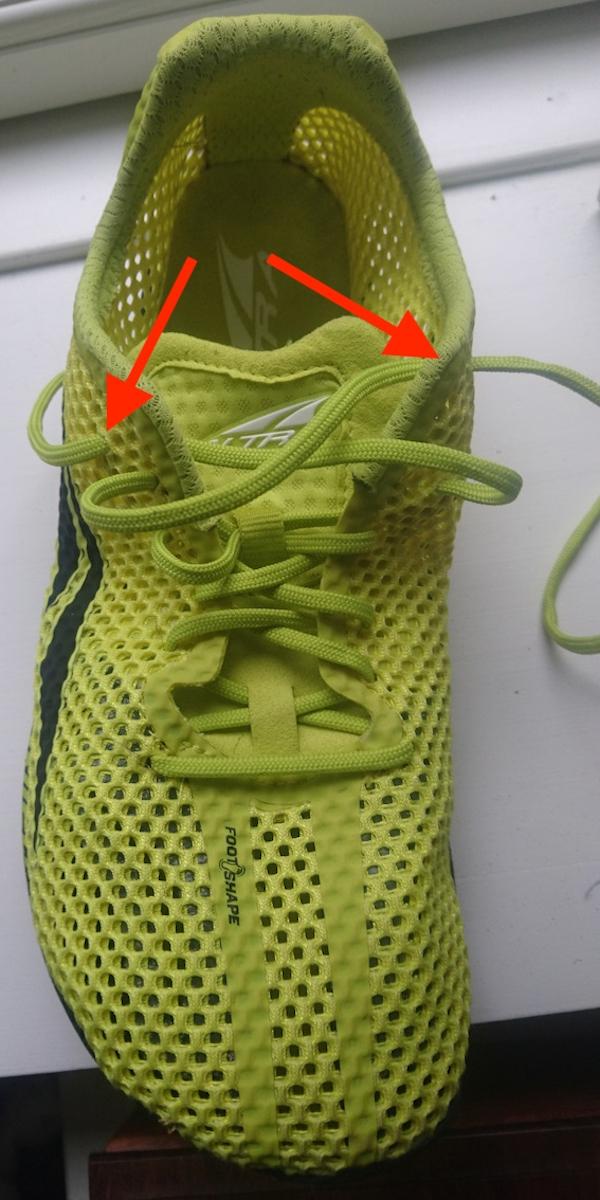 Performance
The Vanish XC is extremely lightweight. Right out of the box mine weighed in at a meagre 273 grams - or app 137 grams per shoe for a size UK 7. This is about half the weight of Altras more traditional trail shoes (e.g. Superior at 255 g and Lone Peak at 276 g). At 137 grams, they are also plenty lighter than most barefoot shoes!
To put it short; the Vanish XC is the lightest, fastest, most nimble and fun shoe I have ever had the pleasure of running in. They excel in all kinds of trail conditions from muddy over rocky and technical to sandy, all with surprisingly good grip. They also handle the odd bit of tarmac nicely, but don't overdo it as you can almost feel the minimal outsole grating away (fast).
They handle both short and long runs really well. I have run for as long as two and a half hours, and my feet still felt like they could have kept going forever. This is really a superb shoe - also for long runs.
The extreme nimbleness comes at the cost of providing very little protection, laterally as well as downwards. You have to be carefull not to strike the ground too hard or bump your toes into rocks and roots - otherwise the payback is instant!
Minimal yet grippy outsole only makes up part of the exterior.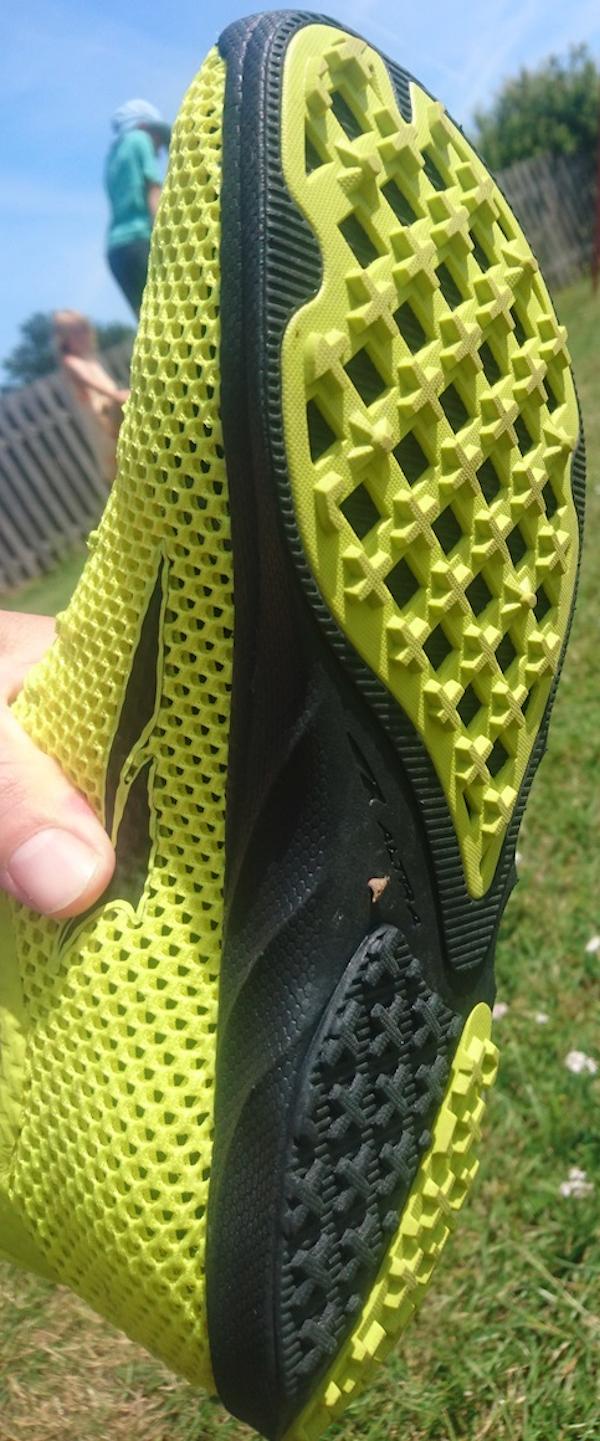 Outsole
The outsole is very minimal. It consists of a wide webbing of sticky rubber-like material with a few protruding rubber "spikes". The midsole is exposed in between the rubber webbing.
Given that, the midsole is essentially the outsole. I find this to be a problem because the midsole material is not sturdy enough to be exposed to the elements. It is not outsole material, so to speak! Furthermore, the outsole only covers the fore/mid-foot area and a bit of the outwards lateral side of the heel.
Durability
In my humble opinion I think Alta have overdone the weight reduction on the outsole. Durability is very much an issue! Just a wee bit more outsole, in my case especially around the heel area, would have been good.
For example, had Altra gone with a bit wider space between strands in the outsole webbing they could have covered the entire outsole (or at least a larger proportion of the heel) without adding more weight.
Protection
When it comes to protection from underneath the rather thin and soft material of the midsole provides only minuscule protection. You'll feel every single sharp rock or pebble you run across. I like very responsive shoes, but if you are a heavy heel-striker this might be a serious concern!
I'm not saying your feet are not protected at all, but you do not need to be particularly sloppy or unlucky to hurt yourself. Especially if you heel-strike. The Vanish XC encourages a more gentle whole/mid/forefoot strike, which is nicely in tune with Altra's natural running philosophy.
Even though the midsole material itself is soft and cushy there must be some sort of structural element inside the shoe. I say this because the shoe itself is very stiff horizontally, i.e. the midsole does not bend nor twist easily.
I find that very comforting and it clearly sets the Vanish XC apart as an actual running shoe. It is minimal but not a simple flip-flop nor a barefoot shoe.
Water/moisture will seep in right away due to the very open mesh upper, but they also drain easily. Likewise with sand and grit - easy come, easy go.
I have taken mine for long rugged trail runs, and have not once had to take off the shoes to "empty out stuff". Don't be mistaken: Plenty of stuff and water has been inside the shoe, but it left again quite quickly on its own volition.
Stability
The only situation where I have had problems with the Vanish XC is coming downhill on steep sections and very uneven surfaces. Because the Vanish XC provides little support laterally and has no structural elements to the upper; your feet will eventually shift around inside the shoe.
I thought I could remedy that by tightening the laces and/or perhaps alter their configuration. But that only helped in some situations.
Firstly, you can only tighten the laces so much before they start cutting circulation to your feet. Secondly, I found that when your feet slide, they do not move relative to the upper. The upper and tongue simply shifts with the foot because the shoe has no structural elements that prevents this kind of lateral movement.
That said, it is only in very extreme situations I have found it to be a problem for these running shoes.
Discussion
The Vanish XC is generally true to size, but space is ample. Perhaps going down half a size would have been possible for me, and perhaps that would have helped with the sloppy fit. Well, that is mere thoughts as the Vanish XC apparently do not come smaller than UK 7 in mens sizes.
My biggest concern with the Vanish XC relates to durability. Already on the first run (12+ k of mixed trail) the rubber "spikes" were nearly gone, and some of the exposed midsole sections had grated away. The midsole material on the inwards lateral side of the heel had also compacted, and did not regain much of its composure afterwards.
The midsole material flattens out prematurely. In my case mostly on the inwards lateral side (red arrow).

However, this (mostly visible) damage did not seem to increase much with milage, and did not influence my running experience. At the moment of writing this review I have run a bit more than 50 miles in my Vanish XC and they still look pretty much as abused as after the first run.
On the other hand, because the shoe is made of light materials and the overall shoe is so flimsy I very much doubt they will last in the long run. I wonder what the Vanish XC will look like in 2-300 miles time, and more importantly what they will run like! But for now I just enjoy running in my Vanish XC!
The Vanish XC retail at around US$80, which is significantly less than most ordinary trail offerings. Altra clearly appreciates that the Vanish XC is not an ordinary shoe and it is perhaps not built to last. However, taking both the wonderful running experience and the poor durability into account, I think it is a fair price.
If not for the every day grind, then you can use the Vanish XC for pampering yourself and your feet once in a while.
Verdict
The Altra Vanish XC is the fastest, lightest, nimblest most fun running shoe I have ever used. On top of that they are super grippy and superbly comfortable. I could easily see myself purchase a pair just for casual wear (wouldn't be the bright yellow variety though).
The Vanish XC offers superb traction, ventilation and drain extremely well. They are suitable for pretty much any type of trail run, from short to ultra long - perhaps excluding the most rugged, extreme and toe-damaging conditions.
The only caveats with the Vanish XC are the poor durability and the fact that you need to be accustomed to minimal shoes with zero drop. Otherwise running in the Vanish XC will be a hard learning experience and you may end up hurting yourself.
If you are used to minimal low-drop shoes and find most other similar offerings - for example Inov-8 X-talon, Icebug Acceleritas, and VJ sport iRock - to be tight and uncomfortable I can highly recommend the Altra Vanish XC! They are super comfy and super fun!
Altra Vanish XC: Comfortably light
A cross-country racer that's built to take you the distance, the Altra Vanish XC employs very little weight. Despite skimping on its bulk, the shoe does not sacrifice comfort with its balanced cushioning (an optimal blend of rigidity and softness).
Its design allows for an enduring ride which is supplemented by the model's spacious toe room, taking comfort up a notch.
The defining features of the Vanish XC
Speed-enhancing. Although it has a spikeless construction, the outsole of the Altra Vanish XC still has spike-like rubbers that are strategically placed. These are intended to amplify the traction for constant and steady forward motion. Not only that, but the shoe's featherlight mass also comes to play in generating a swift pace.
Comfortable. This aspect of the Vanish XC is a product of its breathable upper, roomy toe box, and flexible outsole. Combining these three, the shoe delivers an irritation-free, uninhibited ride.
What is it for?
Cross-country racing
Trail running (half marathon to a full marathon)
Rankings
How Altra Vanish XC ranks compared to all other shoes
Popularity
The current trend of Altra Vanish XC.