The Altra Vanish XC is an odd shoe. It has a zero-mm heel-toe drop. It has a wide, duck-like toe box. It has a firm, responsive, minimalist midsole and an old-school Nike-waffle-esque rubber outsole. It doesn't last much more than about 50 miles. But if you're looking for absolute freedom for running fast on the trails, then it really is a dream. Just don't expect the dream to last long.
Pros
Minimalist feel
Highly breathable
Wide feet friendly
Roomy toebox
Super comfort
Lightweight
Sticky outsole
Cons
Responsiveness gone after 50miles
Not durable upper
Altra Vanish XC review
For the minimalist crowd, the Altra Vanish XC makes fast, short runs on the trails better than ever, if only for about 50 miles of use before they're spent.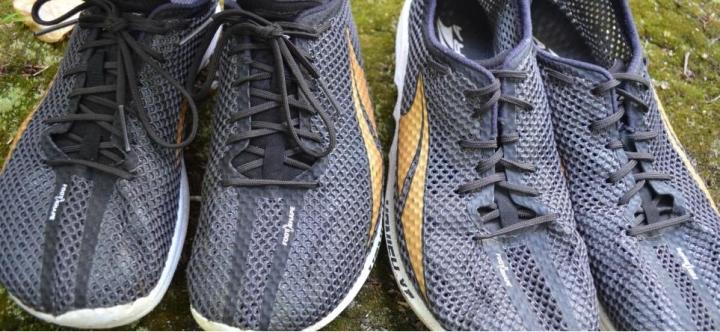 Who the Altra Vanish XC is perfect for
Any Altra shoe review needs to begin with a caveat: these shoes are not for everyone. All Altra shoes have a set of adaptations that set them apart from traditional running shoes, making them perfect for some runners, but injury hazards for others.
If you know about Altra already, skip ahead for the rest of the review. If you've not heard of Altra, these details are important to manage expectations and avoid injuries.
Zero heel drop
First, Altra shoes have a zero-mm heel-toe drop, i.e. your forefoot will be positioned at the same height above the ground as your heel. This is opposed to most running shoes where the heel is elevated, usually around 8-12mm above the forefoot.
This means that if you have any lower leg mobility issues or are a heel striker, then Altra shoes are probably going to be uncomfortable at best, and a launchpad toward injuries at worst.
Not for overpronators
Second, Altra shoes have no stability features like medial posts or heel counters to help stabilize your feet (except for the Provision). If you have any issues with foot pronation or wear corrective insoles, these aren't the shoes for you.
Wide feet friendly
Third, Altra shoes have a wide, "foot-shaped" toe box that outlines the shape of a real human foot, rather than the pointy, triangular-shaped toe box found in most running shoes that weirdly seems to be modeled more after a horse's hoof than a human being.
The wide toe box of Altra shoes is great, in my personal experience, in letting the metatarsals splay and the toes extend and fully activate.
However, some runners (especially those with narrow feet) find Altra shoes feel loose and sloppy, especially on trails where you need precision foot placement and don't want any movement inside the upper. If you have narrower feet or like a real snug fit, keep looking elsewhere.
The Altra Vanish XC is for fast and short runs
However, if none of these caveats raise any red flags, then the Altra Vanish XC may be a perfect pair of shoes for fast, short runs on the trails. I say fast and short for two reasons.
First, because the shoe is extremely light and minimalist with a firm, race-tuned midsole foam and only a very slight 15 mm stack height. That's not enough cushioning to run comfortably for more than about a 10K at most.
But for short races or speed work on the trails —as the shoe was intended— it feels super light, zippy, and fantastic.
So light that it "Vanish" while running
The Vanish XC is so lightweight (5.5 ounces for a size 9) that it really does "vanish," from your perception while running. The Vanish XC provides just enough cushioning that you don't have to worry about sharp rocks or other obstructions on the trail, but that's about it.
I also say "short runs" because of the very limited durability of the Vanish XC. With such a minimalist, lightweight construction, the shoe does not have a long lifespan.
It really is meant for its advertised purpose as a cross-country racing shoe, and that's it. It is not a daily trainer.
I've found after only 50 miles of wear the upper and the midsole is totally spent, at which point I had to relegate them to doing yard work. It's a shame, like putting a prize-winning racehorse put out to pasture after just a couple of Kentucky Derbies.
50 miles is really not a lot of use since you will get 300-500 in most running shoes, but if you're wearing the Vanish XC exclusively for its intended use of short, speedy runs, then in my opinion the lightweight comfort is worth it.
For a more in-depth review of the upper, midsole, and outsole, continue reading each section below. For a comparison of how the Altra Vanish XC stacks up against competing shoes, including traditional cross-country spikes and speed-oriented trail shoes, continue to "The Competition" section at the bottom.
I love the upper on the Vanish XC. It is phenomenal!
I kind of wish all my casual walkaround shoes had the same design: a single piece of mesh, no real overlays, and only a soft collar around the ankle and the back of the heel to add a hint of structure to the hindfoot.
The setup works great. The shoe wraps the foot perfectly, is unbelievably lightweight, and is highly breathable.
The best part about the Vanish XC's upper is the lace design. There are no eyelets—or rather, the entire upper is eyelets.
Each of the mesh holes is just wide enough for the laces, giving you unlimited customization for fit. I put the laces through a few mesh holes further back on the ankle and loop-laced them, allowing me to really lock down my heel.
I got a better fit with this customization than just about any other pair of shoes I've ever worn. It's a cool innovation that makes a big difference in improving fit and feel. It's so comfortable, I hope to see this innovation pop up in other Altra shoes in future updates.
Less durable upper
The one issue on the Vanish XC's upper is its durability. The lack of overlays and use of lightweight mesh means the upper stretches out pretty quickly.
I found after just around 35 miles of wear, I was having to pull the two halves of the upper together so they touched over the tongue. Although tightened as far as possible, they still started to feel a little sloppy.
It was a shame, since the shoes fit so perfectly for the first 35-ish miles, only to stretch out so they started to feel like an old sock. However, the Vanish XC is clearly marketed as a cross-country racing shoe, not a daily trainer, so I don't think it's fair to criticize Altra for these durability limitations.
I'd say that compared to other cross-country racing spikes, the Vanish XC's upper has comparable longevity. And for those 35 miles, it really is one of the most comfortable and lightest uppers I've ever come across.
The Vanish XC gives pop to every stride
There's not a lot to the Vanish XC's midsole: no dual-density materials, no fancy use of gels, no super-advanced TPU foams. But for a minimalist, go-fast shoe like the Vanish XC, this no-frills design is perfect.
It has just a little bit of cushioning to keep sharp rocks and other obstructions on the trails from ruining your runs, and that's it. There's nothing to get between you and a PR, nothing holding you back.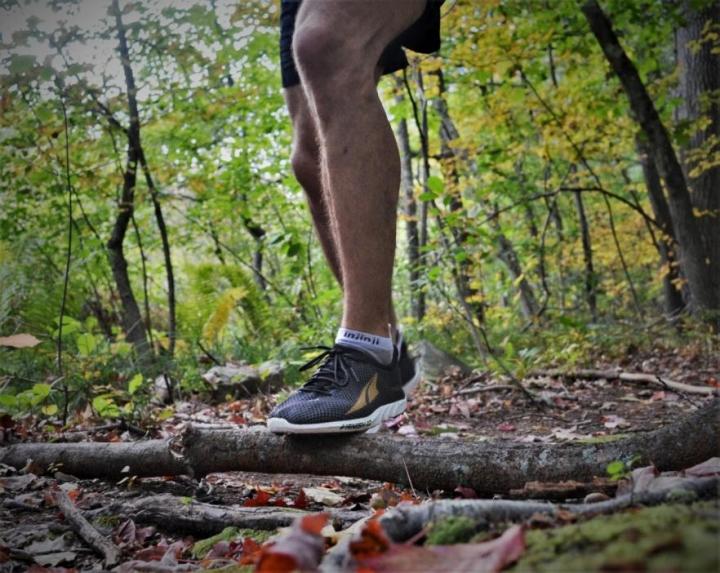 The relatively firm foam was a good choice for a racing shoe: you'll have no energy wasted squishing into a super soft plush foam. The Vanish XC's midsole is responsive, giving pop to every stride, encouraging a rapid turnover.
The shoe's slight 15 mm stack height allows for the foot to flex naturally. It's also low enough that you have plenty of ground feel, giving confidence when running over uneven terrain.
The midsole is certainly not for long distance runs or daily training. It's just way too firm and way too minimalist.
After more than about 10K of running, the ride is a little jarring and feels like trying to take a road trip in a go-cart. Like the rest of the shoe, the minimalism of the midsole also means it has a very limited lifespan.
After about 50 miles of wear, the responsiveness of the midsole was completely gone, and it started to feel a bit like a wooden board underfoot. However, within its short lifespan, the midsole is perfectly dialed in.
Sticky outsole
Unlike most cross-country racing shoes, the Vanish XC has no threads for attaching metal spikes.
Altra says the Vanish XC's outsole has "rubber spikes," and I guess there are kind of little rubber nubs that come out of the forefoot, but I would hardly call these little protrusions "spikes."
They're nowhere near as aggressive as the metal medieval-torture-device-looking spikes of traditional cross-country racing shoes. Even other non-spiked trail shoes like the Salomon Speedcross or the Inov-8 Mudclaw have way more aggressive rubber outsoles than the Vanish XC.
However, that's not an insult to the shoe. It's just a point of clarification for managing your expectations. The Vanish XC outsole is excellent and really sticky on a wide range of road and trail surfaces, I just wouldn't have chosen to market it as having "rubber spikes."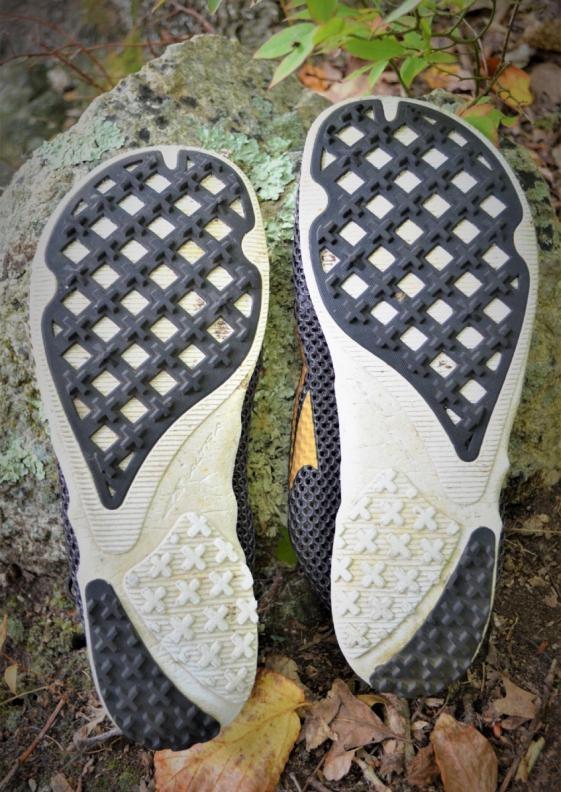 Instead, the outsole's hatched pattern reminds me more of the old school Nike waffle cross-country spikes that were manufactured literally by putting liquid rubber in a waffle maker.
On the Vanish XC, the design works well. It has just enough rubber to give it a dependable grip over a range of surfaces—from dirt to rock to grass to shallow mud to concrete—but not too much that it weighs down the shoe.
I think the only environment where I would really prefer traditional metal cross-country spikes would be a super wet, muddy course where there are no lengthy stretches of hard ground like crushed gravel.
Considering I'm rarely in those conditions, for me personally, I prefer the Altra's outsole to the more traditional metal spikes.
Final point: the outsole is the most durable part of the Vanish XC. Expect the rubber to hold up and to outlive the midsole and the upper.
The rivals of the Vanish XC
The biggest competition for the Vanish XC are traditional cross-country spikes. There's a very clear trade-off between the two.
With traditional spikes, you get better grip on really wet, muddy, off-road courses. However, with the Vanish XC, you get a foot-shaped toe box and a natural zero-drop heel-toe angle that feels completely liberating next to the crammed fit of traditional racing spikes.
And let's face it, how often do you really come across a cross-country course that doesn't have a significant length of pavement, crushed gravel, or other dry surface that grinds against metal spikes, making them more of an irritant than an advantage?
I personally find traditional cross-country spikes are way too narrow, and rarely—if ever—find the metal spikes value added. I much prefer the fit of the Vanish XC where my foot can splay, and my toes are free to fully engage.
The outsole is far more versatile. If Zach Bitter could set a world-record running 100 continuous miles at a 6:48 mile pace in a pair of Altras that were very similar to the Vanish XC, then there must be something to racing in them.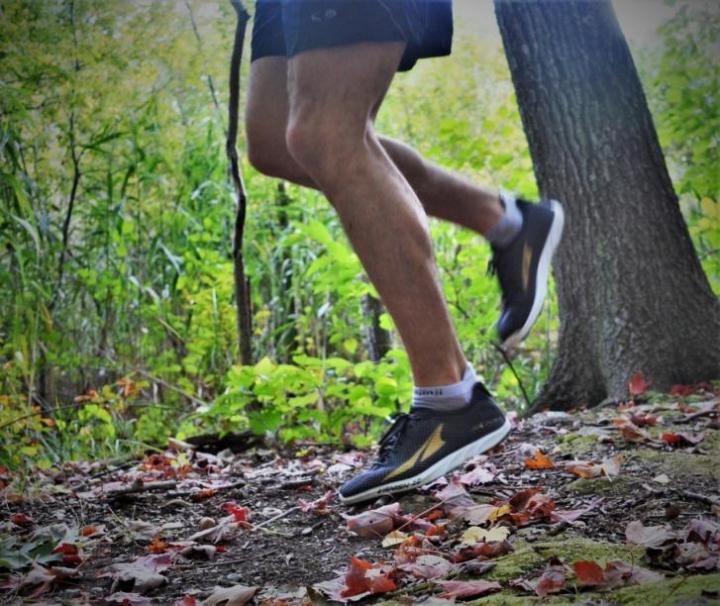 The rest of the competition for the Vanish XC comes from other minimalist trail shoes, including the Merrell Trail Glove and the Inov-8 X-Talon G 210. The trade-off here is the weight for durability.
The Merrell Trail Glove 5 has a similar fit and feel to the Vanish XC but is noticeably heavier at 7 oz (versus the Vanish XC's 5.5 oz).
The X-Talon 210 is noticeably tighter than the Vanish XC and is heavier at 7.4 oz. However, the Trail Glove and the X-Talon have significantly longer lifespans from their use of overlays on their uppers.
I got about 200 miles out of each before their midsoles and uppers gave out. That's four times the lifespan of the Vanish XC.
So, if you intend to use your shoe as a go-fast trainer, then the added lifespan of the X-Talon or the Trail Glove will make them a better choice. But if you're deadest on a PR and don't mind your shoes being burned out quick, then the lightweight zippiness of the Vanish XC will be a better option.
Conclusion
After a few races, the outsole will start to feel like a stiff wooden board and the upper will start to feel like an old sock. So, is the $80 price tag worth it at $1.60 per mile of use?
That would be up to you to decide. But in my opinion, if you're looking for exceptional comfort while going fast on the trail, my answer would be absolutely yes.