88
The Corescore is a score from 0-100 that summarizes opinions from users and experts. Below shows the distribution of scores for all training shoes.
Verdict
The Solstice XT is a remarkable shoe. A roomy toe box and a zero heel-toe drop give this cross trainer an edge over competing shoes for athletes performing dynamic exercises as varied as box jumps, kettlebell swings, track sprints, and plyometrics.
Pros
Lightweight
Wide fit
Supportive
Breathable
Great traction
Durable
Cons
Not for running
Too soft for heavy lifting
Lacks midfoot protection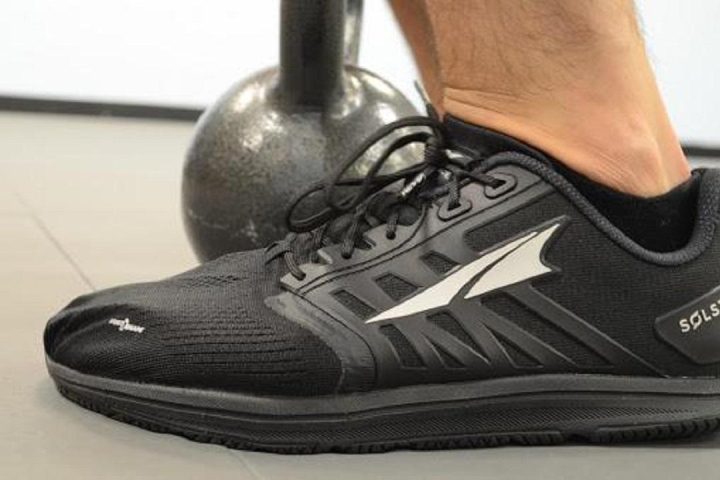 82% say it's true to size.
We earn affiliate commissions at no extra cost to you when you buy through us.
Comparison to similar training shoes
| | | | | | | | |
| --- | --- | --- | --- | --- | --- | --- | --- |
| CoreScore | | | | | | | |
| Users rating | | | | | | | |
| Experts | | | | | | | |
| Best price | | | | | | | |
| Ranking | | | | | | | |
| Popularity | | | | | | | |
| # of colorways | | | | | | | |
Altra Solstice XT review
Who is the Altra Solstice XT perfect for
Pavel Tsatsouline, the patron saint of the kettlebell, once opined about the best shoes for the gym: "Comrade, any fancy sneakers with cushion are plain bad news for you, so either go barefoot or wear shoes that are almost no shoes, such as wrestling shoes or Chuck Taylor All Stars."
I don't know if that's a compliment or an insult for Chuck Taylors. Anyway, I wonder if Pavel would have added the Solstice XT to his list of shoes if he uttered those words in 2020 instead of 2006.
The Altra Solstice XT is an exceptional cross-training shoe because of three standout qualities:
Its zero mm heel-toe drop allows a natural stance.

It's lightweight, at 8.4 oz for size 9.

Its wide "foot-shaped" toe box allows metatarsals to spread and toes to engage while performing fully.
These three advantages just can't be found altogether in competing shoes in the market. So, for anyone doing cross-training that involves basic lifting, plyometrics, running, and more, then the Solstice XT will be an excellent choice.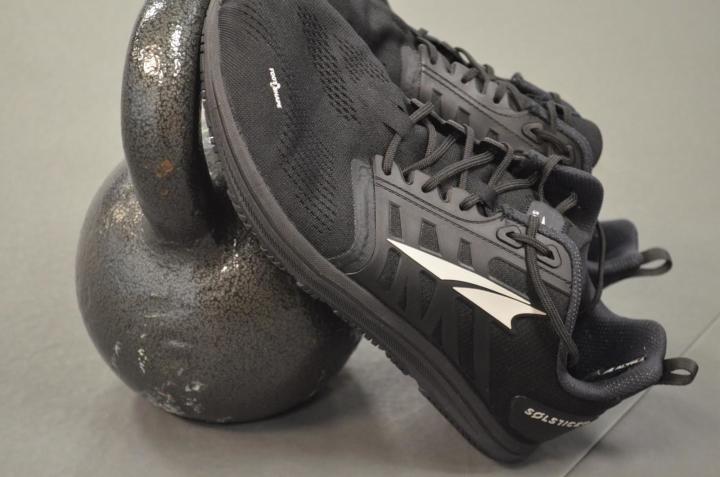 I nocked three points for the shoe's limitations:
Lack of protection around the midfoot in the upper.

Design that's not entirely great for running.

Soft foam makes the Solstice XT less ideal for heavy powerlifting.
To the first limitation, if you're going to be doing activities that require a lot of foot protection and abrasion resistance—like rope climbing—a shoe with a more robust upper will be preferable (I'm looking at you OCR crowd).
Regarding the second limitation, if you're looking for a genuine running shoe, keep shopping around.
The Solstice XT has a very flat midsole and outsole to allow for good, balanced planting when performing static exercises. However, this feature makes for a slightly awkward and clunky toe-off when running.
It's not bad for running; I just wouldn't suggest wearing it for runs longer than about 1 mi repeats. Up to such distance, especially for runs with lateral movement, the Solstice XT is terrific. But after that, it starts to feel inefficient compared to a dedicated running shoe.
To the third limitation, the Solstice XT's midsole foam is fairly soft by lifting shoe standards.
Compared to the Chuck Taylors popular among hardcore lifters, the Solstice XT feels like a Tempur Pedic pillow.
So, if you're powerlifting, where planting and a solid base is critical, look for another shoe. That is, unless you like sinking into a sponge every time you grip a barbell.
If you're doing lighter lifts like kettlebell goblet squats, curls with barbells, or most weight machines, then you'll be just fine.
I should also mention a couple of other caveats. They're not really limitations, just restrictions on who will have a good experience with the Solstice XT.
First, those with limited lower leg mobility may have issues because of the shoe's zero drop. It would be better to opt for a shoe with a more traditional heel elevation (see some ideas in "The Competition" section below).
Second, the shoe has no arch support. Those with excessive pronation or other stability issues might look for more stable options.
Third, the wide "foot-shaped" toe box, as opposed to most training shoes, is extremely comfortable. However, it may feel loose or sloppy for those with narrow feet or those who enjoy foot bindings. That said, if none of those caveats apply to you, please keep reading.
All told, the Solstice XT is a terrific generalist that you can comfortably use for kettlebell snatches, heavy bag work, hill sprints, and plyometric pushups.
For those who like having natural posture and good feet and ankle articulation, the Solstice XT beats others with its unique features — having a "foot-shaped" toe box and a zero drop.
However, if you're a hardcore lifter, doing mostly running, or needing a lot of protection for rope climbing, then look for another shoe (see some suggestions in "the Competition" section below).
For an in-depth review of the upper, midsole, and outsole, continue reading each section below.
Upper of the
Altra Solstice XT
Compared to the running version of the Altra Solstice, the Solstice XT's upper is relatively well-structured. It comes with plastic midfoot overlays and a heel collar for extra support during lateral movements, jumping, and rapid acceleration or deceleration.
The upper works well. It's breathable and lightweight yet very supportive during dynamic cross-training movements.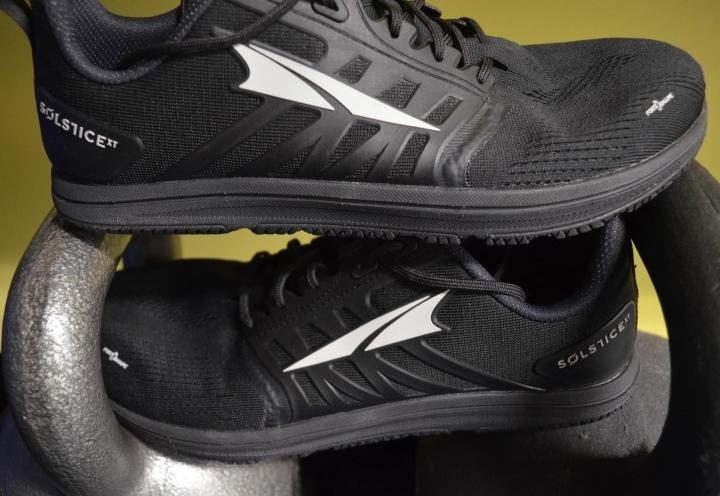 I personally have no complaints about the upper. The only real critique I've heard about is a lack of durability during high-abrasion activities like climbing ropes or ladders during obstacle course racing (OCR).
I have no direct experience with these kinds of exercises in the Solstice XT. Still, I could imagine that the upper's lightweight, the breathable fabric would get quickly eroded if experiencing direct friction.
So, if you're a cross-fitter doing a lot of work on ropes or an OCR racer, then a shoe with a more robust upper might be preferable (see some ideas in "The Competition" section below).
That said, I did put the Solstice XT through agility drills, sprinting, plyometrics, jumping, and other exercises that put a lot of lateral stress on the upper. I can report that it holds up perfectly well in these conditions.
Stable platform
The Solstice XT has a low-level midsole that provides a stable platform when lifting. It also allows a balanced foot position for dynamic movements that require a lot of coordination and precision foot placement.
At the same time, the Solstice has a decent amount of cushioning and a relatively soft foam. So, running intervals on the track or bursting through obstacle courses is perfectly comfortable. For my cross-training workouts, this setup is perfect.
Those who are more weightlifting-oriented and less running-oriented will probably prefer a lower, firmer midsole to stabilize their feet while under heavy loads.
On the other end of the spectrum, dedicated runners who just do the occasional dumbbell session will probably want to stick to a running shoe designed to provide an efficient toe-off.
Outsole design
The outsole on the Solstice XT is perfectly tuned for agility drills and other cross-training activities. It is sticky on gym mats, concrete, grass, laminated hardwood, and tracks — essentially all the cross-training surfaces.
The outsole is also smooth enough for ball-of-foot pivoting when performing multi-directional movements like ladder drills, cone drills, or kickboxing.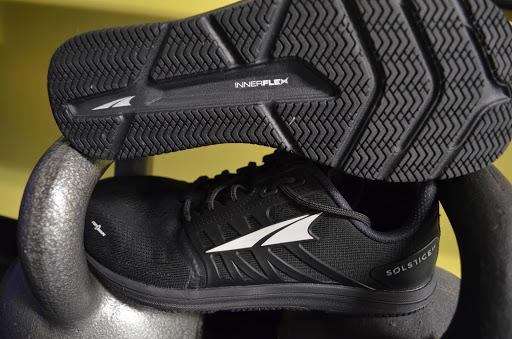 The smooth, flat profile of the outsole gives a stable, level platform for lifting and balance exercises, unlike shoes with deeper lugs that feel off-balanced for such activities.
The outsole is durable and hasn't worn down after miles on the track and sprinting on the pavement. It is also thin enough to keep down weight. Finally, the flex grooves are well-placed to allow natural foot movement in the forefoot while stabilizing the midfoot and heel.
The competition of the
Altra Solstice XT
There really aren't any other dedicated cross-training options out there that combine the Solstice XT's unique blend of a wide toe box, zero drop, and lightness for competing shoes.
The closest competitor is probably the Inov-8 F-Lite 235, which used to be a zero-drop shoe, but went to a 4-mm drop in the most recent V3 update.
If you follow Pavel's advice, Chuck Taylor All Stars are zero-drop and have nice, firm midsoles for heavy lifting. However, their narrow last and pointy toe box constrict feed.
All Stars also have brick-like cushioning that'll almost certainly deliver shin splints if you run in them more than about 10 meters. That leaves the Inov-8 Bare-XF 210, a super minimalist zero mm drop cross-training shoe.
The Bare-XF is lighter than the Solstice XT, but this shoe has no midsole foam. This makes it not ideal for running on surfaces other than soft grass or maybe tiny bursts on mats or the track.
Also, the Bare-XF has a tight toe box that scrunches up the toes and metatarsals, preventing natural foot motion and leaving the feet feeling like they're wrapped up in a medical cast.
However, if you're not wedded to zero drop and don't mind a narrower toe box, then there could be some preferable options to the Solstice XT. The Inov-8 F-Lite 235 is lighter than the Solstice XT. It has more protection around the midfoot on its outsole, keeping the shoe from fraying during activities like rope climbing.
The F-Lite also has a firmer foam in its midsole, making it better-optimized for heavy lifting (although a little clunkier for running).
The Nike Metcon 5 and Reebok Nanos are two other competitors. However, I would suggest them after the Solstice XT and after the F-Lite 235.
The Metcon and Nanos are both heavier than the Solstice XT and the F-Lite 235. They also both have really high heels and snug toe boxes that feel unnatural and obstruct lower leg biomechanics.
Conclusion
To my knowledge, it is the only lightweight cross-trainer that provides both zero drop and wide toe box.
Most cross-trainers are extremely constrictive. They try to squeeze the feet to prevent them from slipping around during dynamic lateral movements but leave the feet feeling bunched-up, preventing optimal lower leg performance.
Most cross trainers also have elevated heels, creating postural issues for just about every exercise from deadlifts to kettlebell cleans. The Solstice XT is a rare exception that gives users comfortable, natural foot movement during exercises as wide-ranging as box jumps, Turkish get-ups, ladder drills, and 400m track repeats.
Compare popularity
Interactive
Compare the popularity of another shoe to Altra Solstice XT:
Altra Solstice XT video reviews