Verdict from 10 experts and 100+ user reviews
5 reasons to buy
The Provision 2.5 features the Stability Wedge and Stabilipod technologies, which are helpful for runners with falling arches.
The Zero Drop provides natural foot stability, comfort and speed.
Most runners gave positive impressions to the Heel Claw construction of the Altra Provision 2.5 which is designed for a snug fit and added support.
This shoe features a FootPod Outsole for responsive ride and maximum flexibility.
The A-Wrap design secures the foot from the mid-foot section and keeps it in place.
3 reasons not to buy
There were runners who noted that this shoe needed additional cushioning in order to fully get more underfoot comfort.
The heel section of the Provision 2.5 needs more security because some reviewers experienced heel slippage.
A few testers experienced the upper get worn easily, making its durability a bit flimsy.
Bottom line
The Altra Provision 2.5 was designed to prevent excessive pronation and help runners with falling arches. It is a stability shoe that offers a responsive ride and flexibility. It is ideal for light trail running, road running and cross training. Based on the reviews, the Provision 2.5 is indeed a successful update.
Tip: see the best running shoes.
Our reviews
The Altra Provision 2.5 is a great shoe that is designed specifically to help those with excessive pronation.
Briefly, pronation occurs when your foot lands on the ground and the foot and ankle roll inward. Some pronation is normal and good, but excessive pronation can cause muscle and joint issues.
While it is specially designed for folks that experience excessive pronation, it is still an excellent choice for most runners if you have stability issues or not. This shoe makes for both a great running shoe and a good option for those who are on their feet most of the day.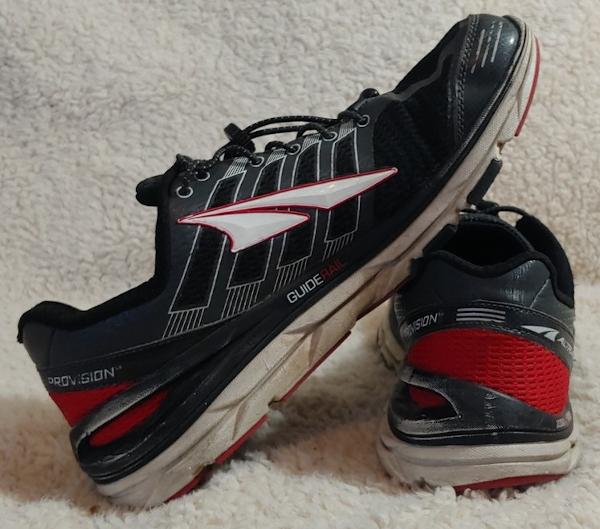 It has a great and natural fit, the upper is stable and breathable, the cushioning is decent, and it is an overall durable shoe.
Design
The way a shoe looks is important to many people. I am not one of those people, and sometimes even run in mismatched shoes if I get them for a deal!
By way of looks, this shoe isn't much to look at. They aren't sleek looking, symmetrical, or eye-popping by any stretch. If that's a determining factor in your world, these may not be for you.
Fit
The Provision 2.5 is like other Altra shoes and has a wide toe box that allows your feet and toes to splay out with every step. Altra designs all of their shoes this way, which is a dream come true for flat-footed wide-footed people like me.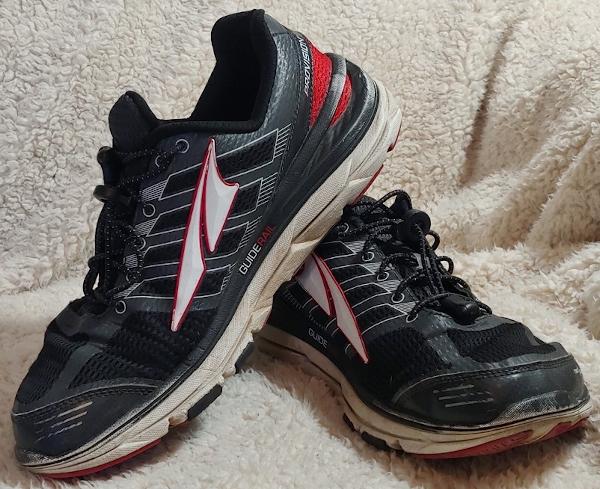 In any case, make sure you try the shoe on to find the best fit for you since Altras are designed differently than conventional running shoes.
Upper
The Provision has a combined knit and solid screen-printed upper, which I have found breathes well for the most part and is very stable.
I have found that during extremely hot runs, my feet get pretty hot, so there is an upper limit to how well this shoe can ventilate (or maybe I shouldn't be running above 100 degrees in Texas). The top part of the upper is pliable and moves well with running movements.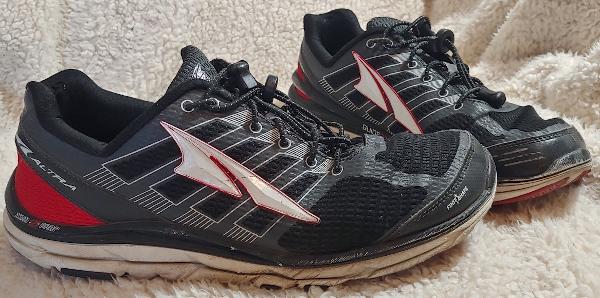 Above the toe and behind the heel, the upper is more rigid. It is designed to help guide the running technique of those who need stability and correction. Though, it shouldn't inhibit or impair runners who do not need correction.
Cushioning
The cushioning is made up of two layers. On the bottom and in contact with the ground is a hard and tougher layer of outsole material in black and red.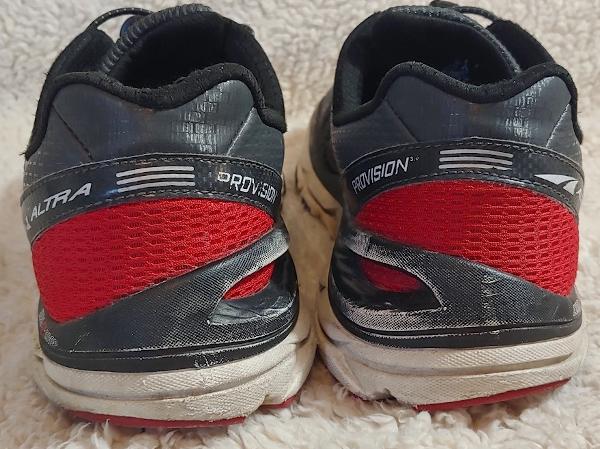 Above that in white is a softer layer of foam conditioning, which is designed to stabilize the running mechanics for overpronators. The cushioning of the shoe is decent, though it isn't the best I've experienced in an Altra shoe.
Traction
These shoes have excellent traction on most surfaces. I haven't noticed any losses in traction in slightly damp or super wet conditions. They'll hold up well on any pavement or non-rocky trail just fine in any condition.
Durability
The upper is very durable. In most shoes (especially Altras), I get some tearing around the base of my big and little toes due to some super wide foot anatomy paired with running mechanics. But, in these Provisions, I haven't had any tearing after over 300 miles, which is huge for me.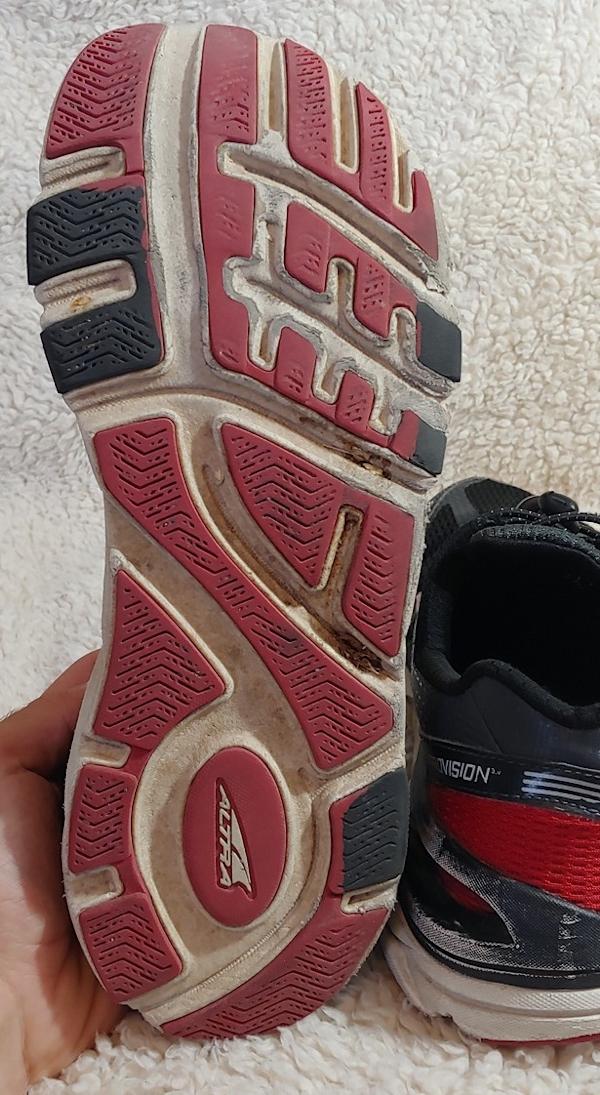 The outsole shows a little wear but has been extremely resilient over the months and miles that I've put on them. I can't say enough about the durability of the shoes overall. The durability is the best part about them, in my opinion.
Should you buy them?
If you know you're an overpronator, I would recommend these shoes. They can help support your running mechanics very well and will help you maintain proper form and technique so you can avoid injury.
I would also recommend them to anyone looking for a good, durable shoe that can last a long time as a running shoe or something to be worn for all-day comfort and support.
Rating
I rate the Altra Provision 2.5 a 90/100 rating. They are an extremely durable shoe, they provide comfort during runs, and they are breathable and cushion very well.
I would recommend them to overpronators or those looking to try out some zero-drop shoes for the first time.
Good to know
One of the two notable updates of the Altra Provision 2.5 is the added stability of the shoe. Due to the shoe's innovative technology, runners get plenty of support in the heel, medial and lateral part of the foot.
The Altra Provision 2.5 features an added cushioning, allowing runners to feel comfortable and reduce the impact of long distance runs. It also gives additional foot protection while running.
Just like the older version, the Altra Provision 2.0, the newer version has a standard running shoe sizes. The men's sizes are from 7 to 15 while the women's are from 5.5 to 12. The Provision 2.5 is available in standard widths of D for the men's and B for the women's. The midfoot and the heel areas have standard measurements. Runners who preferred running shoes with wide forefoot will love this shoe.
The outsole unit features the combining efficiency of the StabiliPod and FootPod Outsole Technologies. It maps the tendons and bones of the foot for maximum flexibility. Helping the foot to flex naturally also allow runners to experience a much responsive ride. The outsole design of this shoe is very similar to the outsole configuration of the Altra Provision 3.5.
The midsole of this stability shoe uses the Ultralight EVA foam that compliments well with the A-Bound Top Layer technology. These provide a lightweight, durable cushioning and flexible underfoot protection.
The StabiliPod Technology provides enough support through the foot's three stability-enhancing zones. This technology prevents excessive foot pronation all throughout the run and it gives aid to those runners with falling arches.
The Built-in Varus Stability Wedge in the shoe's midsole provides added support to those overpronators. The full-length wedge that slopes down from the medial to the laterial side gives support to overpronation without pushing up the arch.
The Altra Provision 2.5 features the brand's unique technology that encourages natural foot movement. The FootShape technology toe box or the natural foot design gives ultimate comfort while running. By following the foot's natural shape, the toes can relax and spread naturally. It also gives added stability especially on uphill climbs and downhill plunges.
The upper of the shoe features the Quick Dry Air mesh that is highly breathable and durable. It wicks water off the foot, keeping it dry and cool.
The Olympus 2.0 comes with a 5mm removable insole. It is made of A-Bound material and has a flat contour design to strengthen runners' feet.
The Heel Claw element offers a snug fit for an enhanced support. It is perfectly paired with the A-Wrap design that securely holds the feet around the midsole and gives a spacious toe-box.
Rankings
How Altra Provision 2.5 ranks compared to all other shoes
Popularity
The current trend of Altra Provision 2.5.