Altra is famous for their natural shape with a lot of toe room.
For anyone with wider feet, they are definitely worth considering and have a wide array of models suited for various purposes.
After getting Altra Olympus 2.0 I have decided to get the Paradigm 2.0 as well, hoping that they will be the road version of the Olympus. But they are not that, unfortunately.
Hello ducks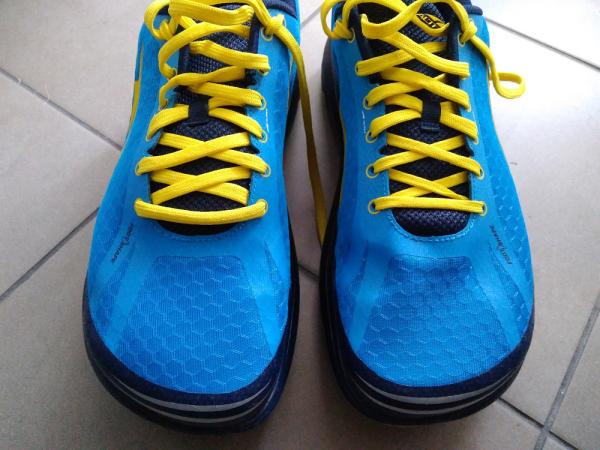 Design
Similar to the Olympus 2.0 model they have duck look due to the toebox design, but to me, it doesn't matter much.
Not the prettiest shoes, but they do have a certain charm.
This is what you'll be looking at. :)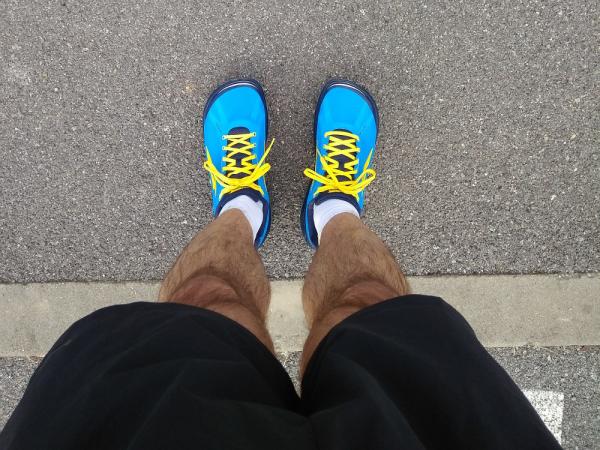 Comfort
Zero drop, 31mm heel, and 31mm forefoot thickness.
After feeling like running on clouds in Olympus model, I expected Paradigm to provide identical feeling. Well... it is close but not identical. The ride is somewhat stiffer than Olympus. But still comfortable enough.
Size
When choosing the size, if you are unable to try them in real life perhaps go a half size up. They are not very long and there is not much space left between toes and front of the shoe.
Toebox
The width of the toe box is great. Enough room to splay the toes and feel free in them. They are perfect for my wide feet. If you have a narrow foot, you could have a problem with them being too wide for you.
Laces
Laces are not perfect, they tend to unlash themselves even when tightened properly, so you need to double lash them or use heel lock method to prevent the unlashing. Or even replace them with different laces. Also, they are too long. With heel lock method they are still dangling around. They should be 5-6cm shorter to be good.
If your heel slides in the shoe – use heel lock method with the laces.
Arch Support
Unlike Olympus they have some arch support, so if you have very low arches you could have problems. Fortunately mine are high enough, but I still feel a bit uncomfortable with the arch support on the beginning of the run.
Good thing is that they are light. Looking at them you would not expect them to be so light. They are not featherweight but for me they are light enough.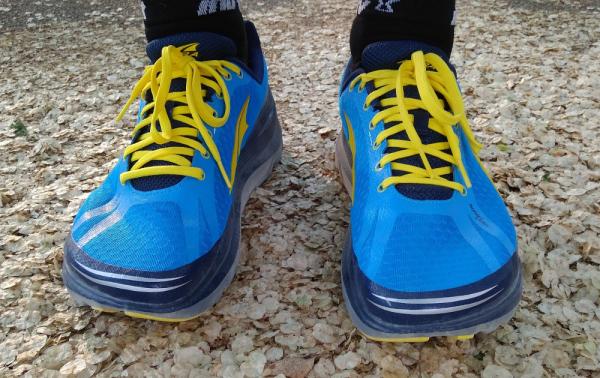 Sole & Durability
Sole is not Vibram, the material is quite soft, but seems to be durable enough. Problem with the sole pattern is that sometimes rocks get lodged in the crevices and it is irritating. So far I have maybe 100km in them, plus quite a lot of walking around. No wear/tear is noticeable on the soles or on the upper.
Upper looks to be made of quality build. It is seamless design with the hexagonal net pattern. Such upper construction is supposed to reduce the wear & tear of the material. Upper is breathable enough. Good thing is that shoes have toe protection.
Sole grip and toe protection are good enough for some easy trails, not just paved surfaces. They are even more stable than Olympus model.
Thick sole and unusual grip on the road shoes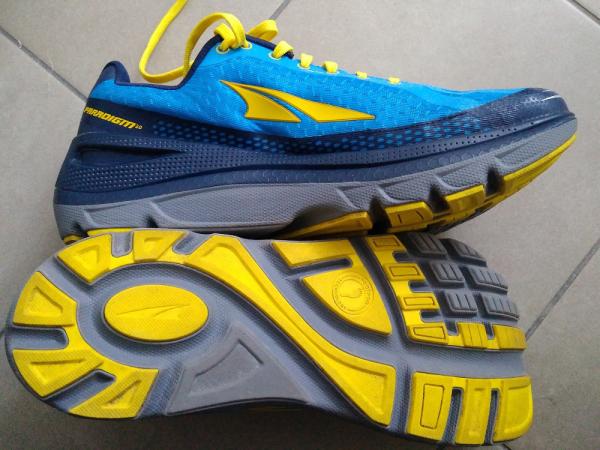 Performance
Can you be fast in them? Yes, but you will tire quickly. I found them to be quite tiring when running faster. My pulse was also slightly higher than in some other shoes at same speeds. They seem to be best suited for slow and long distance runs.
With my 90+ kg, I had no issues with the comfort, no leg aches, and pains when running at slower speeds. But as soon as I try to go faster, then I start feeling my legs relatively quickly (after 3-5km).
Zero drop works good for me, but some people could have problems, especially if they have achiless tendon issues. On the first run with them, I did 15km on the asphalt and it was too much, Achilles was aching later.
But now after a lot of running in Hoka Challenger ATR (4mm drop) and Altra Olympus 2.0 (0mm drop), I don't have any problems whatsoever.
If you are not used to zero drop, my advice is to start with shorter distances and stop the workout if you feel any discomfort in achilles tendon or calves.
I found that after 30 minutes running or so they seem to become stiffer. Maybe I am delusional (quite possible, all runners are delusional to some degree) but perhaps the thick sole really compresses to some degree after few kilometers.
Conclusion
I really wanted to love them. Paradigm 2.0 are good shoes, but they did leave me somewhat disappointed that I am unable to run faster in them for the longer distances.
Maybe it is not the case for everyone... YMMV. Because they are so comfortable I will give them chance for 5-10 more workouts, but if nothing changes they will be relegated to casual shoes for walking around.
If you are looking for good shoes to walk around on pavement or if you have a job standing all day, these could be the right choice for you (if you don't mind the zero drop).
If you will use them just for walking around, then I would rate them as 95%. Not 100% because they are not pretty. :)
They do have zero drop, so be careful with the transition if you have never worn zero drop shoes. Also if you have problems with Achilles tendon, perhaps it is better to avoid these shoes.
Ugly or not? I still cannot decide.