Verdict from 3 experts and +100 user reviews
10 reasons to buy
Comfort comes mainly from the max cushioning and spacious room in the forefoot, according to most reviews.
Durability is worth noting in the books of many.
The Paradigm 2.0 is pretty light for a max-cushioned shoe, based on several comments.
Some runners with back or knee issues were able to enjoy their runs again in this shoe.
A good number of heavy-framed runners have used the 2nd version of the Paradigm both as an every day and fast-paced trainer.
A few mentioned the slight increase in the volume of the toe box, which made their runs even more comfortable.
The traction is really solid, as observed by a handful.
Reflective details make it great for low-visibility running.
This is a do-it-all shoe that can tackle short distances, marathons, and ultra-marathons on a variety of surfaces with ease, based on the reports of more than a handful of expert reviewers.
The mesh upper keeps the foot cool and comfortable, as explained by more than a few runners.
4 reasons not to buy
The Paradigm is a bit stiff for the wallet, based on some comments.
A break-in period was needed by several.
The wide toe box was just too much for a handful of runners who suffered blisters as their feet moved around easily in this shoe.
A small number of Paradigm fans found the sole and the ride as too firm.
Bottom line
Altra builds on the success and popularity of the earlier versions by keeping the staples in the Paradigm 2.0. Adding a more dialed-in fit and breathable mesh only ensures the loyalty of Paradigm fans while gathering even more to the bandwagon. It is a shoe with good arch support, very comfortable interior, and max cushioning that still retains a dose of flexibility and responsiveness.
Tip: see the best running shoes.
Our reviews
Altra is famous for their natural shape with a lot of toe room.
For anyone with wider feet, they are definitely worth considering and have a wide array of models suited for various purposes.
After getting Paradigm 2.0 as well, hoping that they will be the road version of the Olympus. But they are not that, unfortunately.
Hello ducks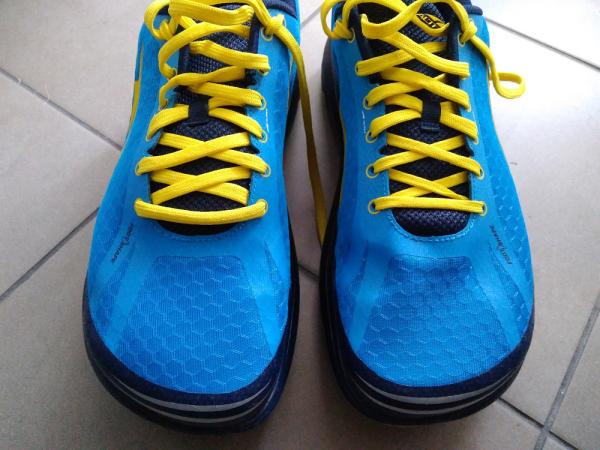 Design
Similar to the Olympus 2.0 model they have duck look due to the toebox design, but to me, it doesn't matter much.
Not the prettiest shoes, but they do have a certain charm.
This is what you'll be looking at. :)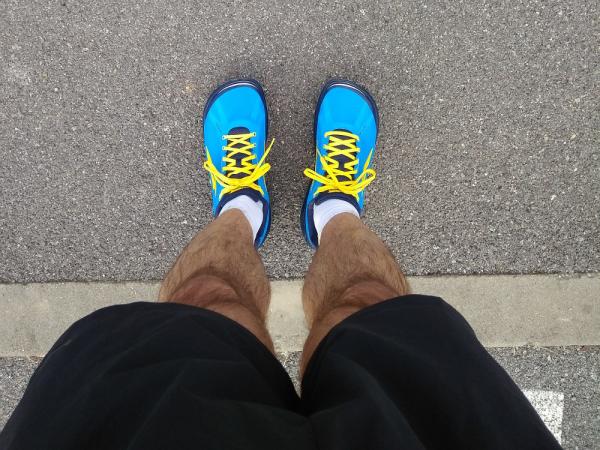 Comfort
Zero drop, 31mm heel, and 31mm forefoot thickness.
After feeling like running on clouds in Paradigm to provide identical feeling. Well... it is close but not identical. The ride is somewhat stiffer than Olympus. But still comfortable enough.
Size
When choosing the size, if you are unable to try them in real life perhaps go a half size up. They are not very long and there is not much space left between toes and front of the shoe.
Toebox
The width of the toe box is great. Enough room to splay the toes and feel free in them. They are perfect for my wide feet. If you have a narrow foot, you could have a problem with them being too wide for you.
Laces
Laces are not perfect, they tend to unlash themselves even when tightened properly, so you need to double lash them or use heel lock method to prevent the unlashing. Or even replace them with different laces. Also, they are too long. With heel lock method they are still dangling around. They should be 5-6cm shorter to be good.
If your heel slides in the shoe – use heel lock method with the laces.
Arch Support
Unlike Olympus they have some arch support, so if you have very low arches you could have problems. Fortunately mine are high enough, but I still feel a bit uncomfortable with the arch support on the beginning of the run.
Good thing is that they are light. Looking at them you would not expect them to be so light. They are not featherweight but for me they are light enough.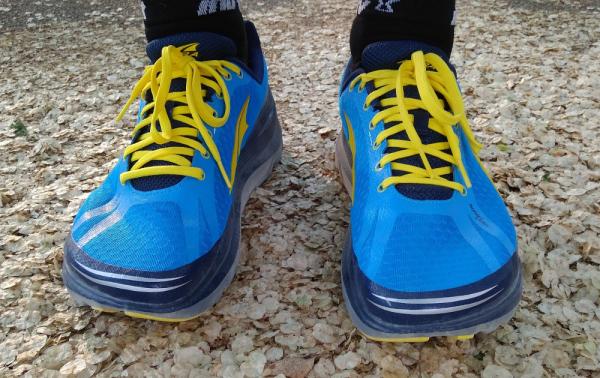 Sole & Durability
Sole is not Vibram, the material is quite soft, but seems to be durable enough. Problem with the sole pattern is that sometimes rocks get lodged in the crevices and it is irritating. So far I have maybe 100km in them, plus quite a lot of walking around. No wear/tear is noticeable on the soles or on the upper.
Upper looks to be made of quality build. It is seamless design with the hexagonal net pattern. Such upper construction is supposed to reduce the wear & tear of the material. Upper is breathable enough. Good thing is that shoes have toe protection.
Sole grip and toe protection are good enough for some easy trails, not just paved surfaces. They are even more stable than Olympus model.
Thick sole and unusual grip on the road shoes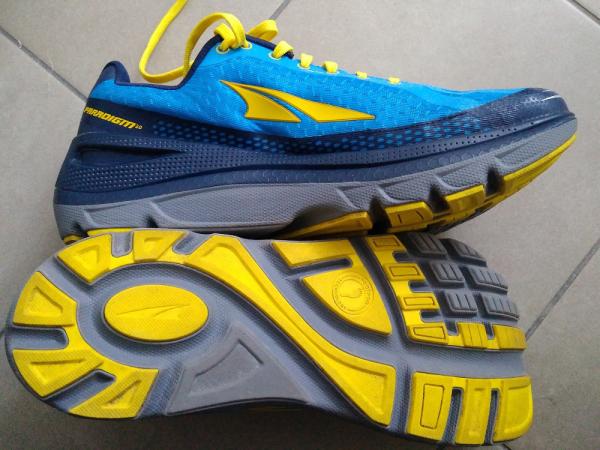 Performance
Can you be fast in them? Yes, but you will tire quickly. I found them to be quite tiring when running faster. My pulse was also slightly higher than in some other shoes at same speeds. They seem to be best suited for slow and long distance runs.
With my 90+ kg, I had no issues with the comfort, no leg aches, and pains when running at slower speeds. But as soon as I try to go faster, then I start feeling my legs relatively quickly (after 3-5km).
Zero drop works good for me, but some people could have problems, especially if they have achiless tendon issues. On the first run with them, I did 15km on the asphalt and it was too much, Achilles was aching later.
But now after a lot of running in Hoka Challenger ATR (4mm drop) and Altra Olympus 2.0 (0mm drop), I don't have any problems whatsoever.
If you are not used to zero drop, my advice is to start with shorter distances and stop the workout if you feel any discomfort in achilles tendon or calves.
I found that after 30 minutes running or so they seem to become stiffer. Maybe I am delusional (quite possible, all runners are delusional to some degree) but perhaps the thick sole really compresses to some degree after few kilometers.
Conclusion
I really wanted to love them. Paradigm 2.0 are good shoes, but they did leave me somewhat disappointed that I am unable to run faster in them for the longer distances.
Maybe it is not the case for everyone... YMMV. Because they are so comfortable I will give them chance for 5-10 more workouts, but if nothing changes they will be relegated to casual shoes for walking around.
If you are looking for good shoes to walk around on pavement or if you have a job standing all day, these could be the right choice for you (if you don't mind the zero drop).
If you will use them just for walking around, then I would rate them as 95%. Not 100% because they are not pretty. :)
They do have zero drop, so be careful with the transition if you have never worn zero drop shoes. Also if you have problems with Achilles tendon, perhaps it is better to avoid these shoes.
Ugly or not? I still cannot decide.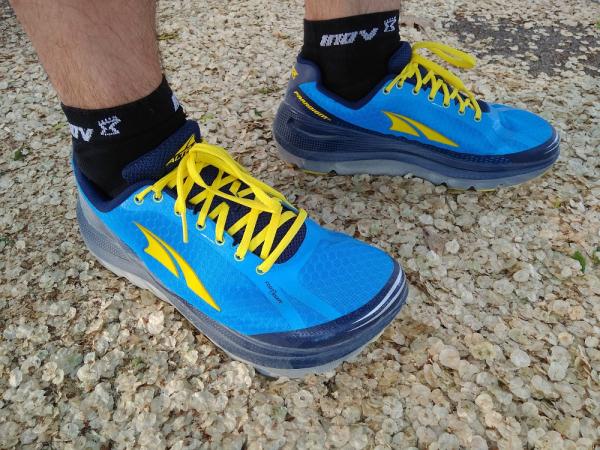 Good to know
Altra does not rock the boat when it comes to changes in the Paradigm 2.0. What is most noticeable is the simplified upper. Altra removed the slice of rand that basically stretches from one side of the shoe to the other. It now has very few printed overlays with the Altra logo serving as the main feature around the midfoot. The change offers more give without sacrificing support.
A new mesh is introduced as well. The mesh is a bit thicker for better durability and compensates for the lack of overlays in the upper.
Finally, Altra included reflective details in the 2.0 model, which was previously lacking from the earlier version. It makes running in low-light areas doable in this shoe.
The fit of the Paradigm 2.0 is practically a mirror image of the earlier models, except perhaps in better volume because of the removal of the forefoot rand. There is also a snugger midfoot and heel due to the slightly thicker mesh. The forefoot has the Altra-distinctive Foot-Shaped Toe Box for the toes to naturally splay. Runners with medium to slightly-wider feet should have no trouble getting their comfort zone in this shoe. Sizing is a bit off as it is slightly smaller than average.
Altra's unique Foot Pod Technology uses a series of rubber configurations, especially just beneath the metatarsals to deliver natural responsiveness and flexibility. It is made mostly of carbon rubber for durability and traction. The full contact outsole gives it much-needed stability for a shoe with significant stack height. The same outsole design is also used in the new Altra Paradigm 4.
An extra slice of EVA is placed on top of the EVA over A-abound midsole setup. The added EVA gives the shoe that max cushioning feature. As the soft A-abound sits beneath the firm EVA, it handles much of the cushioning and impact protection. The firmness of the EVA adds an element of stability in the midsole as well.
The ultra-simple upper is largely composed of breathable mesh and printed overlays. Runners who wish for a more traditional design can opt for the 5mm contoured footbed. There is now reflective materials in various parts of the shoe for low-light running. An asymmetrical lacing removes pressure on top of the foot.
Rankings
How Altra Paradigm 2.0 ranks compared to all other shoes
Popularity
The current trend of Altra Paradigm 2.0.