Verdict from 9 experts and 100+ user reviews
7 reasons to buy
Most runners welcomed the 'firm' underfoot feel of the Altra One v3.
The majority had a good experience in these lightweight shoes since they did not feel much tired, even after long running sessions.
The customers found it to be a lot more durable than other Altra shoes.
Most users admired the 'foot hugging' feel and snug fit of the upper unit.
The testers highly appreciated the remarkable traction of its outsole on slanting surfaces.
A good number of runners preferred this shoe for speed work and shorter runs over other running shoes they had.
Some looks-conscious people liked the design of the Altra One v3.
3 reasons not to buy
Some users did not like the look of the shoe; for them it was bulky and unstylish.
A user thought that the pair was rather 'clunky' and not flexible.
The sizing schemes did not coincide with the preferences of a number of runners.
Bottom line
Unlike traditional running shoes, the Altra One v3 offers a firm underfoot protection for an enhanced performance and added durability on roads. While this shoe did feel stiff for some runners, it was able to adapt to a majority of those who have tested it. For them, it provided a level of flexibility and performance that's consistent with many of the brand's offerings.
Tip: see the best running shoes.
Our reviews
Altra has become one of my favorite running shoe brands, primarily because of its unparalleled foot comfort, particularly for wide feet.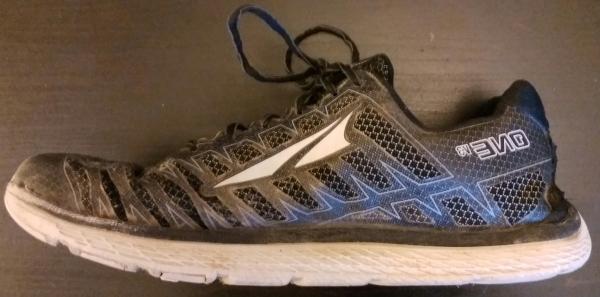 I wore four Altra shoe models extensively for running, all-day use, and other forms of fitness. They were all very roomy in the toe box, exceptionally light, and highly comfortable during physical activity and all-day use. Beyond that, each model has its unique differences.
The Altra One V3 is one of my favorite Altra models and favorite shoes period, because of the shoes' versatility. It is a good fit for sprint training, distance running, sports, gym training, or wearing as all-day shoes.
This is mainly because they are sleeker, less bulky and have more foot support and stability than other Altra models.
The toe box
Altras pride themselves on having wide toe boxes for toe splay and comfort. The One V3 is slightly narrower in the toe box than other Altra models.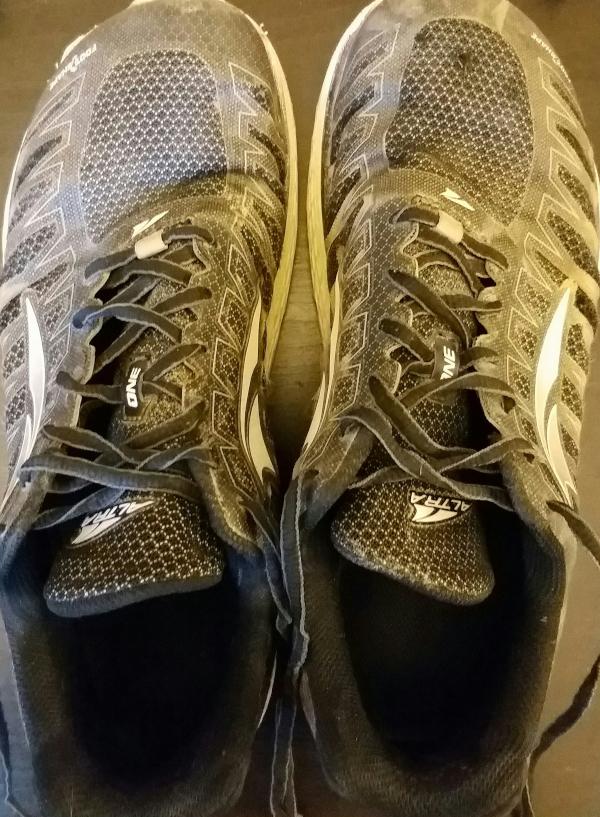 This makes them slightly less comfortable for all-day wearing, even though they are still very comfortable in comparison to other running shoes. For the comfiest all day Altra shoe, I would suggest the popular Escalante as pictured below.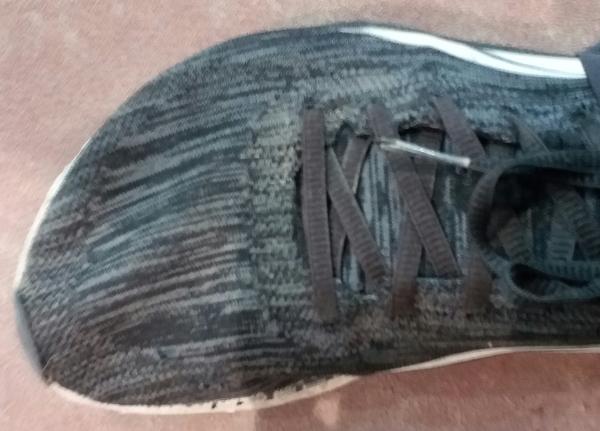 This slightly narrower toe box on the One V3 does come with a few advantages, however. The design gives the shoe a sleeker and less duck-like forefoot feel than some other models.
This is nice for appearance and lessens bulk which is beneficial during sport, sprint training, and competition. While running, the toe box is plenty wide enough and won't give you blisters, and allows for ample toe splay.
As a physical education teacher, I wear them all day on days where I know that I will be more actively running and playing sports with the students.
On less active days, I will usually choose the Escalantes, which allow my feet to be super comfortable and also allow me to jump into a bit of sport and running, but with far less stability than the One V3's.
Locking in the foot
With other Altra models like the Escalante 1.5 and the Lone Peak 3.0, I found my foot sliding around while going around turns. This is less of a problem with the One V3's as there is a nice supportive shell in the upper that keeps the foot stable.
The shell does a good job of locking in the foot, yet still leaves most of the upper as mesh, which ventilates nicely, and keeps the foot cooler.
The weight
Altras, in general, tend to be impressively light, and this model is super light. The weight has been a very impressive feature on all Altra models that I have tried and even more so with this One V3, listed at 7.6 oz.
The One V3 has a bit more of the minimalist feel because it is a less bulky shoe in its sleek upper and signature Altra Zero Drop midsole (meaning, even stack height across the entire sole, encouraging proper running form).
Ever tried playing basketball in a minimalist shoe? It doesn't go so well, but these One V3's allow you to play sports like basketball with a nice firm sole and support, even though they maintain some of the minimalist qualities.
I love to sprint train in minimalist shoes because of the lightweight and sleek barefoot feel but the One V3's are also a great regular shoe for sprinting or interval training, as they are light and stay locked on the foot.
Long distance
I have seen that some serious runners (including the world record holder in the 100-mile run) wear Altras and minimalist shoes for long distance running and even marathons and beyond.
But, I have found that with this model, I like to run in them up until about 10 kilometers. Beyond that, I have felt some joint pain, and I prefer a bit more cushion.
I know that some people run marathons in minimalist shoes and zero drop shoes and my hat goes off to them. I love to train in minimals and zero drops, but when I run marathons and longer distances, I need a bit more cushion on my leg joints.
Appearance
I like the look of these shoes. I have them in simple black and white and wearing them they are a sharp, sporty, and look nice and classy, so no complaints in this department.
I am partial to more simple running shoes without the crazy bright colors, and the One V3 offers this.
Durability
I have gotten a lot of use on them and worn them down as I really liked them! I do feel that the outer sole and even the midsole wore down a bit quickly.
Also, the rubber wears down, exposing the foam cushion beneath, as you can see in the forefoot area in the picture on the right.
I have taken them on numerous trail runs, and they are more of a road shoe, so this may have contributed. Nonetheless, I have felt that the sole in this model, and also in the Escalante, wears down a bit quickly.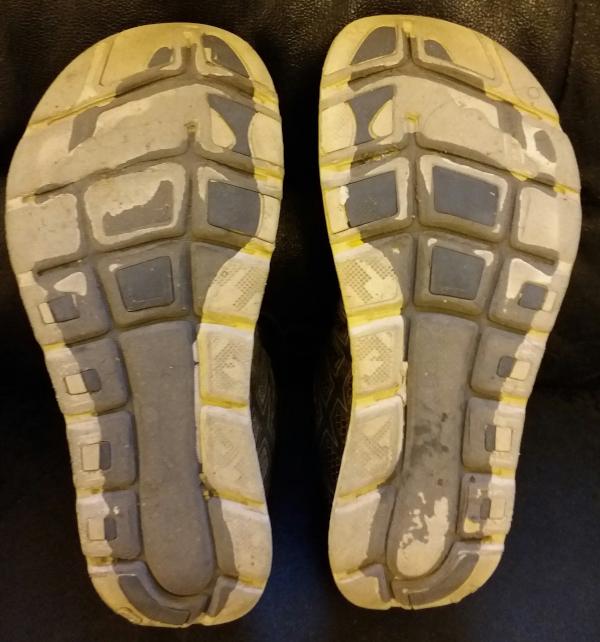 The shoes' upper, however, is durable and continues to look good and function well.
To sum up the One V3
I love the One V3's simple and sporty look, featherweight, and the shoes' versatility. The One V3 is:
An excellent sleek shoe for sprint training and racing
A fast shoe
A good road running distance shoe
Handles fine out on the trails
A nice choice for fitness workout or playing sports
Has a ventilated mesh upper that has good support and locks in the foot while running
The sole has good traction and grips well on asphalt or even on trails
Some drawbacks
Not as roomy in the toe box as other Altra models
The sole durability could be better
Not as cushioned for long distance running
Good to know
For better traction and durability, the Altra One v3 has included more blown rubber pads along the forefoot and the heel region on its FootPod outsole.
The mesh design on the upper has been redesigned to allow for more ventilation.
The overall adjustments in the shoe's design have resulted in this shoe becoming slightly heavier than its previous version. However, the change in the weight is hardly noticeable.
The Altra One v3 runs true to size. It comes in the standard medium widths of D and B for men and women, respectively. The shoe has a wider toe box, so it is suitable for runners who have medium sized feet and those who have slightly wider forefoot dimensions.
The shoe's outsole is made using the blown rubber, which Altra claims to be softer, lighter and more comfortable than the traditional rubber outsoles. The FootPod outsole also delivers impressive traction on various types of surfaces and allows for a very good performance on the ground.
The InnerFlexTM EVA technology is another useful feature of the Altra One v3. It ensures high comfort levels and it adapts to the user's foot, thereby allowing a natural running style.
The shoe's footbed is 'contoured' to provide some cushioning to the curves of the underfoot. It's also flexible.
The Altra One v3 features the quick-dry air mesh. It's a soft material that accommodates the flow of air into the foot-chamber, thus maintaining a cool and dry environment for the wearer. It dries off quickly, as well.
In this version of the shoe, Altra has reinforced its upper with TPU overlays to provide structure and form. These thin printed layers also assist the mesh material in hugging the foot securely.
Breathability is further heightened through a mesh lining in the interior.
This lightweight running shoe uses a padded collar and tongue to provide some cushioning to the top portions of the foot.
The FootShapeTM toe box allows for a natural movement of the forefoot region. It also allows the toes to spread out comfortably when moving and when being idle.
Finally, the whole setup is locked in place and fitted comfortably around the runner's feet with the help of a traditional lacing system.
Rankings
How Altra One v3 ranks compared to all other shoes
Popularity
The current trend of Altra One v3.