Based on the on-court performance and overall quality, we believe that the Air Jordan 6 makes much more sense as an everyday sneaker. We are certain that while sneakerheads would love this – especially because they have 10+ colorways to choose from – real basketball players would prefer to step away.
Pros
Sturdy and durable
Great every-day sneaker
Really stylish look
Breathable
Good ground feel
Neoprene sleeve boosts comfort
Variety of colorways and materials
Okay grip on clean courts
Cons
Minimal cushioning
Subpar traction
Sloppy fit
Who should buy the Air Jordan 6
Like many Air Jordan Retros, we realized that AJ 6 is going to be most appreciated by people who won't play in it. Yes, it still has the chops that once made it great, but today's game has already seen a lot of better and cheaper techs. Though still functional, the AJ 6 just cannot compare anymore performance-wise.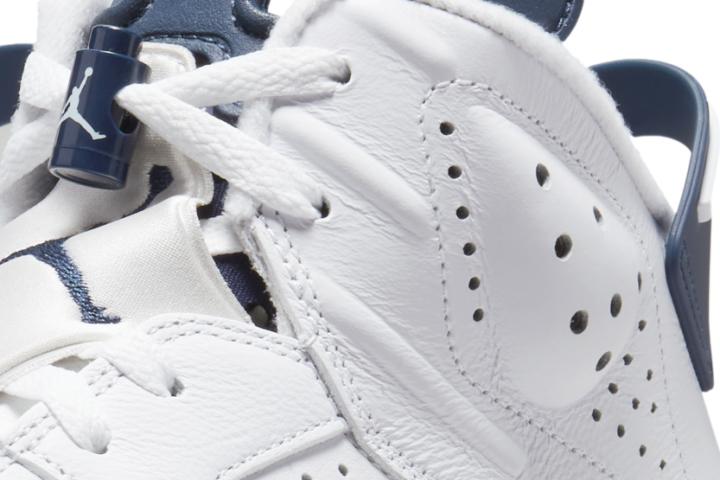 Who should NOT buy the Air Jordan 6
Quite frankly, anyone who has tried playing in more modern shoe options will surely have something negative to say about the AJ6. They are better off buying non-retro options from the Jordan brand. The recent Air Jordan 37 or Air Jordan 36 are excellent picks.
Only grippy on clean courts
After playing on these shoes, we learned that the traction of the Air Jordan 6 worked pretty well on pristine courts. However, to keep it that way, we had to wipe the outsole frequently.
Honestly, we thought that the traction did not look impressive. It is quite flat, with no tangible traction pattern. We found that it needs to be wiped all the time and we also suggest bringing a lint roller if you want to keep the grip. Otherwise, you will get a lot of slip, especially on the lateral side.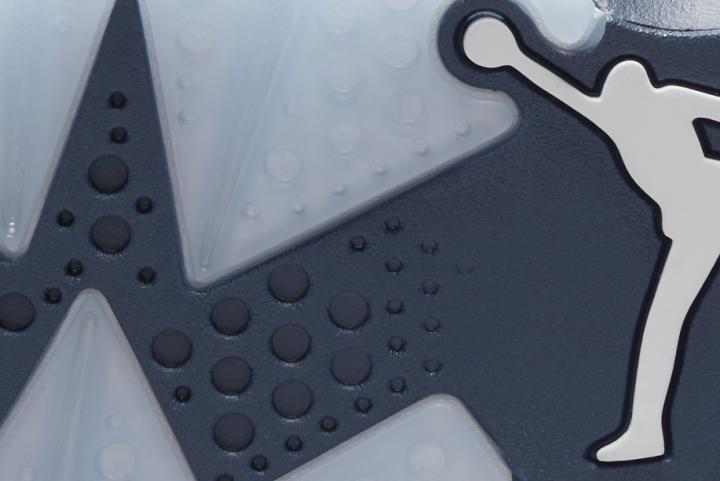 The Air Jordan 6 has minimal cushioning
We felt that this Jordan basketball shoe had unimpressive cushioning, and we sensed it most especially during on-court action.
The 6th iteration is denser than the 5th. We believe that the Air units on it are not the greatest source of cushion. We actually experienced soreness in the joints (knees especially) after playing in the Jordan 6. In addition, we thought that the shoe's insole was made of thin, cheap foam so we recommend replacing it with something thicker and more cushiony.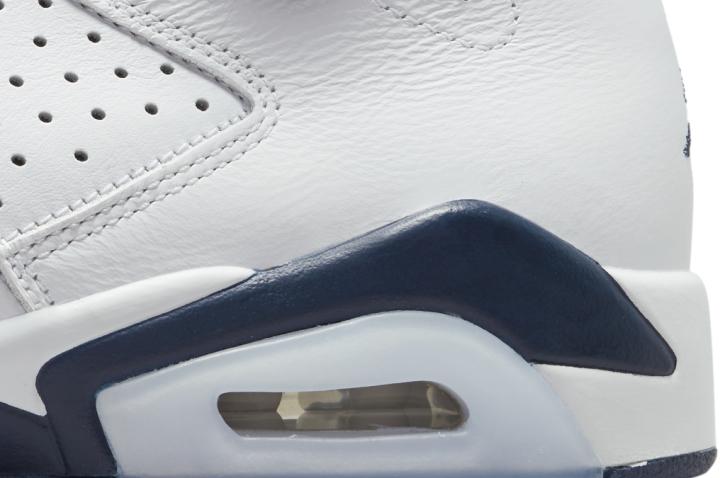 But if you plan to wear the shoes casually, we can confirm that there won't be any problems.
Ground feel is much better though
We found that those who favor court feel above cushioning may like the Air Jordan 6. We noticed that the forefoot is fairly low to the ground which could be ideal for guards.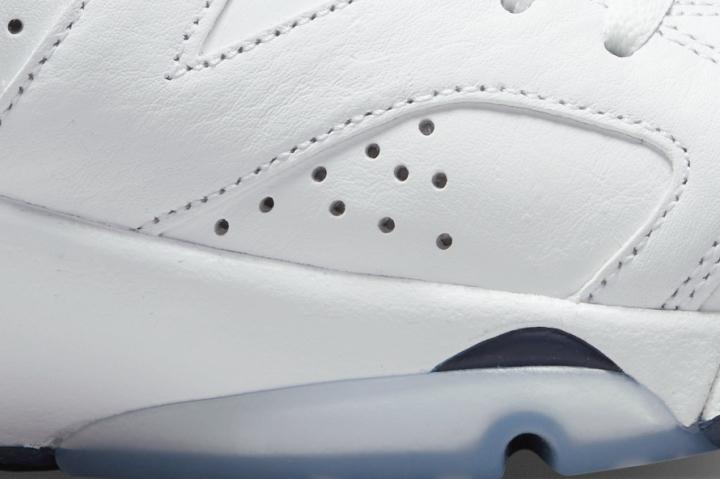 Looks that can turn heads? The AJ 6 surely has it!
Like many other retro Jordans, such as the AJ 11 and AJ 12, the Air Jordan VI scores high in the style department. It sports a clean look that is bound to turn heads on and off the hardwood.
We especially loved the embroidered Jumpman logo at the back and the "Sport Blue" colorway.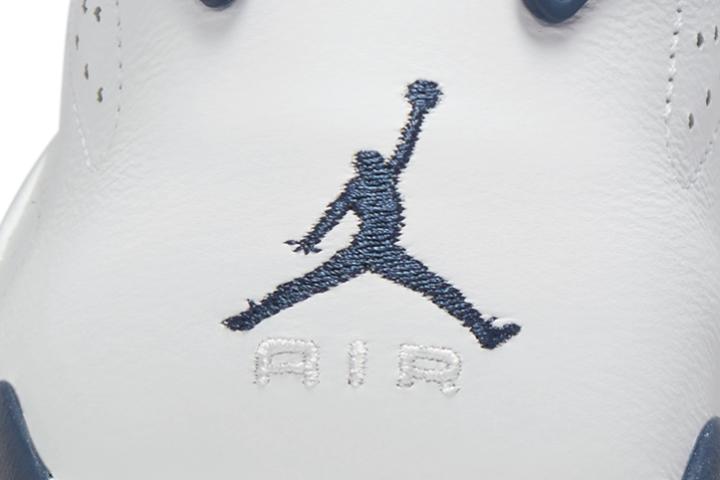 Aside from that, the beauty of this retro Jordan is that it comes in a wide variety of color options.
Materials differ depending on the colorway
The fit and feel of the Jordan 6 is influenced by the materials used in its upper. The iterations with full-on leather or suede uppers appear to have better support, while shoes with mixed materials can give more flex in the forefoot.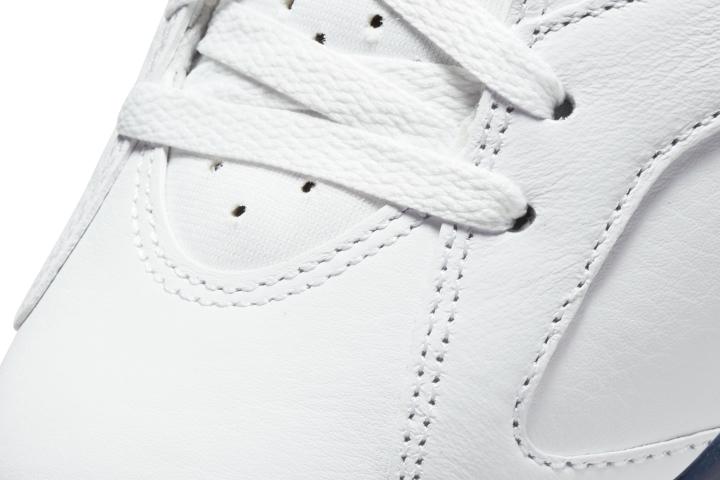 Fit is not so locked-down
While the overall in-shoe feel is comfortable, the fit is not as locked-in as we would wish in a performance shoe.
We had to really tie the shoelaces tightly to achieve a secure fit. But it ended up warping the shoe shape for us. We recommend getting a thicker insole if you want less volume in the shoe as well as using every eyelet when lacing it up.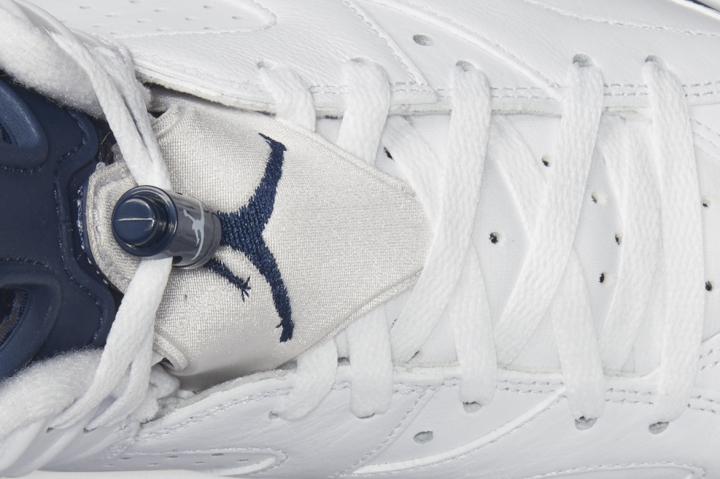 We also found the lacing system to be complicated as we had to make it tougher than it should to get a solid, locked-down fit. We weren't happy with the ankle support either. It is not as good as we expected from a shoe that rides so high up the ankle.
Surprisingly well-ventilated
We are impressed with how breathable the Air Jordan 6 turned out to be. We attribute this to the shoe's airy perforated tongue, collar, and side panels.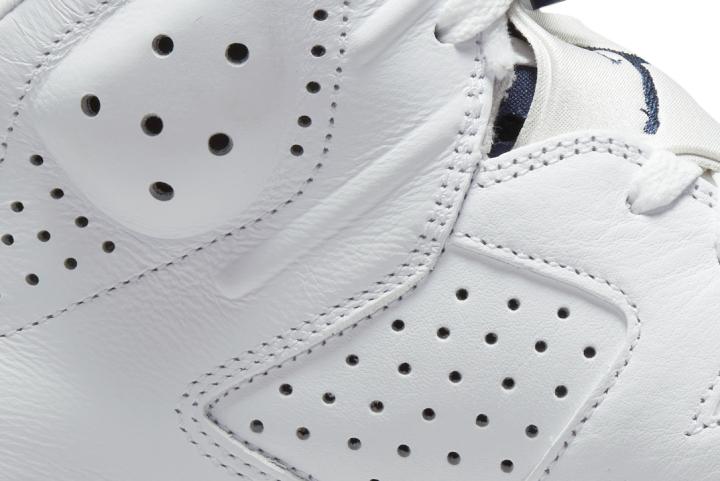 Durability, check!
Even with all the imperfections, we agree that this shoe still felt sturdy and well put together. We predicted it to last a long time.