Overall, the Air Jordan XI Retro is more popularly bought as a collectible or worn as a casual sneaker rather than a performance basketball shoe. It's highly durable and a solid performer on-court. Its price and feature set make more sense for passionate sneakerheads than avid basketball players.
Pros
Amazing everyday sneaker
Superb quality
Good grip on clean court
Secure fit
True head-turner
Hugs the ankle perfectly
Breathable
Cons
Needs to be broken in
Dust-prone outsole
Lacks side support
Who should buy the Air Jordan 11 Retro
The Air Jordan 11 Retro is perfect for those who:
want a shoe that they can wear both on and off the court
play mainly on clean courts
are Air Jordan fans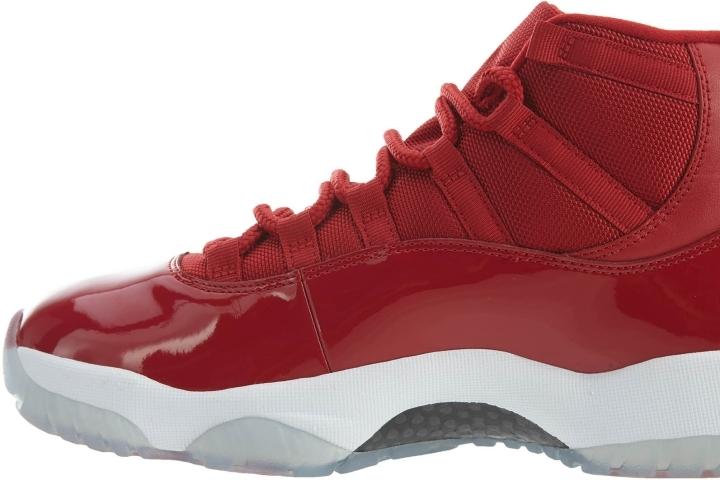 Who should NOT buy the Air Jordan 11 Retro
The Air Jordan 11 Retro is definitely not for those who do not have time to break in their shoes as well as people with wider feet. In that case, going up half a size might be reasonable.
Being a Jordan shoe and a retro at that, this is also not for those who are on a budget. There are cheaper options that perform as well or even better than this.
And if it's a performance-ready Jordan shoe that you are after, consider the Air Jordan XXXV or the Air Jordan XXXVI.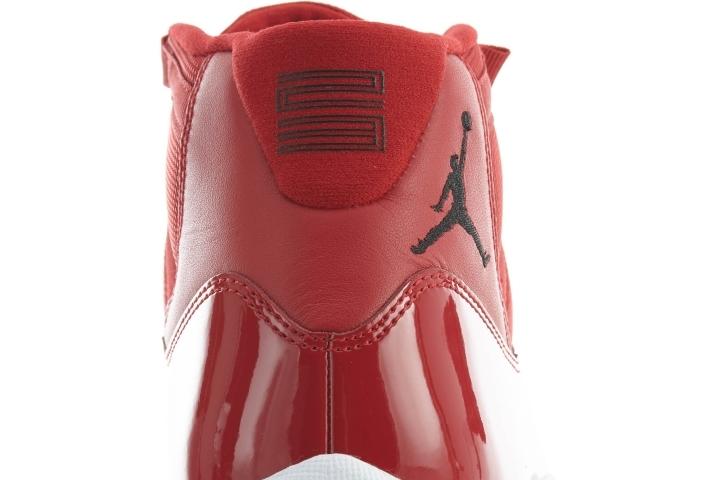 The AJ 11 Retro's off-court appeal is undeniable
The Air Jordan XI Retro is a true head-turner, and its classic look triggered bittersweet nostalgia for many.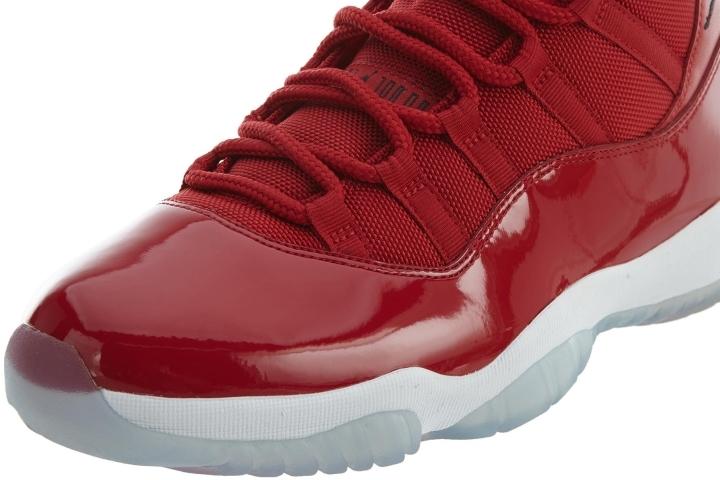 Despite being a Retro Jordan shoe, some reviewers loved its "perfect minimalist design for neutral users." They find it sleek and clean and easy to match with various outfits. Not to mention all the different colorways and special editions including "Legend Blue," "Jubilee," and many others.
The AJ 11 Retro has a nice grip on clean courts
The reviewers appreciated a mix of solid and clear rubber in the outsole. The clear rubber was described by wearers to be super sticky, especially when used straight from the box.
However, once catching dust and debris, it went down to a more mediocre level. "I needed to wipe the outsole semi-often on dusty courts," reports an expert.
On the bright side, the hard rubber parts in the heel and forefoot "pretty much saved the day," according to another reviewer. That's because they maintain traction when the clear parts fail.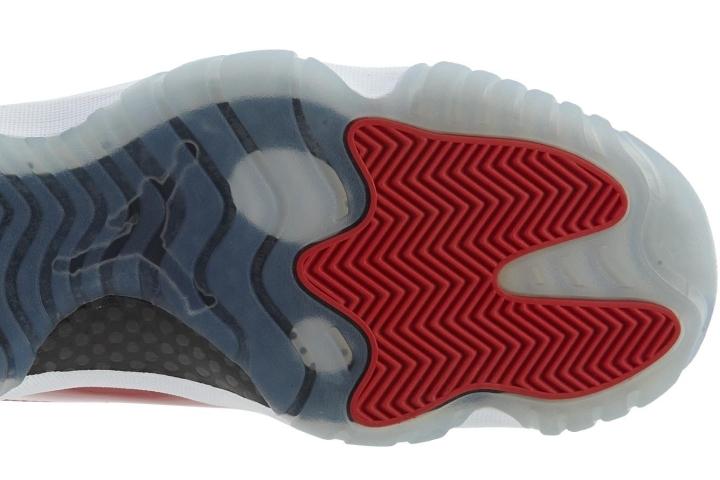 However, if you are going to play on well-maintained courts, the Air Jordan XI is going to "hold up perfectly fine," as agreed by the testers. One of them also says: "if you are on a clean floor, you're not going anywhere."
Cushioning is just alright
The combination of a full-length Air unit and Phylon foam, most reviewers referred to the underfoot feel as something familiar. It's not something to write home about, as one player puts it: "not THE best cushion but it's definitely above average."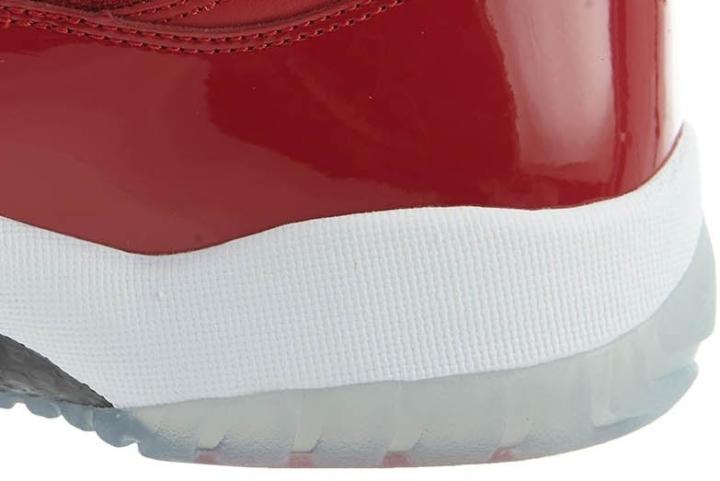 Another expert is also satisfied with its consistent impact protection and decent court feel. He describes the cushioning as "solid" although "not as soft as the original or 2000/01 Retro releases."
Quality is truly there
The craftsmanship is commendable. It generally made the wearers feel that this shoe is truly worth its price.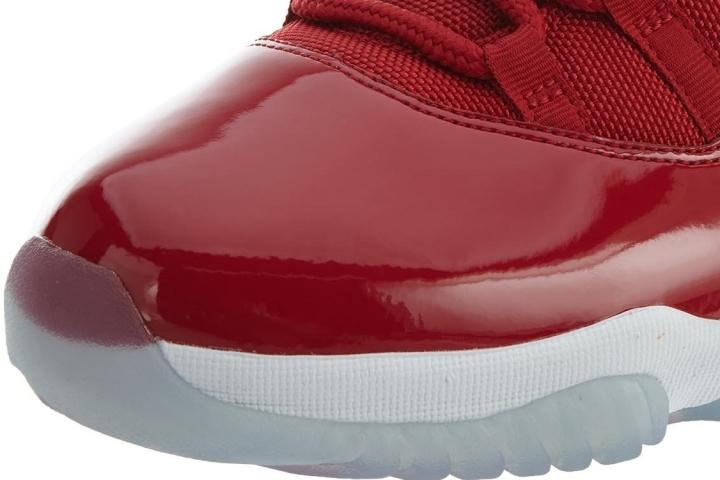 Testers thought that the materials performed "on par with" what you would expect from an Air Jordan. They "have not ripped on me," adds one of them.
Supporive platform but the upper is not so much
The full-length carbon fiber plate plays a significant part in creating a stable platform from the heel to the forefoot. "Provides you with the extra reassurance you'd want or need," as mentioned by a playtester.
However, the upper materials don't seem to do a good job in preventing the foot from moving side-to-side. For one of the reviewers, his foot actually "spilled" over the edge of the midsole.
Go true to size and expect a perfect lockdown
Reviewers agree that the Jordan 11 Retro fits true to size. However, for wide-footers, going half a size up might be a good idea as the materials take time to break in.
The lacing system with reinforced eyelets is reported to do an excellent job securing the fit. In the words of a reviewer: "almost like fingers...really close and harness your foot in place."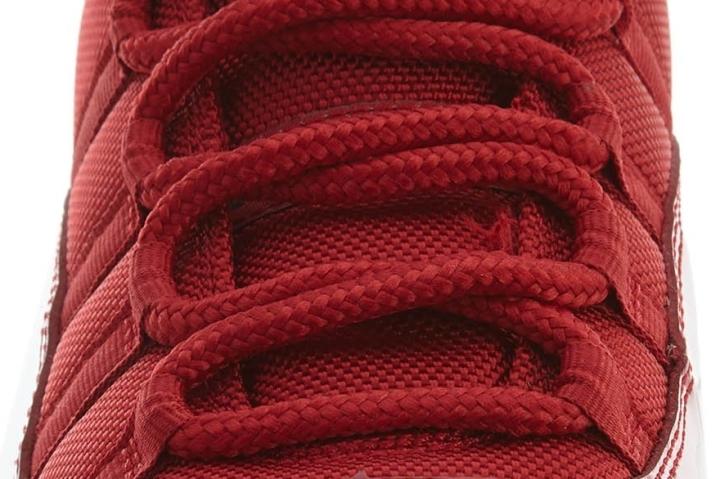 In addition, the padded collar contributes to the lockdown.
Not the most breathable shoe but still ventilated
"It isn't great but it isn't horrible," says a weartester. Another reviewer mentions that the Air Jordan VI offers better ventilation. He also adds that comparing to the current basketball shoe options,"your socks are gonna be soaked."
Pricey even for a Jordan
Given that the average price of Jordan basketball shoes is $162, the Jordan 11 Retro's asking price of $220 is a bit eye-moistening.