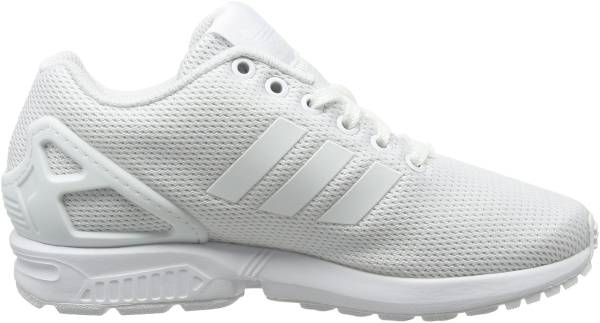 The Adidas ZX Flux is a sleek casual shoe with a performance look. The Three Stripes brand modernized a classic 80s running shoe while retaining some of its throwback elements. Adidas re-engineered it with modern details making it stand out from the rest. This retro sneaker offers durability, breathability, and comfortability all rolled into one. One can consider the Adidas ZX Flux as a shoe worthy of buyers' every penny.
---
Verdict from 100+ user reviews
7 reasons to buy
Many wearers like the sporty and stylish design of the Adidas ZX Flux shoes.
A handful of wearers share that they felt comfortable while wearing this sneaker.
The majority of the users applaud this pair's lightness.
Several users enjoy the versatility of this pair which they could use from casual wear to light training.
Many users say that this pair has good foot support.
Some users praise its reflective design and share that this model is suitable to be used during low light.
A number of buyers praise the durability of the Adidas ZX Flux.
2 reasons not to buy
Some buyers grimace about the slightly expensive price of Adidas ZX Flux.
A user finds the mesh upper as hard to clean.
Bottom line
The Adidas ZX Flux is a sleek casual shoe with a performance look.
The Three Stripes brand
modernized a classic 80s running shoe while retaining some of its throwback elements. Adidas re-engineered it with modern details making it stand out from the rest. This
retro sneaker
offers durability, breathability, and comfortability all rolled into one. One can consider the Adidas ZX Flux as a shoe worthy of buyers' every penny.
Best price from 50 shops
We earn affiliate commissions at no extra cost to you when you buy through us.
85% say it's true to size.







Size and fit
The Adidas ZX Flux is a low-profile sneaker with a well-cushioned collar and tongue. The soft internal lining embraces very nicely along the ankle for excellent fit and comfort. It features a Torsion technology in the midfoot that works as a support for the entire foot. The EVA midsole provides lightweight cushioning and the lace-up closure system for a secure fit. It has a molded leather cage found on the heel for a locked-down fit.
Adidas ZX Flux Style
The upper of the low-top Adidas Originals ZX Flux truly stands out. It has a seamless mesh upper and a soft textile liner for optimum breathability and a comfortable ride throughout the day. The bold 3-Stripe branding on the side is made of welded TPU which adds a twist to the usual Adidas look. This pair offers a sleek and modern profile with a touch of classic vibe.
Adidas Originals introduced various striking colorways of the ZX Flux in the market to suit the needs and preferences of its vast range of audiences. Here are the most striking ones that received rave reviews from the reviewers:
Camouflage
This iteration is made of complete beige upper with camo print to make it different from other ZX Flux models. The camo design was extended up to the midsole but in a more striking shade of brown. This model also comes in a black camo hue.
Red Space
The monochromatic bright red upper was added with a space-themed graphic. This sneaker showcases a design inspired by the galaxy to highlight the space appeal.
Fingerprint
This sneaker displays a swirly design using white and black lines on its upper to imitate the fingerprint of a human. Adidas presented this in two heel cage and tongue colors - red and royal blue.
Photo Print Pack
This ZX Flux displays a daring combination of colors printed on the nylon upper that is suitable for the summer days. Included in this pack are three unique designs, digitally printed on the upper - City Scapes, Prism Shapes, and the Ocean Waves.
Metallic Finish
Adidas added a metallic TPU heel counter to add a striking detail to the conventional ZX Flux look. The heel counter was finished with blue to silver while the rest of the upper is made of grey mesh accented with royal blue details.
Floral Print and Suede
This Adidas ZX Flux for women is dressed with a floral print on its upper to add a lovely feminine touch to this model identified in men's range. The flowers are in soft pastel shade added with a premium suede heel counter for added luxurious feel.
While some people use this for light training with their tracksuits, many wearers don the Adidas ZX Flux sneakers for casual events. Most of them pair this silhouette with joggers, shorts, or jeans and tees, and oversized sweaters. Being sporty and casual is easy, thanks to the versatility of the Adidas ZX Flux.
Notable Features
The most striking feature of the Adidas ZX Flux is the classic heel cage. This caging system is made of TPU, leather, or suede, depending on the colorway of the ZX Flux. This element provides stability to the entire foot useful for strenuous activities. This heel cage feature is the trademark of the ZX line.
Adidas ZX Flux History
Adolf Dassler has been tagged as the 'Father of the Modern Running Shoe.' The founder of Adidas inculcated to the company the importance of staying faithful to the company's core value: To provide every athlete with the best possible equipment.
The Adidas ZX series was launched in 1984 as a running shoe line. They concentrated on offering footwear to cover all the needs of different runners. From all-terrain to roadrunners, from joggers to competitive long-distance runners, Adidas made sure they have a footwear solution to various needs.
Adidas carefully engineered each shoe to suit specific types of runners. They did not stop developing and innovating running footwear. Adidas Originals was able to produce a rich collection of ZX shoes that brought breakthrough devices in footwear such as the Torsion and the Soft Cell technologies. The ZX series became so popular with their shoe models and became the defining prototypical training shoe silhouette.
Currently, 16 shoes fall under the ZX line. One of them is the ZX 8000. The ZX 8000 has a futuristic upper, and it was the first Adidas sneaker to use the Torsion technology. This technology, which debuted in 1988, gives support to the runner and allows flexibility in the forefoot and heel.
The Adidas ZX Flux is one of the ZX footwear models that has been released by Adidas in 2014 and was inspired by the ZX 8000 running shoe. The silhouette and the comfort of the ZX Flux were created to combat the popular Nike Roshe Run. Adidas removed all the unnecessary panels and layers from their past models and put them together into a single piece of seamless upper with few synthetic materials.
Three Stripes has launched various special editions of the ZX Flux over the years. Most of the popular ones are the following:
Adidas ZX Flux Weave
This version of the ZX Flux showcases a lightweight weave material on its upper that gives a more appealing look for the youth and more adventurous audience. This material adds breathability to enhance comfort and overall lightness.
Adidas ZX Flux Primeknit
The modern look of this model gives a sock-like fit to its wearers while delivering a modern streetwear style. This kick can be worn with almost any casual attire and is offered in a wide range of colorways which include black, red, white, grey, etcetera.
Adidas ZX Flux 5/8
This Adidas ZX Flux for men features a minimalist look compacted with reliable technology. The upper is made of breathable mesh added with a neoprene heel cage for structural support and style. The Adidas branding was added with reflective details to make this more appropriate for outdoor use.
Adidas ZX Flux Woven
The unique aesthetic appeal of this iteration got the nod of the majority of buyers. Its unique multicolored pattern on the upper captivates its audience added with reflective details. This spring/fall appropriate casual kick delivers ample support and comfort suitable for day-long use.
Adidas ZX Flux Xeno
This men's Adidas ZX Flux highlights its reflective upper with unique prints and futuristic design that received compliments from many onlookers. Comfort-wise, this model stayed authentic to the lightness and ample arch support of the ZX Flux line that can suit wide-footed people.
The upper of this ZX model is made of Xeno synthetic materials that reveal its true color when exposed to direct light. This feature was inspired by the snake called Xenopeltis which is also known as the Sunbeam Snakes. These species are known for having highly iridescent scales.
Adidas ZX Flux Clima Pastels
This low-top sneaker showcases a single-mesh upper in a tonal pastel hue to give a fresh spin to the classic running sneaker from the archive. This model looks great when paired with any casual attire, such as jeans, joggers, or even with shorts that are paired with a polo or plain tees.
Nice to know
The Trefoil logo is found on the tongue.
The Adidas ZX FLux has the advanced ZX 8000 rubber outsole which makes this pair suitable for any action.
It has the Soft Cell technology in the heel for protection during impact.
Rankings
How Adidas ZX Flux ranks compared to all other shoes
Popularity
The current trend of Adidas ZX Flux.