Our reviews
Speed boots are a curious thing. They're marketed to people who want to emulate the fast attacking forward who likes a dribble.
The Nike Mercurial Vapor popularized this and have since set the bar for this type of boot. Speed boots are usually skin tight on your feet, narrow, uncomfortable and almost always have an ultra-light synthetic upper for a close touch with the ball.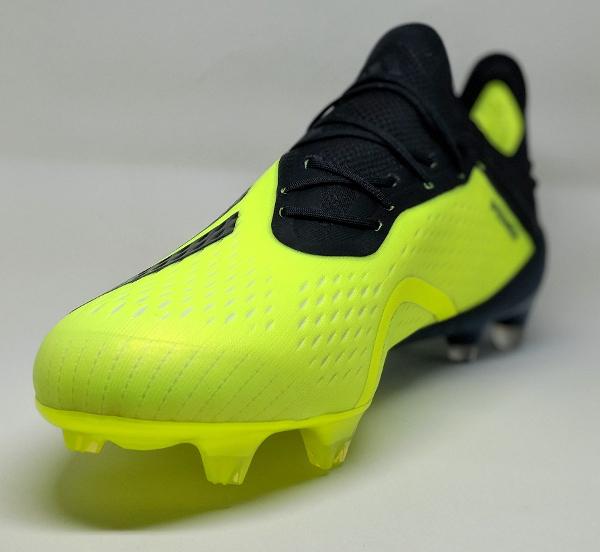 Adidas went toe to toe with Nike with their F50 line which promised to do all the same things the Mercurial Vapor could do. And then they killed the F50 for the X range in 2015.
The X looked pretty awful upon the first launch. The launch model, the X15.1, was also a strange looking boot. Just like a speed boot, it was marketed for the fast attacker who "created chaos".
However, this loose interpretation came together very differently. Gone were the narrow and uncomfortable feel and in came a plush, padded material which was more fabric than plastic. The boot got significantly heavier too.
The X started putting comfort first before focusing on weight. What I just realized was that this was a 3-year experiment by the three stripes to find a winning formula for their speed range. And boy did they hit the spot.
Comfort meets speed
The Adidas X18.1 looks nothing like the Xs of years past. It is not extremely padded nor clunky. The X18.1 looks like a glorious return to the speedy F50 days with its thin upper and super sleek silhouette. However, those years experimenting with comfort have not gone to waste.
The X18.1 is no ordinary speed boot. It is a speed boot that has taken the best of the F50 (great looks, light weight) and the X (comfort). The upper is now made out of a fortified fabric called Speedmesh – built from adidas' proprietary Primeknit technology.
As is the trend now with knitted materials, these have now replaced synthetic plastics to ensure that the upper is softer while keeping the weight low. The Speedmesh is protected by a small coating to ensure the fabric can withstand the pressures of football – from sprinting to kicking and tackling.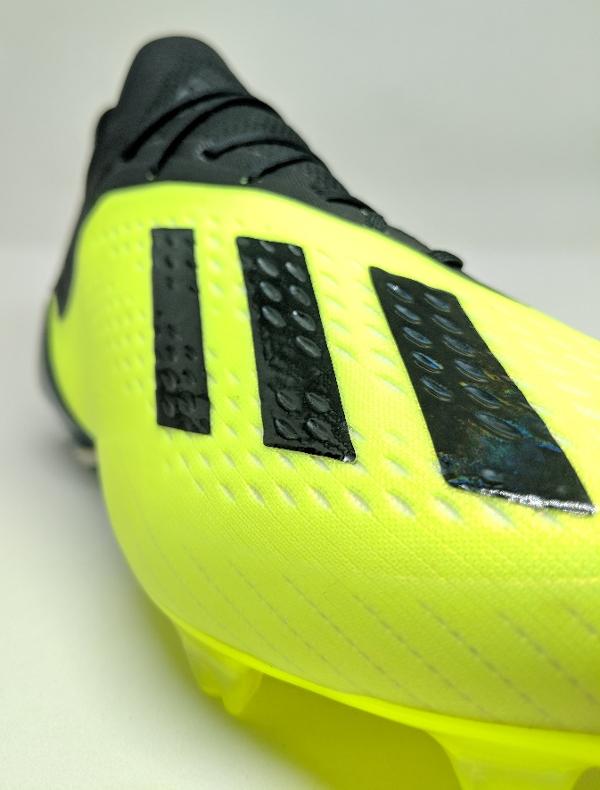 On feet, these are a dream to wear. A soft upper is combined with a synthetic suede inner lining and thick padded cushions around the Achilles area to ensure that every sprint feels like a run through clouds.
They broke in much faster than expected too, approximately only 30 minutes into a game. At only 200g for a size US9.5, they were light on feet and it made me want to dribble and take on my opponents – even if that isn't my style of play.
The Speedmesh upper feels plush and not rigid like most speed boots but beware, it's still rather thin so be prepared for major bruises if you get stepped on. The X18.1s were also accommodating to my moderately wide feet which is unheard of in the realm of speed boots.
Lockdown - laceless or laced?
A common query most players would have is, "Should I get the Adidas X18+? The 18.1's bigger brother that costs at least US$75 but comes laceless?"
Adidas has been selling a gimmick in recent years regarding laceless boots. These are pricier and have more bells and whistles on the boot than its namesake. Many consumers have been led to believe that because it costs more, it makes the boot a better performer.
The reality is that you cannot beat having laces for superior lockdown. The laced X18.1 has an amazing fit and locks your foot down more than its, pricier, lacesless counterpart, the X18+.
That said, I feel that Adidas has made big strides in making their laceless boots fit better and it might be a matter of time until they get it to fit as good as the laced models.
A big part of the lockdown feature on the X18.1 is the compression fit tongue which forms part of the upper. It's not very stretchable and it is quite a pain to get your foot into the boot within the first few tries. But once it's in, the boot moulds around your foot perfectly.
Aggressive studs for maximum speed
The X18.1 (FG variant) pays tribute to its speed roots with easily the most aggressive stud pattern from the adidas line. It features angular studs which digs deep into the ground for maximum traction and makes pushing off much easier.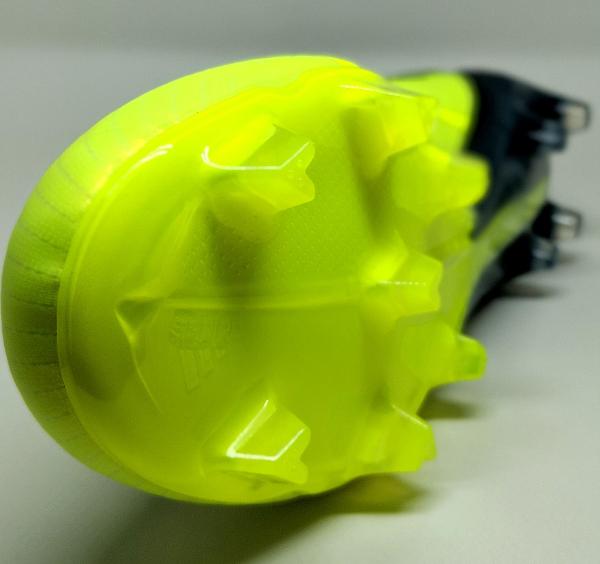 However, adidas markets the boot as an FG/AG boot which may be a concern for regular AG pitch players. The studs may be a little aggressive for AG pitches – especially shallower ones.
If you play on artificial ground and have concerns with injury or have twisted your ankle/knees before, you might want to play it safe and try a different boot.
The aggressive studs might run the risk of getting stuck in the ground which could cause serious harm. Be very careful using this boot on a thin AG pitch.
The X Factor - Changing the speed game
I am not a big fan of speed boots due to the aforementioned concerns with comfort. However, the X18.1 has totally made me a convert. It's light, comfortable and looks amazingly sleek and cool.
The X solves a major pain point for many speed boot wearers by making it comfortable out of the box and accommodating to wider feet sizes while not compromising on its lightness. Yes, it has its drawbacks with the struggles to put it on and its compatibility on AG, but Adidas has created something which throws the gauntlet down to all boot manufacturers to make better speed boots.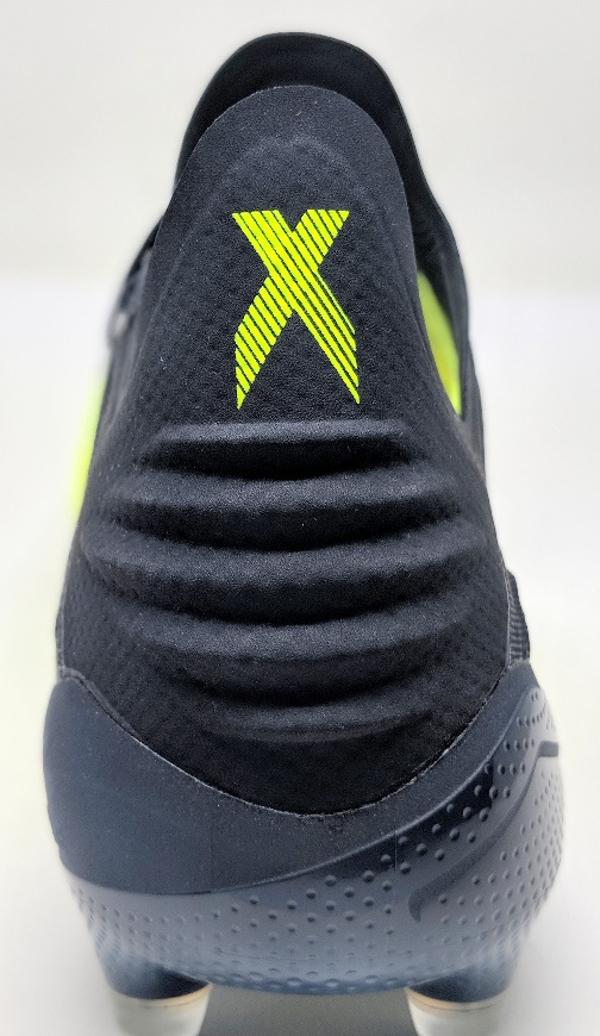 As silly as it may sound, the lightness and comfort on feet have made me feel just a bit more liberated on the pitch. If you're looking to add an extra shimmy and dribble to your game, there's no better place to start by feeling more confident on feet with the X18.1.
Features of the Adidas X 18.1 Firm Ground
Created for deadly acceleration, the Adidas X 18.1 Firm Ground highlights a design that goes back to the basics. Apart from its bold look, this low top soccer cleat exhibits top-of-the-line performance on the natural grass pitch.
This version of the Adidas X 18.1 highlights a Speedmesh upper with a low-cut Clawcollar. This collar construction is also evident in the Adidas X 19.1 FG release. The super thin upper allows for much breathability as well as a close feel of the ball. Meanwhile, the unique design of the collar is meant to offer added support and improved fit.
Another feature of this soccer cleat is its adaptable lacing system that also functions to enhance the fit. It also utilizes a four-way-stretch tongue that gives a secure lockdown of the foot.
This soccer cleat also employs a Standout 3D molded heel. This works to minimize slipping of the foot as well as to offer added stability.
For the outsole, this Adidas cleat sports the Ultralight Speedframe technology. This type of outsole features perforations the cut its weight and allowing wearers to efficiently accelerate through the pitch. Meanwhile, its Arrowhead forefoot studs combine with round heel studs to offer excellent traction for those quick starts and stops on the firm ground.
Size and fit
The Adidas X 18.3 is available in the standard sizes for men. It is designed with a medium width and is known to it true to size. Wearers can expect this soccer cleat to offer a snug and breathable fit owing to its mesh upper. With its Clawcollar and its off-centered laces, this soccer cleat also offers a secure, locked-in fit as well as enhanced stability.
Outsole
For its base, the brand has equipped this soccer cleat with its Ultralight Speedframe outsole. This sole unit offers impressive durability as well as lightweight responsiveness. Underneath, this soccer cleat showcases a combination of Arrowhead forefoot studs and round heel studs. This configuration is meant to deliver reliable traction so players are can better maneuver themselves on the natural grass pitch.
Upper
Adidas has fitted the X 18.1 Firm Ground with a Speedmesh upper that ushers in a clean feel of the ball. Designed with a Clawcollar and a four-way-stretch tongue, this soccer cleat provides stability as well as a locked-in fit. Meanwhile, its off-center lacing system offers some adaptability.
Additional Info
This Adidas soccer cleat weighs 6.8 ounces.
This soccer cleat was launched in a FIFA World Cup edition.
It is also available in a soft ground version.
Compare popularity
Interactive
Compare the popularity of another shoe to Adidas X 18.1 Firm Ground:
Adidas X 18.1 Firm Ground video reviews