The ATR reminds me of Freddie Mercury famously crooning, "I want it all!", so brazenly boisterous of one man to claim so and yet so humbling and true of us as a race; even when utterly modest, we humans want it all.
Microwaves that can bake and grill to fridges that will keep tabs of what we are running short of.
We want a car that looks good, is fast flat out, climbs hills like a goat and still delivers great mileage.
We don't want multiple tools for surgically precise purposes. Instead, we crave the do-it-all thingamajig short of hiring a butler. Give us the fruits minus the labor, we beseech the simple and the lazy.
Which is mostly fine really — who is one to judge? — but then someone went and stuck this philosophy on a running shoe.
And so, ladies and gentlemen, we have the Adidas Ultra Boost ATR or, the All Terrain Running shoe, from the successful Ultra Boost lineup.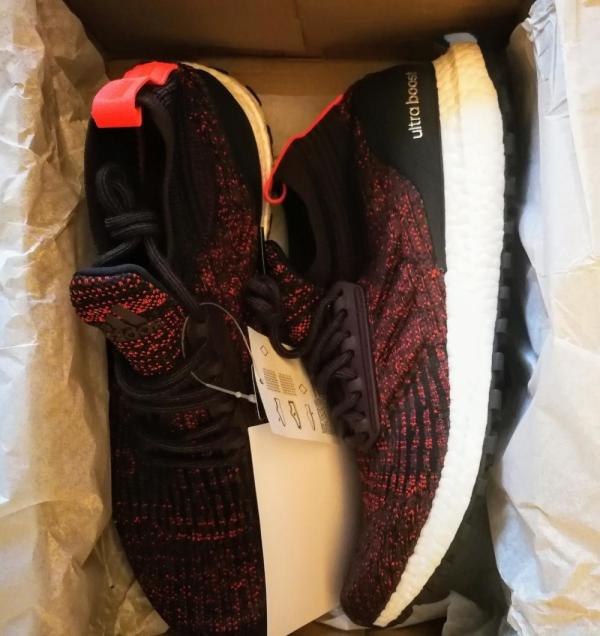 Yes sir, you now have it all in one pair: go up, or down, blaze forth on roads and over rocks, off track and on tar, this one shoe claims to straddle it all.
And it looks good to boot so you could just scramble around town in them too.
Before I begin, I like the shoe. I really do.
There are many things that this shoe gets right. In fact, there is nothing wrong per se with them but…well, let me get to it.
So, let's review this shoe top-down.
The Upper
A sock-like upper and a generous slathering of Boost midsole cushioning followed by Continental® rubber outer sole. So far so good.
For all who are familiar with the Boost, it certainly puts a spring in your step. You can land heel-first and hard and yet not feel the impact on your knee. (But try not to do that, bad form and all.)
Compared to other in the Boost lineup, it is pretty sleek, second perhaps only to their uncaged versions. But, thankfully, this provides much better support and grip, especially around the heel area.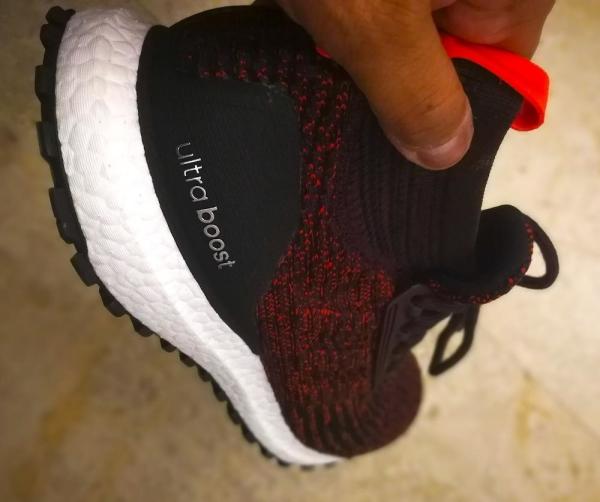 For one, the sock rises higher than the regular UltraBoost (and much higher than the uncaged version) which makes it feel more reassuringly grippy around the feet, enveloping them better than any other pair I have tried, even across brands.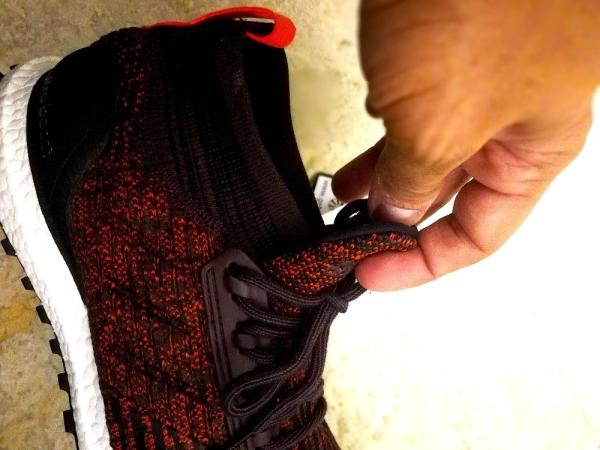 The tab on the back certainly helps slip them on and off and once I had adjusted the laces, that's precisely how I have been putting them on and taking them off, like moccasins!
In general, the DNA of the (Boost) series runs deep: a light compact shoe with a 12-14mm drop I suspect, snug but thanks to the sock-like uppers, the toe box is accommodating, an otherwise common complaint with Adidas running shoes.
The lacing runs through two strips stitched into the shoe rather than eyelets which are worked into the sock (many brands prefer to do that, including other models of Adidas Boost).
I find that this style here feels more reinforced even though, considering it is still attached to the enveloping sock, you won't feel a massive tightening when you tug at the laces.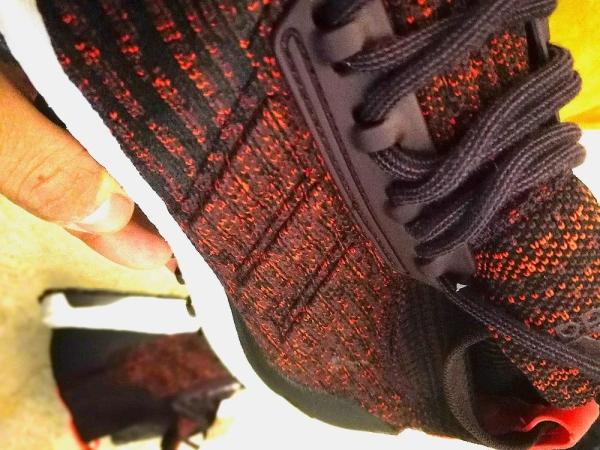 They allow for some adjustment but it's largely minimal. I saw some runners doing away with them entirely and managing quite well which made me wonder if the laces weren't merely a placebo?
(At the time of writing this, the PureBoost laceless has already been introduced.)
The Midsole
Next, the Boost foam, reliably comforting, a bit too much for my liking as I feel that somewhere in all that springiness one loses grip and precious time in the recoil.
Adidas, however, contends that no time is lost as the extra push the cushion provides would not only make up for the time lost as the cushion compresses under your step but it also preserves energy thus helping you stay strong on your feet for longer.
I won't refute that but every time I have a shoe with plush cushioning, I end up training in them but rarely take them out as race-day gear. Apart from that, nothing new here.
The Outsole
Finally, the outer sole.
Continental® again, but this time the grid-like matrix is slightly raised, as in, the intersections are proper bumps that stick out prominently.
On closer inspection they were marked with '+' and '-' signs, possibly to indicate the degree of hardness or softness. The soft ones would be more ductile while the hard bits would provide the stiffness.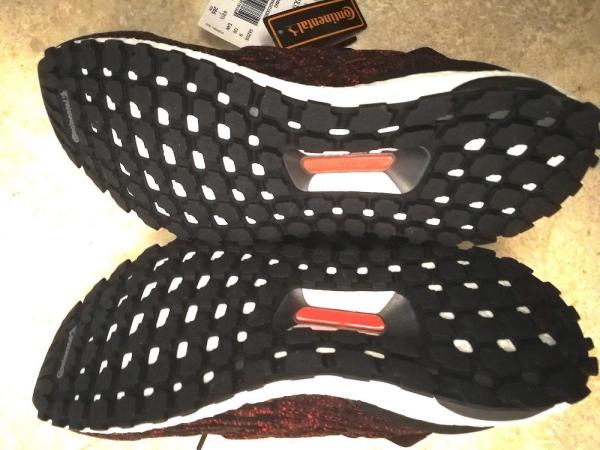 Adidas' in-house developed, tried-and-lauded Torsion system further adds to the energy distribution and transference. It is, however, a deep groove and the odd stone might (in my case, did) get stuck in it.
This grooved surfacing is what gives the shoe its ATR DNA, else it would be a pretty standard one from the Boost lineup. Oddly, it reminds me of the sole that Reebok used on their Floatride series.
(See for yourself on this review). As the French would say, 'Plus ça change…'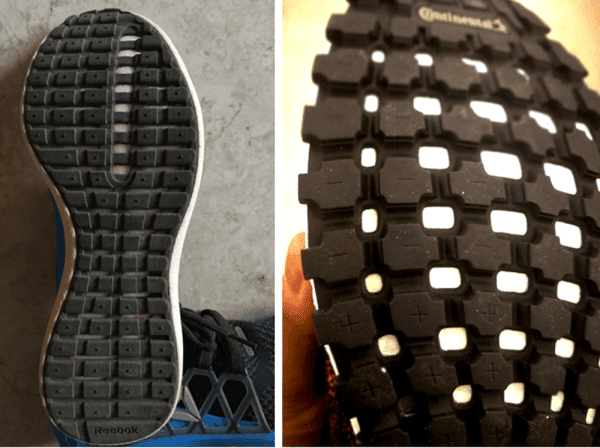 Performance
I immediately put this shoe to test, starting with gentle flat roads and onto some elevation before finally hitting the dirt track. The shoe does hold well, allowing you to lean in on the turns as well.
Even after an entire marathon (Tata Mumbai Marathon 2018) the feet didn't feel too tired or worn out by the weight or such.
The grip is definitely more lasting than I have usually seen on my other Boost pairs which have faded only too quickly. The distribution of the soft and stiff bits on the outer sole also helped change the way shoe moved under me in a largely positive way.
And now comes the 'but'…
To make an all-terrain shoe with a sock upper is like designing an earthmover with a soft top! It will not only provide inadequate protection but also wear out faster!
During my trail runs, every thorny bush, every mid-size weed I crossed, ended up either getting lodged in the sock-uppers or else simply snagged a piece of thread from it.
Barely a few off-road runs later, the top of the shoe looked a bit worse for the wear.
Not to mention, the sock-top provides no protection whatsoever against anything that is pointy, sharp, or hard. I had a few breakaway pebbles fall somewhat on my feet and none of it was remotely reduced in intensity.
Mid run, I had to take breaks to pull out thorns that had inadvertently gotten stuck to my shoes and were now pricking me through the upper layer!
The heel support, while sufficient for the road and even climbs, wasn't adequate for proper off-track rambling. And the smallest of water hazards will wet you to your skin!
Sure you may not chafe just yet but it isn't the most pleasant of feelings to have ATR shoes that get soaked five minutes into a run!
In other words, this is a show-pony, kinda' like an SUV that looks chunky and mean as long as you stick to the tarmac. It isn't true 4X4 material!
That said, the shoe is still one of the smartest looking running shoes I have ever worn, nay, adorned. The three stripes are 3D textured here, worked into the very sock fabric like color-on-color grooves.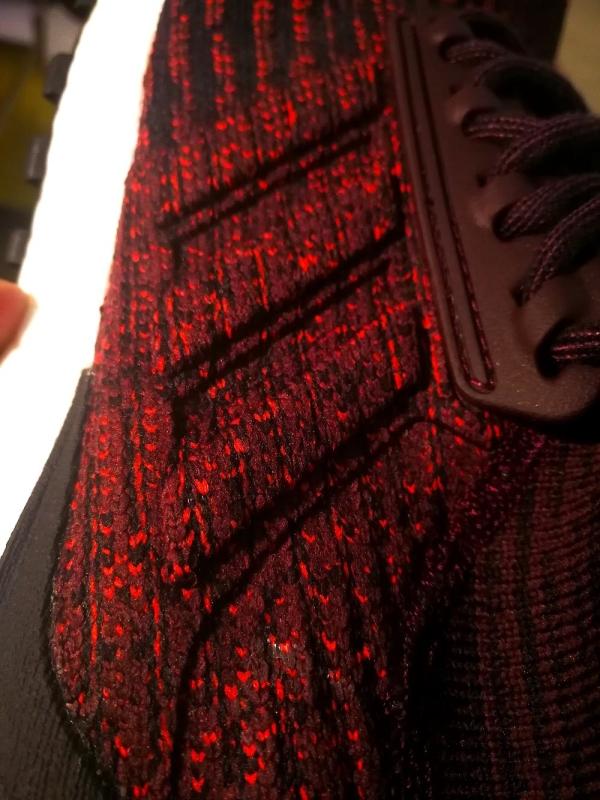 Very classy and worthy of major street cred. Frankly, now that I have decided to use it only for gentle runs, it is a great pair to travel with: decent for runs and looks good paired with jeans and such.
Few running shoes can crossover to the urban-cool side with such ease.
So it can be a two-in-one shoe which is great because, given their price, you could (almost) buy a pair of standard Adios Boost and a Stan Smith for the price of one of these!
One caveat though: this is the first Boost where I wore a size smaller. Adidas generally used to run a size smaller and I would usually fit into a UK9 (Adios Adizero Boost, PureBoost, Ultra Boost) but this time I had to get a UK8.
Either they have changed their lasts to reflect an upgraded sizing format or maybe because of the sock-upper I had to go a size down. Either way, do try it before you get it and definitely don't go by previous sizing guidelines that you may have.
So, if my mixed signals have made me sound like a fence-sitter on this, let's do a quick sum-up.

Verdict
The Adidas Ultra Boost ATR, in many ways, reminds me of the Ford Model T.
Remember what the late founder said, 'You can have any color Ford T as long as it is black.' Similarly, this is a lovely all-terrain running shoe provided you stick to roads and gentle tracks.