As far as descriptions go, the Terrex Free Hyperblue Mid lives up to the "hyper" part of its name by being extremely light. Indeed, adventuring in this hiker from Adidas translates to freer maneuverability without dumbing down overall performance. Wearing one also means being in an exceptionally plush and beautifully crafted boot that really reflects its premium asking price.
Pros
Amazing comfort
Unbelievably featherweight
Supportive ankle cuff
Grippy on wet surfaces
Exceptional craftsmanship
Easy access
Stylish
Cons
Among the most expensive
Somewhat wide
Who should buy the Adidas Terrex Free Hyperblue Mid
The Terrex Free Hyperblue Mid is a sporty-looking urban hiker that naturally reels in attention with its oversized heel collar. It's for you if:
You've been looking for an over-the-ankle trail boot that weighs no more than 500 g per pair.
Extra-supportive boots, particularly on descents, are what you need.
You're a fan of the Boost midsole and the high amounts of underfoot comfort it provides.
Hiking boots that look modern and casual are what you collect.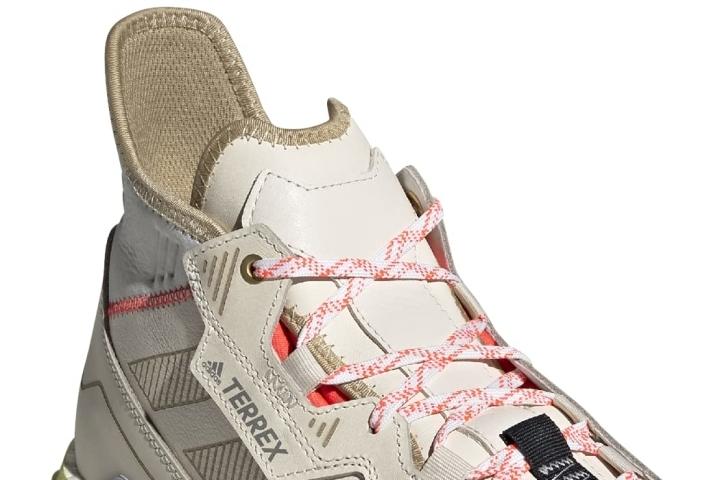 Who should NOT buy it
For $90 less, you can get so much more (waterproofing AND insulation) in the Columbia Fairbanks Omni-Heat Boot than in the ultra-expensive Adidas Terrex Free Hyperblue Mid. And if you're gunning for a sock-like fit, check out the knit Adidas Terrex Free Hiker instead.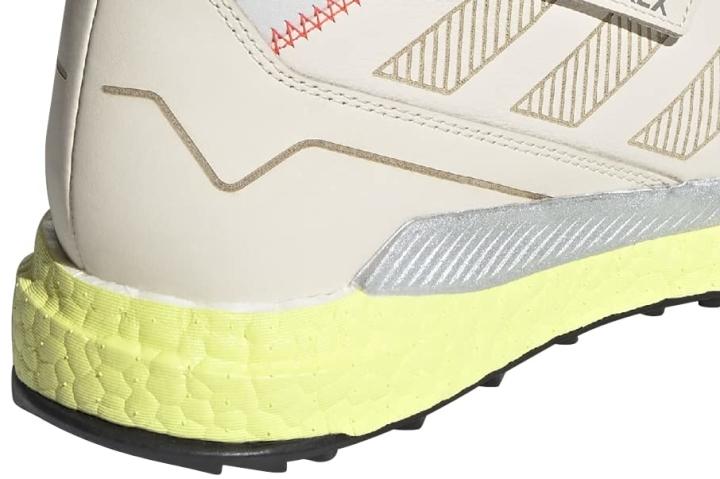 Walk-on-clouds comfort
Almost every reviewer is convinced that the Adidas Terrex Free Hyperblue Mid is extremely comfortable. One of them says that it provides "amazing comfort for hiking," whether on paved tracks or moderately rugged terrain.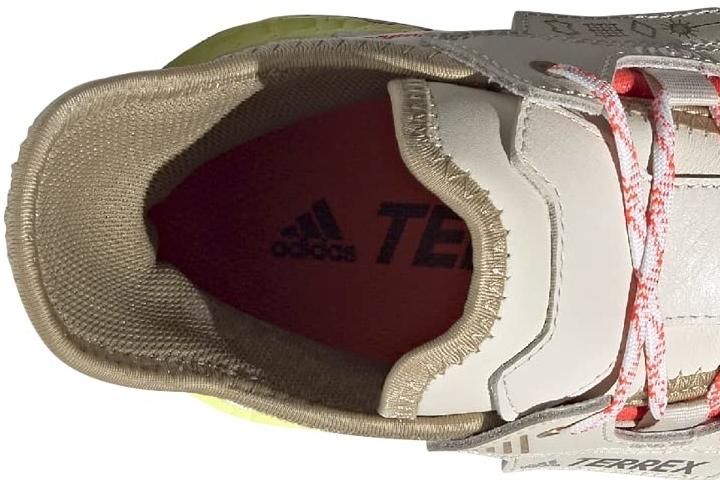 Reassuring around the collar
The Terrex Free Hyperblue Mid provides good ankle support, according to experienced trail-seekers. Because of this, it has become one tester's "new go-to shoe."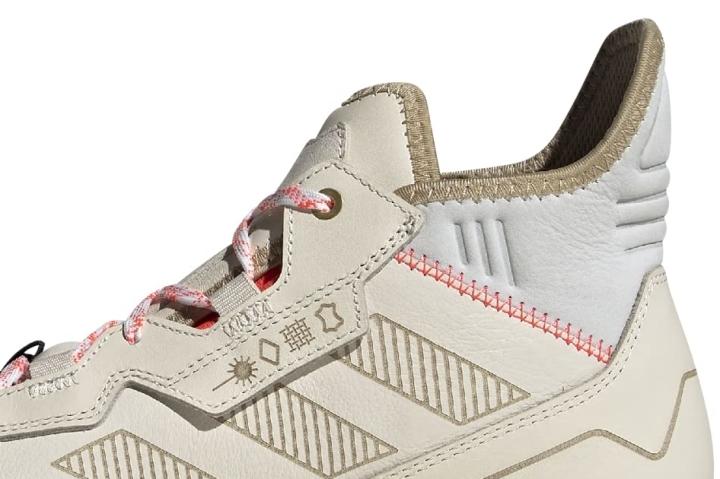 The barely-there Adidas Terrex Free Hyperblue Mid
When it comes to lightness, the Terrex Free Hyperblue Mid is, arguably, the one to beat. Case in point: this bad boy weighs only 210 g per shoe! To paint a more vivid picture of its incredible weightlessness, this mid-top hiking boot, compared with most hiking sandals, is 111 g lighter apiece.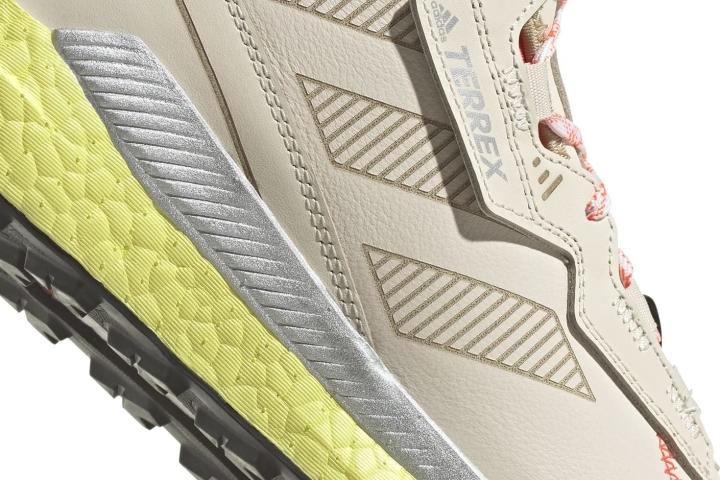 Far from being budget-friendly
If not on sale or without a discount, the Adidas Terrex Free Hyperblue Mid's 220-dollar list price serves as a huge deterrent. Also, if you put its MSRP side-by-side with the average cost of hiking boots, which is $196, you'll understand how expensive the shoe in question really is.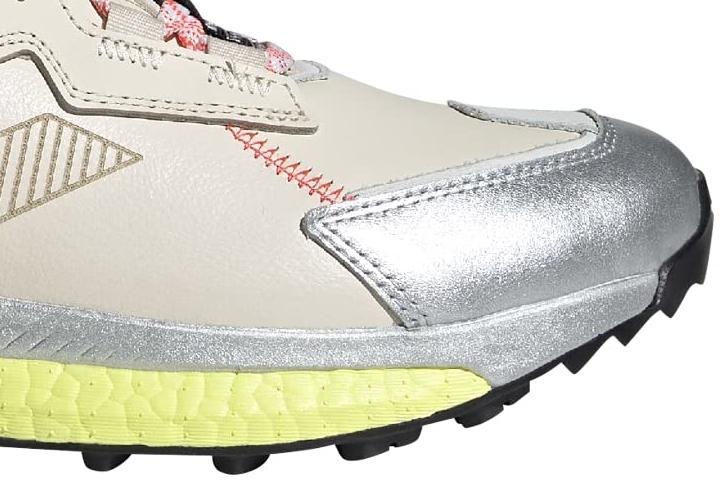 Remarkable stickiness
With its chevron lugs and sawtooth-like protrusions, the featured boot's outsole can latch on to varying surfaces with ease. The Terrex Free Hyperblue Mid has also been reported by its wearers to produce more than enough grip in wet and snowy conditions.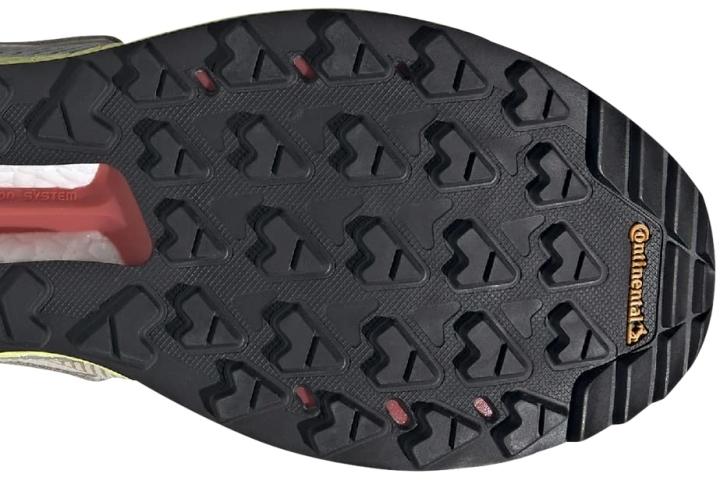 Terrex Free Hyperblue Mid: A compliment machine
"These shoes look really good" is how a trail-goers finds the Terrex Free Hyperblue Mid. It's a stunner that looks great with joggers and jeans. The boot being a compliment machine may be linked to its quality materials and almost handcrafted finish.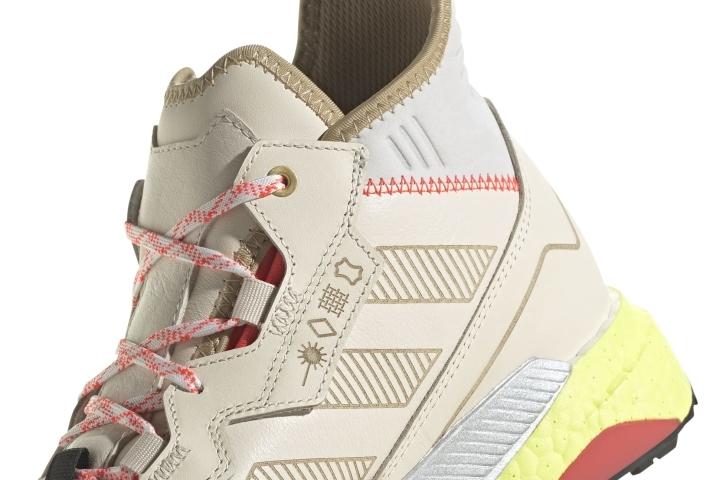 Not for super-narrow feet
There are those who say that the Terrex Free Hyperblue Mid is a bit too roomy overall.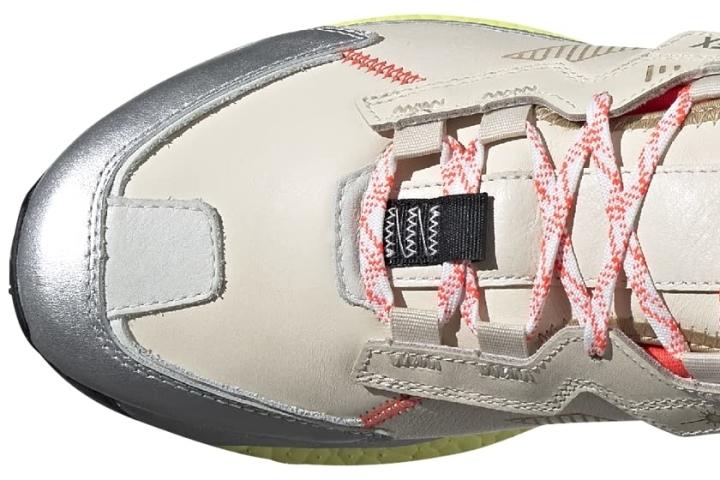 Slides right on
The elf-ear-looking heel collar of the Adidas Terrex Free Hyperblue Mid makes slipping into the boot a cinch.