Adidas Terrex Free Hiker GTX review
The Terrex Free Hiker GTX's main strength lies in its versatility. It works well for those who want a light hiking boot for more casual or fast-paced half or full-day expeditions. It will appeal to city dwellers and workers who are on their feet all day and value comfort without the need for too much additional support or protection. The lightweight construction also makes it an appealing choice for traveling.
Who should buy it
The shoe is for you if you:
need a waterproof hiking boot for wet and rainy conditions
want a hiking boot that can also be used for simple walks in the park or in well-maintained trails
prefer a hiking boot for fast-paced expeditions
value comfort over support and protection
Who should NOT buy it
Look away if you prefer:
The Terrex Free Hiker GTX runs large
Like all Adidas footwear, the sizing of the Terrex Free Hiker GTX runs a little larger than other brands.
Broad, roomy toebox
The fitting is roomy. The boot is reasonably wide especially through to the toebox which is broad and high with plenty of space.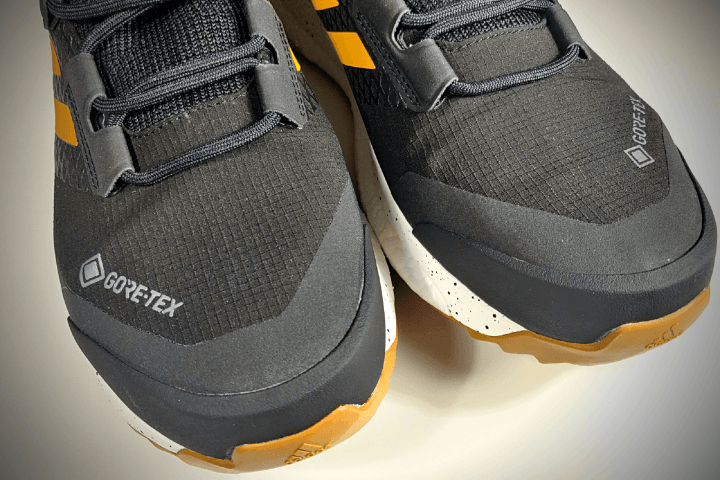 Best for faster paces on less technical surfaces
I tested the Terrex Free Hiker GTX on some very wet days covering forest trails, riverbanks, loose slate scree slopes, and mountain paths. These walks ranged from short ambles with the family up to 6-7 hour hikes. I also used the Terrex Free Hiker on my daily commute, a 5km walk on city pavements. The Terrex Free Hiker GTX's lightweight build lends itself best to faster paces over shorter distances on less technical terrain.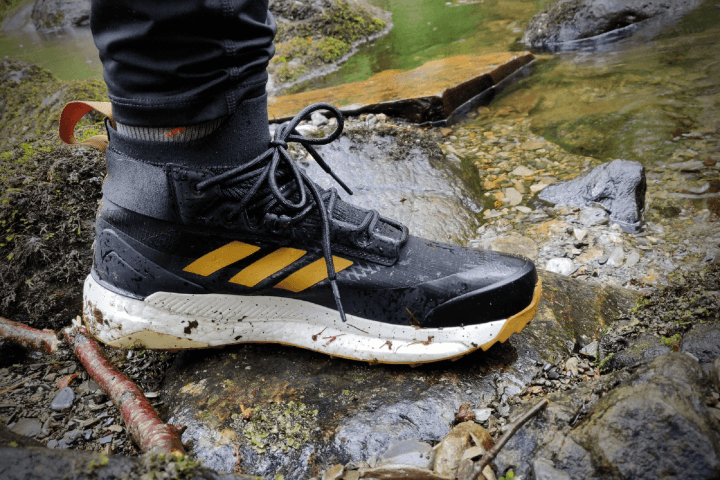 Can be unsettling on challenging terrain
The Adidas Terrex Free Hiker GTX has a generous 33mm of Boost at the heel and 22mm of midsole at the forefoot. By itself, this much Boost risks, becoming too bouncy and difficult to control.
The signature rebound from the Boost midsole can be both a blessing and a curse. It performs best on flatter, predictable surfaces like man-made trails and gravel paths. On gnarlier terrain, the bounce can be unsettling and feels wobbly and undependable.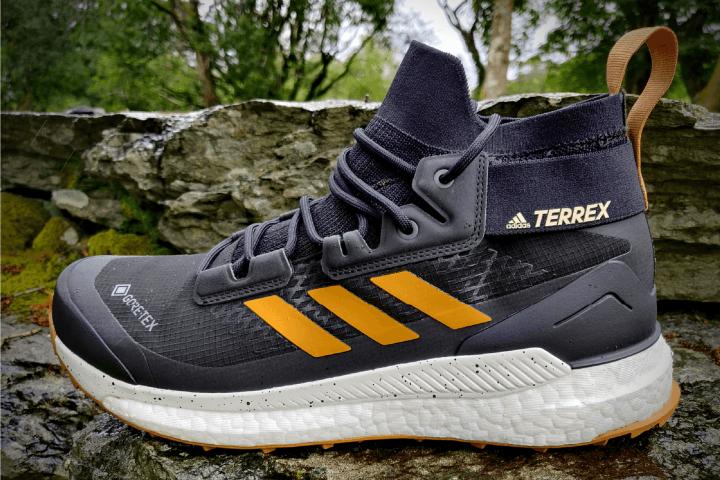 Lacks security and ankle support
The Primeknit section of the upper provides a bootie or sock-like fit. While this conforms comfortably around the foot, it lacks the security and ankle support of a traditional hiking boot. Like many knit constructed bootie uppers, e.g. the Mizuno Wave Neo, the effectiveness relates to the tension within the knit.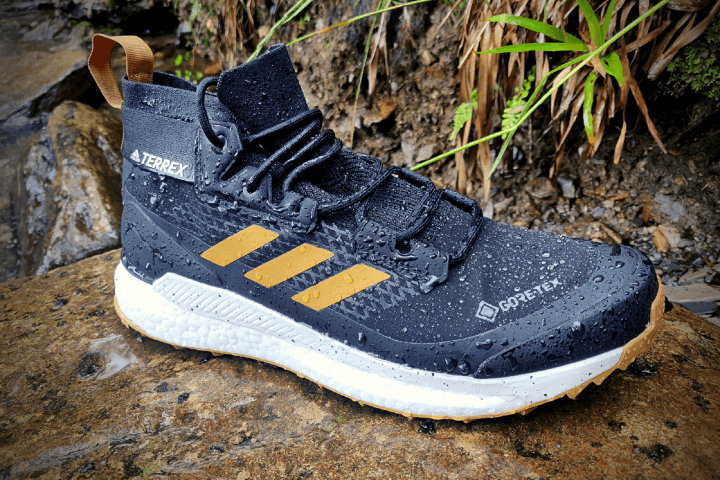 Comfortable underfoot feel
The Boost midsole is exceptionally comfortable and protective underfoot, even if there isn't much ground feel. The 10mm heel-to-toe drop works well and most walkers will welcome this when covering longer distances or carrying a loaded pack.
No break-in period
The Terrex Free Hiker GTX is comfortable straight out of the box. The Primeknit section of the upper is stretchy enough to prevent any hot spots and functions well without any wearing in period. It is, however, worth taking a little time to experiment with the lacing. It can be tricky to strike a balance between adequate foot lockdown and comfort whilst avoiding lace bites- more on this later.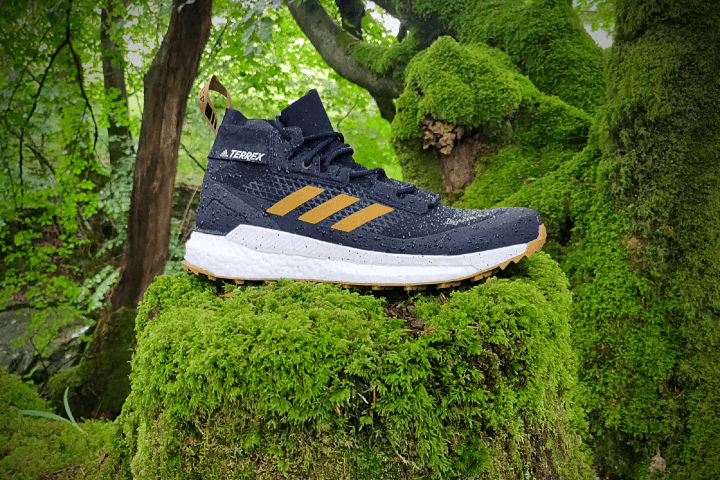 The Terrex Free Hiker GTX is extremely lightweight
The Terrex Free Hiker GTX feels light on the foot, almost akin to a trail running shoe. At 14.8oz/420g, this puts it very much in the lightweight category of hiking boots (mid-cut hiking boots have an average weight of 19.5oz/553g).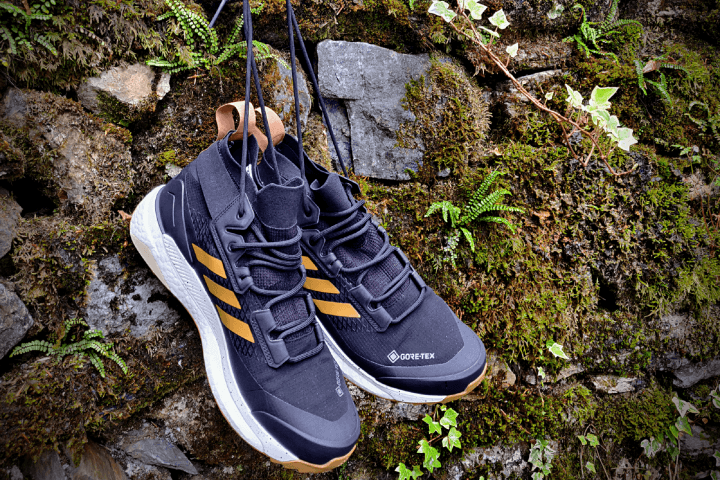 Not 100% waterproof
The main body of the upper is constructed from ripstop fabric with a waterproof Gore-Tex membrane. This section of the shoe repels water beautifully. Water drops to bead up perfectly on the surface and I was able to stand in shallow water without any leakage.
Of course, waterproofing is only as good as the weakest component and this is the Primeknit. Although it seems to have some kind of water repellent coating, water soon soaks through into the boot from the knitted 'tongue' area of the shoe. As a result after an hour or so in wet weather, despite the Gore-Tex section working perfectly, the waterproof boot starts to feel quite damp.
A similar problem occurs if you step into anything more than ankle-deep water. This is the first compelling reason to replace the Primeknit with a 'proper' tongue.
Exceptional grip on challenging surfaces, except deep mud
The Continental rubber outsole is a tried and tested Adidas favorite. It performs well on both wet and dry ground. In particular, it is accomplished on one of the most challenging surfaces I have come across - wet slate.
The 4mm, dual-direction lugs provide good grip both on ascents and descents. The lugs are adequately spaced to prevent mud and debris clogging up the outsole and broad enough not to feel unwieldy on the road. It's only on deep mud that the grip starts to struggle.
The movement of the foot and ankle within the boot greatly detracts from the boot's reliability on technical and slippery ground. By far, I much preferred the experience of walking along roads or man-made gravel.
Too hot on warmer days
Whilst the Gore-Tex section is quite breathable, the Primeknit upper section runs warm- it's like wearing an additional thick pair of socks around the upper foot. It becomes too hot on spring and summer days.
Conclusion
If I had to have only one hiking boot, the Terrex Free Hiker GTX wouldn't be my first choice. However, it works well as a companion to a more robust and supportive boot for those faster, shorter hikes on less demanding terrain.
Whether you will enjoy it, it comes down to your preference for the lively Boost midsole and how effectively you can achieve a comfortable and secure foothold. The Primeknit section of the upper is the Terrex Free Hiker GTX's weakest feature, it compromises to comfort, stability, protection, and frustratingly the waterproofing.
Compare popularity
Interactive
Compare the popularity of another shoe to Adidas Terrex Free Hiker GTX:
Adidas Terrex Free Hiker GTX video reviews