The Adidas Supernova ST was able to impress many of those who have tested it. Runners were generally satisfied with its performance, its features and its stability mechanics. They thought that it was efficient on the roads. But there were some who weren't able to acclimate well to it, reporting some quirks in its design and components.
---
Verdict from 7 experts and 100+ user reviews
6 reasons to buy
The looks of the Adidas Supernova ST gained positive feedback from many of those who have tried it.
Runners generally described their time wearing this shoe as 'comfortable'.
Consumers welcomed the option to choose from a variety of colorways.
The entire shoe felt suitably lightweight, according to those who have tried it.
The stable platform was apparently able to help those with pronation concerns.
The outsole's grip capability received praise for being efficient on the asphalt.
2 reasons not to buy
A runner reported some slipping in the ankle area due to apparently getting less support from the collar.
The midsole's boost™ wasn't as noticeable a feature as expected, according to a tester.
Bottom line
The Adidas Supernova ST was able to impress many of those who have tested it. Runners were generally satisfied with its performance, its features and its stability mechanics. They thought that it was efficient on the roads. But there were some who weren't able to acclimate well to it, reporting some quirks in its design and components.
Best price from 54 shops
We earn affiliate commissions at no extra cost to you when you buy through us.
77% say it's true to size.




We earn affiliate commissions at no extra cost to you when you buy through us.
Our reviews
This could be considered an exaggeration by many; I would ask them to consider this question: What do you want from an all-around pair of running shoes?
To answer this question properly, it is worth me explaining a little about me, and how I have tested these shoes. I'm 6'1" and 180lb (or as I prefer to think 185cm and 81kg).
I'd have the build of a runner if I'd have started earlier in life, but these days I enjoy eating, and work gets in the way of training, so I'm not going to be breaking two hours any time soon!
I get out to run four times a week, on average, and in an attempt to prolong the life of my shoes, I have three (or four) pairs on the go. My favourites are my Adidas Supernova ST's.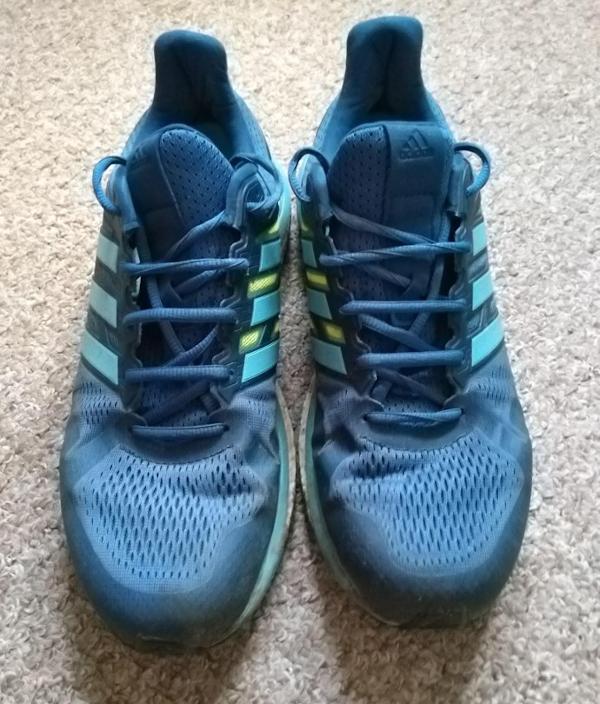 I'm on my second pair. And they are my go-to shoe for my long runs. I also wear them for the occasional bit of speed work, or an easy midweek run, but never more than twice in a week.
They have taken a fair beating, but they have allowed me to really get to know them. Let me share my findings.
Comfort
If you are putting in the miles, there are few shoes that I've come across that hold your feet as securely without leaving you broken at the end of a run.
The upper is cosy, without compromising breathability and the whole construction oozes seamless padding, ensuring that there is minimal chance of picking up blisters. Even on a cold, wet run, my feet never feel cold or overly wet. They still feel connected to my body and the ground!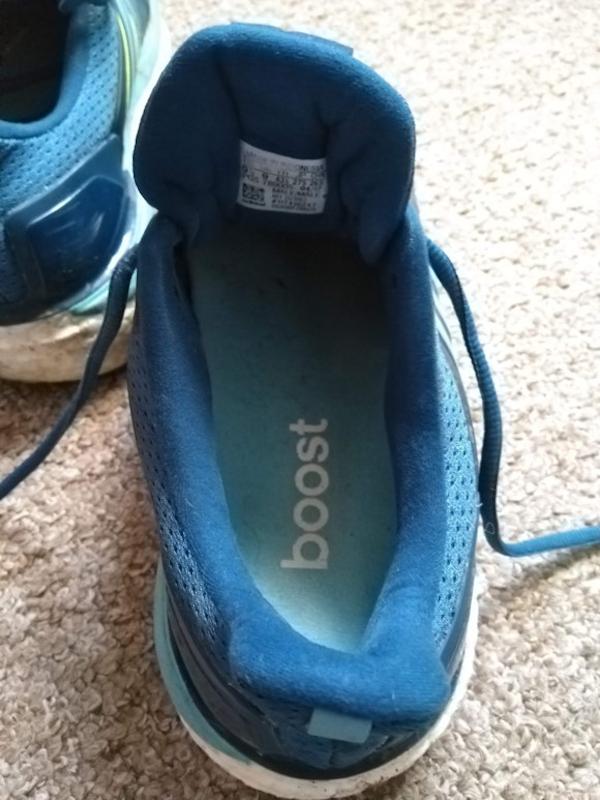 The toe box is roomy. I don't require an extra-wide toe shoe, but the little extra room that the majority of Adidas shoes offer is welcome. Around the heel is a cosy well-padded collar, which like the rest of the upper tells you that you are wearing a quality shoe.
The midsole offers a plush ride that is akin to walking across pillows, but not so soft that you lose feel for the terrain that you are traversing.
I still remember the pre-Boost days. The Adiprene midsole was great, but the Boost update improved the comfort as well as the performance.
Durability
I'm on my second pair, and the first racked up 900km without any issues. My second pair are 660km old and showing no signs of falling short of this mark (I have a sneaking suspicion they may just reach 1000km).
The only overt signs of wear are on the laces. The friction of the lace holes have caused some mild fraying of the laces themselves, but the sheer quality and detail of this shoe shine on through as there is no loss of tension when you lace the shoes up.
Stability
The Torsion bar is as excellent as the day it was introduced. I freely admit that this may be the main reason that I've never strayed away from Adidas as I've always known what to expect from their stability shoes.
My foot is held in the correct position throughout each stride, and I've never suffered injuries due to my overpronation.
Traction
A quality outsole, provided by Continental, grips as well in the wet as in the dry, be it on pavement and road, or the hardened dirt track of a river path or through the fields. You are not going to slip and slide around.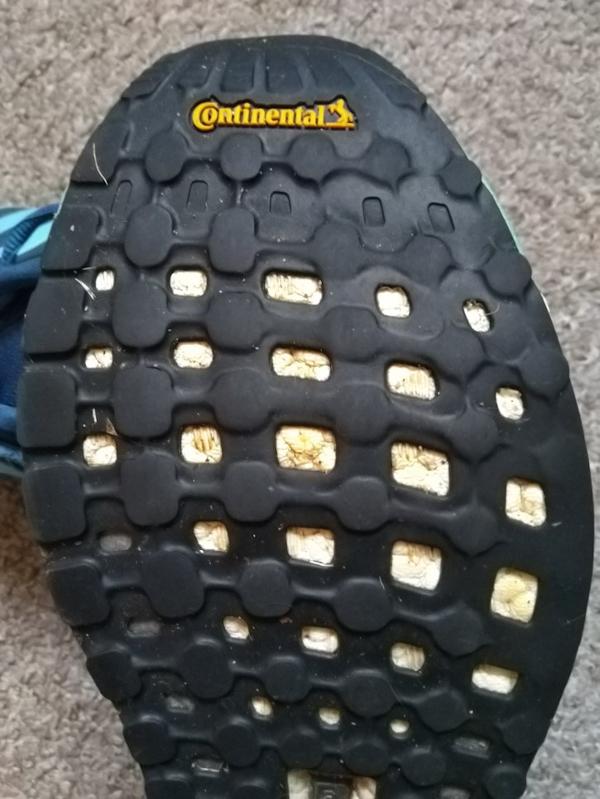 The rubber has enough depth to ensure traction is maintained as the shoe ages and develops worn edges from the repeated battering that this shoe is capable of taking.
Response
I've worn these shoes for speed sets, parkruns, up to a full marathon. Never have I felt these shoes weigh heavy on my feet. They are not as light and nimble as a top-end racer, but they are not pretending to be.
Speed sets can be completed giving you confidence that the Supernova ST's will help guide you toward the quickest longer distance times that you are capable of (for me that includes a 1:34 half marathon and a 3:33 marathon, both of which are PB's in the last five years.)
Tempo runs and fartlek sessions are fun in these shoes. You feel connected with every change of pace. Long distance is where these shoes excel.
However, the Boost midsole provides the return of energy that you are hoping for, and it really is possible to run negative splits in these, feeling comfortable at the end of it all.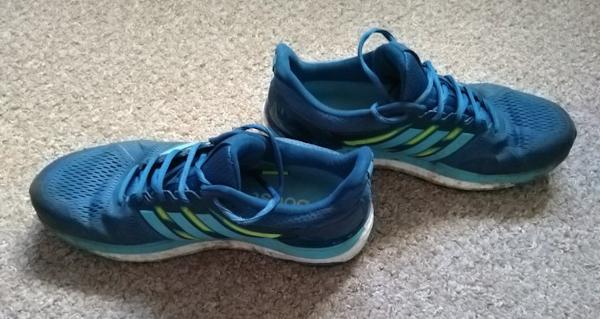 Aesthetics
Here I may be compelled to accept that the Supernova ST's looks more mediocre, but then I'm the kind of guy who prioritises function over form. I've only ever had the blue, and out of choice, I'd never had the white. But, if that were my only choice, I'd still be all over them like a rash!!
Running might be about fashion to some, but when you realise how much joy a good run can bring you, you don't care about how you or your shoes look.
The colourways for this shoe are generally appealing, and Adidas has ensured that there should be something for everyone with more options available than I can count.
These will be a hard act to follow. I speak with knowing confidence coming from the point of view of my sports performance analyst.
He has not only recorded me on two occasions running in these shoes, and commented upon how stable they keep my foot through the contact period with the ground, but he also runs in a pair himself!!
Furthermore, we are both gutted that you can no longer buy these in the sizes that we both require. We even check in with each other from time to time to see if either of us has come across a supplier with some old stock.
I visited my local independent running store to begin the process of finding a replacement for these faithful servants. I was surprised that two different assistants noted that they had served other runners in my position, looking for the magic that the Supernova ST provided.
Why oh why did I not buy more pairs when I had the chance?
When all is said and done, I will continue to run in these shoes for the rest of my running career, if Adidas was still making them!
I will be gutted when I finally have to retire these, but after more than 1500km in Supernova ST's, I can confidently award these shoes a strong score.
Updates to Adidas Supernova ST
The Adidas Supernova ST is a stability running shoe that's built for those who need support for their pronation concerns. Basically, its mid-sole unit is made up of components and features that are meant to help the foot in achieving a neutral stance when taking each step. Combined with cushioning systems and an ergonomic design, this shoe's platform aims to keep the runner as comfortable as possible while running.
The upper unit of this Adidas running shoe features a fabric that has the quality of woven cloth. It's designed to act as a second skin, wrapping around the foot in a secure yet agreeable manner. A combination of traditional and fused overlays ensures a snug fit that's adjustable.
The outsole unit of the Adidas Supernova ST is flexible. Designed to assume a web-like shape, it accommodates the natural movement of the foot as it goes through the gait cycle. The rubber material used here is durable, but it doesn't sacrifice the heel-to-toe transitions.
Size and fit
The Adidas Supernova ST has a standard running shoe length. It follows the regular preference of runners in terms of sizing. The medium width variant is available for both the men and women's versions. It accommodates those with medium-sized feet.
Outsole
Just like the popular Adidas Ultra Boost, the Supernova ST uses the STRETCHWEB design in the outsole to ensure flexibility. It has a webbed pattern that runs the entire length of the external sole unit. Spaces and grooves assist in keeping the platform flexible. Slightly elevated nubs enhance traction.
The rubber compound that's used for the outsole unit of the Adidas Supernova ST is manufactured by Continental™. Its purpose is to protect the rest of the sole unit from the abrasive nature of the asphalt. It also delivers traction, which is essential for all movements on the surfaces.
Midsole
Boost™ is the main cushioning material used for the mid-sole unit of the Adidas Supernova ST. Made from compacted TPU pellets, it efficiently provides a responsive and comfortable ride.
The medial side of the platform has dual-density boost™, which helps in correcting overpronation. The responsive nature of the material still ensures energy-return and a springy step.
Between the front and rear sections of the mid-sole is the TORSION® SYSTEM. It supports the arch of the foot and keeps it stable throughout the running session.
A traditional sock liner is placed right above the main mid-sole unit. It adds a bit more cushioning to the underfoot.
Upper
Engineered Mesh is the main fabric used for the Adidas Supernova ST. It's a flexible material that naturally follows the shape and movement of the foot. Its open construction allows air to seamlessly enter the shoe and keep the foot cool and dry.
The Adidas Logo overlays are added to provide a snug and secure wrap. They connect directly to the lacing system, thus making it easier for runners to adjust the fit accordingly.
The FITCOUNTER is a molded heel counter that's visible externally. Its job is to hold the rear of the foot in place and prevent it from wobbling inside the shoe. It also prevents accidental foot-removals.
Rankings
How Adidas Supernova ST ranks compared to all other shoes
Popularity
The current trend of Adidas Supernova ST.