Our reviews
My love of running nearly matches my love of Adidas shoes. You may think that this means that I'm about to wax lyrical about my current pair of training shoes, but for the first time ever, I don't enjoy lacing up a pair of runners.
All of my considerations have been arrived at by wearing these shoes 36 times from 5km to 30km training runs, running speed sets through to tempo block sessions, and some long slow miles. I have treated these as I would any heavyweight pair of training shoes.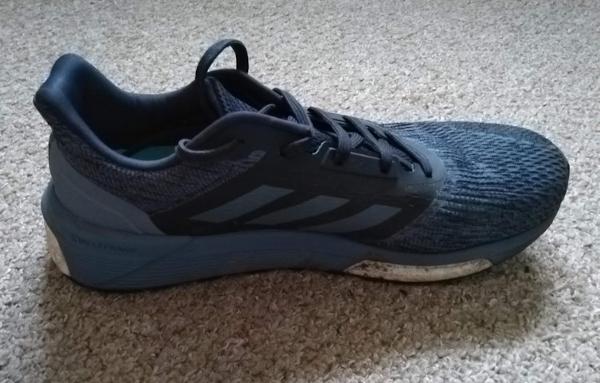 As an overpronator, stability shoes are a must for me, or I end up injured without them. This is even more important now that I have stepped up as a marathoner.
As a frame of reference, I have been using Supernova Sequence for a long time (six pairs over three iterations) and they have treated me well. So, when it came to the Supernova ST, I was beside myself with how comfortable they were.
All this meant, with a little research, that I had great hopes for the Solar Drive ST's.
Out of the box (brand new on the left, and on the right 430km of training later), the shoe is attractive. The prime knit is a striking addition, one which I was dubious of, but now love.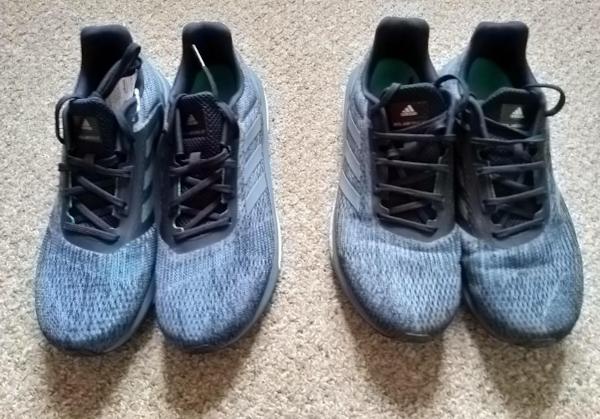 The comfort of this upper is pleasing as it offers great ventilation. In many respects, this is an upper that I would love to have throughout all warm-weather training.
My only real complaint about the upper is the heel collar. It just is not as plush and as comfortable as I have become used to.
A little more padding in this area really would have left my feet feeling a little more secure, much in the way that I have become accustomed to with other Adidas offerings.
Overall, the fit is good, and the sizing is pretty much on a par with previous Adidas offerings. But, to compensate for the less plush upper, I went down half a size with these, still with plenty of room for my toes!
Leaving the midsole aside for a moment, the outer sole is modelled on the Continental rubber pattern of the Supernova ST, without the stamp. This hasn't proven to be a problem, though.
The wear has been minimal in the 430 km that I've put them through so far (shown on the right in both pictures); even better when you consider that I have a mid to fore-foot strike pattern and these are designed for heel strikers.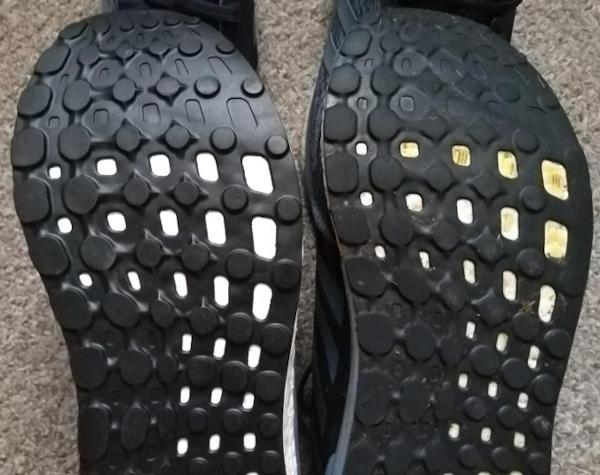 The grip on offer here has earned my trust and even after a sharp downpour, I can take these shoes out safe in the knowledge that they won't allow me to slip and slide on the greasy tarmac surfaces.
For all the positives, there is a sticking point: the midsole. The plush ride that the Supernova family has offered does not exist in the Solar Drive ST.
This shoe is a little too hard and unforgiving for the long miles that I like to put in. The blue bar down the inside of the shoe is there to show you that Adidas has made a support shoe with my old friend, the "Stableframe".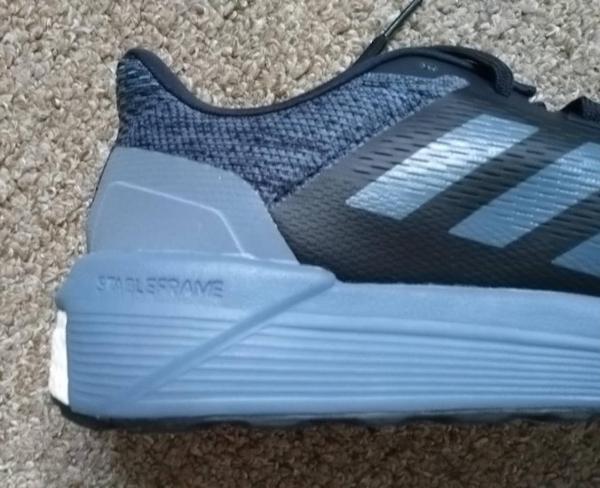 At first, I was delighted to see the tried and tested stability structures featuring so prominently. In all honesty, it's the reason that I bought two pairs at the same time!
But, whether the Stableframe has been updated, the Boost midsole has been tinkered with or the Solar family of shoes, with its fabled propulsion rail, is meant to ride a little harder, I just don't want to run as much in these shoes as I should!
With each and every step I take, I get little to no feedback and what feels like a short, sharp shock through the length of my leg. There is no absorbency present, so I feel as though my legs are working twice as hard as I need to.
A good shoe, and I'm glad to say that I have owned some, has left me feeling that it is urging me on to take my next stride, that 'it has my back' by propelling my feet forward to help me reach my potential.
So what am I missing?
Some may ask, 'but surely this harder midsole gives the shoe a racier feel?' No! Weighing in at 310g means that this should be a resilient shoe designed to offer some comfort as you push on through your longer training runs.
In fact, this shoe claims to be up to the task of putting in the long-distance mileage as one of its primary purposes. I would much rather have a little more weight to the shoe and a touch more comfort, for those truly long training runs.
Going above ten miles in these is a real ask and not something that I relish in the slightest (only four times in the 36 runs that have made up my 430km of usage).
If a shoe is too heavy to give you the edge/confidence in a race and too hard to put in the long slow runs without returning home feeling a little beaten up, what is it for?
I could suggest that this would make an okay tempo run companion, but I prefer to be acclimating myself to the show that I will next be racing in. I am at a loss as to the purpose of these shoes.
I fully accept that they may not be the best shoe to meet my needs, but I would always expect a support shoe to support you in putting the long miles in if that is its primary purpose.
I will be forever grateful to Adidas for the years of excellent running shoes that they have provided me with, but for the first time in a long time, I'll be looking for a new brand of shoe to do my long runs in.
All this leaves me thinking that with the prospect of better shoes out there, I can only award these shoes this score.
Updates to Adidas Solar Drive ST
Like the Adidas Pure Boost and Ultra Boost, the Solar Drive ST also utilizes a StretchWeb outsole. This rubber compound looks like a web that protects the midsole foam from the abrasive nature of the roads.
The shoe also uses the notable Boost technology. This material is described to be a durable foam that has thousands of cushioning pellets. These pellets are molded together to create a single unit which delivers a responsive and livelier stride.
Size and fit
When it comes to length, the Adidas Solar Drive ST runs true to size. With the utilization of a mesh upper, it is sure to provide a breathable and comfortable feel. This material also lets the runner experience a more supportive fit throughout the run. B – Medium is the available width for the women's version while D – Medium for the men's.
Outsole
The Adidas Solar Drive ST features a StretchWeb outsole. This material is designed to provide flexibility to the foot. It adapts to the natural movement of the foot, delivering a more satisfying ride. It also gives durability and reasonable amount of traction for paved surfaces.
Midsole
The Solar Drive ST utilizes the notable Boost technology. This unique Adidas midsole foam is engineered to deliver a powerful and responsive cushioning system. This material is made of TPU that provides maximum energy return. It uses thousands of small energy capsules that efficiently unleash and store energy in every step.
Along with the hard-to-beat midsole is the symmetrical Solar Propulsion Rail. The goal of which is to increase stability for a more efficient and smoother transition.
Placed on the medial side is the Adaptive Stableframe. This feature of the shoe is described to be a firmer foam that offers additional stability. This material is significant in guiding the foot from heel strike to the toe-off phase.
Upper
The upper of the Adidas Solar Drive ST uses an engineered mesh material. Offering a sock-like fit, the lightweight mesh aims to deliver a more comfortable and supportive fit. It also keeps the foot well-ventilated throughout the run.
Along with the mesh upper is the forefoot ribbing. This component of the footwear is meant to provide added support whenever necessary.
The shoe comes with a Fit Counter that provides a more secure and comfortable fit. This also allows the Achilles to move freely.
To create a supportive and stronger feel, the Solar Fitwing tongue is used. This component of the shoe is extended down the foot to enhance stability and support throughout the run.
Compare popularity
Interactive
Compare the popularity of another shoe to Adidas Solar Drive ST:
Adidas Solar Drive ST video reviews