The Adidas PureBOOST DPR trainer running shoe retails for $150. That's a good amount of money. Is the shoe worth it?
See the verdict below.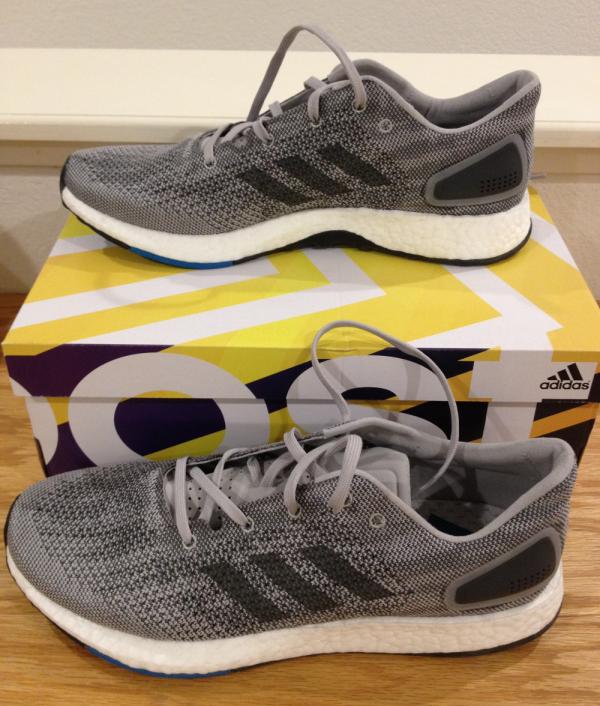 Aesthetics
The Adidas PureBOOST DPR is a highly-attractive shoe that offers hip urban styling. It can be worn while running, working – the shoe looks great with jeans, or clubbing.
In a sense, the PureBOOST DPR is a covert running shoe – a functional Clark Kent model sneaker that turns into Superman's running weapon when the need arises.
Fit
Looking at the shoe, it appears to be low to the ground and offers minimal headroom over one's toes. However, the PureBOOST DPR's stretch web upper means that toes are not scrunched.
To reuse an oft overused phrase, the fit is slipper-like. My initial impression – which turned out to be pretty accurate, is that the PureBOOST DPR is like a cross between a light, fine quality trainer and a racing flat.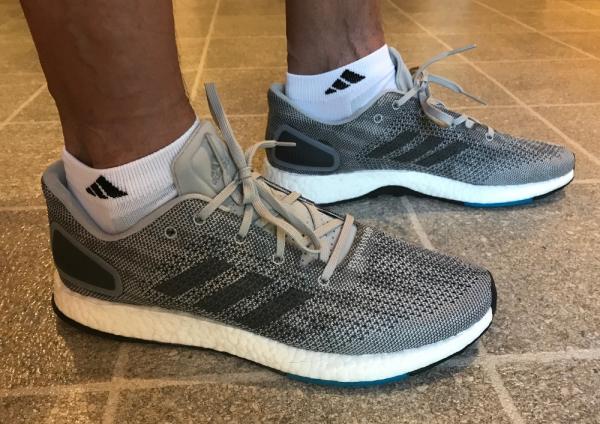 Thus, the letters DPR may stand for daily performance runner.
This shoe is said to offer "phenomenal energy return." (Running Warehouse) It weighs 9.2 ounces but feels lighter on one's feet. It has an 8mm drop and is built on a curved last.
The forefoot area is broad (broader than that on the competing Reebok FloatRide Run) and yet the narrow heel counter at the rear fits quite snuggly and securely.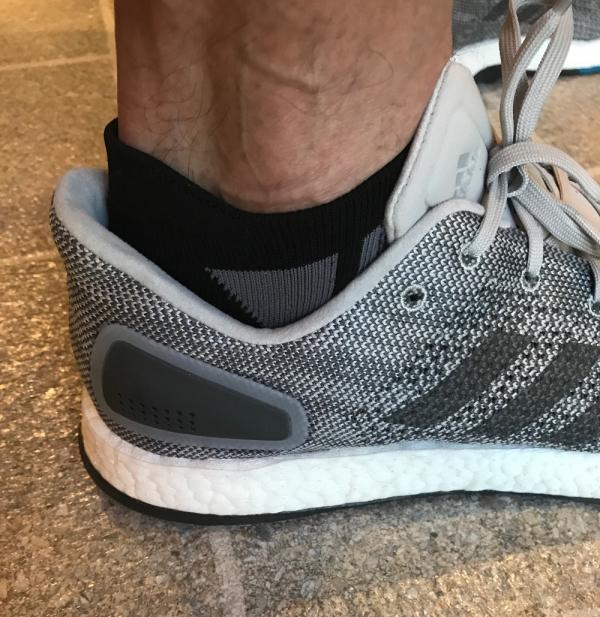 The somewhat dull – compared to the rest of the shoe, laces are flat but once tied, they stay that way.
Since it's labeled as a neutral running shoe, there's no medial post on the PureBOOST DPR. However, the shoe offers tons of stability for anyone who is less than a heavy pronator.
The Adidast BOOST
What is BOOST?
According to Adidas, which provided a sample of the PureBOOST DPR, it's a "lightweight midsole composed of PPU pellets" which make for a "soft and responsive ride."
I found the responsiveness to be well tuned; there's enough springiness and bounce back to preserve energy, but not enough to destroy it.
The PureBOOST DPR feels fast on asphalt, due in part to the fact that there's little-wasted movement or energy.
Grip
The PureBOOST DPR also feels fast on a dirt covered concrete track.
Surprisingly, despite the relatively flat sole, the shoe offers excellent grip. There's no slippage of the type one experiences with slick flats and the ground feel is more than adequate.
For those who get their miles on tracks, this would serve as an outstanding pace trainer.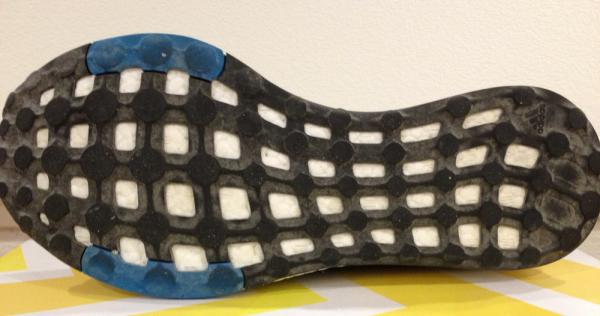 Performance
The natural landing area in this shoe appears to be between the midfoot and the lower forefoot. Others, of course, may find differently depending on their running style.
The PureBOOST DPR can accommodate forefoot, midfoot or heel strikers, and is also at home as a supporter of slow, moderate or quick training runs.
There's more than sufficient protection in the PureBOOST DPR's midsole to support long training runs. Yet I experienced one issue with the shoe that I hope may be addressed by the time version 3 is released.
The shoe's landing pattern sometimes made my metatarsals feel bruised.
I would love to see a small metatarsal pad added to alleviate this; alternatively, it might be remedied by a small rubber slab on the underside of the supplied insole.
(There are, of course, commercial aftermarket insoles that provide such padding.)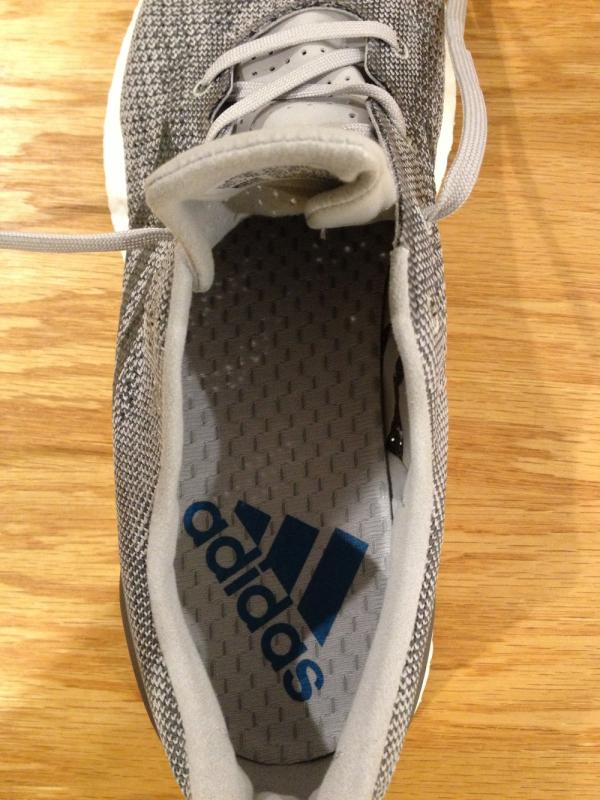 An unexpected strength of the PureBOOST DPR is the fact that it produces virtually no noise as it strikes rough and soft surfaces.
Like the new Mizuno Shadow, the shoe produces no annoying creaks, pops, or flopping sounds in action.
If the PureBOOST DPR were an automobile, it would no doubt win the J.D. Power Initial Quality award for the absence of annoying squeaks and rattles.
Verdict
Why spend $150 on a pair of running shoes?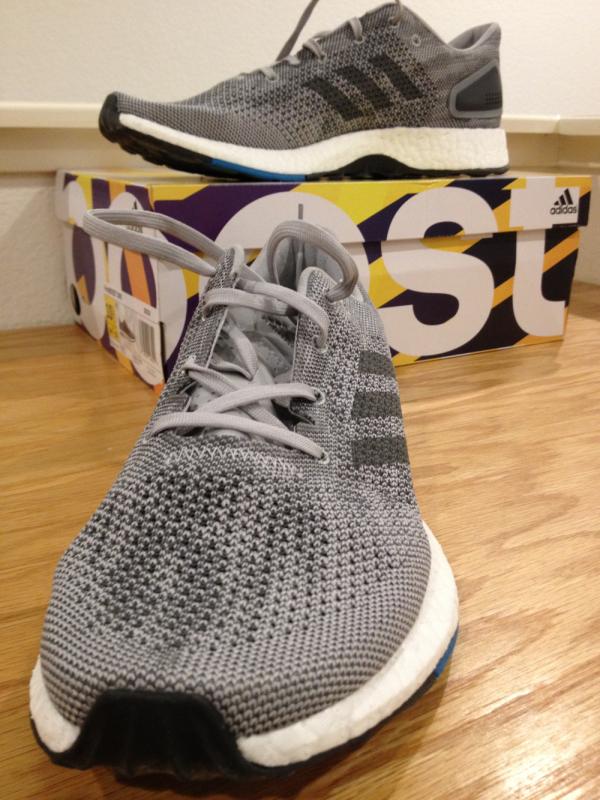 Well, in the case of the Adidas PureBOOST DPR it's because the shoe does everything well. Extremely well. Almost mind-blowingly well. The shoe displays no notable weaknesses.
This is a shoe that can be casually worn every now and then, or used and abused as a daily trainer. The PureBOOST DPR is happy to serve as a protective runner on slow jaunts or as a barely there speedy racer.
This would be a great shoe to wear while completing one's first 5K, or seeking a PR in a 10K or 10-miler. It would, without doubt, hold up well on distances between 13.1 and 26.2 miles.
And once you've completed 6.2 or 26.2 miles, the Adidas PureBOOST DPR will happily transport your tired feet to the nearest pub to properly celebrate your proud achievement.
Highly recommended.