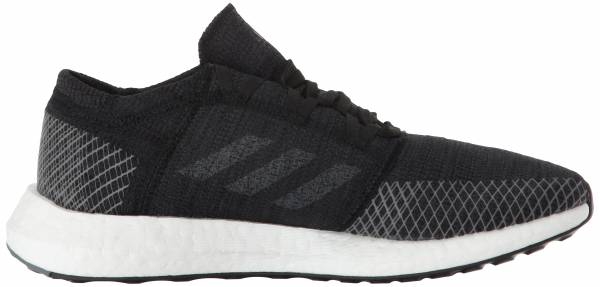 Those who have tried the Adidas Pure Boost Go were happy with its performance. For them, this neutral running shoe provided a comfortable experience on the roads. The stretchy upper, the steady platform, and the price were subjects of positivity. On the other hand, there were those who didn't like some traits of the upper, like the low forefoot profile and the irritating instep.
---
Verdict from 13 experts and 100+ user reviews
7 reasons to buy
Most people who tried the Adidas Pure Boost Go stated that it offered them great comfort.
The width profiles of both the men and women's versions were lauded for being adherent to expectations.
Some consumers lauded the upper unit was praised for being able to stretch and accommodate wide feet.
The underfoot cushioning agreed with long distance running sessions, some runners noted.
Impact mitigation and heel steadiness were considered by many to be spot-on.
The quality of the materials was deemed to be top-notch.
People considered the price for a pair of the Adidas Pure Boost Go to be affordable.
2 reasons not to buy
According to several testers, the outline of the toes showed unappealingly against the knitted fabric; they also noted that it may potentially damage the material.
A few consumers reported that crisscrossing shoelaces tended to put some pressure on the instep.
Bottom line
Those who have tried the Adidas Pure Boost Go were happy with its performance. For them, this
neutral running shoe
provided a comfortable experience on the roads. The stretchy upper, the steady platform, and the price were subjects of positivity. On the other hand, there were those who didn't like some traits of the upper, like the low forefoot profile and the irritating instep.
Best price from 50 shops
We earn affiliate commissions at no extra cost to you when you buy through us.
75% say it's true to size.







Overview of this review
Our reviews
Pureboost Go is the new model in the Boost midsole lineup with a very attractive price and premium materials.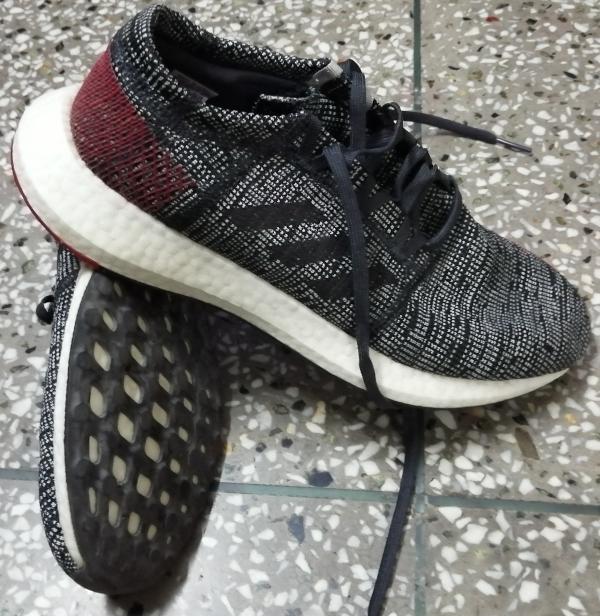 Technology used
Boost midsole
Knit upper
Stretch web outsole
Specifications
Weight: 295gm (9UK OR 10US)
Offset/Drop: 8mm
Arch Type: Normal
Closure: Lace-up
Width: Normal
Cushion Level: Moderate
Best Use: Road Running
Fit: True to Size
Upper
This shoe features a no-sew knit upper, which is very soft and without overlays.
The upper adapts the foot really well. It is not stretchy like Primeknit, but I found it more comfortable as it wrapped the foot nicely and provided excellent support.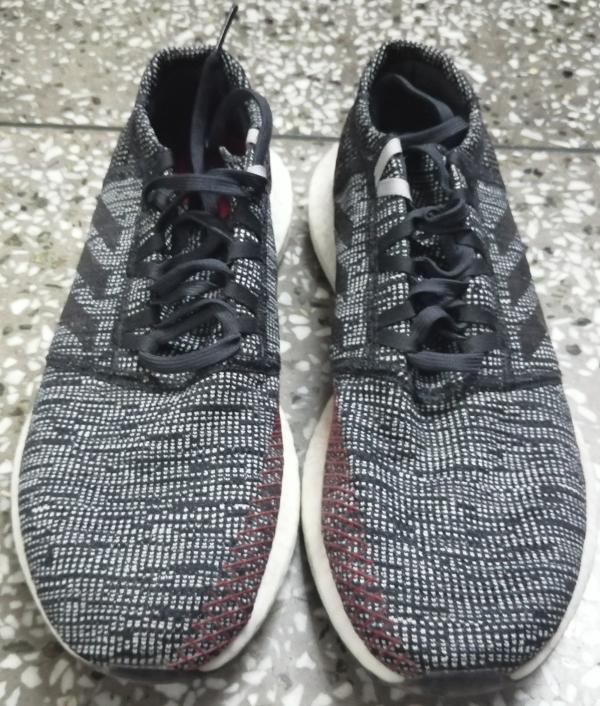 There is no padding in the tongue and heel has very less padding, which will not cause any issue unless one is used to heavy padding in these areas.
The heel has a heel plate, which prevents the heel from slipping. There was no slipping while taking sharp turns.
The upper is very breathable that when I did 8 miles in 46°C (116. 6°F), it kept my foot dry. Overall, the upper provided great fit and support.
Midsole
Pure Boost Go features Boost midsole. The forefoot is wide to provide stability on uneven surfaces. It also keeps the foot stable while taking sharp turns.
I found the Boost material plush and softer than that used in Solar Boost or Ultra Boost. Adidas have nailed the midsole by creating the perfect balance between softness and responsiveness.
One can easily use these shoes for track workout or tempo runs and slow-paced long runs as its midsoles are very soft and responsive. These provided a pretty smooth ride.
Outsole
The outsole features stretch web rubber outsole. This is the standard among all Boost models, but this time, it is ADIWEAR rubber, not Continental.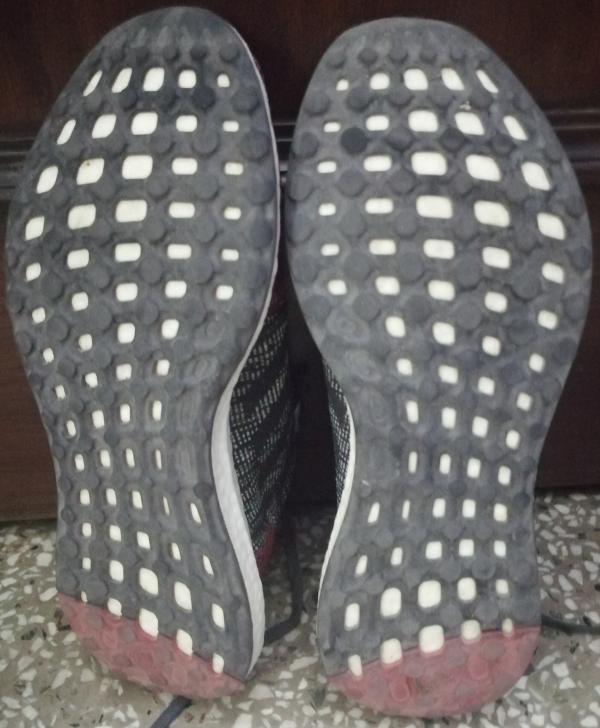 The stretch web outsole provides a fair amount of flexibility without forcing the runner to alter running gait. This outsole did its job well on wet roads and wet grass.
I have run 50 miles in them, and the outsole shows no sign of wear and tear.
Support
The shoe has enough support for neutral runners. At the heel, a heel plate is provided, and strategic stitching is done at the heel and forefoot.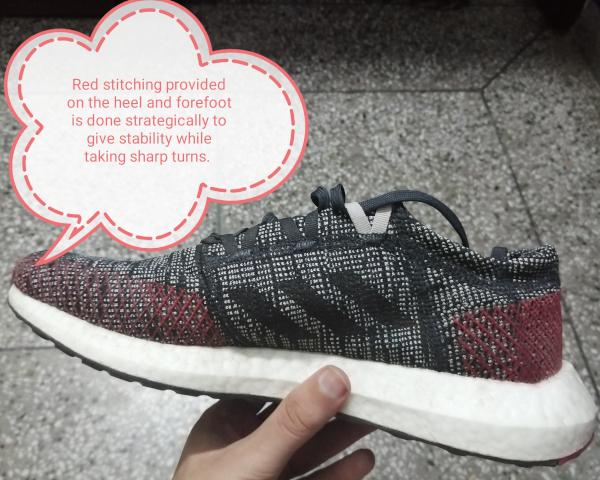 Ride
This shoe provides a perfect mixture of softness and responsiveness. Thus, the ride is very smooth.
Flexibility
The shoe is fairly flexible as the outsole uses stretch web outsole, which gives more flexibility to the shoe.
Traction
The shoe has nice traction on road and grass. As these shoes are made for road running, taking them on trail will be a bad idea.
Responsiveness
Pure Boost Go is a very responsive shoe for fast runs as they won't slow you down. They will provide the same nimble and smooth ride like new pair even after using them for miles.
Durability
Pure Boost Go seems fairly durable after using them for 50 miles.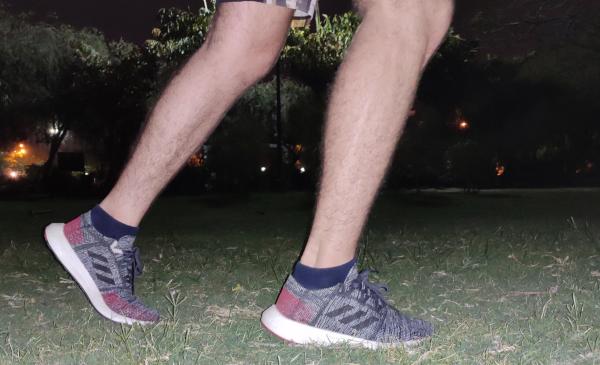 The upper has no sign of wearing down, outsole shows no wear and tear, and the Boost midsole will hold up to 500 miles easily.
Fit and comfort
The Pure Boost Go fits true to size. A person with wider feet will not face any problem in these as these have a roomy toe box. It also has a knit upper, which will adapt to the feet.
The comfort level is excellent on these shoes compared to those models, which are 30-40% more expensive.
Style
These shoes are fire even in a casual look. If one does not want to run in these and just want to use it for casual use or athleisure purpose, these will look great.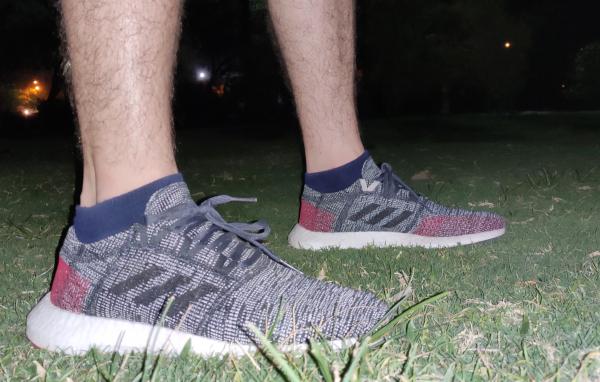 Originally, Pure Boost Go comes in three colours only. However, Adidas has launched many colourways earlier this year.
Price
Price for this pair is $120. Now, these are available on sale and can be found well below $120. If anyone thinks Ultra Boost is heavy in their pockets, they can go for Pure Boost Go.
Pros
Very responsive midsole
Plush cushioning
Enough support for neutral runners
Fairly priced
Cons
No reflective material
Not enough padding in heel
Bottom line
Pure Boost Go is a superb shoe made of high-quality materials, yet it is fairly priced. Anyone looking for a good-looking, solid, daily trainer or cheaper alternative to Ultra Boost should go for Pure Boost Go without thinking twice.
After100 miles in the Adidas Pure Boost Go, I am finally confident to give you my full review, and honest opinion about these running shoes—after 100 miles.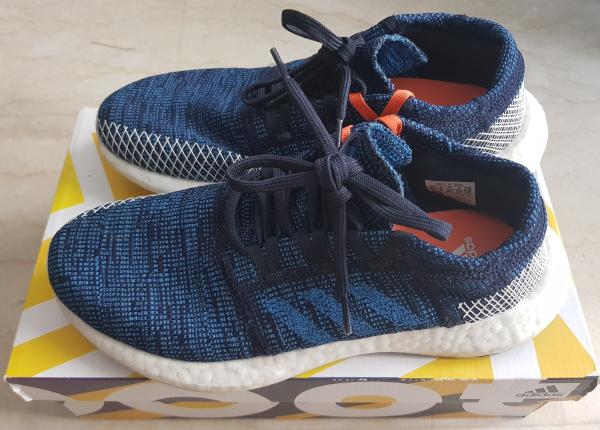 Upper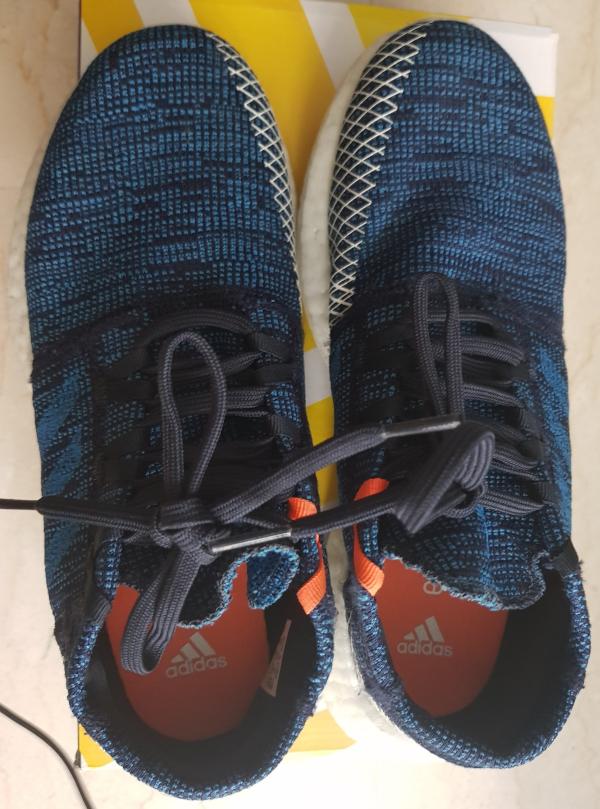 Breathability
The upper's material is super breathable. The weather in my country is always so hot and humid. When I first purchased them, I expected my feet to feel hot during my long runs. However, no matter how hot the weather was, my feet did not feel like overheating at all.
Fit
Not sure if it's just me, but I find that the PureBoost Go is a little bit big on size. I usually wear a size US 7, but this time I had to go down half a size.
Fortunately, when you get the right size, the shoe wrapped my feet in very well, and my feet were able to stay still and not move around in the shoes at all.
Midsole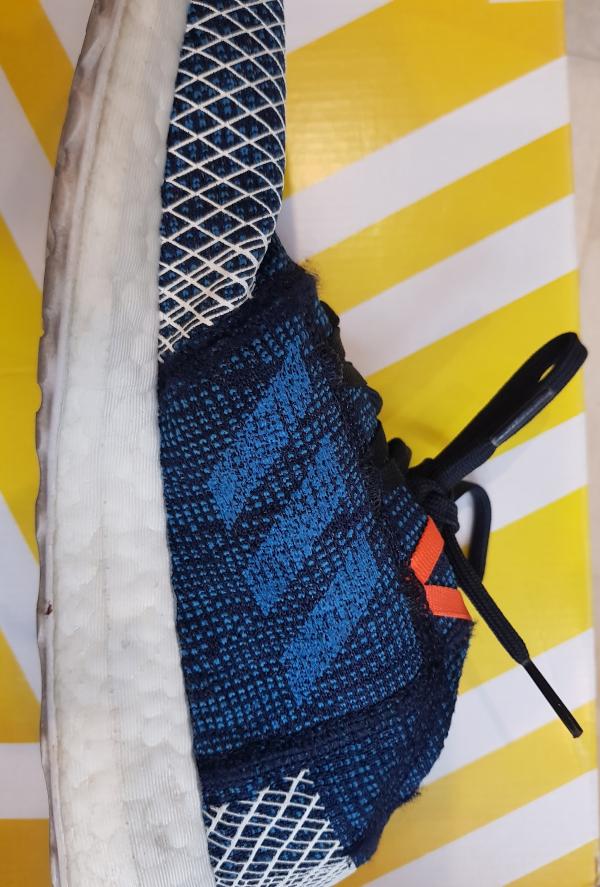 The midsole is made up of Boost, which is pretty much what Adidas uses for every running shoe. Boost gives a high level of energy return and bounces to every stride.
Cushioning
The Adidas Pure Boost Go is generally a very well-cushioned and soft shoe to run in or even for casual use. The cushion can sustain well even for long distances. Your feet will not suddenly feel tired as the shoe will not lose cushion the further and longer you run.
Everywhere in the shoe should be well-padded and cushioned, except the tongue. The tongue is super thin, so if you are wearing socks that are below the tongue, it can cause some chafing and irritation.
Responsiveness
In addition to the Adidas Pure Boost Go being well-cushioned, the cushioning in the Adidas Pure Boost Go is very responsive as well, adding a bounce to every stride.
Performance
The Adidas Pure Boost Go is quite heavy, weighing a 10.5 oz at US size 9 if I remember correctly. Regardless, it is definitely on the heavier side, but here comes the magic: It does not actually feel heavy at all when running with it.
The responsiveness and bounce make up for the weight of the shoes, so I do not feel the shoes being heavy at all. The high level of energy return also allows you to be able to sustain for longer distances.
However, I find the shoe a little too soft when picking up the paces.
Outsole
The outsole of the Adidas Pure Boost Go is made up of many shapes.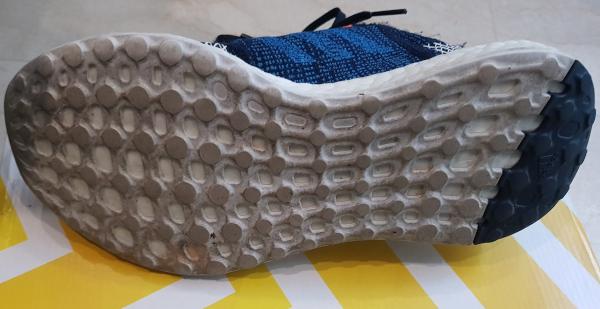 Traction
The traction of the Adidas PureBoost Go is so-so. I would not recommend for you to use it on rainy or wet days unless it's only a slight drizzle.
I found myself almost-slipping many times when I used them for wet weather. Other than that, the grip is quite decent.
Durability
The durability of this shoe is very good. After 100 miles, this shoe still looks new, and I haven't seen any wear and tear yet(other than cosmetically). So, they are still holding well.
I am predicting these shoes can probably last about 400-500 miles before spoiling. That is very impressive compared to other shoes.
Pros
Cushioned
Very responsive
Upper is highly breathable
Durable
Cons
Tongue is a little too thin
Bad traction when the floor is wet
Sizing not true to size
Cushion too soft when picking up the pace
Conclusion
I would say that the Adidas PureBoost Go would be best used for long and easy runs and even daily runs at longer distances. The cushion is soft and responsive.
Moreover, the shoe is lightweight too. However, I would not use them for races because the cushion is too soft for me when I try to pick up the pace.
Updates to Adidas Pureboost Go
The Adidas Pure Boost Go is a daily running shoe that's made for neutral pronators who want to have a comfortable running experience in a stylish package. It features the Boost technology, a midsole unit that offers responsive liftoffs and cushioned landings.
The upper unit of this road companion utilizes the ARAMIS data mapping system to provide a wrap that is secure yet unrestrictive. This section is made up of a knitted textile with stitch-reinforcements and a thin heel print.
Outsole
A rubber compound is used for the outsole unit of the Pure Boost Go. This material is shaped in a grid or a web. Its purpose is to protect the midsole from abrasion and to provide traction over the surfaces. Traction nodes heighten the grip.
Midsole
Boost is a cushioning technology that is made from thousands of thermoplastic polyurethane pellets that have been amalgamated. The same midsole technology is found in the shoe's popular counterpart, the Adidas Pure Boost. The job of this full-length unit is to mitigate the impact forces during the landing phase then energize the foot for the toe-off.
Upper
A knitted fabric is used for the upper unit of the Adidas Pure Boost Go. This material is lightweight and flexible. It is also breathable as it has many breathing pores that accommodate airflow into the foot-chamber. The ARAMIS data mapping technology outlines all the traits of this textile, giving runners the opportunity to experience a form-fitting coverage.
Stitch-reinforcements act as overlays. The midfoot, collar and heel have these extra sutures, helping the lacing system when it comes to securing the foot in place.
A thin lattice is printed onto the back of the façade. This seemingly graphical addition is meant to help in holding the heel in place and preventing accidental shoe removals.
Rankings
How Adidas Pureboost Go ranks compared to all other shoes
Popularity
The current trend of Adidas Pureboost Go.