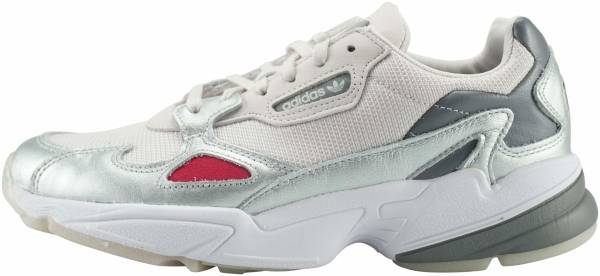 Adidas surrenders to the resurgence of bulky, retro athletic sneakers by dropping the Adidas Falcon. A part of the Adidas Originals collection, female, as well as male admirers, boasts about its optimal comfort and lightweight structure. Its upper creates a warm impression on buyers who regard this style extremely edgy. Uniquely-styled and superb in comfort, this shoe is deemed by many as worth every penny.
---
Verdict from 100+ user reviews
10 reasons to buy
A considerable volume of wearers crow about the Adidas Falcon's comfortable feel.
A couple of users claim walking on these for miles without experiencing foot discomfort.
Quite a lot ponder over the unique style of the shoe, finding it to be very edgy in light of the trend of dad sneakers.
According to a large sum of buyers, the Adidas Falcon has become their favorite pair as its sole grants support, shock-absorption and appropriate cushioning.
A significant number of users are impressed with the wide variety of colors of this model.
Plenty approves the use of decent quality materials on this sneaker.
The chunky style and luxurious glow of the Adidas Falcon made it fitting for casual and dressy affairs, many users have stated.
A lot of testers deem this sneaker lightweight.
Many wearers are pleased that this well-structured shoe comes with a reasonable price point.
The Torsion element of the Adidas Falcom offers midfoot stability, some wearers have noted.
2 reasons not to buy
A few reviewers complain that the sneakers rub at the back of the ankle while breaking them in.
It gets dirty very easily, a couple of purchasers have grumbled.
Bottom line
Adidas
surrenders to the resurgence of bulky, retro athletic sneakers by dropping the Adidas Falcon. A part of the
Adidas Originals collection
, female, as well as male admirers, boasts about its optimal comfort and lightweight structure. Its upper creates a warm impression on buyers who regard this style extremely edgy. Uniquely-styled and superb in comfort, this shoe is deemed by many as worth every penny.
Best price from 54 shops
We earn affiliate commissions at no extra cost to you when you buy through us.
36% say it's too large, 59% say it's true to size.


We earn affiliate commissions at no extra cost to you when you buy through us.
Good to know
This Falcon sneaker by Adidas ínitially released in women's sizes, but men's sizes were later on released. Men can still acquire colorways released in women's sizes by adding 1.5 sizes to their usual size. The sneaker may appear bulky from the outside, but it is relatively lightweight. The EVA compound that's integrated into its contoured midsole provides exceptional comfort. It also has a lace-up front to adjust the fit, while the low collar offers plenty of ankle mobility.
Daddy shoes are no longer just for lawn mowing like how it has been identified to back in the 1990s. Today, those beefed-up, textured, thick-soled sneakers put an edgy flair to bundles of lifestyle wear. Adidas's low-top Falcon which comes in a hodgepodge of colorways from all-white to a quirky mix of fuchsia, purple, grey, and yellow is one that's worth a spot in your sneaker closet.
Get the Kylie Jenner foxy athleisure vibe by slipping into a pair of these with white high-waist yoga pants and sports bra, skin-tight bicycle kit, or a half-cropped tank, sweater, and tracksuit combo. Here's a quick lowdown on how to style the different shades of Adidas Originals Falcon sneakers.
Adidas Falcon 'Triple White'
Achieve that supermodel vibe by wearing a white sports bra, pair of black leggings, vibrant gym jacket, and an Adidas Falcon 'Triple White' a la Super Elle's Karlie Kloss. Or be a head-turner like Kourtney Kardashian by donning a body-hugging white sleeveless dress accessorized by a black leather backpack and paired with a crystal white/crystal white/easy orange Adidas Falcon.
Adidas Falcon 'Black'
You can never go wrong with a purely black upper as you can easily fuse it with strings of clothing, from gym apparel to casual daily wear. The Adidas Falcon kicks in core black/core black/cloud white looks appealing with a pastel-colored top and dark shaded jogger or pants. This contemporary dad shoe compliments with tapered or cuffed pants like with any chunky-soled sneaker.
Multi-color
Snag that sporty chic mien like singer-model Dua Lipa by getting strapped with multi-colored Adidas Falcon running-inspired shoes while sporting a nylon windbreaker hoodie dress or a workout jacket and double stripe nylon track pants. For an elevated look, you may meld this with light-colored glossy leggings.
Some of the multi-colored Adidas Falcon variations with a mélange of mesh and leather on the upper are clear pink/clear pink/legend purple, crystal white/crystal white/navy, grey/grey/maroon, and raw grey/raw grey/light pink.
The secret in finding the appropriate color of clothes that will complement a multi-colored Adidas Falcon is by taking the less dominant shade from the shoe and pairing it up with a top or bottom with that color.
Adidas Falcon 'Metallic'
Adidas went quite edgy with the shock pink/shock pink/collegiate purple which is dressed not just with the flamboyant feminine shade but kitted out with a glittery accent from the vamp and side walls to the rear portion. This girlish hue gives your plainly colored split-back tank and sculpted tights, studio pants, bike shorts, or jogger shorts a bold personality.
If you want the shimmer but not much of the glitter, then the metallic Adidas Falcon offerings might suit you best. Let the flashy metallic detailing of the Adidas Falcon collegiate navy/collegiate navy/red be your statement style. Allow the stunning mix of layering on this kick pull your strappy red sports bra, blue T Bar back tank top, and navy boxy pants together.
You might want to follow the style of Kylie Jenner by merging the gold metallic/gold metallic/off white with a set of activewear. The gold metallic/gold metallic/off white has a reflective eyestay and mudguard with hits of purple and magenta on the rear side and heel. This flashy sneaker even pops with an indigo tank top, cropped hoodie, and snuggly soft fleece leggings.
If you want hits of shiny detailing on your shoe without getting too flashy, you might want to consider seizing the collegiate navy/collegiate navy/ silver metallic, orchid tint/orchid tint/silver metallic, and grey/grey/crystal white. These sneakers have glossy mudguards and toe bumpers which aren't too ornate as the earlier mentioned colorways.
Bearing close similarity to the luxurious Raf Simons' Ozweego models, the low-top Adidas Falcon is the brand's response to the growing interest in chunky sneakers, at a considerably low price point. This thick-soled sneaker is fitting for the athleisure fashion which is loved for its multitude of color combo options, comfort benefits, stabilizing midfoot torsion unit, and lightweight build.
Adidas goes gaga over the chunky daddy shoe trend and restocks its shelves with remakes of its stocky 1990 silhouettes. One of the comeback styles is the 1997 Adidas Falcon Dorf, rebranded as the women's exclusive Adidas Falcon.
This refined female version mirrors the Falcon Dorf, an old-school runner constructed with multiple layers of materials that made it appear weighty like any favorite daddy shoe of such era. The updated bulky guise is layered with mesh and varying types of leather over a puffed-up sole.
Made for the female squad
The lightweight Adidas Falcon surfaced in June 2018 with a design that meant to captivate the women's hearts. The initial Adidas Falcon women's design, dressed in a beautiful grey, pink, and black combo, was sold like hotcakes. It goes to show that the 1990s aesthetics play a compelling role in today's sneaker landscape.
Several other colorways continue to pop up using black and grey as backdrops. One is peppered with blue, green, and pink. Right in time for the summer season, the brand released a 'Triple White' colorway with a soft grey suede contrast. Adding a touch of flair to its cloud white sole is a reflective silver detail on the lateral side.
Another retro-looking version created for the warm months is the 'Watermelon' colorway, patched with light green leather overlays on the toe, midfoot, and heel, a hint of pink on the black outsole gives the shoe added pop.
Adidas doesn't seem to run out of crazy color combinations to put on the multi-layered Falcon running-inspired shoe. The mixture of granite, black, light orange gave this hotly in-demand bacon an earthy tone, while the fusion of pale yellow, navy blue, fuschia, purple, and steel grey gave it a whimsical finish.
Further beefing up the appeal of this already powerfully irresistible style is the team-up between another Kardashian and the Three-Stripes. The younger Kylie Jenner trails along her sister Kendall and brother-in-law cum initiator of the Yeezy line, Kanye West when she joined the Adidas family in 2018 and became the face of the Adidas Falcon. Coincidentally, Kylie and the reference runner model were both born in 1997.
Collaboration
The Adidas Falcon has also been a well sought-after canvas for creativity plucked from the Three Stripes catalog by some of the leading lifestyle retailers. In August, the Three Stripes brand and size? came up with an iteration that pays homage to the Smiley Logo used by the Acid House, a subgenre of house music developed by Chicago DJs.
The most recognizable black and yellow shades of the smiley image was the color blocking used for the Adidas Falcon Acid House pack which was exclusively sold at size? The iconic happy logo is placed on the inlay sole.
Not too long later, Sept BEAMS, a Japanese retailer – the suede, leather, and mesh segments of the upper are clad in black while green accents are integrated into the outsole. A subtle reflective detailing pops at the front lateral side to complete its minimalistic appeal.
The initial drop of this women's exclusive sneaker was on the 12th of June 2018, named the Adidas Falcon W in core black/ core black/ light pink colorway. "W" stands for women.
The name of the original silhouette, Adidas Falcon Dorf, was derived from Falkendorf, a small town near the Adidas headquarters in Herzogenaurach.
Its midfoot is built with flexible support called the Torsion system.
Rankings
How Adidas Falcon ranks compared to all other shoes
Popularity
The current trend of Adidas Falcon.