Verdict from 7 experts and 100+ user reviews
8 reasons to buy
The Adidas Duramo 7 was able to allow a tester to stay active all day without causing their feet to ache; they felt that it was suitably comfortable.
The façade of this running shoe was lauded by many runners because they saw that it was very eye-catching.
It was affordable, wrote a lot of users.
A runner who has logged over 50 hours using this model noted that stayed sturdy because cracks or tears didn't appear after that time.
There were many reviewers who were happy to report that this shoe didn't cause any blisters or sores.
A tester wrote that the upper unit felt satisfactorily snug and secure.
Several runners felt that the sizing schemes used for the Adidas Duramo 7 were the ones that followed their usual preferences.
Those who commented on its weight stated that it felt light and unrestricting.
3 reasons not to buy
This shoe felt a bit narrow for a tester.
The colorways and visual options were limited, noted some reviewers.
There were complaints about the outsole, which wasn't able to deliver sure traction on the roads.
Bottom line
The Adidas Duramo 7 is an entry-level shoe that's made for those who wants to have affordable yet efficient running gear. Runners generally lauded this model because of its comfortable and appealing design, as well as its durable nature. The cushioning was also appreciated. Clearly, this neutral shoe was able to gain the favor of many, and it became highly recommended.
Tip: see the best running shoes.
Our reviews
The Adidas Duramo 7 captured my attention because I thought it looked visually endearing.
Out of all the entry-level running shoes that I have seen in this local sports store that I went into, it was, for me, the one that grabbed me the most. I consider myself to be an entry-level runner, so I thought it best to check out the basic options.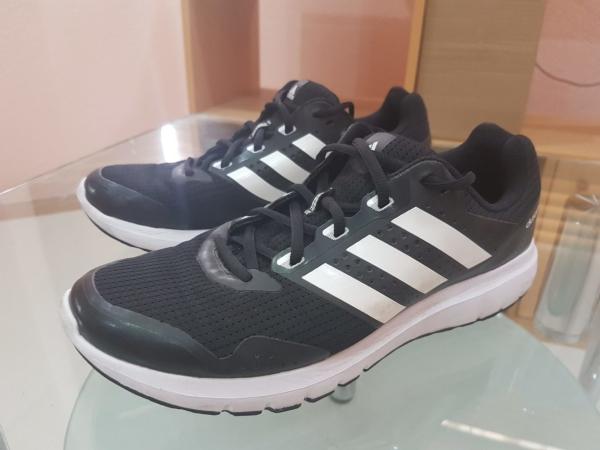 The first thing about the Duramo 7 that caught my eye was the seamless design of its upper unit. I saw that the façade featured a breathable mesh and a set of thin, strategically placed overlays, which have been fused directly with it.
Absent were any bulky layers and thick threads that might've made it look too big when worn. I fondled the laces and deliberated that they were also well-made. They're neither too thick nor too thin, and they certainly looked like they don't unravel easily.
The next thing that I noticed was its underfoot platform. It seemed dense and robust. I figured that the cloud foam technology was going to help me stay comfortable because it seemed agreeable enough, at least visually. But I wasn't so sure about the curved lateral section of the heel, which was odd to look at.
Looking into the foot-chamber, I saw the Ortholite® branding on its sock liner, which instantly allowed me to appreciate it even more. I always welcome technologies that would help in keeping my feet dry and free from odor.
As a habit, I always bend the shoe to check for the flexibility of the sole unit. I found out that even though the mid-sole of this running shoe looked thick, it wasn't stiff. I was easily able to bend it with my hands. My feet would surely be able to move more naturally with each step, I thought to myself.
And there goes my ocular survey of the Adidas Duramo 7. I was able to check out other models that were present in that local retailer (there were mid-tier and entry-level models, mostly) but none of them really resonated with me.
I proceeded to the counter to ask the price for a pair of the Duramos, and I was shocked to learn that I could get it for Php2995, or about $58. For me, that was a price that I could definitely work with. It was well within my budget and I was really interested in it, even just by looking at it.
But I had to try it first, of course.
I went back to the display section and asked for a pair of Duramo 7s in the size 8 variants (size 8 and 8.5 are my comfort zones). When the pair arrived, I looked at them with enthusiasm. They had a slightly shiny disposition to them; the thin overlays had a glossy finish. Basically, they're unable to reflect light, but they evoked this clean look that pleased my eyes.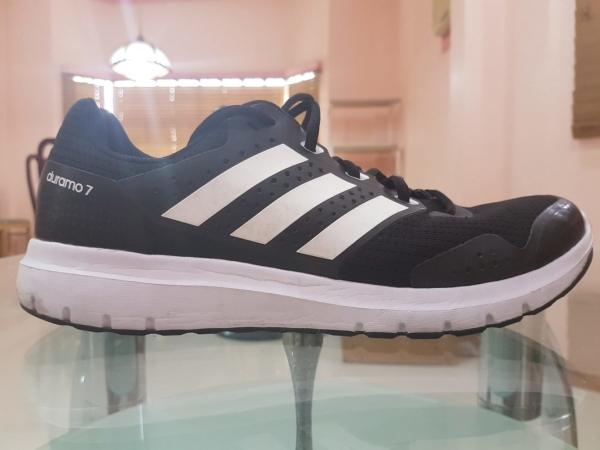 I tried one out in excitement. I slipped my foot in and immediately felt… restricted. Surprisingly, this shoe felt a bit tight in the mid-foot and forefoot sections. But what bothered me the most was the fact that my toes were hitting the front end of the upper like they've come against a wall. I wasn't sure about how it fit, so I asked the store clerk to give me a pair of 8.5s.
The size 8.5 was much better. It didn't feel tight in the mid-foot and forefoot areas, and my toes weren't bumping the edge of the upper. I felt more confident with this option. I have read many reviews that mention that this shoe was true to size and width, but that wasn't the case for me. Actually, I always think that it's beneficial to try on any shoe first before deciding on a purchase.
Performance
I was excited about my new pair of Adidas Duramo 7s. I immediately tested them out the day after purchasing them. I was up for a casual running session in a local park. I was looking forward to checking out its performance.
On the day of my test-run, I slipped my foot into it and it felt smooth. My foot easily acclimated to the interior environment, familiarizing itself to the inner lining, the seamless wrap, the underfoot cushioning and the stack height. It felt like it was made just for me.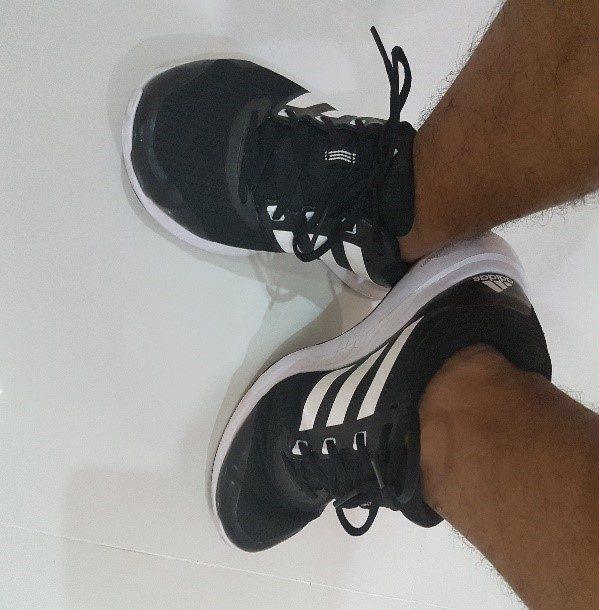 And then it's on with the actual running. My initial strides felt nice. The cloudfoam worked well and it made me very confident with my steps. I wasn't actually speeding up, yet. I was just testing its handling, its components, its form.
But after only a few paces, I immediately noticed a discomfort across the underside of my feet. The feeling was warm… too warm, in fact. It wasn't an issue concerning breathability, but an actual pain in my feet. That's when I realized that these shoes needed to be broken in.
Thankfully, after 4 days of acclimating the shoe to my walking and running style (and vice versa), I was able to use my Duramo 7s without worrying about any underfoot discomfort.
The running experience was smooth. I thought that the full-length cloudfoam mid-sole was efficient because it cushioned my foot-landings with ease. And the curved rear section actually allowed me to move more evenly through the gait cycle. Apparently, it was the one that received impact during the heel-strikes and ushered the foot towards a smooth toe-off.
Traction
I didn't have a difficult time gaining control of the surface. The presence of the ADIWEAR® rubber compound in the outsole actually gave me confidence when traversing the roads because it held onto the ground well.
I was able to gain traction at all times. I've only clocked about 60 miles, so I can't say much about the durability of the rubber material, but as of now, I haven't seen any obvious signs of wear (and I'd been using this shoe on a daily basis).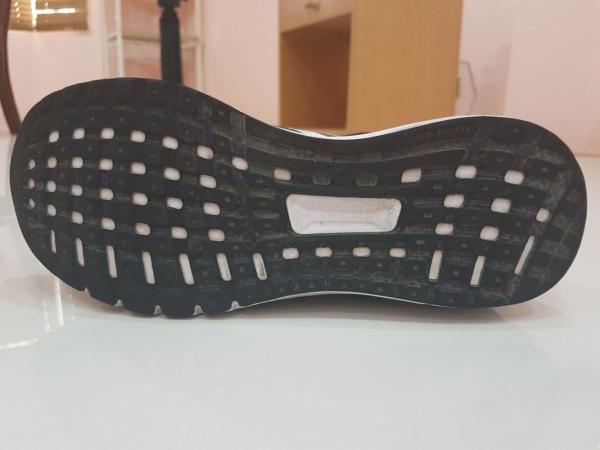 Breathability
The upper unit was breathable enough that it didn't make the interior chamber seem like a hot space for my feet. I loved the way the thin and lightweight overlays assisted the main mesh material when it came to providing secure coverage for the middle section of my foot.
There wasn't a separate heel counter in this model, but the overlays and the padded collar were able to keep me in place.
The Ortholite® Sock Liner was very helpful, as well. It wasn't a flimsy add-on that merely served as a placeholder for a separate insert; it actually added a bit more cushioning. It's soft, but it's not intrusive in terms of the overall comfort. I actually welcomed its inclusion. And as a bonus, it kept my feet free from moisture and odor-causing microbes.
Conclusion
Overall, the Adidas Duramo 7 is a nice running companion. I think that it's a solid entry-level shoe and that it's great for those who have neutral foot-pronation. I slightly pronate on the right side of my foot, but I don't mind wearing a neutral shoe when pursuing my active lifestyle.
I can also say that this model is great for regular workouts in the gym, though I wouldn't recommend it for side-to-side foot-movements or exercises that require lateral and medial stability because its platform is really designed for forward motion.
Good to know
The 7th version of the Duramo from Adidas is a daily training shoe that's crafted to provide a responsive and comfortable ride to the wearer. Its sleek, modern design is visually appealing and endearing to the contemporary tastes of today's athletes. It is not heavy, so runners can surely use it with ease.
The upper unit of this running shoe uses a breathable material to make sure that the runner remains in a well-ventilated interior that's able to keep moisture and odor at bay. The overlay system has been fused with the mesh material, making it almost a singular unit. Essentially, the upper is able to secure the foot responsibly.
The midsole unit uses a mid-sole technology that is sure to deliver high quality cushioning to the wearer. It is soft yet full-bodied, giving an underfoot experience that's responsive and comfortable. It doesn't limit the natural movement of the foot, so it remains flexible.
The outsole unit of the Adidas Duramo 7 uses a full-length rubber material that protects the rest of the sole unit from abrasion and wear. It is also able to give sure traction over the asphalt, making sure that surface control is always achieved by the runner.
The Adidas Duramo 7 is true to its size. It comes in sizes that follow the measurements for men and women. A medium width is available for this model. It accommodates those with feet that are medium-sized. The semi-curved shape of this shoe allows the foot to ease into it when wearing it.
The ADIWEAR™ technology is a full-length rubber material that delivers sure protection against wear and abrasion. It makes sure that the rest of the sole unit is free from the damaging effects of surface contact and friction. It also gives traction over the roads, ensuring that the runner gets responsible surface control. This outsole material is also found in the Adidas Duramo 9.
The midsole unit uses the ADIPRENE® technology, a full-length foam that's made from high quality materials. While giving responsible underfoot cushioning, it also delivers shock absorption in order to make each step easier and smoother. It's durable, so it doesn't break down or lose structure easily, so the underfoot experience remains superb, even after many uses.
The upper unit uses air mesh, which is a highly breathable material that covers the foot securely yet comfortably. It allows air to seamlessly enter the shoe in order to keep a cool and dry environment for the foot.
A fully-bonded construction keeps the upper unit lightweight and free from seams or stitching. It doesn't limit the movements of the foot and it even makes sure that the runner is able to move more freely.
A comfortable textile lining makes sure that the foot is able to slip in and out of the shoe with ease and comfort. It doesn't irritate the skin, so it's possible to wear this running shoe without socks.
An EVA Sock Liner adds more cushioning to the underfoot. Made from high quality foam, it makes sure that the runner gets an extra springiness when stepping and lifting the foot. It doesn't wear off easily and it even lasts long.
Rankings
How Adidas Duramo 7 ranks compared to all other shoes
Popularity
The current trend of Adidas Duramo 7.