Verdict from 5 experts and 38 user reviews
11 reasons to buy
The Adidas Crazy Hustle is perfect for playing basketball, many buyers declare.
Several purchasers are satisfied with the shoe's quality. They are saying that it is an excellent product, and they highly recommend it.
These basketball shoes feel very comfortable, majority of the users assert.
Many wearers find the Crazy Hustle very stylish. They also appreciate its nice colors.
These Adidas basketball shoes provide great value for money according to some reviewers.
Some players are happy that these shoes fit true to size and have enough wiggle room to accommodate wide feet.
Almost all testers agree that the traction is pretty excellent. It grips the floor well and only requires minimal wiping.
The Adidas Crazy Hustle has very good cushioning, a good number of users note.
The Bounce cushion is perfectly balanced, many observe. It provides excellent impact protection and a ton of court feel. Damian Lillard's fifth signature basketball shoe is also equipped with Bounce cushioning.
Most testers are saying that the rubber outsole is firm and will last outdoors.
These Adidas basketball shoes are very supportive, some notice.
4 reasons not to buy
Like the Nike LeBron 16, a few players find the Crazy Hustle a bit bulky and heavy.
The lockdown just sucks a handful of wearers complain. They are saying that there is a good amount of heel slippage.
Because of the amount of heel slips that they experience, one tester does not recommend buying these basketball shoes.
The Adidas Crazy Hustle runs a little small and narrow, a small number comment.
Bottom line
The Adidas Crazy Hustle has a lot of good things going for it. Its beastly traction is straight out of the Adidas Crazylight Boost 2016. Its responsive cushioning is similar to that of the Adidas AlphaBOUNCE. Add a durable upper and a torsional plate and you have is one hell of a performer!
Overall, the Crazy Hustle is really hard to beat because of its great price, quality, and performance. It is an excellent all-around basketball shoe that has a lot to offer to different types of players.
Tip: see the best basketball shoes.
Our reviews
After growing accustomed to the Adidas Crazy Explosive '17 I had the chance to play in the Adidas Crazy Hustle. To be honest I did not think it would be equal at this price point. However, it was far less than what I expected.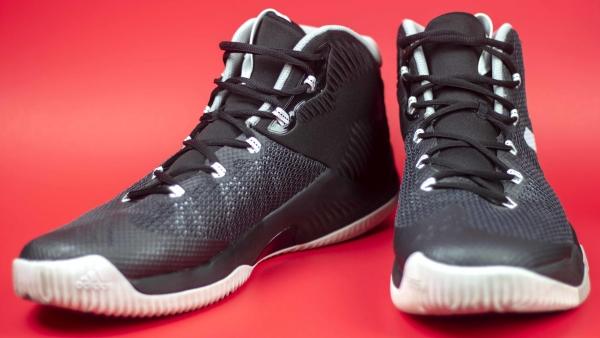 Traction
Not as "grippy" as the Crazy counterpart that Adidas offers - the Crazy Explosive, this shoe is only average with its traction.
The composition is mostly rubber with herringbone and mixed pattern that does provide the control I like to feel when playing. These shoes were played with on an indoor court and while the traction was more than acceptable, it exposed other flaws with the shoe, namely how they fit.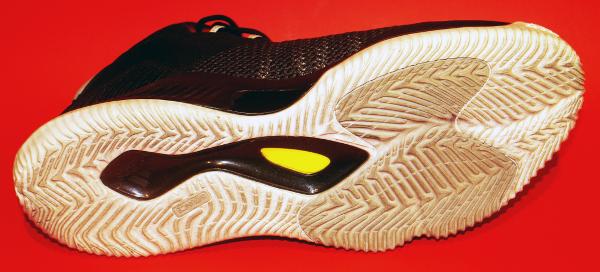 Fit
Immediately upon opening the box for these shoes, I was in awe by the size of the shoe. So much that I had to look at the box and double check it was my size. And further looking inside the shoe to triple check. This shoe is HUGE.
I can recall when I was a little younger putting on my dad's shoes and that recollection, in this case, is not good.
I think the excess amount of space in this shoe would only satisfy someone with enormous full pledged gigantic feet. Every instant of running around, in my mind I was distracted by how loosely it fit and I had to take them off. My heel and forefoot just moved too much.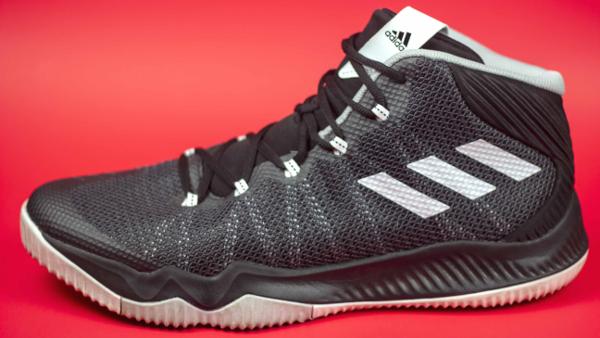 Weight
Along with the excess in how this shoe fits, is its clunky feel. I felt a step slower and with my foot constantly going side to side like cargo on a ship, it was distracting.
The sole is where most the weight can be attributed as the footprint seems like 1.5 sizes larger than my size. It is possible that buying this shoe a size smaller may compensate but I would suggest in a store trying on several sizes before checking out.
Material
The midsole and upper are actually made of durable materials that visually make this shoe look like a performance shoe competitor. The rubber mesh comprises most of the shoe with uniform distribution.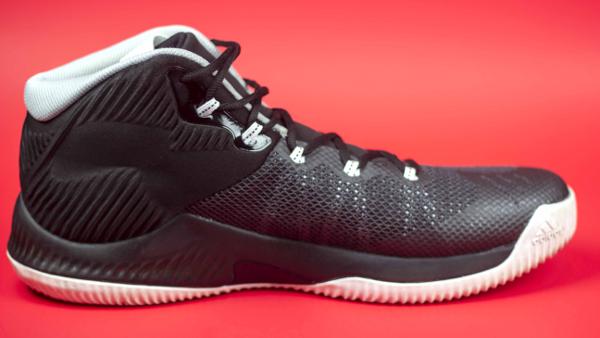 Nothing fancy is apparent as far as targeted areas for performance enhancements in the heel or toe. I think this material is superior to most other shoes with the mesh design because the rubber mesh won't tear like the fabric composition of competing shoes.
Cushion
The Adidas Crazy Hustle and most of the newer Adidas shoes have Boost. By design, the Boost foam is thinner which keeps your foot lower to the ground and otherwise ready for faster movement.
The forefoot of the shoe, especially with the excessive width, felt like it had a minimal cushion when I planted. My forefoot also started to have that burning sensation from sliding around. I can say it was the cushion or lack thereof because I always play in the same type of socks when trying shoes for the first time.
Support
The Adidas Crazy Hustle is a classic high top performance basketball shoe with a traditional lace design and upper that ends right above the ankle.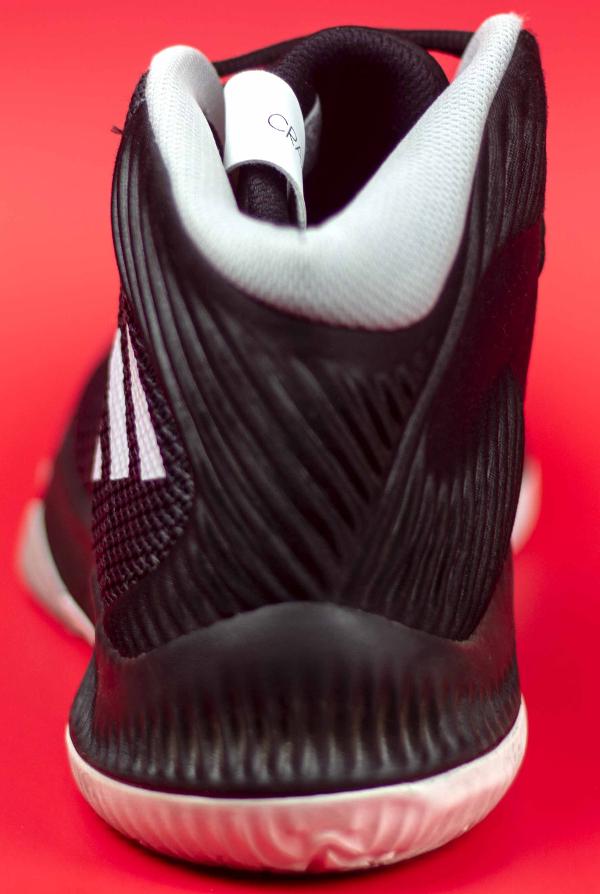 When fully laced my ankle definitely felt locked in to an extent but my heel still slipped. So I did have the ankle support I depend on. The rest of my foot had "CRAZY" sliding going on.
Pros
Sufficient support
Quality materials
Cons
Oversized fit
Has clunky feel to it
Final thoughts
My overall opinion of the Adidas Crazy Hustle is not that impressive. Someone looking for a shoe with good traction for just shooting around would have no problem with the Adidas Crazy Hustle.
More competitive players or anyone who will put more than 10 hours a week into playtime would probably not be satisfied. In my opinion, this is a recreational shoe and not suitable for extended playtime.
Good to know
Made for players who hustle hard, the Adidas Crazy Hustle allows you to make an impact on both ends of the floor.
These Adidas basketball shoes feature full-length Bounce in midsole. It cushions your landings when you go up high to grab the rebound. Its lightweight upper is reinforced with seamless overlays to deliver enhanced support when you cross-up your defender and finish hard at the rim.
Cushion. The Adidas Crazy Hustle packs explosive energy into your every step. It features a full-length Bounce midsole to energize all of your on-court movements.
Engineered to optimize energy return, the Adidas Bounce cushioning is perfect for players who give it their all.
Traction. The Adidas Crazy Hustle has a grippy rubber outsole that is similar to the Adidas Crazylight Boost 2016's. Its enhanced traction pattern offers an excellent court grip that works on any surface.
Length and Width. Reviewers are reporting that surprisingly, these Adidas basketball shoes fit true to size. Adidas has been notorious for their inconsistent sizing, and the Crazy Hustle's improved fit is a welcomed change. They advise ordering your real size whatever your foot shape may be.
Lockdown. The Adidas Crazy Hustle has nylon lace straps that are connected to the base of the shoe. When laced up, these nylon straps wrap the foot, locking it firmly onto the footbed.
These Adidas basketball shoes come complete with a TPU midfoot shank for added support and structure.
Depending on the colorway, the upper is made of either a lightweight textile knit or mesh for increased breathability.
The upper has a comfortable textile lining and is reinforced with a seamless overlay print over high-wear areas for added durability. The heel and medial panel is covered with neoprene for enhanced support.
Sporting a mid-top design, the Adidas Crazy Hustle gives you the support you need when playing hard on the court.
These basketball shoes are also perfect for everyday wear because the lightweight upper and Bounce cushioning keep the feet fresh and energized all day.
The Adidas branding is displayed on the tongue while the Three Stripes can be seen on the lateral side of the heel.
The Adidas Crazy Hustle initially launched in the core black and white colorway. Two new hues were released shortly after.
These Adidas basketball shoes are also available in collegiate blue with metallic silver accents and a white colorway with hits of black.
Collegiate Royal/Silver Metallic/Blue
Core Black/Silver Metallic/Multi Solid Grey
Deep Red/Black/Burgundy
Scarlet/Silver Metallic/Core Black
White/Silver Metallic/Grey
How Crazy Hustle compares
Corescore: 54-57
3 shoes (0.7% of shoes)
Corescore: 58-61
2 shoes (0.47% of shoes)
Corescore: 62-65
3 shoes (0.7% of shoes)
Corescore: 66-69
9 shoes (2% of shoes)
Corescore: 70-74
34 shoes (8% of shoes)
Corescore: 75-78
65 shoes (15% of shoes)
Corescore: 79-82
99 shoes (23% of shoes)
Corescore: 83-86
111 shoes (26% of shoes)
Corescore: 87-90
83 shoes (19% of shoes)
Corescore: 91-94
17 shoes (4% of shoes)
Corescore: 95-95
0 shoes (0% of shoes)
Price: $40 - $85
55 shoes (13% of shoes)
Price: $86 - $131
190 shoes (45% of shoes)
Price: $132 - $177
131 shoes (31% of shoes)
Price: $178 - $223
38 shoes (9% of shoes)
Price: $224 - $269
8 shoes (2% of shoes)
Price: $270 - $315
0 shoes (0% of shoes)
Price: $316 - $361
0 shoes (0% of shoes)
Price: $362 - $407
1 shoes (0.23% of shoes)
Price: $408 - $453
1 shoes (0.23% of shoes)
Price: $454 - $500
2 shoes (0.47% of shoes)