Adidas Alphaboost review
If you want a great-fitting, sharp-looking neutral shoe that is going to breathe easily and let you feel like you are running on a cloud, the Adidas Alphaboost is the right shoe for you. These are not just 'running shoes' they can easily be your everything shoes.
Who should buy it
The shoe is ideal for you if want a:
cushioned daily trainer
wide base for increased stability
shoe that is extremely breathable
Who should NOT buy it
Don't buy this shoe if you:
Built for wider feet
The Adidas Alphaboost definitely fits wider for my foot. I don't have an exceptionally narrow foot, but I felt that this is built for runners with wider feet. At first, it felt really good on the foot, but as I have run on it a bit more, it is evident that it has a bit too much wiggle room on the sides to really call it a perfect fit.
This wasn't a deal-breaker for me, but if someone was on the narrow end, it would definitely be an issue.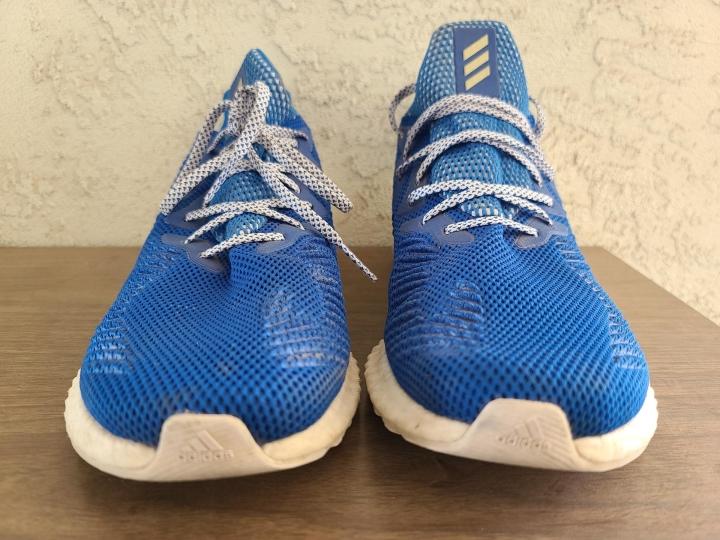 Rides like BMW 5: stable, comfortable, with a pop
The Alphaboost gives a good smooth ride that feels extremely stable with a good amount of pop. They do not feel like your classic corvette, but more like a nice comfortable BMW 5 series. They can get up and move, but they are not built for high speed.
The Alphaboost is not for agile or quick turns
When doing wind sprint training, the Alphaboost was bulky and didn't really provide a good platform to pivot quickly on, for that I think you would want something more built for competition.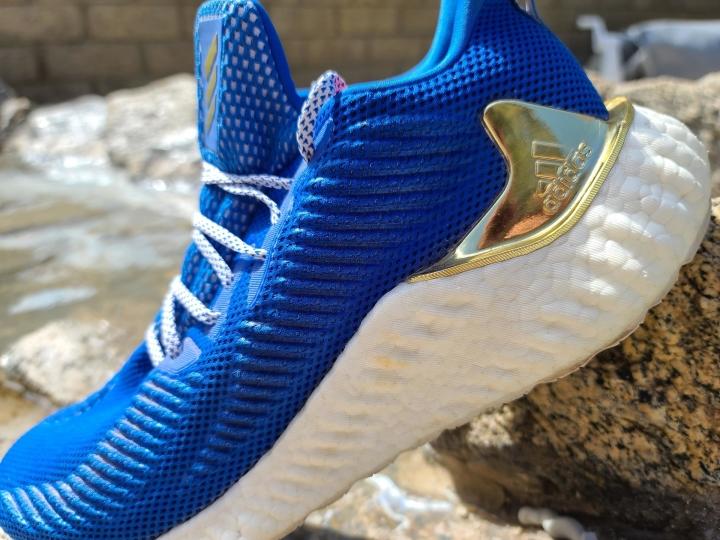 Slip them on, and go
Pull them out of the box, put them on your feet, and get to running. I pumped out a good 4 mile run the first time wearing them. The biggest detractor for my first few runs was a slight rub on my ankle bone. After a few runs, the discomfort dropped off and these shoes fit like a bouncy, comfortable sock.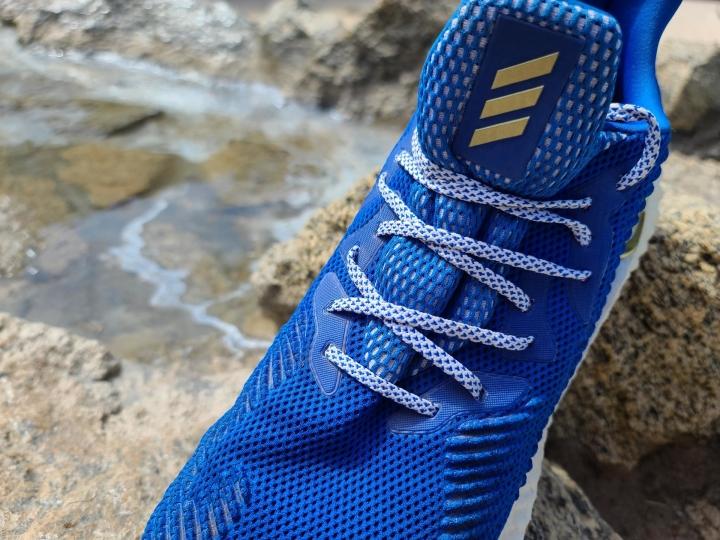 Alphaboost's weight puts a smile on my face
The shoe tips the scales at 10oz (283g) which is pretty competitive compared to other neutral road running shoes (average weight of 9.5oz/269g). From the lightweight material that makes up the body of the shoe and the light sole, anyone would be happy with how light these are.
Moderate durability
The shoe looked great after three or four runs and over 15 miles, almost no wear. Broke in for some wind sprints too and the shoe holds up just fine. The shoe feels great and still has that day 1 bounce and pep. Based on the use, I would expect these to be golden for a while.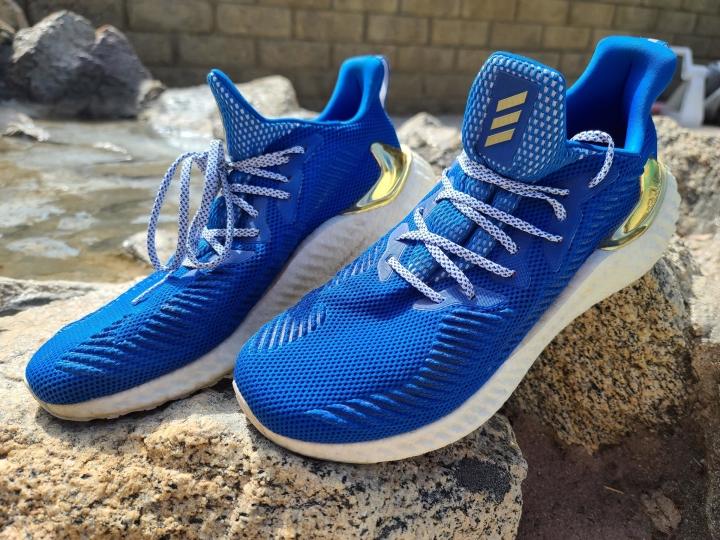 Alphaboost grabs the asphalt and off-road sections
I have the benefit of running on a wide range of surfaces in my trail adventures. The Alphaboost gives a great grip on the off-road sections, not feeling like you are going to lose traction, and really grabs the concrete/asphalt when you break onto the road.
The Alphaboost is very breathable even on warm days
Breathability was not in question for the Alphaboost, with the mesh construction of the shoe, it provides amazing airflow to your foot, allowing your feet to stay cool, even on warm days.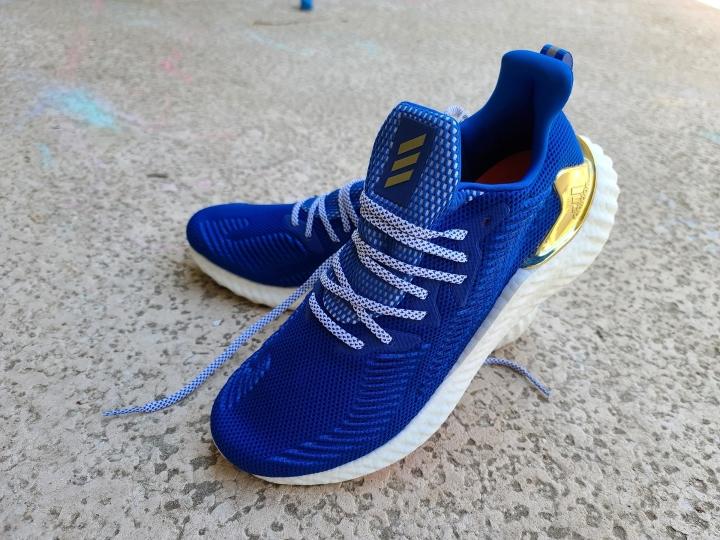 Reflective for the evening runner
The Alphaboost features a reflective strip on the heel, as well as the tongue in addition to the gold designs on the model I got to take to the road, giving a little sundown reflective features to this shoe.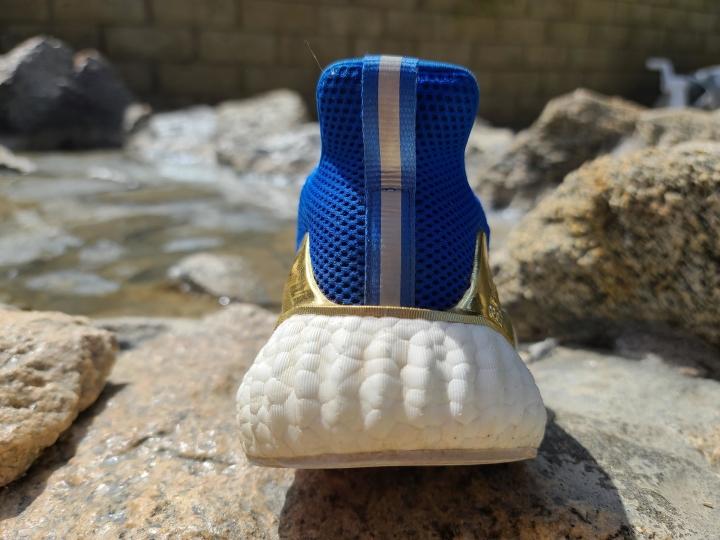 Conclusion
This is a great shoe, with a nice look, that great feel, and a solid sturdy base. I wouldn't hesitate to buy a second pair of these to run in or even just wear to hit a theme park with my family.
They fit your foot great, with soft body construction that is not going to give you hard points against your foot no matter how your foot is shaped. From the moment I opened the box with these shoes until my most recent run, I have been excited to pop them on and put feet to the pavement.
These shoes are good-looking, your friends are going to want to steal them, and they should, because they are just as comfortable as they look.
Compare popularity
Interactive
Compare the popularity of another shoe to Adidas Alphaboost: