First up, these shoes are a little bit different to anything I have tried before. I thought they might be a sturdy, heavy obstacle race type shoe but when you put them on they are nothing like that. They are light, flexible and comfy straight away and you hardly notice the sock like upper.
I decided to buy them out because I wanted something to replace my Inov-8 Roclites for my local parkrun. I put off trying them for a while because I felt like they may slow me down. Having worn them 3 weeks running, that is definitely not the case.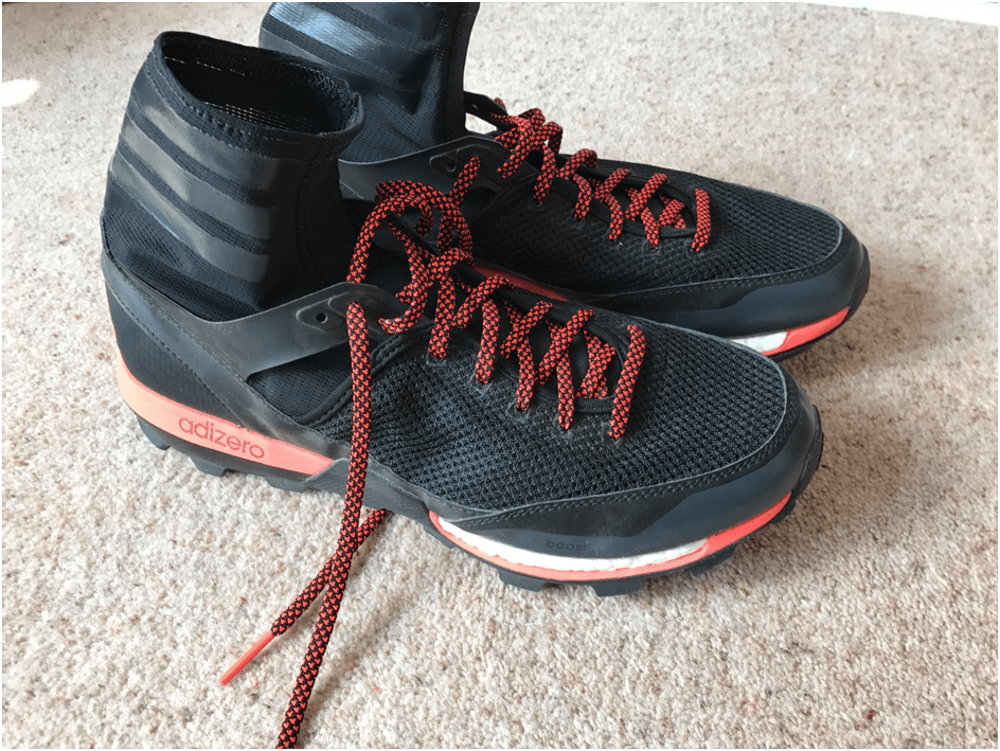 Design
The orange detailing is fairly flashy but otherwise the shoes are understated and in my opinion look pretty cool. The sock like upper means you probably won't want to wear ankle socks as this could lead to some rubbing.
Having your socks poking out of the top of the upper can look a bit strange but they don't take seconds off your time for looking good.
Feel
I have to admit I was worried that the top of the upper might be irritating but this was never a problem. The Adizeros were super comfortable straight away with no rubbing or blisters.
I think the main reason for this is that the whole of the upper is super flexible and thin so it moves with your feet. Surprisingly, this does not lead to a lack of support around your ankles and I actually found it easier to take tight bends than I did in the Roclites.
There are plenty of lace holes to get a secure fit and the stretchy upper molds to your feet anyway. Size wise, I am a 10.5 in pretty much every shoe and that is no different here. Width is fine and my feet are pretty standard width I think. They are a bit wider than my precision fit Roclites but not enough to be a problem.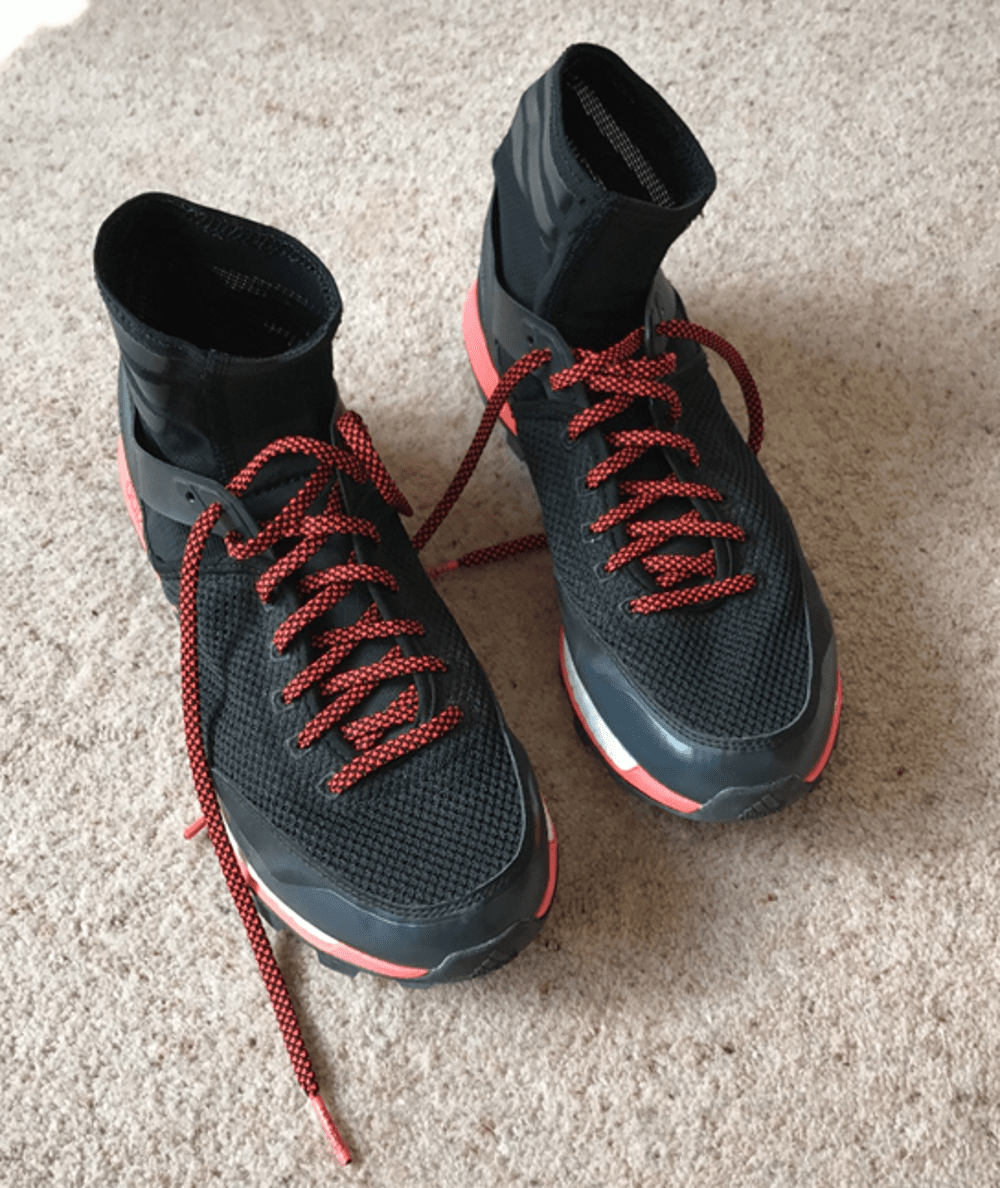 What about undernearth?
You get the famous Adidas Continental sole and it is as grippy and sturdy as you'd expect from a tyre manufacturer. I have not done loads of miles in them yet but they seem to be holding up well so far.
I have used them on the road, tracks, grass and dirt and they have never inspired anything but complete confidence. The lugs probably are not big enough for deep mud though, it will be back to the Mudclaws come winter.
Once the trails dry out, I am happy to bound down trails in the woods near where I live, faster than I probably should because the grip and spring from the Boost seem to push me down. The upper probably won't last as long as a sturdier trail shoe but for me the speed they let me carry, more than makes up for this.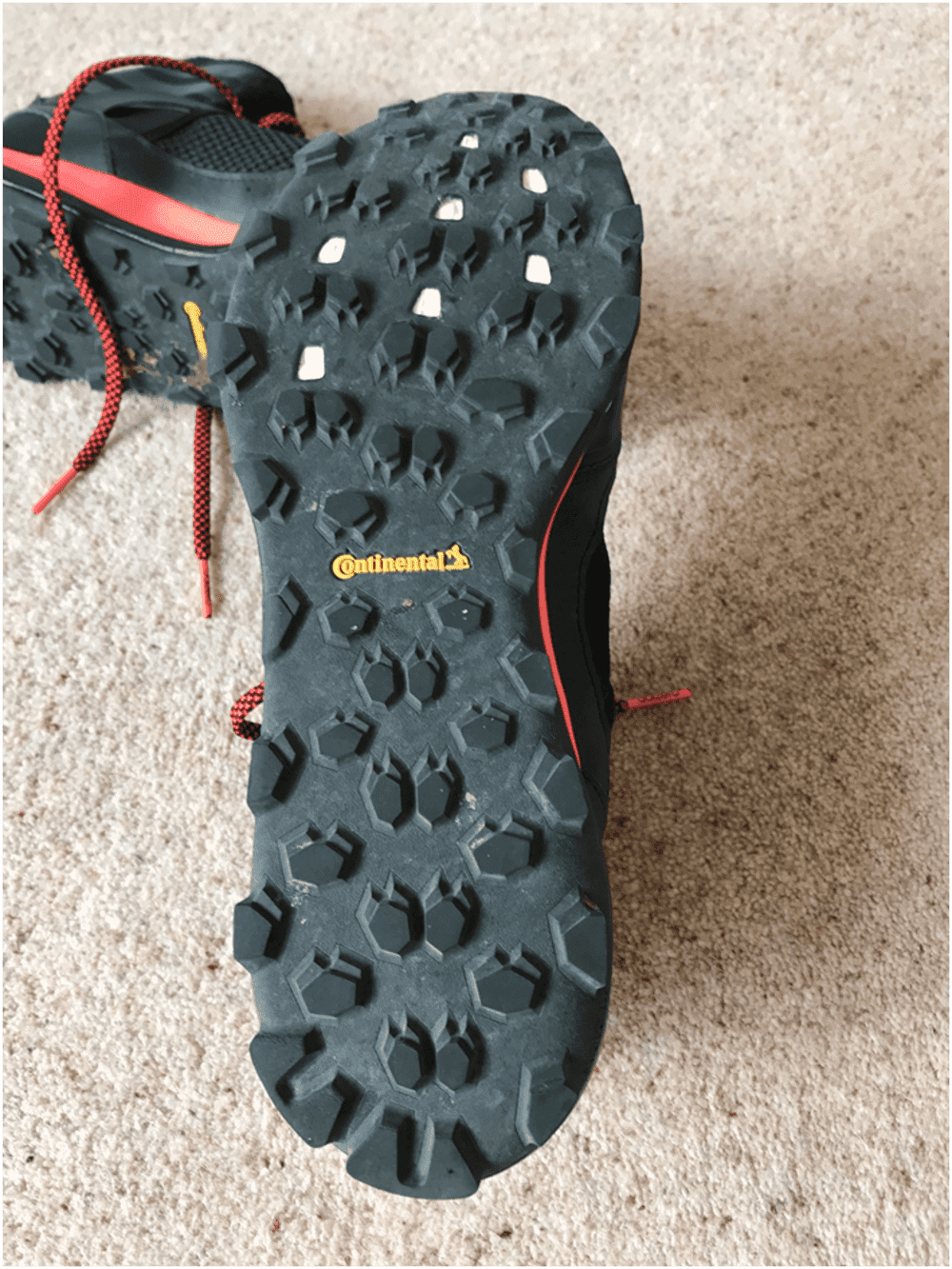 Performance
Did I mention what happened when I first wore these to my regular parkrun? I have done over a hundred runs there over the last two and a half years and had waited 9 months for a PB before trying the Adizeros for the first time.
They just felt fast from the official 35 seconds off my PB on that first run, and I was won over. They are light, springy and corner really well. The grip meant I could push on uphill and fly down and the sock like upper means you are not going to get stones and dirt inside the shoes to slow you down.
Conclusion
As you can probably tell I am pretty impressed with the Adidas Adizero XT Boosts because they are fast, light and can tolerate pretty much any surface on shortish runs.
The only downsides I can think of is that they might not suit heavier runners due to the lack of upper support and they would look a bit odd being worn if you were not running. Neither of these factors bother me and I am already looking for a good deal on a spare pair.
If you are of light build, like tearing around trails as fast as you can and looks are not the most important thing when it comes to shoes, I think you will love these.