Verdict from 4 experts and 19 user reviews
7 reasons to buy
A cleats-style upper offers sufficient durability and breathability.
Trail runners loved the way the upper keeps trail debris off.
The all-weather feature of the Adizero XT Boost is a coveted aspect of the shoe.
Sizeable lugs make running on different surfaces fun based on comments from several testers.
Flexibility is nicely added into the mix as agreed by many runners.
The fit and sizing of the Adidas XT Boost run true.
Most runners said that the shoe is light and nimble.
3 reasons not to buy
Some runners find the heel too wide for comfort.
It lacks a rock protection plate that several runners would have wanted.
A bit pricey for some runners.
Bottom line
A very unique upper comes as the most substantial change in the XT line. The Adidas Adizero XT Boost gets a bump in the performance partly due to this upper revamp. Runners will get reliable arch support and trail-debris protection from this shoe. A slightly lower price and the presence of a rock plate would have made the Adizero XT Boost outstanding.
Tip: see the best trail running shoes.
Our reviews
First up, these shoes are a little bit different to anything I have tried before. I thought they might be a sturdy, heavy obstacle race type shoe but when you put them on they are nothing like that. They are light, flexible and comfy straight away and you hardly notice the sock-like upper.
I decided to buy them out because I wanted something to replace my Inov-8 Roclites for my local parkrun. I put off trying them for a while because I felt like they may slow me down. Having worn them 3 weeks running, that is definitely not the case.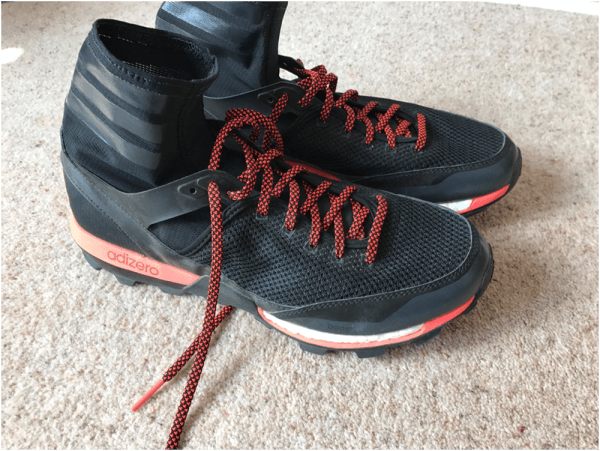 Design
The orange detailing is fairly flashy but otherwise the shoes are understated and in my opinion look pretty cool. The sock-like upper means you probably won't want to wear ankle socks as this could lead to some rubbing.
Having your socks poking out of the top of the upper can look a bit strange, but they don't take seconds off your time for looking good.
Feel
I have to admit I was worried that the top of the upper might be irritating, but this was never a problem. The Adizeros were super comfortable straight away with no rubbing or blisters.
I think the main reason for this is that the whole of the upper is super flexible and thin, so it moves with your feet. Surprisingly, this does not lead to a lack of support around your ankles, and I found it easier to take tight bends than I did in the Roclites.
There are plenty of lace holes to get a secure fit and the stretchy upper molds to your feet anyway. Size wise, I am a 10.5 in pretty much every shoe, and that is no different here. Width is fine, and my feet are pretty standard width I think. They are a bit wider than my precision fit Roclites but not enough to be a problem.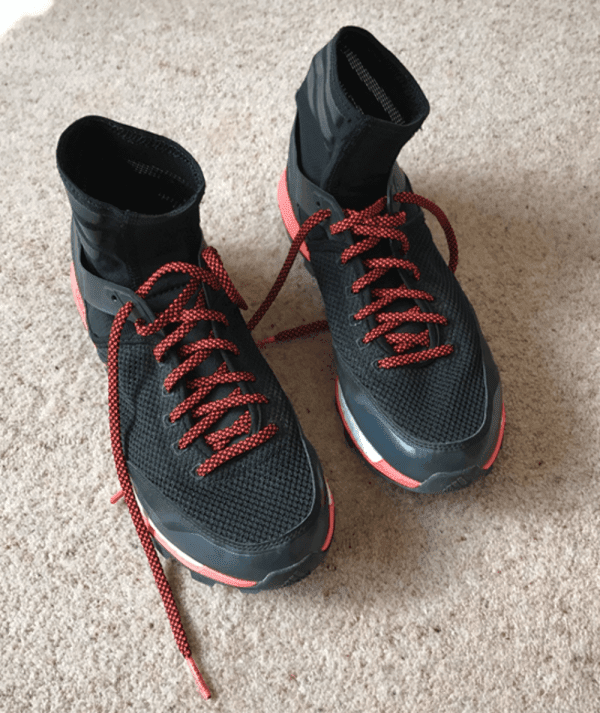 What about undernearth?
You get the famous Adidas Continental sole, and it is as grippy and sturdy as you'd expect from a tire manufacturer. I have not done loads of miles in them yet, but they seem to be holding up well so far.
I have used them on the road, tracks, grass, and dirt and they have never inspired anything but complete confidence. The lugs probably are not big enough for deep mud though, it will be back to the Mudclaws come winter.
Once the trails dry out, I am happy to bound down trails in the woods near where I live, faster than I probably should because the grip and spring from the Boost seem to push me down. The upper probably won't last as long as a sturdier trail shoe but for me the speed they let me carry, more than makes up for this.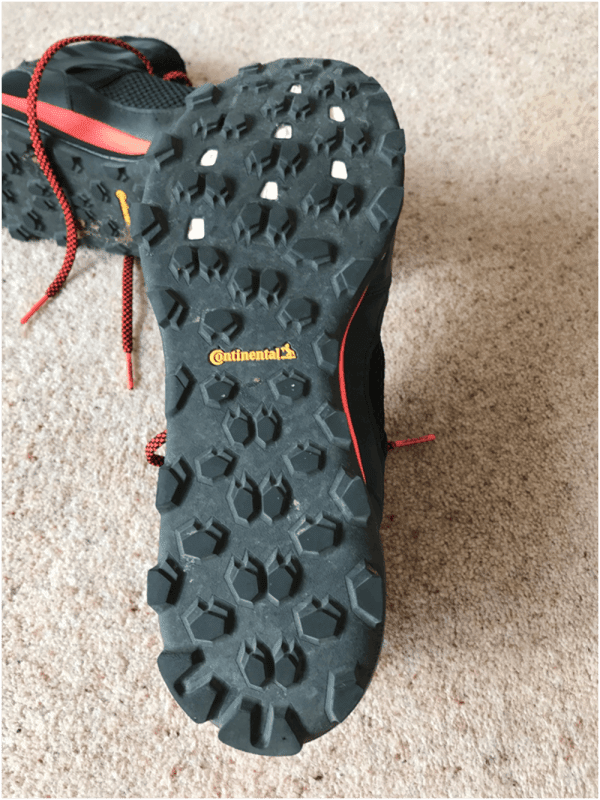 Performance
Did I mention what happened when I first wore these to my regular parkrun? I have done over a hundred runs there over the last two and a half years and had waited 9 months for a PB before trying the Adizeros for the first time.
They just felt fast from the official 35 seconds off my PB on that first run, and I was won over. They are light, springy and corner really well. The grip meant I could push on uphill and fly down and the sock-like upper means you are not going to get stones and dirt inside the shoes to slow you down.
Conclusion
As you can probably tell I am pretty impressed with the Adidas Adizero XT Boosts because they are fast, light and can tolerate pretty much any surface on shortish runs.
The only downsides I can think of is that they might not suit heavier runners due to the lack of upper support and they would look a bit odd being worn if you were not running. Neither of these factors bothers me, and I am already looking for a good deal on a spare pair.
If you are of light build, like tearing around trails as fast as you can and looks are not the most important thing when it comes to shoes, I think you will love these.
Good to know
Fast and sure performance over the rugged terrain is the purpose of the Adidas Adizero XT Boost. This trail running shoe was created to deliver a specific service when tackling the unpredictable outdoor trails. A high cuff resembles a semi-long sock and it supports the ankle and keeps debris off the interior environment. A lugged outsole gives this shoe a trail-specific purpose, making it efficient in handling many types of terrain.
A mix of lightweight textiles and mesh make up the upper unit of this running shoe. When combined, these materials create a durable, secure, and comfortable coverage that's also supportive and breathable, making it suitable for daily runs. Synthetic overlays have been stitched onto the upper for added snugness.
The trails don't stand a chance with the responsive and comfortable mid-sole unit of the Adidas Adizero XT Boost. Resilient cushioning is afforded by a full-length Molded EVA foam, which also gives the foot some springiness to each step. A proprietary cushioning system in the forefoot area affords the toe-off phase more propelling energy.
The outsole unit gives the runner superb performance when tackling the trails. This section of the shoe has been optimized to be specifically efficient on the rugged terrain, so durability is high, as well as multi-surface traction. It can even handle wet or slippery surfaces for sure control over the ground.
The Adidas Adizero XT Boost is true to its size. It is available in sizes that adhere to the regular measurements to which men and women are most acclimated. The offered width is medium, so this shoe accommodates the runner with a medium-sized foot. Its semi-curved shape welcomes the natural curvature of the human foot.
The TRAXION™ technology is an outsole design that uses aggressive lugs and durable construction to make sure that control over the surfaces is constant and superb. Maximum grip over inclines and downward paths is very much afforded to the runner.
The Continental™ Rubber is one of the most efficient outsole compounds on the market. Initially used for racing car tires, this technology eventually paved a path for running shoes to get the same amount of high-quality performance. It can handle the wet and slippery ground, thus preventing accidental slips.
The Molded Ethylene vinyl acetate serves as the immediate underfoot platform of the Adidas Adizero XT Boost. It is a lightweight, responsive yet resilient foam that delivers on its comfortable purpose. It gives a bit of springiness to the foot, so landing and toeing off becomes less of a strain to the runner. Consistent cushioning is available throughout the gait cycle.
The boost™ technology is the amalgamation of hundreds of TPU pellets that provide receptiveness and bounciness to the underfoot experience. Primarily found in the forefoot section, this unit makes each toe-off more enabled and explosive, while also retaining high quality cushioning. The popular Adidas Ultraboost is also known for the boost™ technology in its midsole.
A combination of lightweight textiles and mesh comprises the main upper unit of this running shoe. These materials offer secure and breathable coverage that's long-lasting and efficient. It doesn't limit the movements of the foot, but it keeps it in a snug wrap.
Synthetic overlays have been added to deliver more security to the foot. Directly connected to the lacing system, they cause the upper fabrics to follow suit when the laces are adjusted, resulting in a customized fit.
A high cuff supports the ankle and keeps the foot in place. It hugs the foot securely, effectively shielding the interior environment of the Adidas Adizero XT Boost from infiltration of debris and other trail hazards.
How Adizero XT Boost compares
Corescore: 55-58
1 shoes (0.25% of shoes)
Corescore: 59-62
1 shoes (0.25% of shoes)
Corescore: 63-66
3 shoes (0.74% of shoes)
Corescore: 67-70
11 shoes (3% of shoes)
Corescore: 71-74
16 shoes (4% of shoes)
Corescore: 75-77
33 shoes (8% of shoes)
Corescore: 78-81
99 shoes (24% of shoes)
Corescore: 82-85
116 shoes (29% of shoes)
Corescore: 86-89
97 shoes (24% of shoes)
Corescore: 90-94
29 shoes (7% of shoes)
Price: $60 - $78
25 shoes (6% of shoes)
Price: $79 - $97
26 shoes (6% of shoes)
Price: $98 - $116
68 shoes (17% of shoes)
Price: $117 - $135
121 shoes (30% of shoes)
Price: $136 - $154
78 shoes (19% of shoes)
Price: $155 - $173
53 shoes (13% of shoes)
Price: $174 - $192
23 shoes (6% of shoes)
Price: $193 - $211
8 shoes (2% of shoes)
Price: $212 - $230
2 shoes (0.49% of shoes)
Price: $231 - $250
2 shoes (0.49% of shoes)
All shoes average:
10.4oz
Weight: 6oz - 7.7oz
29 shoes (7% of shoes)
Weight: 7.8oz - 9.5oz
87 shoes (22% of shoes)
Weight: 9.6oz - 11.3oz
164 shoes (42% of shoes)
Weight: 11.4oz - 13.1oz
85 shoes (22% of shoes)
Weight: 13.2oz - 14.9oz
15 shoes (4% of shoes)
Weight: 15oz - 16.7oz
4 shoes (1% of shoes)
Weight: 16.8oz - 18.5oz
1 shoes (0.26% of shoes)
Weight: 18.6oz - 20.3oz
0 shoes (0% of shoes)
Weight: 20.4oz - 22.1oz
0 shoes (0% of shoes)
Weight: 22.2oz - 24oz
2 shoes (0.52% of shoes)