I was looking for a racing flat for my first marathon, the 2017 Chicago marathon, and had liked a previous version of the Adios flat so I gave the Adidas Adizero Adios Boost 3.0 a try.
They couldn't have worked out much better for the race. They felt great throughout the race. I didn't notice any hot spots or ever feel like there wasn't enough shoe for support.
In the lead up to race day, I tried a few other flats that left my legs feeling overworked. Not enough structure behind them.
Adidas has a perfect blend of just enough structure while still being lightweight and responsive. On the day I was hoping to run a little faster, but it wasn't the fault of the shoe!
Previously, my go to flat was the Nike Streak. The Adidas Adios seems more aggressive and has a more substantial support for longer distances.
Mainly, the Streak left the bottom of my foot sore often times when used for longer runs and workouts. This was not a problem with the Adios Boost 3.0.
Upper
Out of the box, the shoe was comfortable and light. The upper has a responsive feel than some of the more expensive flats. It replicates a sock-like feel. I really like the secure fit this provides.
When running fast, I prefer to not have the feeling like I am running in socks and that your foot has TOO much freedom to move around within the shoe.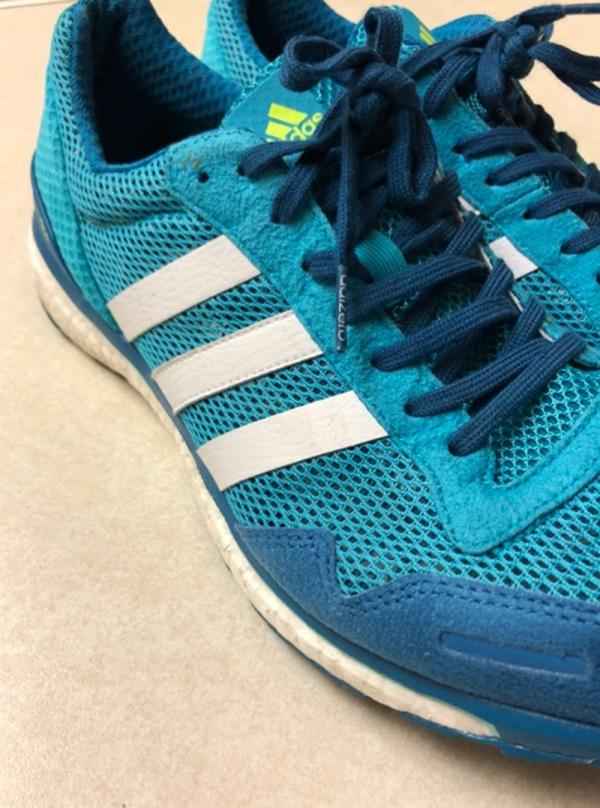 Another important note is that I didn't have any issues with the laces/tongue digging into my upper foot and creating pain points or blisters which is imperative.
Cushioning
The boost technology is amazing!
The sole is lightweight and comfortable while not being overly bulky. The sole offers a substantial cushion for a racing flat without feeling heavy. I could wear this flat as an uptempo trainer, and likely will from here on out.
They are perfect in terms of cushioning and weight for a half marathon to the marathon race.
Even after a full marathon, I didn't have any foot discomfort that is often present with racing flats with very little cushioning.
Traction
The Adidas Adizero Adios 3.0 has the Goodyear traction placed on the bottom of the shoe.
A lot of flats give the feeling that you may slip if even one raindrop hits the pavement. You might even slip on your own sweat.... not with the Adios.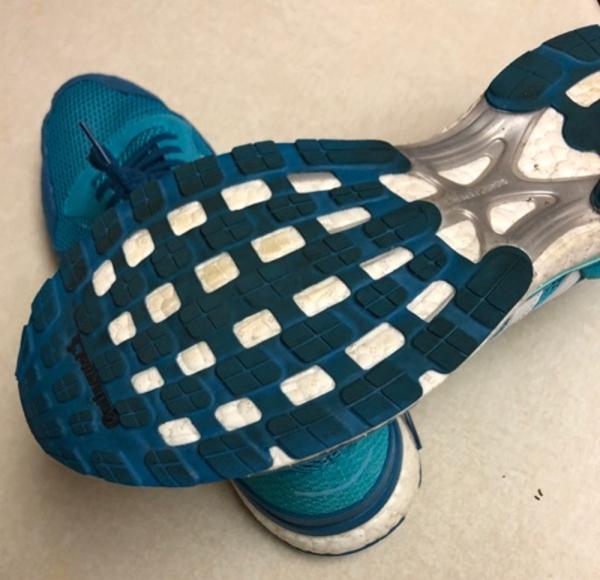 They are unlike any other running shoe I've tried in this aspect!
You really feel connected to the ground. When running at faster speeds this is very reassuring. Making 90 degree turns in a race is also easily navigated due to the extra sense of traction provided.
Responsiveness
When you put on the Adizero Adios Boost 3.0 on you feel fast.
From the support they offer, the unbelievable traction, to the lightweight cushion, they are a near perfect marathon flat. Very responsive and light combination.
The upper allows your foot to feet secure without creating hot spots or pain points due to too much restriction. A secure foot in the shoe has always made me feel faster and more confident in a workout or on race day.
Overall
There must be a reason that a good number of the top marathoners in the world wear these shoes!
You put them on and just feel faster and they offer enough cushioning to get your legs through a marathon. These will be my go-to racing flat until the next version (maybe)!