Who should buy the Adidas adiFOM Q
Scoop this up if:
you're in for bold, chunky silhouettes
you have your heart set on futuristic sneaks
you love to bookmark minimalist kicks
you fancy Foam sneakers that appear like those from Crocs
Who should not buy it
If you will let this sit because it comes with a bulky frame and less flexible toe box, consider other out-of-the-box kicks from the Adidas Yeezy line. Go over the Yeezy 700 or the well-sculpted Yeezy 700v3. Or, perhaps, the Yeezy 450 might suit you more. Also, check out the Nike Foamposites, as these basketball-inspired kicks allow your feet to flex easily.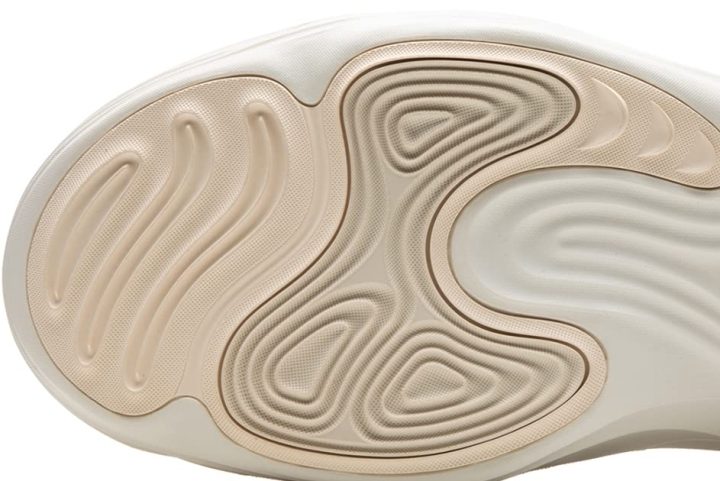 Adidas adiFOM Q vs. Adidas Yeezy Foam Runner
What are their similarities?
Both are made of breathable, molded foam shells
They closely resemble in shape and colorway
Each screams an innovative, fashion-forward style that's relatively unique in the market
What makes them distinct from each other?
Adidas adiFOM Q has laces, while the Yeezy Foam Runner is lace-free
The exterior foam density on the adiFOM Q is firmer than in the Yeezy shoe
adiFOM Q has a removable inner bootie, while the Foam RNNR doesn't have a liner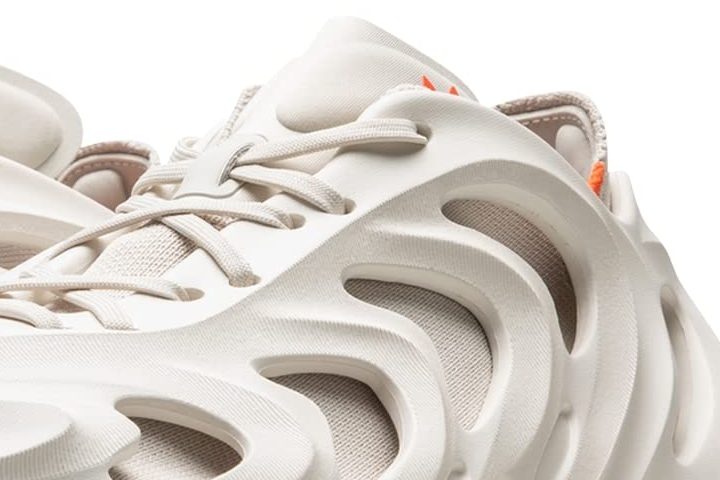 This fashion-forward Foam is fire
"Adidas adiFOM Qs are straight gas!" And it sure sparked fire between Adidas and Yeezy fanatics. While the brand claimed that this kick pays homage to the Adidas Quake from its 2001 running shoe archive, it is sculpted in foam, much like the Adidas Yeezy Foam Runner. Sneaker designers are slowly resorting to the foam shoe trend as it gives them the freedom to experiment with shapes and textures—unobtainable techniques with textile and leather materials. Here are some quotes from sneaker buffs who weighed this shoe against other Foam kicks on the market:
"I like the curvature; it reminds me of the Foamposite era"
"wild-looking shoe"
"it looks like it came out from Jurrasic Park."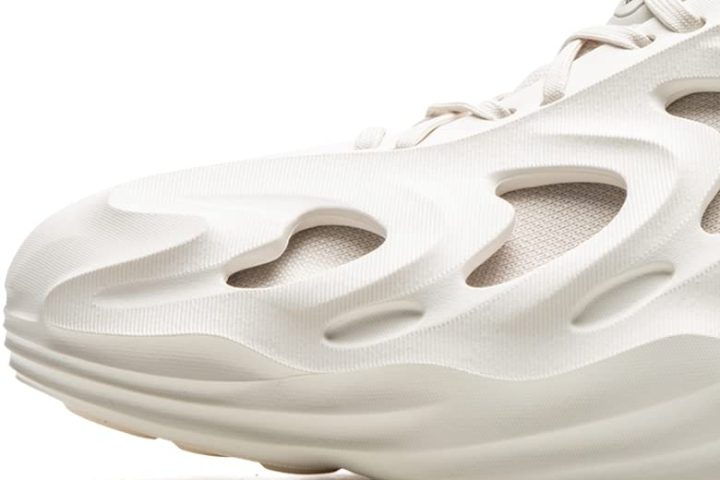 Adidas adiFOM Quake fits perfectly for the narrow-footed
Many sneaker users with narrow feet decided to go true to size, and they loved the adiFOM Q's overall fit. A male Youtuber with an actual 10 US size said, "it fits perfectly with the lining in." But most reviewers suggested sizing up in half if you have wide feet. The following section explains why.
Forefoot area can be a bummer
Two sneaker fanatics said the forefoot area "isn't as malleable" and "isn't as forgiving" as on the Foam Runner. This "dragon skull-looking" section feels like "the stiffest part of the shoe." So it isn't advisable to get your standard size if you're wide-footed.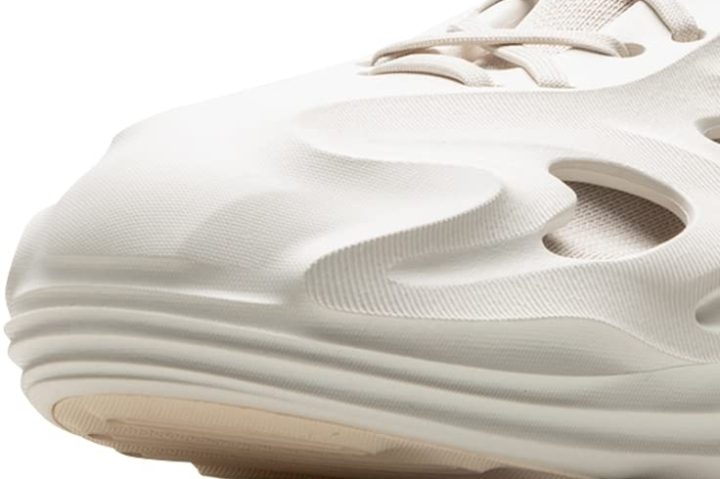 Underneath that tough exoskeletal shell is a softie
According to a sneaker geek, the bootie-like interior is made of polyester cotton-blended mesh that easily molds to the foot's shape because of its elastic nature. This removable knitted bootie provides "a really nice place for your foot to rest" as it's "definitely soft underfoot." A sneaker buff said the liner is foot-hugging as the sock-like Yeezy 350 Boost v2. But the adiFOM Q's interior sock is way thinner.
A gentle beast that lets you enjoy comfy strides
The bottom section of the inner bootie cradles the feet. Below are some of the testimonials of satisfied sneaker testers:
"I was blown away by the comfort underfoot"
"I can definitely attest that it offers energy return"
"it gives you extra bounce with each step"
"there's plenty of cushioning"
"comfort is due to the crazy soft adiPLUS cushioning"
Apart from the inner bootie, the removable insole is another reason this kick feels plush. As one sneaker enthusiast puts it: "it's like having 4 or 5 layers of cushion when you're walking in this shoe."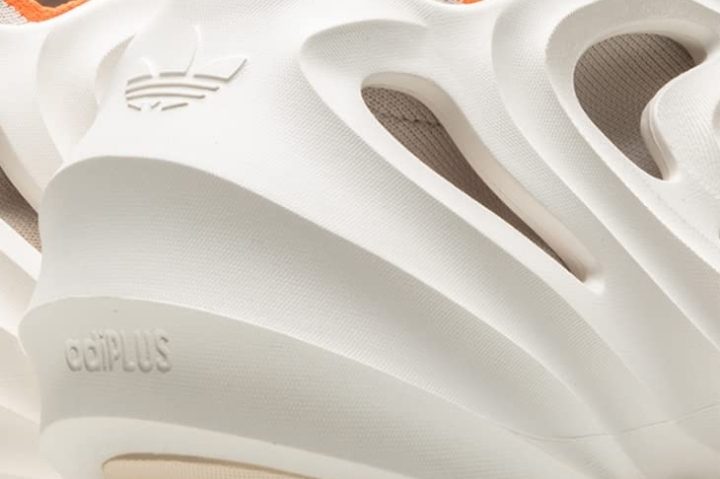 It comes with a padded world inside
The tongue and heel are lightly padded, which offers another layer of comfort as you glide your foot in and out of the shoe. One reviewer who experienced blistering and ankle bleeding with the Foam Runner said the padding on the adiFOM Q is a "great addition."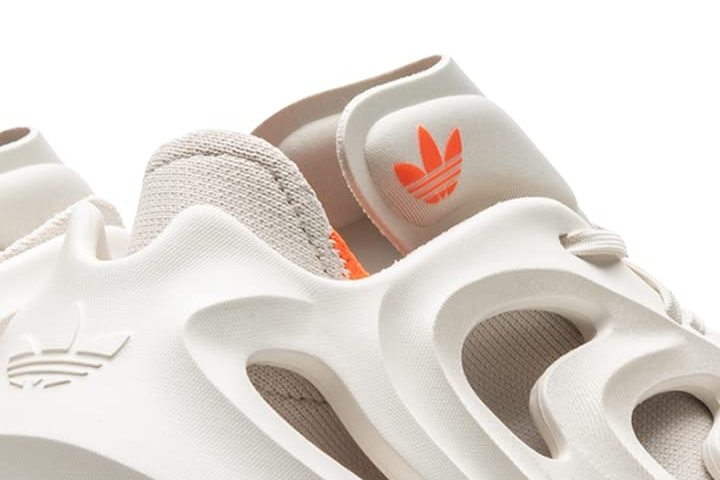 Its inner bootie feels breezy and keeps dirt out
Because of the soft and porous knitted bootie, you can expect this kick to give you sweat-free feet. And if the Foam Runner exposes your feet from external elements with the large perforations all over the shoe, the lining on the adiFOM Q "keeps your socks and feet clean, especially if you're going through the dirt."
Heel tends to peak out when walking
Since the forefoot tends to grab the foot a bit tighter than the back of the shoe, some complained about their heel sliding out even when wearing socks.
No slipping on concrete
On the flip side, the shoe has rubber traction pods on the forefoot and heel. Here's how some reviewers describe the outsole:
"it got a Yeezy 500 vibe on the outsole traction"
"it got some really nice gripping"
"no problem gripping the concrete ground."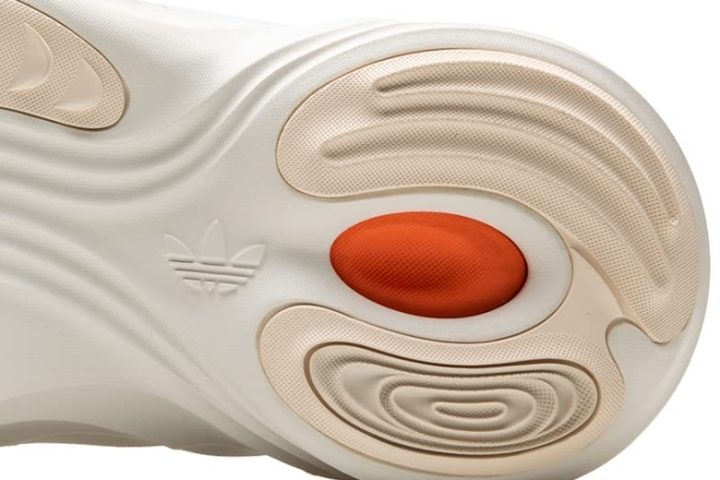 Easy to cop
These are "fairly priced, which makes them a good alternative to the Foam Runners." Compared with the Yeezy shoe, these kicks are much easier to cop. As one sneakerhead projects, "the more colorways they release, the more chances that the prices will go down."
Compare popularity
Interactive
Compare the popularity of another shoe to Adidas adiFOM Q: