The Adidas 4D Run 1.0 is a stylish shoe that is reminiscent of Ultraboost, but more people will be drawn to it as a lifestyle shoe than a running shoe. If the 4D Run 1.0 is lighter and a bit softer, the shoe would be much more functional as a runner. If you are looking for a high-quality running shoe that doubles as a lifestyle shoe, the Adidas 4D Run 1.0 can do the trick as long as you don't care about speed.
Pros
True to size
Exceptional comfort
Soft and breathable upper
Excellent lockdown
Stylish design
Grippy outsole
Cons
Rather heavy
Excessively long laces
Not for wide feet
Adidas 4D Run 1.0 review
The expensive Adidas 4D Run boasts 17 years of sports data, input from 4000 athletes, and advanced 3D printing technology that's able to absorb pressure and adapt to your steps.
This is not a racing shoe but a daily trainer that can help eat up the miles and prepare you for race day. One advantage of excessive weight is that once you run in another pair of shoes, they will feel much lighter, which should help you run faster.
Who should buy it
The 4D Run 1.0 is ideal for:
casual to more advanced runners
runners who appreciate style as much as function
runners looking for some stability and protection underfoot
Who should NOT buy it
Look away if you:
prefer lightweight running shoes (the Adidas SL20 is praised for its light and responsive design)
you're a new runner or on a budget (the Runfalcon 2.0 is affordable and can double as a lifestyle shoe)
you need a shoe for long-distance running (in this case, consider the Adizero Boston 10)
Best for mid to medium-long runs (5-13miles)
I find the 4D Run 1.0 best suited for medium to medium-long runs, which I consider in a range of 5 to 13 miles. These will not do well for you during speed work or fartleks as the weight will prevent you from increasing your cadence as much as is needed.
Surprisingly smooth ride in the 4D Run 1.0
On my first run, I realized that the 3D-printed lattice midsole was not bouncy like Boost or plush like many maximalist running shoes you find at the weight of the 4D Run. The feeling was firm with a bit of bounce, and it took some time to find my rhythm and get a comfortable cadence.
The midsole is rather substantial, with 28mm in the heel and 18mm in the forefoot. Despite this, I felt low to the ground while running, so I intentionally tried to find some rocks to run on to test if I could feel it underfoot. It was barely noticeable, even when running on bigger rocks.
The ride is much better if you are a mid to forefoot runner. When I was landing on my heels, there was a bit of sinking in feel, and it did not transition well in my strides. My times were surprisingly good considering the weight on the shoe, and it did not feel as heavy once you hit your paces. The technology of the 3D-printed lattice midsole does seem to work at absorbing pressure and adapting to your foot.
Beautiful kicks!
I know beauty is in the eye of the beholder, but the moment I pulled the 4Ds out of the box, I was impressed with the style and could not wait to get them on my feet. I received the color Dash Grey/Signal Coral/Blue Spirit, and I love the combination, especially for summertime. Adidas offers four other colors, and the shoe is being sold as gender-neutral.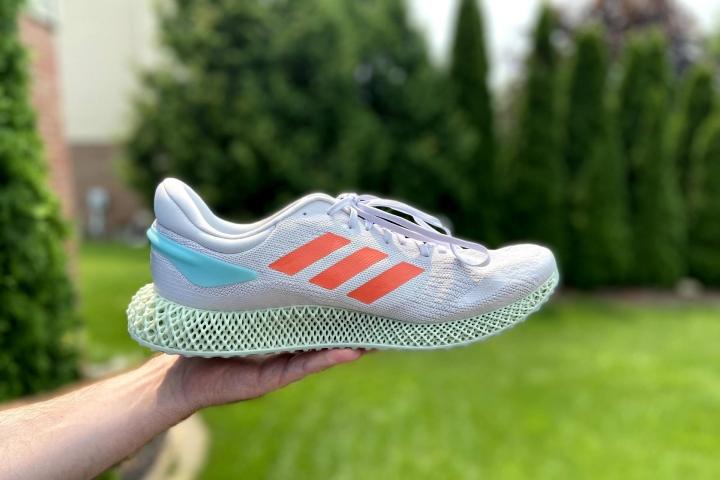 There are no reflective elements for nighttime running, which is pretty standard for Adidas running shoes.
The 3D-printed lattice midsole looks extremely modern, especially with how the heel flares out. The TPU heel counter gives it an extra bit of style (blue spirit), and the Primeknit upper is the icing on the cake. This shoe is more fashion than function, in my opinion, much like the Adidas Ultraboost.
The 4D Run 1.0 is a fatty
Despite its beauty, the 4D Run 1.0 could stand to lose some weight. The first time I picked up the shoe and held it in my hand, I could feel that it was bottom-heavy, with the majority of the weight residing in the mid and outsole.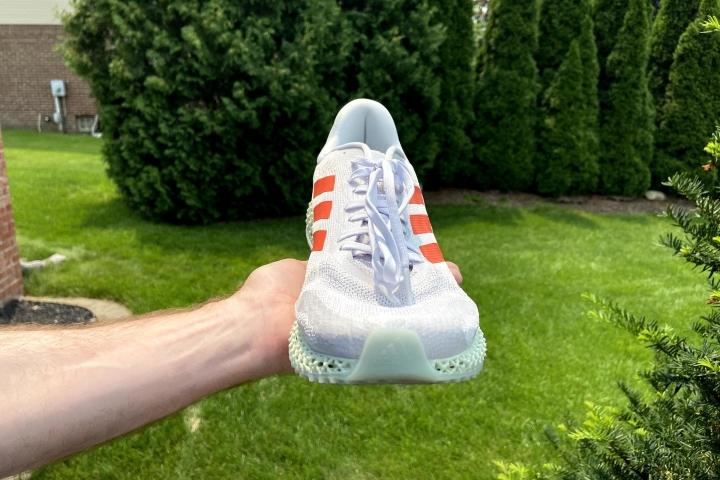 The Adidas website lists the weight at 11.2oz for a men's size 9 and a women's size 10. For my size of 12.5 US, it weighs 15oz (425g). For comparison, my HOKA Speedgoat 4 is 14 oz (397g). This is the GTX HOKA version with the Vibram grip, so you would expect this to be a heavier shoe, but it is still lighter than the 4D Run.
Comfortable and breathable
Adidas uses recyclable material to create this shoe, but don't let that dissuade you; it is extremely comfortable. The upper is made with something called Primeblue, which uses ocean plastic, and is surprisingly stretchy, soft, and breathable. It is one of the best uppers I have experienced in a shoe.
The non-gusseted tongue can bunch up
The step-in feel is quite nice with a substantial insert for extra cushioning and a nicely padded heel collar and Achilles notch which provides exceptional lockdown.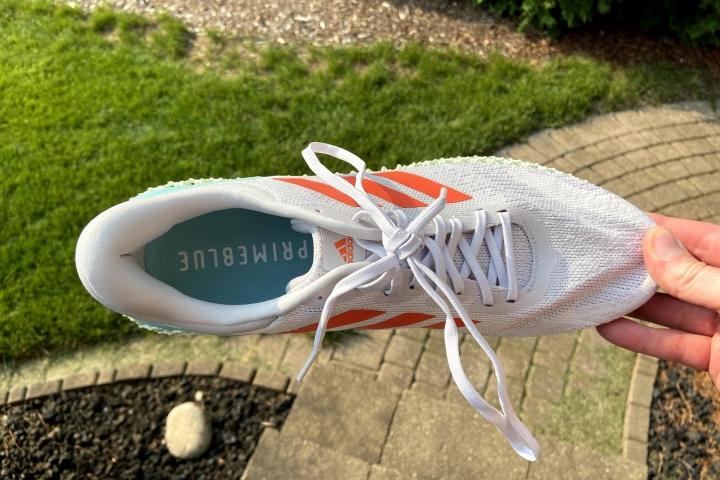 My only complaint is the tongue. It is non-gusseted and tends to bunch up if you try to slip on the shoe instead of lace-up. Once you get the tongue right, it will stay in place.
It may be too narrow for wide feet
The 4D Run 1.0 fit true to size for me, and I had no issues with hot spots or blistering. My foot runs on the narrower side, but I think wider feet may have some problems, and Adidas doesn't offer a wide-size option.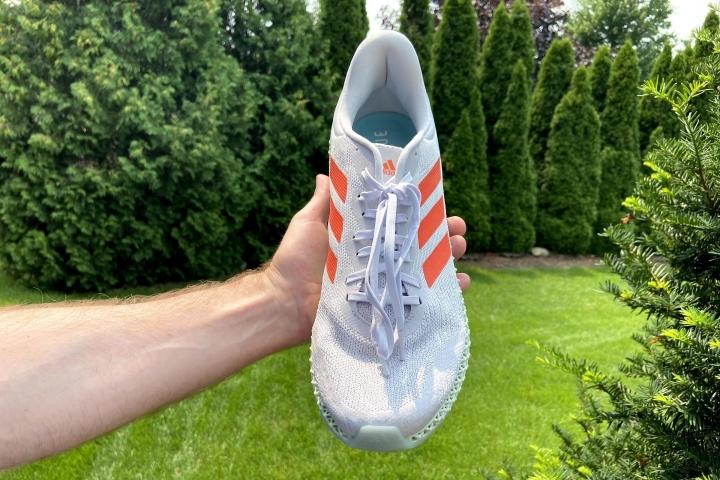 The upper is relatively stretchy and can expand to accommodate a wider foot, but I'd be concerned about hot spots. If you have a wider foot and still want to give the 4D Run a try, I'd suggest sizing up.
Grippy outsole
I have seen some sources claiming that the 4D Run 1.0 uses Continental Rubber, but I've seen no evidence of this on the shoe's branding or on the Adidas website. Regardless, the outsole has been exceptional for me. Running tight corners, light gravel areas, or wet pavement has been a non-issue.
I wish they could use the Adidas Stretchweb technology to save some weight, but the lattice structured midsole probably requires full rubber coverages, unlike many other midsole technologies. The full covered rubber outsole does provide more rigidity for a snappier toe-off while running.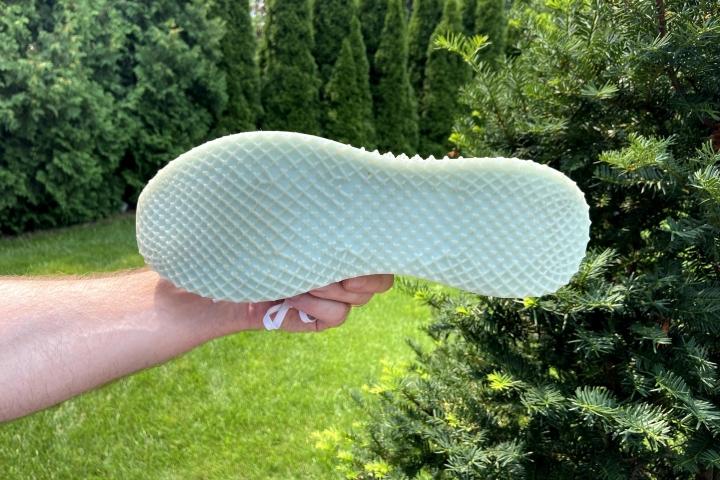 More suitable for pavement
I would strongly recommend only running on pavement in these shoes. The lattice midsole tends to collect debris, so if you want to run off-road, you may have to spend some extra time cleaning out the shoe afterward.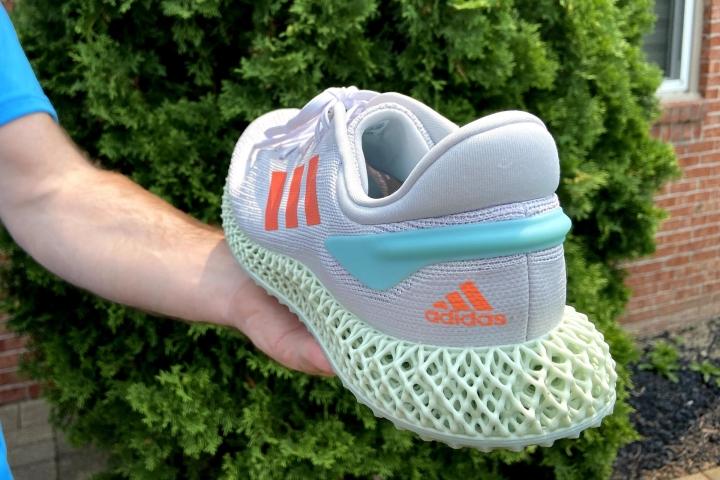 The 4D Run 1.0 lasts for long
The Adidas 4D Run is built with some of the best materials I have experienced in a shoe, and seeing that it is retailing at $200, it should be. It is hard to believe this shoe is made with recyclable material, and you have to be impressed with the technology put into it.
After several miles, the outsole has gotten a bit dirty, but I see no wear on any part of the tread. I predict this shoe can go at least 400 miles.