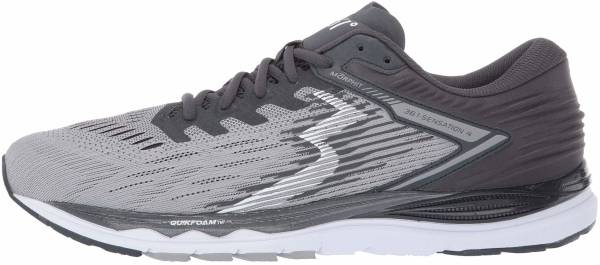 The 361 Degrees Sensation 4 is a road running shoe designed to provide support for runners who overpronate. It utilizes technologies that deliver enhanced stability and comfort to improve the running experience. The shoe also features a stylish design, making it perfect not only for running but also for casual walks.
---
Verdict from 8 experts and 100+ user reviews
7 reasons to buy
The majority of the users said that the 361 Degrees Sensation 4 is comfortable.
This running shoe is lightweight, several runners claimed.
Many buyers appreciated the soft cushioning of the shoe.
Some wearers noted that the tongue helps offer a snug in-shoe feel.
It is supportive, according to a couple of consumers.
Several purchasers mentioned that it is also good for casual walks.
People appreciated the shoe's breathability.
2 reasons not to buy
A lot of consumers mentioned that the shoe is a bit narrow.
The shoe lacks flexibility, according to a user.
Bottom line
The 361 Degrees Sensation 4 is a road running shoe designed to provide support for runners who overpronate. It utilizes technologies that deliver enhanced stability and comfort to improve the running experience. The shoe also features a stylish design, making it perfect not only for running but also for casual walks.
Best price from 50 shops
We earn affiliate commissions at no extra cost to you when you buy through us.
30% say it's too small, 70% say it's true to size.



Our reviews
361 Degrees is a brand many of my friends had not heard of when I commented that I'd be reviewing them.
With this renaissance of running technology, it is easy to succumb to the loud noises of the big brands, yet, slowly but surely, brands like 361 Degrees are earning a place in people's minds and hearts (and feet).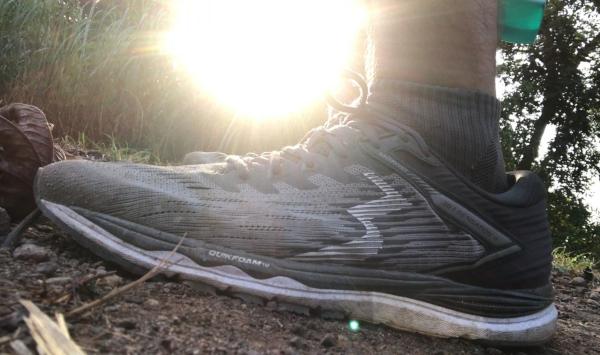 But First, a little background. Since 2003, 361 Degrees has been developing shoes and sportswear in China after being the official supplier and sponsor of the Chinese Olympic team in Rio 2006.
361's CEO Otto Lin met with the former vice president of footwear for Asics America Corp. Jim Monahan, who became the CEO of 361 Degrees USA since then, he seems to be the one that bridged the gap to allow the internationalization of this Chinese brand.
About what makes these shoes different, Monahan says, "Everybody's focusing a lot on foams and insoles, but we believe there's a lot that can be improved on with fit."
Comfort is still one of the major reasons why people buy shoes. Comfort is still one of the leading factors in preventing injury. So our goal is to continue to refine and define fit."
Now, to the task at hand.
Mild stability (whatever that means)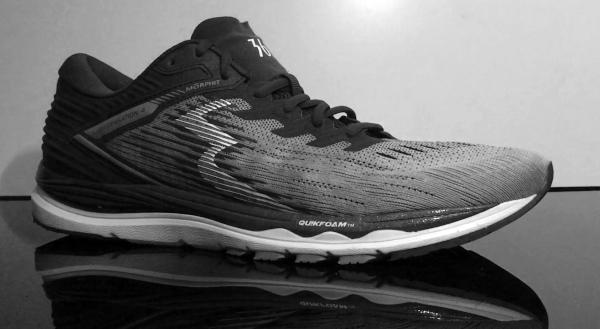 The Sensation 4 is defined as a "mild-stability shoe." Upon hearing this, a heavy, slow, and stiff shoe came to mind.
As a mostly neutral runner, I had never believed in stability shoes being other than some form of punishment for not having perfect feet. So, having these branded as "stability" brought back bad memories.
Soft and fast; who knew these two could go together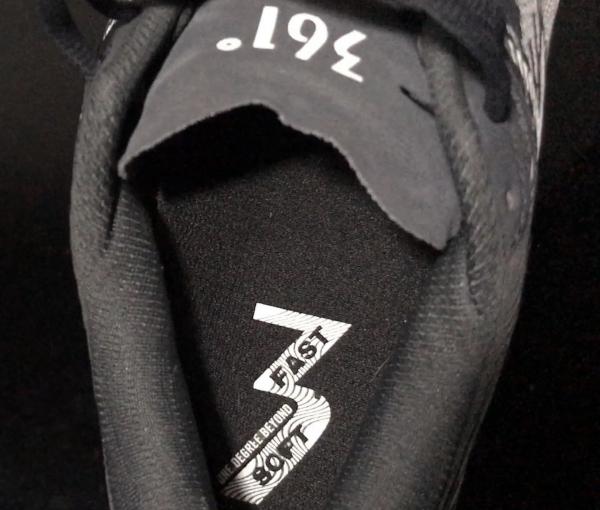 Nothing further from the truth. If you look on the insoles, you'll see a motto saying "Fast and Soft" (who knew those two could go together, much less in a stability shoe). The Sensation 4 manages to be comfortable and perform well at high speeds.
Looks & fit
The looks to me follow a theme of flow and wind, horizontal lines go from the upper's mesh to the heel counter, the looks are more on the classic retro look of former racer shoes. A big number "3" stands tall to identify the brand in a moving fashion.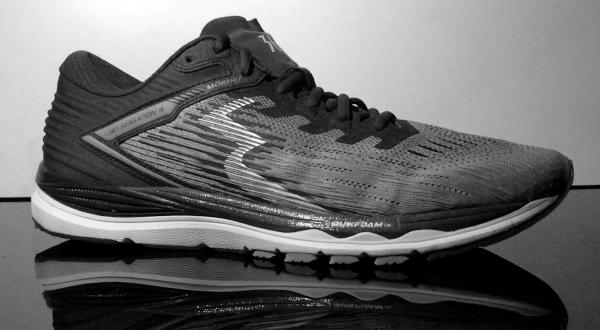 The most iconic feature of the looks is the low stack height. In a world of foam craze, the Sensation 4's low profile is a rare sight.
The midsole in this "Sleet/Black" colorway is composed of three different shades of grey functional components that stand out. The heel part of the midsole has what appears to be a flexing muscle offering medial support.
Overall, I think it looks good but bit outdated. Shoes are becoming simpler in their design with more focus on colors and simple shapes.
The fit is superb; the shoe is snug and plush inserts all over. I did notice some heel sliding at first, but was able to correct it with using the last eyelet to lock the heel more.
This is strange considering the heel counter is constructed with a stiff plastic material that holds the heel laterally. My issues were of the heel sliding out of the shoe, but it was not an issue really.
The tech
There is a whole bunch of proprietary technologies in these shoes.
The MORPHIT sleeve provides lockdown in the spine by securing the foot using an inner sleeve that gets the pressure of the laces to press down on foot. This is on the inside of the shoe, as shown in the pictures.
The MORPHIT sleeve; it is actually on the inside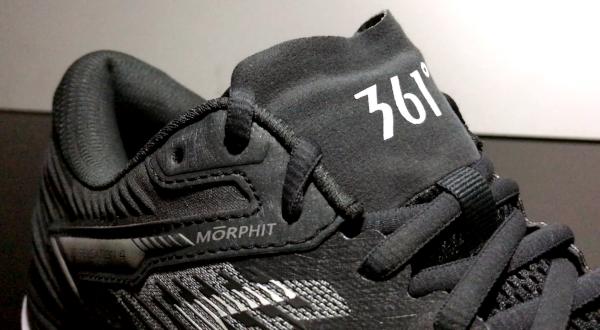 The Sensation 4 also introduces carbon fiber (yes, you heard this right) in the form of a QU!K Spine shank very similar to the Nike Zoom Streak 7s, except those were made of nylon.
This pair quietly enters the carbon fiber craze.
QU!K Flex 4Foot Engineering means the shoe only really bends between the tarsals and the metatarsal part of the foot.
The shoe bends only where the fingers meet the ball of the foot. This provides a nice push-off after contact and provides stability to the rest of the foot.
The pressure-free tongue is by far my favorite part of this shoe. In a world of weight reduction, the Sensation 4 stays true to the promise of comfort with this.
The full-length QU!KFOAM midsole provides surprising comfort for the size. It leans to the firmer side but provides efficient cushioning.
The outsole
Finally, a shoemaker lets us look inside the elements that hold the midsole. In the bottom, you can see the QU!K Flex 4Foot Engineering element made of what appears to be carbon-fiber mesh.
The rest of the midsole offers black and grey rubber inserts in shapes that promote flexing as well as exposed foam in the arch section. The amount of rubber conveys durability and provides sufficient grip.
The performance
This pair is sneaky! When first putting them on, you'd think shoes this comfortable should not perform well. At 10.3 oz or 292 grams, you might be tempted to call them heavy, but upon wearing them, the feeling is gone.
The ride reminded me a lot of the Nike Streak 6; I loved it so much! These shoes are probably twice as heavy, but the torsion, the stiffness of the midsole, and the dynamics are similar except for the element of plushness that is felt all around the foot as you run.
The Streaks were like sandals you run on compared to these. At 9mm drop, they sit unnoticeably low compared to most maximal running shoes today. The low stack height is great because it makes the ride more balanced.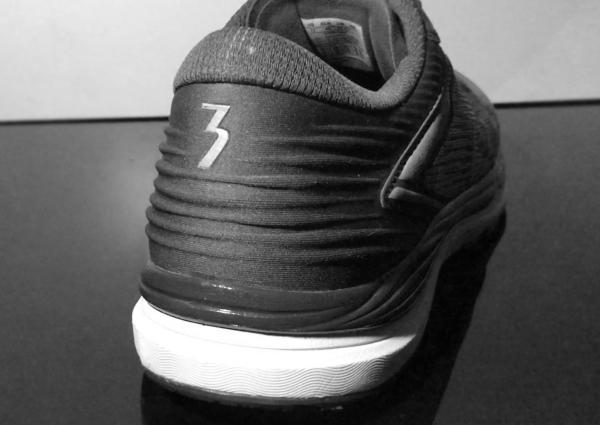 Some racing shoes these days make you think you run in stilts, although it is always nice to look taller, some running drills become more difficult at a very high stack.
In terms of speed training, I was able to perform my interval training very well, but I felt these shine in long runs. The comfort of the insoles is stellar; the arch support is very present.
The only complaint I had with the fit is that the shoes are so snug that I have to wear them with thin socks for my regular size. If you are of wide feet, you might consider going up half a size or trying them on in person.
The biggest surprise
I was invited to a group run. The organizer said it was mostly road with a little light trail during summer days. I figured I would not need my trail shoes, so I gave the Sensation 4 a chance.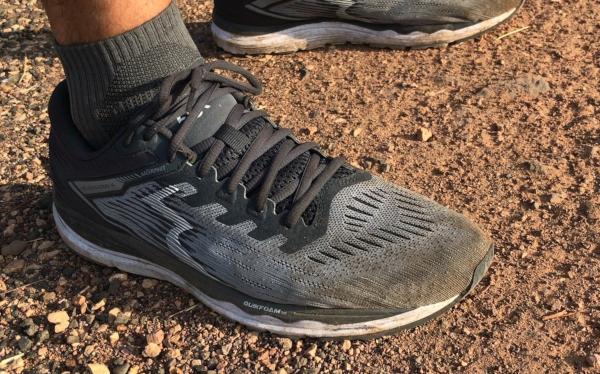 I was pleasantly surprised, but their performance on gravel and other difficult terrains, the grip is superb, and the structure provided by the stability elements on the heel made for a lot of control.
The Carbon-Fiber QU!K Flex 4Foot tech acted as a rock plate, preventing shard rocks from being noticeable. I did notice a little bit of damage to the exposed foam due to rocks but doubted it would be serious.
For a road shoe, it performed just like a trail shoe without the extra weight. By the way, the run ended up mostly in difficult trails.
The Sensation 4 turned out to be a trail shoe in disguise
In summary, I hope you give the 361 Degrees Sensation 4 a chance. Don't be fooled by the stability claim, as a mostly neutral runner,
I had great runs in them without any element of stability getting in my way. So if you want a comfortable shoe you can race on, you got yourself a friend here.
The good
The pressure-free tongue should be winning awards on its own, it's great!
Superbly comfortable and stable ride
Low stack height is great for balance
Durability seems to be very high
The bad
I wish the looks were a bit more modern and cleaner
Had some issues with heel lockdown but was able to fix it using the last eyelet
It is well-known that 361° is an emerging running shoe company, using technology to create a fast and innovate. In this case, they have tried to incorporate the "famous" carbon fiber plate.
As you guys know, this attachment has been the controversy. I did not know much about it until I got this pair. So, let's start with this review.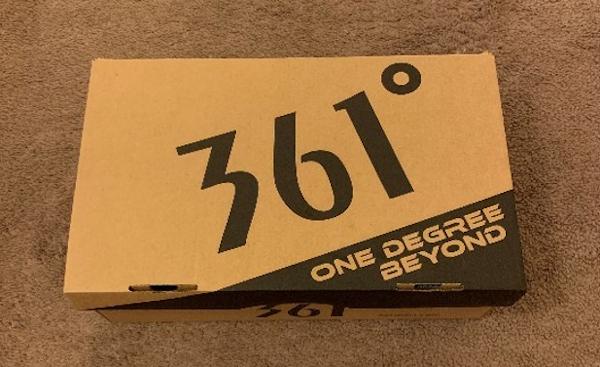 This shoe has been built to provide high soft cushioned mileage with amazing support, as the company said in their statement. It really is, and I am going to explain why.
First of all, when I received the shoes the main feature that kept my attention was the carbon fiber. I know it is a miraculous material used in all fields, but at this time, I did not know about how it could help with the running performance.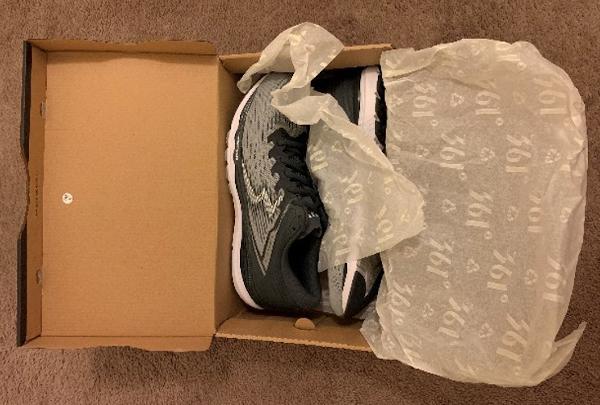 I did not want to do my research before I test them for some miles; why? I did not want to be predisposed. I am very focused on this material because I know brand's other technologies and features. I am kind of used to those.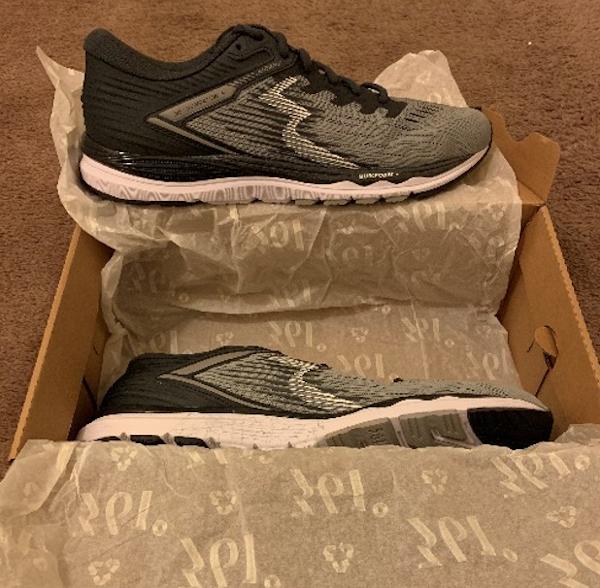 The shape and style are not fancy like other brands, nothing out of this world. But, 361° keeps it simple and very functional, which is what most important for me. I rather pay for efficiency instead of luxury.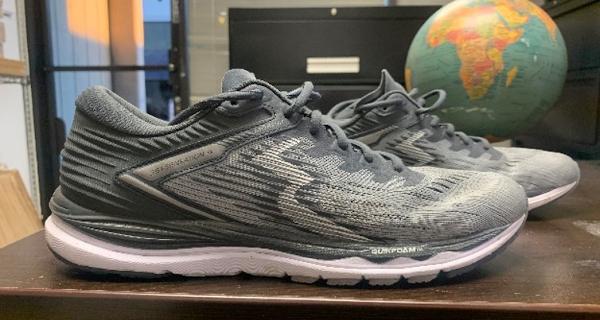 The raw materials are good, I like the way it dries up really fast. Also, it has good ventilation. I have never felt my foot warm up when I am running.
Qu!k Spine
This is one of the most important features in this road shoe, and I think the evolution of this brand. The next image shows how I improved my running pace without any knowledge of the carbon fiber plates.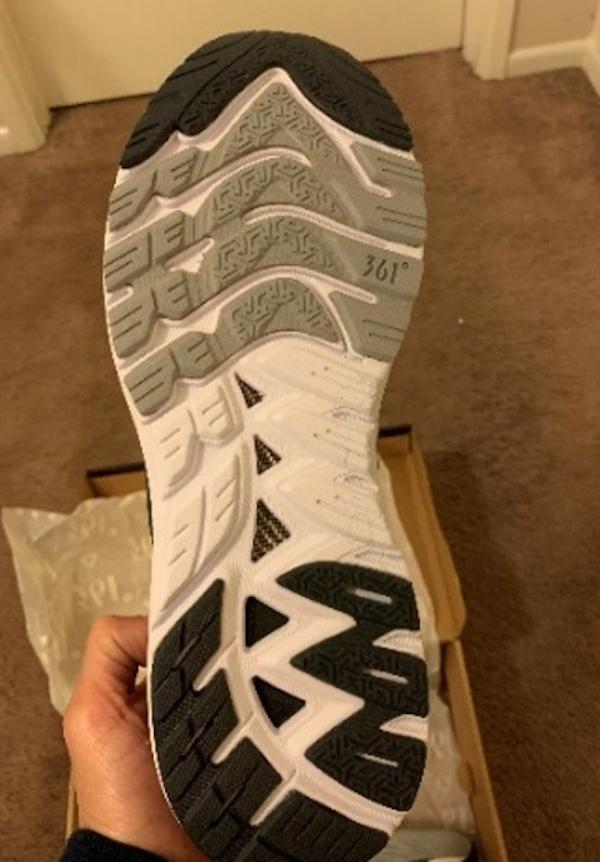 I am not too perceptive when I am wearing new running shoes. That's why I always try to run with them and let the miles tells me what is good or wrong.
This case, in particular, I started to sense something different after analyzing my results. I realized my average pace was going better with less effort, I saw my stride changed as well and I was feeling faster.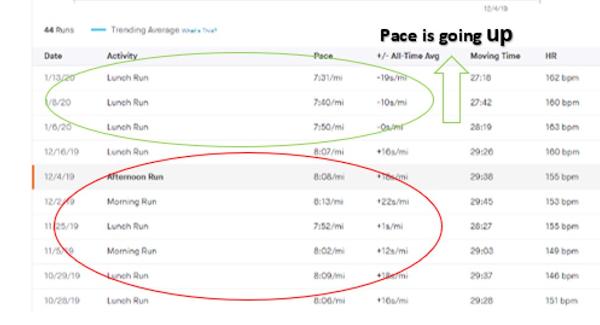 I can tell this model is very stiff because of this carbon fiber plate. According to what I have researched, those plates stabilize your foot and provide the necessary support.
Also, these make your forefoot stay prepared for propulsion all the time because your toes barely touch the ground—all that energy is converted in speed.
I understand that when you are looking for speed you will get stiffness. You can't be fast with an insecure stride; it must be solid. So, this is an A+ grade for these shoes.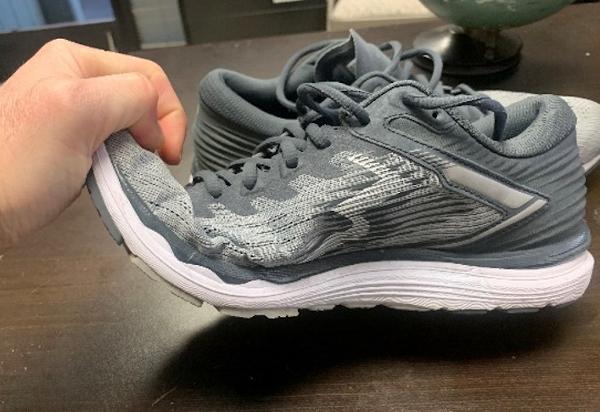 Qu!k Flex 4Foot Engineering
I can't really feel any difference with the sole technology that 361° use, as I mentioned these shoes are very stiff I cant notice the flexibility in the sole that this feature explain.
Qu!kfoam
It is the layer that provides the cushioning, It is a decent cushioning. For me, it is not something really well-cushioned but is still acceptable.
What is important is the comfort it provided in the miles that I have ran in it. It had kept the form and level of cushioning along every training run.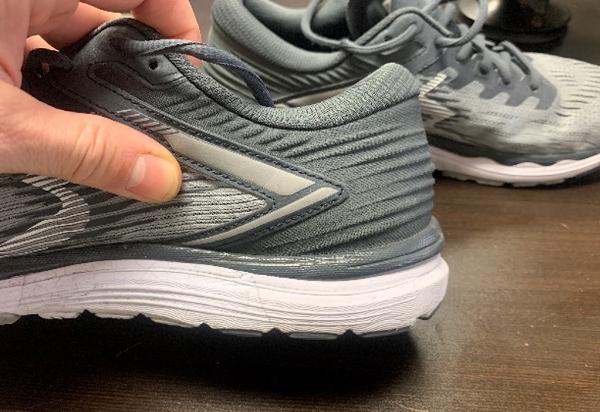 Qu!k Comfort Insole
It is almost the same with Qu!kfoam. Indeed, it is part of the section of the shoe intended for cushioning. As mentioned, the cushion is good enough for a high mileage run.
Fitz-Rite Midfoot
The Sensation 4 is definitely a well-wrapped shoe. It feels secure even when I don't tie up the shoelaces. It feels tight and is still comfortable in the middle section.
Collar
One important thing not mentioned in the manufacturer specification is the collar. This specific part of the shoe is super important to me since my injuries has been lowering my performance.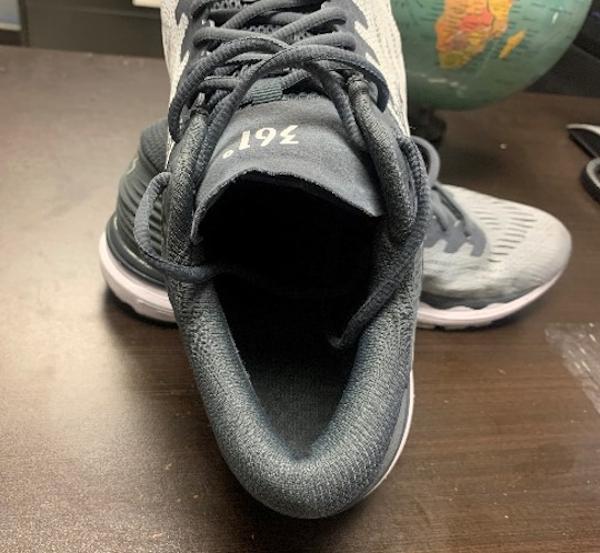 This shoe is perfect! The rounded design does not allow for chafe at the Achilles level I can be confident that I can run whatever I want I am not going to have Achilles irritation.
Weight
The Sensation 4 is10.3 oz each shoe. It is medium weight shoe. The carbon fiber plate weight provides some ounces, but still, it is worth it.
Drop
It has a 9mm drop, which is high for me, but it is almost unnoticed. As mentioned, the carbon fiber technology makes the forefoot keep still most of the time.
My final score for this model is an 8.0 in the scale of 1 to 10.
Let's run!
Updates to 361 Degrees Sensation 4
The 361 Degrees Sensation 4 is a mild-stability running shoe that features an updated internal fit sleeve for optimal support.
The upper unit has been completely overhauled with a new seamless engineered jacquard mesh, which is extremely breathable and comfortable. This lightweight component is designed to provide excellent comfort and ventilation.
This forefoot section provides a newly designed vamp that is lighter and roomier compared to its previous versions. It helps increase efficiency by allowing for natural movements.
Size and fit
Featuring a new upper design with an internal sleeve fit that contours to the shape of the foot, the Sensation 4 guarantees a comfortable in-shoe feel. This running shoe is constructed to be true to size. Runners are welcome to purchase a pair in their usual sizing expectation, though it is advisable to try on the shoe first to ensure a perfect fit.
Outsole
The outsole unit of the Sensation 4 utilizes the QU!K Flex 4Foot Engineering technology. This material was created to address the natural movement of the metatarsals, part of the bones of the midfoot. The QU!K Flex 4Foot Engineering technology enhances ground contact to improve acceleration. This component also allows for a natural and balanced toe-off.
The 4th edition of the 361 Degrees Sensation also features the QU!K Spine technology. This plate is made out of a carbon fiber that is lightweight yet highly durable. During mid-stance, the plate stabilizes the force to prepare itself for propulsion while the midfoot shank offers support and rigidity.
Midsole
QU!KFOAM technology is incorporated in the midsole unit of the Sensation 4. QU!KFOAM midsole is composed of an EVA rubber blend that delivers an amazing combination of responsiveness and cushioning. This technology helps maintain the same level of long-lasting comfort and energy return throughout the life of the shoe.
There are a lot of highly durable running shoes that also feature EVA rubber such as the Hoka One One Challenger 5 ATR, Adidas Runfalcon and Altra Torin 3.0.
The QU!K comfort insole was developed using 361 Degree's proprietary foam. This material is designed to improve the shoe's cushioning system and deliver immediate step-in comfort.
To improve stability, manufacturers have included a medial post in the shoe. It uses a dual-density material in the midfoot that also helps prevent overpronation.
Upper
The updated upper of the 361 Degrees Sensation 4 uses a seamless double jacquard mesh that offers a more adaptable fit. The mesh upper is designed to accommodate various foot shapes and provide a more comfortable and softer in-shoe feel.
In the forefoot section of this running shoe is a newly designed vamp that encompasses the midfoot area of the upper. The shoe vamp offers more volume encouraging for natural foot movement.
The new upper has an updated internal fit sleeve that helps reduce excess movements. The Morphit sleeve construction is designed to conform to the foot and provide a supportive fit.
A pressure-free tongue is incorporated into the Sensation 4. This component provides maximum comfort and additional protection by preventing irritation during flexion.
For a customized and secure fit, the 361 Degrees Sensation 4 uses the traditional lacing system.
Popularity
The current trend of 361 Degrees Sensation 4.